Player Stock Ticker
2020 Fantasy Football Late Round List & Strategy: Upside "Penny Stock" Sleepers Who Could Explode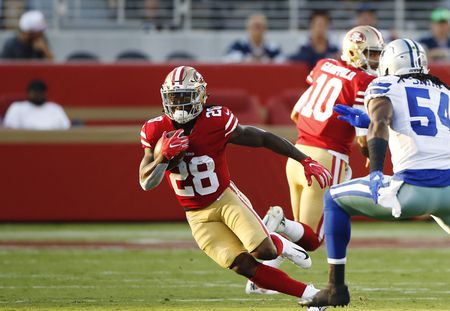 Your 2020 fantasy draft is cruising.
You've embraced your inner Bell-Cow Breeder, and gone RB-RB (and perhaps even Jonathan Taylor Round 3). You've snagged some huge upside WRs in Rounds 4-5… and 6-7.
Maybe JK Dobbins, Julian Edelman, or Marvin Jones fell into Rounds 7-9. Perhaps *gasp* Evan Engram is there to inject Top-3 TE upside into a "onesie" spot, or you feel like snaring Tom Brady, Drew Brees, or Carson Wentz.
Ultimately, you're feeling great about your starters. Now what?
It's time to load up on the right 2020 Fantasy Football Sleepers, or what we like to call, the "Penny Stocks."
Late Round Fantasy Football Strategy: Upside, Upside, Upside
I'm a definite ceiling-chaser. Scott Barrett outlines the reasons why far better than I ever could in Upside Wins Championships.
So I swing for the fences with pretty much every pick I make, but especially in the late rounds, when I'm loading up my bench.
I don't want the bleh rush attempts of Tevin Coleman or Adrian Peterson. I don't crave the "proven" Sterling Shepard or Dede Westbrook. Yay, James White will catch another 60+ balls. Don't care.
I'm looking for lottery tickets. The ones who, if they hit, could change your league.
Granted, in deeper-leagues, or on rosters where my early-round picks may have some serious questions … sure, I'll pad the bench with some higher floor buffers. In general, though, we're looking for the moonshots.
Below, I look at my favorite 2020 Fantasy Football Sleeper "Penny Stocks." I'll write why I like them, and what their ceiling truly is in my eyes if everything bends right.
*Note* I used FantasyPros ADP and selected only players going after the Top 120 Picks.
*Note 2* As you'll see below, I provide every player's: Name (Overall ADP, Positional ADP Rank vs. Wolf's Overall, Positional Rank)
There's a HUGE discrepancy between my rankings and the ADP of many players.
Although I might value a player, i.e Jerick McKinnon, at 107 overall, if his ADP is 209… DON'T YOU DARE TAKE HIM AT 107! If you value a car at $10,000 and the dealership sells it for $5,000, you're not going to ask to give them that extra $5k, right?
Obviously, you don't want to miss out on certain players, but winning in fantasy is all about attacking those bargain price gaps. Scoop him a couple of rounds before his actual ADP to ensure you get him, but prioritize other talent – even if it's ranked lower on my Big Board – that won't be there in the few rounds you can take said player.
2020 Fantasy Football Sleeper "Penny Stock" Quarterbacks
Teddy Bridgewater (162, QB25 vs. 123 & QB15)
If you've paid attention to any RSJ content this offseason, you're well aware Teddy 2 Gloves, now with the Panthers, is my boy . Detailed far more here, the equation is simple:
Precise short/intermediate thrower + YAC Monsters + Joe Brady's masterful scheme to unlock said YAC Monsters + Awful defense within a shootout division to keep Teddy throwing = Monster fantasy upside.
Is Bridgewater a monster, gunslinging talent? No. He won't have to be. Christian McCaffrey, DJ Moore, Robby Anderson, and Curtis Samuel will all do the legwork for him within the same scheme that just helped Joe Burrow ascend from good to otherworldly.
Just watch Bridgewater dump it off, and the yards, scores, and fantasy points rack up. He's my top pick for a Mahomes / Lamar type of explosion, and my favorite 100-1 MVP Bet out there.
Cam Newton (159, QB23 vs. 119, QB13)
This one's obvious: Newton's rushing upside is astronomical.
Remember, rushing yards are worth 2.5 times as much as passing yards, and rushing TDs are worth 1.5 times as much as passing TDs This is why rushing QBs have been labeled "Konami Cheatcodes." Look no further than Lamar Jackson last year.
On a one-year, prove-it style deal, Newton will want to showcase all his talents (and stay on the field), and the Patriots will want to squeeze everything they can out of him. This should lead to plenty of designed runs in what projects to be a ground-n-pound attack.
That's exactly why Newton has been Top-5 every single time he's played 16 games. In fact, in 2018, the last time Newton was fully healthy following the Panthers Week 7 Bye, he ranked second in fantasy points scored, despite ranking 21st in pass attempts and 25th in passer rating.
Don't sweat the lack of weaponry. Newton was the real-life and fantasy MVP in 2015 with Ted Ginn as his top weapon. Sadly, this might be the best cast he's ever thrown.
Last – Newton and Belichick's chemistry has been shockingly off the charts. The GOAT coach could not stop gushing up Newton's competitiveness. Giving this mind a versatile talent like Cam should be one of the truest joys of the 2020 season.
Hammer Newton and all his rushing glory late.
Ryan Tannehill (141, QB20 vs. 121, QB14)
When removing the games he didn't start, Ryan Tannehill averaged 27.2 points per game in 2019, which would've been fantasy QB2 (easily). He was on pace for 41 total TDs (6 rushing) and 4157 yards.
In fact, Tannehill's fantasy points per dropback (.70) were 8th best of the last decade:
Top Seasons by Fantasy Points per Dropback
+ Per PFF (2009-2019)

0.91- Lamar Jackson, 2019

0.83- Lamar Jackson, 2018

0.73- Cam Newton, 2015
0.73- Robert Griffin III, 2012
0.73- Deshaun Watson, 2017
0.73- Colin Kaepernick, 2012
0.72- Nick Foles, 2013
0.70- Ryan Tannehill, 2019

— Scott Barrett (@ScottBarrettDFB) September 1, 2020
Indeed, the Titans are due for scoring/efficiency regression after going on a torrid pace under Tannehill:
Since Ryan Tannehill took over as the starter in Week 7, Tennessee ranks:

1st in yards per play (6.94)
1st in yards per rushing attempt (5.64)
1st in yards per passing attempt (9.00)

— Scott Barrett (@ScottBarrettDFB) December 30, 2019
Still, Tannehill earned PFF's top QB grade and led the league in QB Rating (117) in the ultimate rebound. As we've seen with so many other talents (Kenyan Drake, DeVante Parker, Le'Veon Bell), sometimes you just need to escape Adam Gase.
Plus, what if first-time playcaller Arthur Smith is just a mad offensive genius, and this offense doesn't miss a beat (or even ascends) while everyone calls for regression?
Either way: you can snare last year's No.2 QB in points per start at a QB20 price. That's robbery.
Drew Lock (160, QB24 vs. 152, QB18)
This is more about the weapons and less about belief in Lock himself. But the kid can sling, has moxie, and is now throwing to:
Courtland Sutton, a true Alpha who can nearly every jump ball
Jerry Jeudy perhaps the best route runner of the last 5 years
Noah Fant, an absurdly athletic YAC and seam-stretching threat
KJ Hamler, absurd burner who is going to eat No.3 CBs and open the field for everyone else
Stir in a shootout style division, and Lock should have some monstrous blowups in the right matchups. Plus, he's just the man and fun to root for:
Imagine rooting against Drew Lockpic.twitter.com/brwr8irYVl

— Ian Hartitz (@Ihartitz) July 27, 2020
2020 Fantasy Football Sleeper "Penny Stock" Running Backs
Note: many of the strongest late-round RB picks are "handcuffs," or guys who require an injury ahead of them for value. Certainly, loading your bench with "RB1s with injury" like Chase Edmonds, Tony Pollard, and especially cheaper options like Darrel Williams and Benny Snell is a worthwhile strategy when it hits.
Instead, I focus below on RB "Penny Stocks" who I believe have shots at standalone fantasy value right off the bat, and won't require an injury to hit their highest ceilings.
Antonio Gibson (167, RB51 vs. 79, RB28)
NOTE: Adrian Peterson was released Friday (9/4) AM. Gibson's ADP will surely arise out of "Penny Stock" Range. However, he's absolutely worth consideration in 4th/5th round, and I now rank him ahead of *gasp* Odell Beckham.
We've explored Gibson's upside plenty on here. First, when Derrius Guice was released. Further, as he lit up training camp.
The summary is simple: Gibson is an athletic freak (228 lbs, 4.39 forty) who made the most of his looks (33 broken tackles on only 77 touches). The minimal college usage is concerning, but Gibson has been arguably the highest used weapon in training camp — so much so, beat writers speculated "The QBs must have him on speed-dial." Unsurprising, considering he's in a Turner scheme that has targeted RBs over 32% of the time.
Gibson's been used as a runner, pass-catcher, on third-and-longs, and on the GL. He could very well emerge from this gross RBBC as the true lead back, in which case he'd swing leagues.
Damien Harris (183, RB55 vs. 93, RB32)
Update: Damien Harris may miss the opening week(s) due to a finger surgery (WTF?!). His stranglehold on RB1 duties will undoubtedly soften, and this backfield seems likely to devolve back into an uncertain mess. Harris could still eventually separate, but his appeal has gone down significantly. I am no longer targeting him, but you can see his case still below:
As discussed with Newton, this Pats offense is going to be ground-n-pound. By all accounts, Damien Harris has seized the opportunity afforded to him by Sony Michel and Lamar Miller's absences, and is the heavy-favorite to enter 2020 as the Patriots RB1.
Unlike Michel, Harris brings plenty of pass-catching prowess. Whereas Michel and James White tip off the defense, the Patriots are far more unpredictable with a versatile threat like Harris involved. Belichick LOVES this.
Assuming Harris maintains the RB1 role here, he could realistically finish with double-digit TDs akin to LeGarrette Blount's 16 TDs just a handful of seasons ago.
"Damien Harris has been sensational… makes some cuts & has vision, I haven't seen in some time. He is a dynamite pass-catcher out of the backfield. It's very natural to him.

"He has been the clear Breakout Star of this camp and he is the No.1 running back by far." https://t.co/cKL1F0EGBr

— Wolf of Roto Street (@RotoStreetWolf) August 26, 2020
Zack Moss (127, RB45 vs.  95, RB34)
Moss is reportedly outshining Devin Singletary, who's experiencing fumbling woes, throughout early Bills camp. Beat writers now speculate that Moss could actually take over the lead role and out carry Singletary certain weeks.
Original reports suggested the Bills wanted Moss in "a similar role to Frank Gore's last year." This alone would've made Moss a value at his sub-100 price tag. Gore gobbled up 166 carries, including a team-high 18 from within the 10 yard line & 11 within the five (both top-10 in the NFL). He turned this into 4 yards and 2 TDs. Moss would've undoubtedly bulldozed for more.
Yet, the new upside for Moss to play an even larger role than Gore, especially as a receiver, makes him even more drool-worthy.
Jerick McKinnon (209, RB63 vs. 107, RB41)
On just his receiving upside, McKinnon is a lock to return value. The athletic specimen is fully, finally healthy for the first time in two seasons, and he's looking exactly like the player Kyle Shanahan made the fourth-highest paid RB and "got lost" watching the film on.
Amidst all the WR injuries, the 49ers have a wide open target share. McKinnon is reportedly beating corners, moving all over, and has beat writers projecting him as "the 49ers player most likely to catch an abundance of passes that travel 20 yards or more."
Then… imagine if McKinnon actually steals the lead-back role too?! He only has undrafted journeyman Raheem Mostert and the mediocre Tevin Coleman in his path. Truly, McKinnon has the best shot to emerge from this backfield as a true three-down horse. If that happens, he'd finish 2020 as a Top-12 RB.
Nyheim Hines (189, RB57 vs. RB43)
No QB peppers RBs quite like Philip Rivers. Consequently, beats suggest: "It's probably not a stretch to say the third-year running back has caught more passes from Rivers than anyone else." 
From Austin Ekeler, to Danny Woodhead, plenty of Top-12 RBs have emerged on the back of receiving work in a Rivers-led offense. Granted, behind stallion Jonathan Taylor and Marlon Mack for rushing work, Hines probably won't see enough total volume and will be too gameflow dependent to reach true RB1 status.
Still, he should have plenty of blow-ups in the right matchups that'll leave the Colts throwing deep into games.
Joshua Kelley (246, RB72 vs. RB58)
First things first: Austin Ekeler is a bonafide stud.
Still, the Chargers have preached an RBBC backfield all offseason, one that mimics the Ravens attack. Although Kelley, a third round rookie, entered camp behind Justin Jackson for the "big back" role, recent reports suggest Kelley "might be having the best training camp of any player on the roster."
He's thrived in goalline drills and as a pass-catcher, and could immediately step into a Melvin Gordon-lite role. Even on 10-12 touches and GL work, this would yield quality flex numbers for a last-round dart throw.
Boston Scott (177, RB52)
Scott seems like a pristine "handcuff with benefits." Truly, no one else is behind Miles Sanders (uh, Corey Clement?), so Scott might offer workhorse potential should tragedy befall Sanders.
Even if not, Scott drips in some serious PPR upside. There's plenty of "Sproles" to his game, and Scott thrived down the stretch of 2020:
Boston Scott's last 4 games:

Wk 14: 16 touch (6 rec), 128 YFS, 1 TD, 24.8 FPs, RB5
Wk 15: 13 (7), 65, 13.5 FPs, RB23
Wk 16: 9 (6), 19, 7.9 FPs, RB37
Wk 17: 23 (4), 138, 3 TDs, 35.8 FPs, RB2

PPR RB7 in this span. PPR ADP= RB53, 138 overall. Fantasy value rose, price didn't. https://t.co/hd2zbLS48N

— Wolf of Roto Street (@RotoStreetWolf) June 12, 2020
A guy who's averaged 20 FPs per game when actually used, going outside the Top 150? Please, and thanks.
Real Deep: Devine Ozigbo, JD McKissic, Brian Hill
2020 Fantasy Football Sleeper "Penny Stock" Wide Receivers
Jalen Reagor (ADP: 142, WR51 vs. 112, WR46)
Not a Camp Practice went by without some sort of gushing praise for Jalen Reagor… until the rookie suffered an "upper-body" injury that has him "week-to-week."
Indeed, this hurts his early-season stock. Still, the ADP price reaction has been insane. Reagor now falls outside the Top 12 rounds, if out of drafts entirely. Recall: it wasn't that long ago a rookie named Odell was lighting up camp, got hurt, missed the first quarter of the year… and then won leagues for those who were patient or lucky enough to scoop him.
Now, Reagor probably won't be Odell. Still, the ceiling is there. Reagor similarly has dominated all over the field, including against top CB Darius Slay. Deep balls. Screens. Catches in traffic with defenders draped over him. He was operating as the true Alpha, and he thrived. Although he won't be immediately usable, Reagor still remains my top late-round WR bench stash.
Note – Teammate DeSean Jackson's price (167, WR58) is absurdly low. We anticipate this spiking up come draft time, but DJax is my 88th overall player. I was shocked to see him going beyond Pick 150. Gobble this value up first and foremost.
Henry Ruggs (130, WR48 vs. 114, WR45) & Bryan Edwards (222, WR75 vs. 155, WR58)
Both Raiders rookies were prime "Penny Stock" options even before last year's leading WR Tyrell Williams landed on the season-ending IR.
Now, their upside is astronomical.
Ruggs, the first WR selected in the 2020 draft, should also be the first WR taken. He's a dynamic speedster who's also thriving out of the slot and in contested Red Zone situations throughout camp. This is no one-trick pony, and Ruggs has the ability to step in and immediately swing games similar to Tyreek Hill
Still, don't discount Edwards. Covered in more detail here, Edwards had already seized the starting X role due to routine dominance in camp. Derek Carr compared him to Davante Adams, his former collegiate teammate, because of how violently they both run their routes and attack the ball. Edwards dominated collegiate football despite playing with crap QBs, and would've likely been a first-rounder had he not been injured.
His upside just about matches Ruggs for a 5+ round discount.
Mecole Hardman (ADP: 140, WR50 vs. 97, WR43)
I'll just let this dope-ass vid featuring two dope-ass wolves do the talking:
Mecole Hardman is a rising 🌟@ihartitz @RotoStreetWolf pic.twitter.com/urSnXMIUG1

— PFF Fantasy Football (@PFF_Fantasy) August 20, 2020
Seriously. We've seen the absurd big-play ability. Hardman's an injury away from significant volume from the galaxy's All-Time best thrower… aka potential WR1 status. The ideal profile you look to stack your bench with.
 Preston Williams (151, WR54  vs. 114, WR48)
Investing in the Dolphins feels gross, hence why they all fall so cheap. But I'll always drool for a 6'5 monster with an absurd catch radius, no matter where he is.
In fact, I love Preston Williams' home. The Dolphins will take some steps forward, but should remain among the NFL's worst, which will keep the garbage time heaves aflowing.
Indeed, Devante Parker should be the Alpha after finishing 2019 on a torrid pace. Even if so, there's no one else to huck to. Albert Wilson and Allen Hurns opted out. Jakeem Grant is hurt. Neither RB is a huge pass-game threat. Parker himself has been on a bike.
Oh, and the new OC is Chan Gailey. He knows a thing or two about garbage-time hucking, especially with Ryan Fitzpatrick as his QB and two twin towers at his disposal:
In 2015, Chan Gailey had Brandon Marshall (6'5") & Eric Decker (6'3") w/ FitzMagic @ QB

BMarsh: 109 rec (173 tgt), 1502 YFS, 14 TDs
Big Dick Deck: 80 rec (132 tgt), 1027 YFS, 12 TDs

In 2020, Chan Gailey has DeVante Parker (6'3") & Preston Williams (6'5") w/ FitzMagic @ QB

— Wolf of Roto Street (@RotoStreetWolf) May 28, 2020
Laviska Shenault Jr. (240, WR82)
Shenault may have been the sneaky biggest winner of Fournette's release.
WhenTrevor Sikkema joined our Fantasy Fullback Dive podcast to breakdown rookie WRs (show notes and audio here), he ranked Laviska Shenault as his No.3 Rookie WR for Redraft Leagues!
His primary reasoning was Shenault's huge versatility and Red Zone upside:
Note: this praise came before Fournette's release. Now? His TD ceiling is even higher. The coaching staff has openly discussed capitalizing on Shenault's versatility, using him "in the backfield. He can play Wildcat," Marrone said. "You can put him as the F tight end. You can do a lot of things with him."
Expect that creativity to be even higher with the usage-sapping Fournette now gone.
Antonio Brown (204, WR68)
The talent needs no explanation. If you get even 2 games out of Antonio Brown, he's going to pay off his price tag. He's my locked-in 18th round Best Ball pick every single time. Redraft, especially amidst COVID, can be trickier without deep benches.
Seriously, imagine the fantasy tidal waves when AB lands in Baltimore midseason? Get ahead of the surf.
2020 Fantasy Football Sleeper "Penny Stock" Tight Ends
I covered my favorite late-round "Penny Stock" TEs in my hunt for "The Next Mark Andrews here:
The Next Mark Andrews: Late-Round Sleeper Tight Ends to Target in 2020 Fantasy Football
Click there for breakdowns on my favorite pick: Jonnu Smith (150, TE16), as well as Noah Fant (120, TE14), Eric Ebron (166 OVR, TE18), plus Jack Doyle (180, TE23) and all his "Unsexy Upside" – made even sexier with Trey Burton's recent calf strain.
For the sake of new content though, two other late TE stabs:
Willy Dissly (192, TE26)
Dissly averages 15.0 FPG in games started and finished throughout his career. For perspective, 15.0 FPG would have ranked behind only Travis Kelce and George Kittle last year. The consistency when he plays is quite striking:
Will Dissly has played 8 full games over 2 seasons. That's the big concern. Still, he:

Finished Top-12 in 6/8 (75%)
Avg'ed 13.5 FPs (Andrews = 13.8 last season)
Was TE5 prior to his injury

Could "2020's Mark Andrews" be the guy we've already seen it from & just need health?

— Wolf of Roto Street (@RotoStreetWolf) August 4, 2020
Of course, Greg Olsen's presence and Dissly's recovery from a torn Achilles make him no lock to yield value. But in deeper leagues, we've already seen the production. A small bet on health could yield monster results.
Logan Thomas (324, TE40)
For the deepest leaguers out there, keep Thomas' name tucked away. According to Nicki Jhabvala of The Washington Post, Thomas is "emerging" as the Washington's top tight end. Considering targets are wide open behind Terry McLaurin, Thomas could realistically see the second-most targets of any Washington football player.
At 6-foot-6, 250 pounds, he's a freak athlete. He's routinely used his monster frame to his advantage in Red Zone, where he seemingly connects with Dwayne Haskins on a daily basis.
At a position that's heavily TD-or-bust, Thomas is a solid bet on athleticism + usage. The shot to be 2020's Darren Waller exists.
Dominate on Draft Day! Be sure to check out The Wolf's 2020 Fantasy Football Rankings & Big Board, catch up on all our latest Podcasts & Live Shows / Videos, and hit him up @RotoStreetWolf.
Plus, nail the ultimate Win-Win by doing good and dominating fantasy. Donate to the Pete Frates Family Foundation, and receive our draft guide, the 2020 Offseason Bible, absolutely free! Learn more here