Player Stock Ticker
Teddy Bridgewater Lands in Ideal Fantasy System with Panthers OC Joe Brady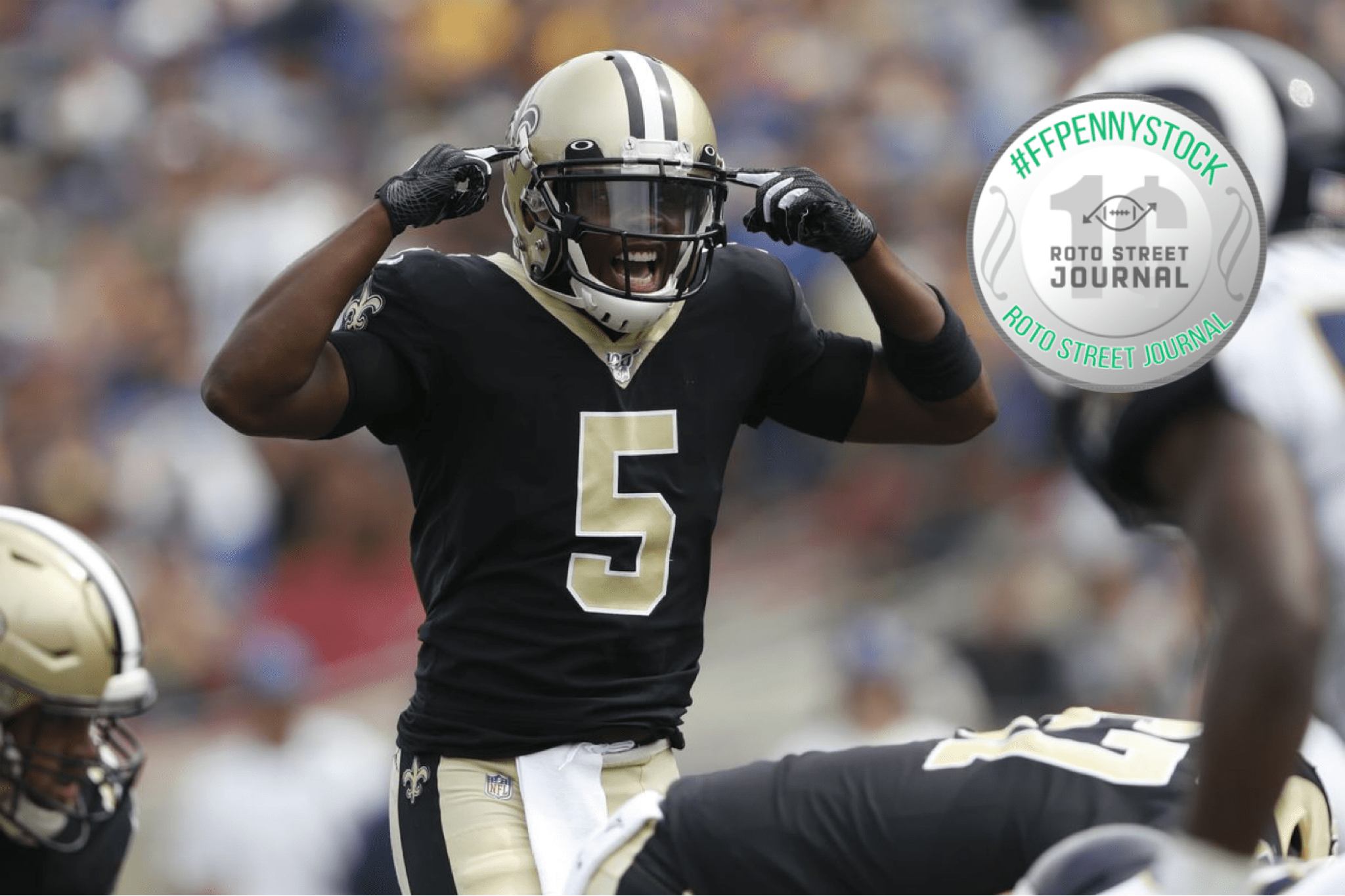 Teddy Bridgewater and wonderboy OC Joe Brady will meet again… this time in Carolina after the two spent a year together with the Saints organization. The Panthers surprisingly moved on from Cam Newton on Tuesday afternoon and signed Bridgewater to a monster 3-year, $63 million deal. Bridgewater gets one of the hottest young minds in football calling the shots in Joe Brady, while getting the arsenal that is Christian McCaffrey, DJ Moore, Curtis Samuel, and Ian Thomas (update – and now Robby Anderson?! sheeeeesh) at his disposal. 
Stay up to date on all the Free Agency Fantasy Fallouts! Bookmark our Fantasy Stock Watch. Even better, consume them in our cleanest format by downloading the Roto Street App.
Last Year's Flashes
After recovering from a devastating leg injury, Bridgewater has been in New Orleans behind Drew Brees, where he was able to start five games in 2019 while Brees was injured. In those five games, Bridgewater threw for 9 touchdowns to only 2 interceptions, while going 5-0 in the process. His best game came against Tampa, when he threw for 314 yards and four scores in a 31-24 shootout.
Most Important? Scheme Familiarity
Ripping right from The Wolf's excellent Joe Brady scheme preview, Bridgewater's fantasy ceiling certainly raises in Carolina. Let's make no mistake about it though, Bridgewater is no gunslinger, but neither was Joe Burrow before Brady molded him into the Heisman winner and No. 1 overall pick.
Before diving into Bridgewater and the Panthers 2020 offense, let's just marvel at how insanely LSU's offense and Burrow's leap under Brady's direction:
Ranking 69th in scoring and 65th in passing in 2018, LSU rocketed to first and second in each under Brady's direction. Perhaps the most prolific offense in NCAA history, the Tigers posted an insane 568.5 yards and 48.4 points a game, while finishing second behind Washington State with 401.6 passing yards per game.

Yes, having the Heisman-winner and future first-overall pick Joe Burrow helps. Still, Burrow didn't leap from unspectacular to unstoppable, throwing for the NCAA's third most yards (5671) and most TDs (60) — 2,777 yards and 44 TDs more than the year prior — all on his own accord. Brady installed a prolific, NFL-inspired pass game that NCAA defenses had no answer for.
But that's college! Such a leap would NEVER happen in the pros, right?!
Yes, true. Still, Brady operated a pro-style attack, largely inspired by the Saints, mimicking Sean Payton's quick-strike offense. One that constantly finds mismatches with motion and overmatches coverages by unleashing five options into routes on nearly every play. While in New Orleans, Brady was able to sit in meetings with Payton and Drew Brees (and Bridgewater), where he undoubtedly absorbed plenty of perspective on attacking defenses.
Brady has openly admitted a "very good portion" of LSU's passing game and even the offensive terminology come from the Saints.
Burrow certainly felt the New Orleans influence, saying, "That's basically what we do. We do a lot of the same stuff." He went on to explain that the philosophy behind both offenses is "getting five guys out on the route every play and making them defend every single person."
"Anybody can get the ball on every play," Burrow said. "We're not designing plays to go to this one guy. We have progression reads that everyone can get the ball on. So you have to be on your toes as a defense and really understand who has each individual player, otherwise we'll beat you."
"We make it difficult to do it and change up people's eyes with motions and moving different guys around from the slot to the backfield to outside," Burrow continued. "We do a really good job of finding matchups that are favorable for us."
Is it any surprise the team targeted Bridgewater then?
It's clear Brady and the Panthers favored his accurate skill-set, Saints background, and scheme knowledge, enough to let go of Newton and his higher potential.
Thus, expect a Saints-inspired spread pass game that, through a variety of packages and motions, alongside constant deployment of five weapons on almost all plays, keeps defenses confused and on their heels. The scheme flings open windows of space all over the field for playmakers to do their thing. Just like in New Orleans, the ball will most often get out quickly and allow playmakers to do their thing in space, although vertical elements will also be baked into most plays.
It's apparent Bridgewater was the chosen one to run this system.
His Own Skills
1) Accuracy and Field Awareness
Even if Bridgewater doesn't bring the "sizzle" of Newton, he has more dependable "steak" to his game that's necessary for a quick-strike, high-percentage offense. Bridgewater completed 67.9% of his passes last season in going 5-0 for the Saints and has a career completion percentage of 65.2. He's calculated, reads the field well, and is an excellent anticipation and rhythm passer — all staples to execute this scheme.
Contrastingly, Newton has topped 60% in completions in only one season, and has a career percentage of 59.6.
Bridgewater's high completion percentage, most detractors say, is a result of an overly-conservative nature. They aren't necessarily wrong: his average career pass has traveled just 6.8 yards downfield, third shortest among the 39 QBs with 1,000 passes since he entered the NFL in 2014.
2) Adequate Deep Ball
Yet, just because he tends to play it safe doesn't mean Bridgewater is incapable of slinging the rock. PFF did an excellent breakdown of Bridgewater's rapid growth from his first three games with the Saints (Weeks 2-4) compared to his final three (Weeks 5-7):
| | | |
| --- | --- | --- |
| Stat | Week 2-4 | Week 5-7 |
| PFF passing grade | 55.8 | 83.0 |
| Adj. Completion % | 80.3% | 80.6% |
| Clean-pocket rating | 99.7 | 125.2 |
| Average depth of target | 5.4 | 6.8 |
| Yards per attempt | 6.2 | 7.7 |
| Big-time throw % | 1.1% | 5.5% |
| Turnover-worthy play % | 4.2% | 0.9% |
They noticed a QB who, once he had a few starts to knock of the rust and gain confidence in his knee and own ability, experienced "a genuine change in his comfort level playing quarterback." Highly understandable, considering the devastating nature of his injury and lack of real playing time since. Perhaps the coaching staff grew more comfortable letting him unload a bit more too.
Rather than hitting the shortest, quickest read, Bridgewater let the longer routes develop. He spun the ball into tight windows, flashing high-end, big play ability to go with his well-established baseline.
In these last three games, despite pushing the longball more regularly, Bridgewater completed 68% of his passes, averaging nearly 280 passing yards per game. He fired seven touchdowns against one interception and compiled a 108.4 passer rating.
He may not have the strongest, most live arm. Still, Bridgewater can push it when called upon, especially on anticipation throws involving in and out-breaking routes. As detailed in this "Teddy Bridgewater Deep Ball Dive":
"He was accurate on 21 of 24 of those anticipation routes – an astoundingly high number. In fact, Pro Football Focus noted that he was the most accurate deep passer in the NFL on those kinds of routes. Bridgewater was similarly great throwing with anticipation on deep crossing routes, as he was accurate on 8 of 12 of those routes."
He struggles more with the straight up vertical routes (i.e. fades and flies). Thankfully, when Brady dials up the deep game, it's almost exclusively on anticipation style throws — just like the Saints.
3) Solid Athleticism
Though no Newton, Bridgewater does offer some escability and mobility in the pocket.
This will be crucial to execute Brady's RPO plays
As detailed here, Brady is heavily influenced by RPO guru Joe Moorehead from their Penn State days together. The NFL's best offenses, like the 49ers and Chiefs, are all about "marrying the run and pass games" through play-action and RPOs. When well schemed, the RPO can be almost indefensible:
Unlike play-action, the course of action is not predetermined with a RPO. Rather, the quarterback goes into a play with the option to hand off, pass, or takeoff himself, and makes that determination after reading opposing defenders at different field levels — lineman, linebackers, and, at their most dangerous, third level defenders like corners and safeties.  Man-beating routes are paired with these reads, and the offense can cripple a zone-based defense. (For a more detailed breakdown, check here)
If the QB has zero athleticism, these RPO plays can be erased. Thankfully, Bridgewater offers plenty of rushing ability, even if he's a pocket-passer first and foremost. Thus, expect Bridgewater to add some solid bonus "Konami Code" upside to his game through his sneaky rushing ability.
Summary: A Perfect Fit of Talent and Scheme
From his scheme familiarity, to his accurate, rhythmic arm, Bridgewater is tailor-made for Brady's scheme — the same one that vaulted LSU and Burrow from mediocre to shattering NCAA records.
Thankfully, Bridgewater will also be afforded the ideal weaponry to execute the scheme. With the key getting "speed in space," Bridgewater will have plenty at his disposal: WRs DJ Moore, Curtis Samuel, and Robby Anderson run respective 4.42, 4.31, and 4.34 forties. Moore and Samuel, who operated  more as "extensions of the run game" via bubble screens and flat routes in college, both are crafty and dangerous with the ball in their hands and in space — ideal skills for this offense.
Oh, and then there's Christian McCaffrey — the slowest of the bunch with a (still blazing) 4.48 forty, but arguably the hardest tackle when he has grass in front of him.
Every single one of these guys have the speed to take a short pass the distance, and Brady's scheme excels at shaking them free. Even if Bridgewater maintains his 6-7 distance, he could still be in line for massive big play points on scheme and talent alone.
With weapons galore, the perfect scheme and skillset to operate it, and some sneaky rushing upside, Bridgewater truly has Top-Five upside at a QB2 price.
Stay up to date on all the Free Agency Fantasy Fallouts by bookmarking our Fantasy Stock Watch. Or, even better, consume them in our cleanest format by downloading the Roto Street App.