Fantasy football and Panthers fans, rejoice! The NFL's next great wunderkind may be upon us. Fresh off turning LSU into a historic juggernaut, Joe Brady has joined Matt Rhule as the Panthers' offensive coordinator. Though outside-the-box, this pairing should scheme up an attack unlike anything else in the NFL. Between the expected ingenuity and bevy of explosive weapons already inside Carolina's holster (Christian McCaffrey, DJ Moore, Curtis Samuel and now Robby Anderson), plus the perfect new signal-caller to operate at all in Teddy Bridgewater, a fantasy football feast could be on the horizon.
From a head-coaching perspective, Rhule brings a ton to the table. He turned around both Temple and Baylor, earning him a high reputation as a program-builder and leader of men. Instead of a schematic genius himself, Rhule puts the right people in the right places and let's them flourish. For us fantasy football fans, this makes Brady the more intriguing and essential hire to analyze.
So who is Joe Brady?
"Game-changer." "Coaching Gym Rat." "Relentless." "Special." "Genius."
From Ed Orgeron to Sean Payton to every other coach and player in-between, Brady is constantly praised by all he's worked with. Unsurprising, given he just won the Broyles Award as the nation's top assistant coach after he ignited LSU's record-setting attack.
Ranking 69th in scoring and 65th in passing in 2018, LSU rocketed to first and second in each under Brady's direction. Perhaps the most prolific offense in NCAA history, the Tigers posted an insane 568.5 yards and 48.4 points a game, while finishing second behind Washington State with 401.6 passing yards per game.
Yes, having the Heisman-winner and future first-overall pick Joe Burrow helps. Still, Burrow didn't leap from unspectacular to unstoppable, throwing for the NCAA's third most yards (5671) and most TDs (60) — 2,777 yards and 44 TDs more than the year prior — all on his own accord. Brady installed a prolific, NFL-inspired pass game that NCAA defenses had no answer for.
Beginning as a 23-year old LB coach at William & Mary, his alma mater, the NFL has always been Brady's ultimate goal. He enjoyed a pit stop as an offensive assistant at Penn State (2015-16), learning under the RPO-guru Joe Moorhead where the pair helped jumpstart the offense from 23.2 points per game (101 of 128) to 37.6 (21st of 128). Seeking to learn more about RPOs, Payton and the Saints brought in Brady for another offensive assistant role for the 2017 & 2018 seasons.
Detailed below, the creative run and pass concepts Brady learned in his respective NCAA and NFL stays formed the backbone for LSU's relentless RPO / Spread attack. Brady will now test this offense at the highest-level in Carolina, becoming the youngest play caller in the NFL in the process.
Joe Brady's System & Scheme: The Staples
Malleability: The Talent = The Foundation
Unlike many coordinators who stubbornly force players to fit within a specific scheme, Brady wisely builds around his team's strengths. In fact, he scoffed at the notion of doing otherwise:
"Everybody talks about a West Coast system, about a spread system…Our system is going to be what our players do best," Brady detailed. "It's all about a vision you have for your players. Each person on the roster on your offense, you should have a vision for and they all have to play a role. When you can find guys that fit the vision and understand their role, that's when you have success."
As such, Brady studies his talent relentlessly while molding the offense alongside them. He seeks their input, finds what they are most comfortable and confident running, and builds from here.
"What we did (at LSU) is we found what our players did well, and we put them in positions to have success," Brady said. "We weren't just running plays to run plays… Let's find what they do well and do what they do well. If we're not doing that, we're not doing a great job as a coach."
In Carolina, Brady won't lack for talent to architect. In fact, he's equipped with the versatility and speed to execute many of the staples seen at LSU, including:
Attacking from All Over, in All Ways, at All Speeds, and with All Players
When discussing his offense, Brady emphasized one word: pressure.
"The offense that we're looking to have is one that applies pressure. I don't believe defenses are the only ones that apply pressure. We can do that in multiple ways, whether that's formations, whether that's personnel groupings or tempo. It's our job to exploit mismatches and move guys around to get them the matchups that we want."
"Applying pressure, getting your speed in space, making defenses defend every blade of grass and just let your players do what they do best."
As such, Brady loves to keep the same personnel in the game, but package them up differently on nearly every play. This was ever-evident during LSU's thrilling win over Alabama:
Interesting Note in studying @CoachJoeBrady
Going through the Alabama game from this past year I counted LSU in 26 different Offensive formations in that game
7 variations of 2×2
11 variations of 3×1
4 variations of 3×2
and 3 formations with a True TE
All from the same personnel https://t.co/O6u3rt6i1z

— Drew Piscopo 🏴‍☠️ (@DrewCPiscopo) January 16, 2020
To accomplish this, Brady almost exclusively relies on his lineman to keep the QB upright in five-man protections, thus never sacrificing a potential option on any given play.
"We have to have five guys – and potentially six with the quarterback (run) – that defenses will have to worry about on any given snap," Brady explained. "I think when the defense has to defend all 11 players on the field it limits what they can do."
While many may question if less blockers leaves the QB more vulnerable, Brady feels that, when executed properly, this has the opposite effect:
"Statistically it'll show when you're in five-man protections you'll give up less sacks. A lot of people think that when you're getting a lot of pressure you need to bring the box in and get in max protection, seven-man protections. But when you actually go five-man protections and you can get the ball out fast it limits what the defense can do. As an offense, we want to get the offense out in routes."
This mimics Payton's quick-strike Saints offense, that constantly find mismatches with motion and overmatch coverages by unleashing five options, often in spread four or five WR sets, into routes on nearly every play. While in New Orleans, Brady was able to sit in meetings with Payton and Drew Brees, where he undoubtedly absorbed plenty of perspective on attacking defenses. Brady has openly admitted a "very good portion" of LSU's passing game and even the offensive terminology come from the Saints.
Burrow certainly felt the New Orleans influence, saying: "That's basically what we do. We do a lot of the same stuff," said Burrow, who explained that the philosophy behind both offenses is "getting five guys out on the route every play and making them defend every single person."
"Anybody can get the ball on every play," Burrow said. "We're not designing plays to go to this one guy. We have progression reads that everyone can get the ball on. So you have to be on your toes as a defense and really understand who has each individual player, otherwise we'll beat you."
"We make it difficult to do it and change up people's eyes with motions and moving different guys around from the slot to the backfield to outside," Burrow continued. "We do a really good job of finding matchups that are favorable for us."
Thus, expect a Saints-inspired spread pass game that, through a variety of packages and motions, alongside constant deployment of five weapons on almost all plays, keeps defenses confused and on their heels. The scheme flings open windows of space all over the field for playmakers to do their thing. Just like in New Orleans, the ball will most often get out quickly and allow playmakers to do their thing in space, although vertical elements will also be baked into most plays.
The run-game, however, will be uniquely Brady's own:
Heavy RPO Usage
The most dangerous offenses in the NFL, including the Chiefs, 49ers, and Rams, feature a marriage between the run and pass games. Plays that look like runs becomes passes, and vice versa, keeping defenses constantly baffled and biting on fakes.
Play-action is the most common way team's accomplish this goal of deception. Yet, another, perhaps even more dangerous way are run-pass options — at least when taught and executed properly. Thankfully, Brady learned under one of the best in Joe Moorhead.
Unlike play-action, the course of action is not predetermined with a RPO. Rather, the quarterback goes into a play with the option to hand off, pass, or takeoff himself, and makes that determination after reading opposing defenders at different field levels — lineman, linebackers, and, at their most dangerous, third level defenders like corners and safeties.  Man-beating routes are paired with these reads, and the offense can cripple a zone-based defense. (For a more detailed breakdown, check here)
With a mobile, athletic QB, the play can be indefensible. If healthy, no one profiles more perfectly than the Panthers' Cam Newton. Unfortunately, given the long-developing nature of an RPO play, QBs must also be able to sustain punishment, which is why most NFL team's avoid the concept altogether.
Still, when well-executed, RPOs can be so effective defenders have referred to it as "cheating" and "the worst thing in football."
According to PFF, Brady put a heavy emphasis on increasing their run-pass option (RPO) from 11.5% in 2018 (over 7% below average) to 22.1% in 2019 (half a percent above average).
Obviously, the positive results for Burrow need no explanation. Yet, the running game was also heavily boosted: "On plays where the RPO ended in a hand-off to the running back, LSU average 7.0 yards per play — over 2.3 yards more than on non-RPO rushing plays." Most often, Brady uses the inside-zone run within the RPO (35% of his rushes at LSU).
Expect the Panthers to join the Chiefs, Saints, and Cardinals as the top teams in RPO-usage in 2020, with similarly explosive results.
With the grand overview painted, let's now dive into how Brady's RPO / Spread attack will translate to Carolina's skill players, and what it means for fantasy football:
Fantasy Football Impact of Joe Brady to Panthers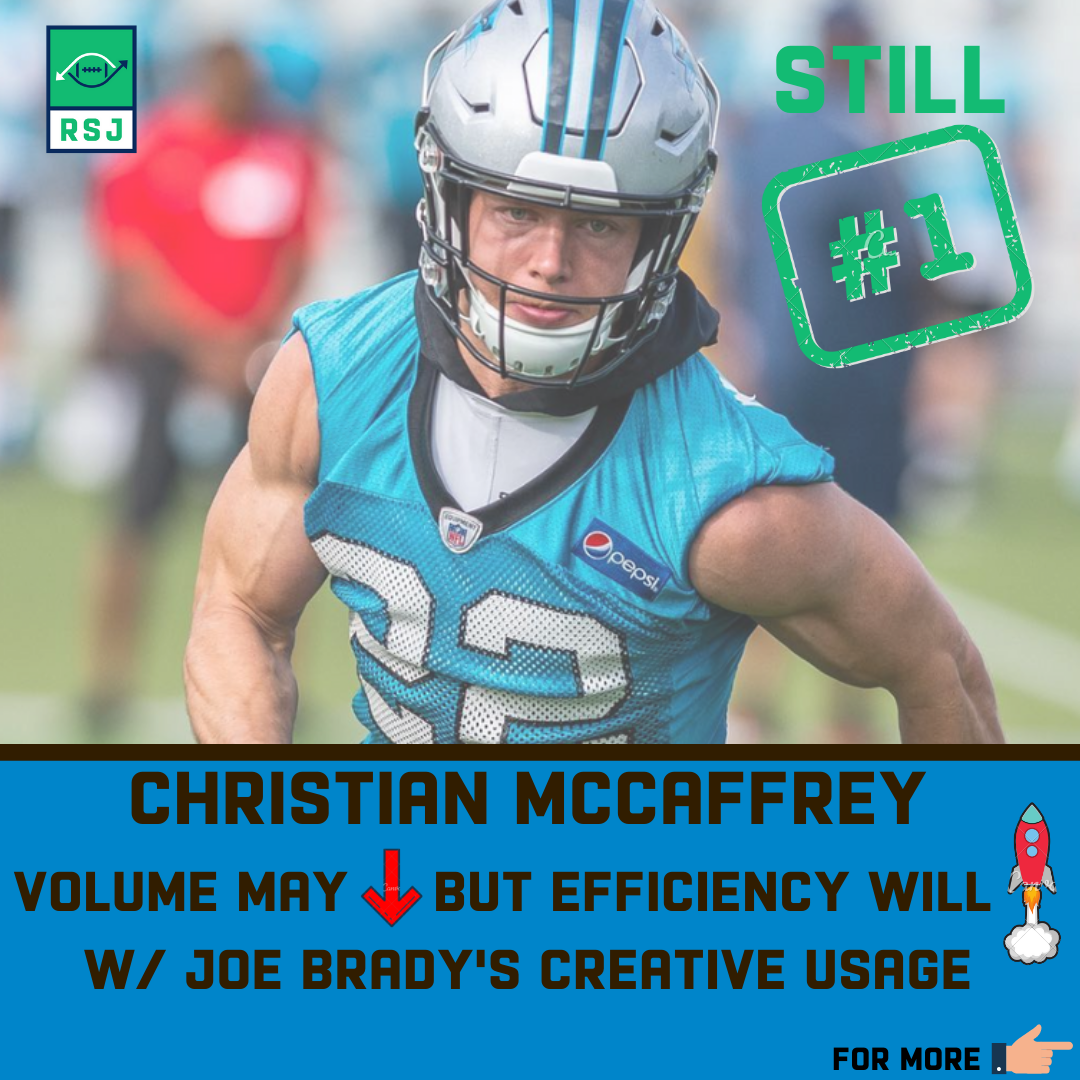 1) Christian McCaffrey Remains the No-Brainer Lock at No.1 Overall
Wow, how bold Wolf! Recommending 2019's top-scoring RB, who tallied nearly 160 more points (471 total) than the next-closest Aaron Jones (314) at the top of the draft? You've got some real MOXIE!
Look, assuming you're sane, you don't need any additional push to take CMac at No.1 overall. He just posted the second-most FPs of all-time in a single season (471.2 FPs), became the third 1,000 yard rusher / 1,000 yard receiver in NFL history, broke his own RB reception record (116 rec), led the league in TDs as well as scrimmage yards (2,392) by a whopping 615 yards… the list goes on and on.
Yet, the loss of Norv Turner, who's a bellcow breeder to the fullest and now the play caller behind the top-two fantasy seasons of all-time (McCaffrey (2019) and LaDainian Tomlinson (2006)), has to at least be considered… right? Regression is inevitable, no?
Well, from a sheer volume standpoint, definitely. Turner funneled almost the entire offensive load to McCaffrey, who accounted for 44% of the Panthers' total yards and 50% of their total TDs. Contrastingly, both Brady and Rhule believe in spreading the wealth:
"Good offenses have eight to 10 guys touch the ball a game," Rhule proclaimed of his Baylor attack, while Brady famously described his LSU attack as "Everybody Eats." 
Thus, don't expect another insane 403 touches for McCaffrey– 50 more than the next closest back in 2019.
Yet, the quality of the touches McCaffrey does receive could improve dramatically.
For one, the entire offense could be in for a quantum leap under Brady. After ranking just 20th in scoring (21.1 PPG), the Panthers have the talent to leap into the Top-10 if Brady's as legitimate as advertised. The fact CMac led the NFL in TDs in a bottom-12 offense is hilarious, and McCaffrey could top his 19 scores if/when all offensive ships rise in this new attack. Brady loved riding RB Clyde Edwards-Helaire in the Red Zone, who racked up 17 TDs despite his 5-8, 209 lb frame. Remember, Brady prefers keeping the same personnel inside the game, so don't be worried about a sudden vulture situation.
More than just a sheer overall offensive leap, McCaffrey should benefit from his perfect fit within Brady's offense. Brady craves versatility from all his players, as he prefers using the same weapons in a continually-changing approach. Perhaps no weapon in the NFL is more multiple or malleable than McCaffrey, who prides himself on being a "true receiver" in addition to an elite RB.
No doubt, Turner already used McCaffrey extensively in the passing game — his NFL-record 116 receptions are impossible to argue. More often than not, though, this volume came on quick-hit dump offs in the flats or as a safety valve on broken plays. Brady, meanwhile, will split McCaffrey out wide and use him on the full route tree and on a variety of creative screen concepts. When describing his philosophy for RB usage, Brady hinted at a heavy pass-catching role:
"Running backs are here to run the ball and catch passes," gushed Brady. "They're not signed to play at LSU because they're dynamic blockers. That's what offensive linemen are for. Are they going to have to do it? Yes. But the more we can get them in the routes, the more defenses limit the packages they can do and it allows us to do what we have to do.

"We can't allow teams to continue to send pressure. If we can keep them off base by throwing screens, then we're doing our job instead of waiting for a defense to apply pressure to us."
Unsurprisingly, Edwards-Helaire set the LSU RB reception record in 2019 with 55 catches. More tellingly, Brady leaned on his versatile back in the highest-pressure situations. Look no further than Helaire's 29 touches (9 rec), 180 total yards (77 receiving), and 4 TDs in the thriller 46-41 win against Alabama, or his equally impressive 33 touches (7 rec), 187 yards, and TD in a 23-20 battle the week prior against Auburn. Ultimately, Helaire totaled 270 touches on the year, nearly 200 more than the next closest RB, while racking up 1867 yards and 17 scores.
Though a definite talent, Helaire can't hold a candle to CMac. At minimum, expect McCaffrey to match those lofty yardage and TD totals, with the ability to blow them out of the water under his most creative play-caller in his young career.
McCaffrey is well-aware of Brady's ever-evolving offense and ability to squeeze the most out of his players abilities. Needless to say, he's thrilled with his glove-like fit:
"There is the pro-style offense, there is the spread offense and there are coaches who bring out the best in their players," McCaffrey said. "I think Coach Brady has a great ability to do that, and you saw that with this year's team.  

"He uses his players and puts them into position to succeed," McCaffrey said. "For whatever reason, that's harder than it sounds. He's going to know how to use us in the best way possible. That's what I'm most excited about…. It's not one system. It's a constant changing.

"You look at what he did with the LSU program this year, possibly the greatest college team of all time. It was fun to watch as an outsider before I knew he was our coach. Now that I know he is [the Panthers' coach], I'm extremely excited.
Expect yet another 2,000 total yard, 17+ TD, and 90+ reception monster year from McCaffrey. His sheer volume will likely dip under Brady, but his efficiency should skyrocket in a more creative role and within a more explosive overall offense where he can't be the sole focus of the defense. No RB has repeated as the top fantasy scorer since Priest Holmes in 2002 and 2003… nearly 20 years ago. Despite the coordinator changes, McCaffrey is in a prime position to break this trend under Brady in 2020.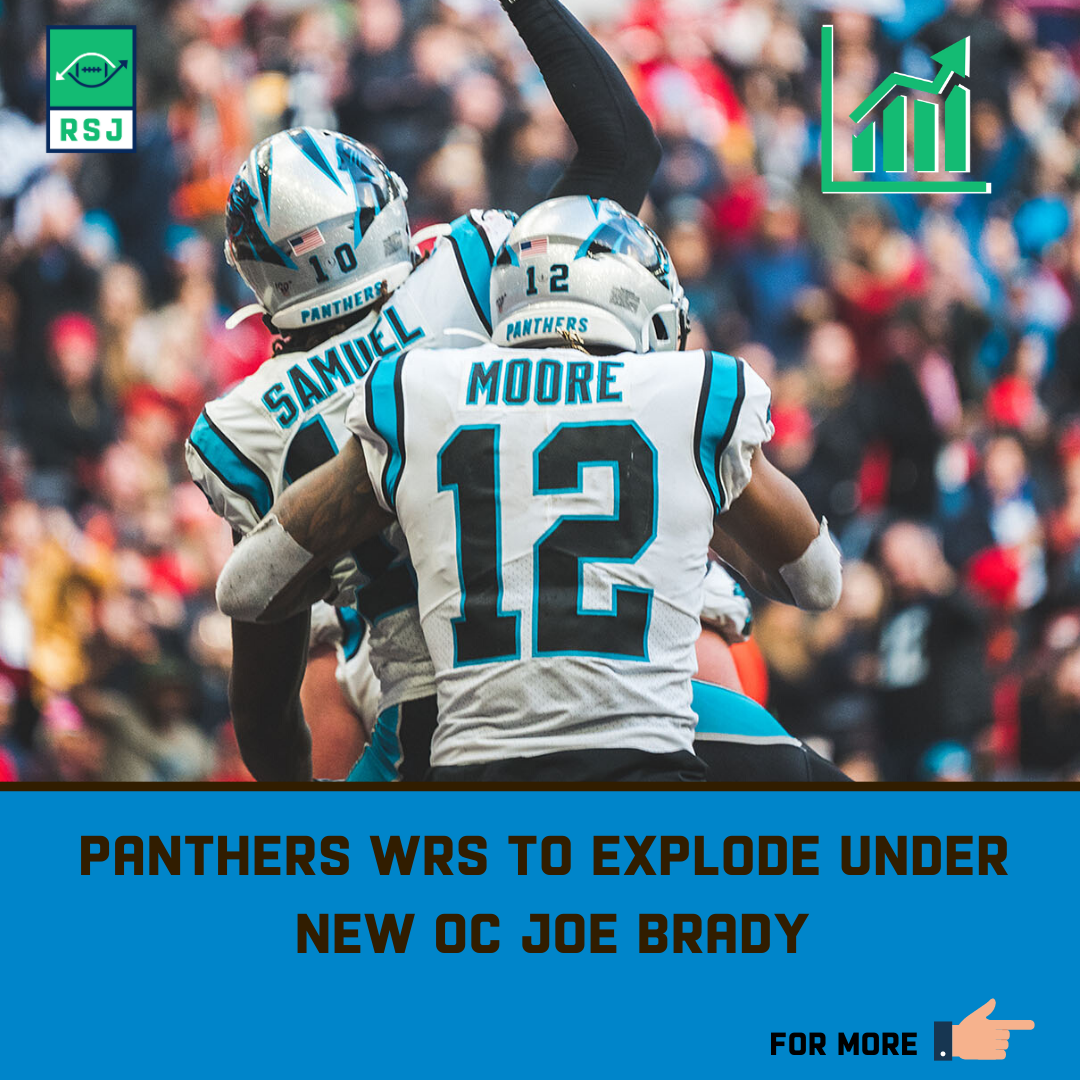 2) Enough "Aerial Pie" to sustain DJ Moore's Ascension to the Elite, a Curtis Samuel breakout, AND Robby Anderson blow-ups?! Yes.
The Panthers didn't have a glaring need at wide receiver.  DJ Moore is already toeing the line of the elite. Curtis Samuel still possesses top-end athleticism, but has been largely shackled with inadequate QB play. As just explored, Christian McCaffrey is the definition of a hybrid back.
Even still, Carolina added Robby Anderson, a top-three 2020 WR Free Agent and one of the NFL's premier deep threats.
Now, Rhule (who previously coached Anderson at Temple) and OC Brady are equipped with one of the NFL's most explosive weapons cabinets. The fantasy football fireworks in the WRs room should be grand finale levels in Carolina.
As we'll explore soon, the move is an obvious boost to Teddy Bridgewater, who we had already labeled as the 2020 Late Round QB Cheat Code.
Moreover, the entire complexion of the Panthers' offense changes with Anderson's field-stretching, 4.34 burner presence. He will drastically open up the entire playbook and underneath field quadrants in equal measure.
Yet, how are his and the other Panthers WRs fantasy values impacted?
More Target Competition… But a Healthier "Aerial Pie" Under Joe Brady
Indeed, Anderson presents another hefty mouth to feed at a table already filled with hungry weapons.
Yet, the feast Joe Brady is about to prepare should keep most bellies filled, and quite heartily.
Outside of Joe Burrow, no LSU players gained more from Brady's addition than the WRs, the position he directly coached in addition to calling most of the plays.
In 2018, the year before Brady arrived, not a single LSU WR hit 900 receiving yards. Justin Jefferson's 54 catches, 875 yards, and 6 TDs were the standout effort. No second pass-catcher hit 400 yards or topped 3 TDs.
Enter Brady. Jefferson exploded for 111 receptions, 1540 yards, and 18 TDs… and ranked second on the team. Ja'Marr Chase paced the Tigers with 1780 yards and 20 TDs, a season after hitting just 313 yards and 3 scores as a freshman. Third WR Terrance Marshall tossed in 13 TDs, because why not?
Simply put: Brady and Burrow concocted an Aerial Bonanza. The key was ensuring all WRs could play any position at any time, allowing Brady to roll out his multiple-look packages and use relentless motion to find constant mismatches:
"We don't want any of our guys learning a position. They're learning concepts. We can move everyone around the field. Ideally, the receiver can play all three or four positions. Now we have the ability to move a guy from the boundary to the slot, the slot to the field, motion them.

"At the end of the day his job doesn't change, he just knows the scheme. We're not teaching, 'You're strictly an X receiver or you're strictly a Z receiver.' I feel if people know exactly where people are going to be, defenses can dictate what they want to do and take guys out of the game. If we can move guys around, if we can get guys in positions that we want to get them into to attack people in the coverages, now we're at the advantage as opposed to defenses knowing exactly where our guys are and now they're at an advantage."
As we've explored, creating this confusion, and capitalizing on the mismatches it affords, is the backbone of Brady's attack. He relies on five man protections and four and five WR sets to unleash as many routes as possible on nearly every play. He'll package his players up in endless groupings,  and utilize a variety of motions, with that key goal that's just so sexy to repeat:
"Applying pressure, getting your speed in space, making defenses defend every blade of grass and just let your players do what they do best."
Between Anderson (4.34), Moore (4.42), Samuel (4.31), and McCaffrey (4.48), Brady now has plenty of speed at his disposal. The latter three — especially Moore and McCaffrey — are incredibly crafty and dangerous with the ball in their hands in space. Anderson can open this up as well as any in the league.
Holistically, this offense is now equipped to hum at perfect levels, with a signal-caller well-versed in the terminology and philosophy already.
How do they all individually shake out though?
DJ Moore Still Likely to Ascend to the Elite
The first Panthers WR to top 1,100 yards since Steve Smith, Moore had a sensational sophomore season. Despite horrendous QB play, Moore ranked 10th in both targets (135) and receptions (87), while racking up the 8th most receiving yards (1175) in only 14 games. Pegged as a potential "full-time slot option" as a draft prospect, Moore has instead dominated on the outside at every layer, showing impressive ball-tracking when not being ridiculously over or under-thrown by his QBs. He was also extremely clutch and the Panthers go-to-guy to move the chains, recording the fifth-most receptions that resulted in a first down among wide receivers.
Considering Brady's desire to "get speed in space," Moore should thrive. He racked up the 8th most Yards After Catch (392), a year after ranking second in YAC per reception as a rookie. Moore will now be in position to compile even more in this scheme.
He only underwhelmed in the TD department (4), though that was far more a byproduct of his surroundings. He miraculously finished as the WR16 despite the low scoring totals, and truly drips in Top-7 upside under Brady.
Though he can certainly burn deep, Moore mostly works a whole different field level compared to Anderson. Without much overlap, the Anderson addition shouldn't hurt Moore's lofty upside. In fact, the greater space Anderson will create might even give Moore a higher ceiling.
Curtis Samuel to Finally Be Properly Utilized
Meanwhile, pegged by many as the breakout WR of 2019 (including us), Samuel simply face-planted. Sure, his 627 yards and 7 TDs weren't that bad for a developing third-year WR. Still, they were a far cry from the expectations generated from an off-the-rails hype train, and his WR36 finish, below Larry Fitzgerald and Cole Beasley, was highly disappointing.
But so many of Samuels' struggles came at no fault of his own. His 62.6% catchable ball rate ranked 105th in the league, resulting in insane inefficiency that saw Samuel rank 9th in Air Yards (1542) but just 52nd in actual yardage (627).
If anything, Samuel was over used as a deep threat, which has many mistakenly concerned that he and Anderson are redundant and will constantly eat each other's cheese.
Not so.
Labeled as a Percy Harvin type of hybrid as a prospect, RB-esque shiftiness and agility were rarely utilized, with the speedster ranking just 74th in YAC. Essentially, Samuel was a field-stretching decoy for QBs who couldn't deliver the mail, but is capable of far more.
Given Brady's propensity to craft around his players' strengths, expect a far different, far more appropriate role for Samuel in 2020. Though not quite as accomplished as Moore, Samuel is faster and similarly versatile to line up in multiple spots, including the backfield.
Beyond more timely deep looks and YAC opportunities, Samuel's dangerous Red Zone abilities will be capitalized on; he scored all 6 of his receiving TDs within 20 yards of the end zone, and again, Brady is a master of building around his players strengths.
With most owners sickened by his 2019, Samuel could come at an amazing discount in 2020, making him one of the best Post-Hype Bounceback candidate of 2020.
So what's this leave for the new guy?
As mentioned, Brady's offense could easily concoct enough volume for three very viable fantasy WRs — he certainly did at LSU. Moreover, Anderson definitely has the speed his play-caller craves, and the Rhule connection can't be underestimated.
Yet, of all the weapons here, Anderson is a bit more "one trick pony" as a deep ball specialist. He certainly does this trick as well as any in the NFL: according to the NFL's Next Gen Stats, Anderson ranked third (16.5) and seventh (15.3) in average targeted air yards in 2018 and 2019, respectively. He has 11 career touchdowns of 30 yards or more, third-most in the NFL since 2016.
Still, this more one-dimensional style of play seems likely to place Anderson fourth on the target totem pole, behind McCaffrey, Moore, and Samuel. From a fantasy and definitely a volume perspective, Anderson's ceiling could've been a lot higher with, say, the Eagles or Packers.
Indeed, the real life fit is still gorgeous. Anderson will be a coverage magnet that opens up the field immensely. He'll also have his fair share of blow-ups, matching up with weaker competition than he's ever faced before
We also can't rule out Brady unlocking YAC skills we haven't seen yet in Anderson, expanding his route tree more than ever before. Anderson still drips in upside here, and shouldn't just be erased from your draft list because it's not the ideal spot at first glance.
The $12 million price tag certainly suggests a highly-defined role. Unfortunately, that seems unlikely to yield much different fantasy results than we've become accustomed to: many explosions, with just as many disappearances, and a headache to project which is coming next.
Summary: Reason to Love All Three
In a division featuring explosive offenses with minimal defense, shootouts are abound for the 2020 Panthers. Brady could truly be the next great offensive mind, and it's fully possible all three of these wideouts blow up.
If drawing comparisons to Brady's LSU WR weapons (and they're far from perfect), Moore seems to bring the physicality of Jefferson, Samuel the shiftiness and speed of Chase, and Anderson the field stretching, Red Zone presence of Marshall, all while McCaffrey feasts out of the backfield and out wide like Clyde Edwards-Helaire.
Thus, all three WRs are high-upside fantasy picks. Moore comes with the highest floor, and is worthy of an early third (my WR11, 29 OVR). Samuel projects as a high upside 7th-8th Rounder (WR38, 87 OVR), and Anderson not too far behind (WR43, 100 OVR). Don't be shocked if all three exceed those price tags.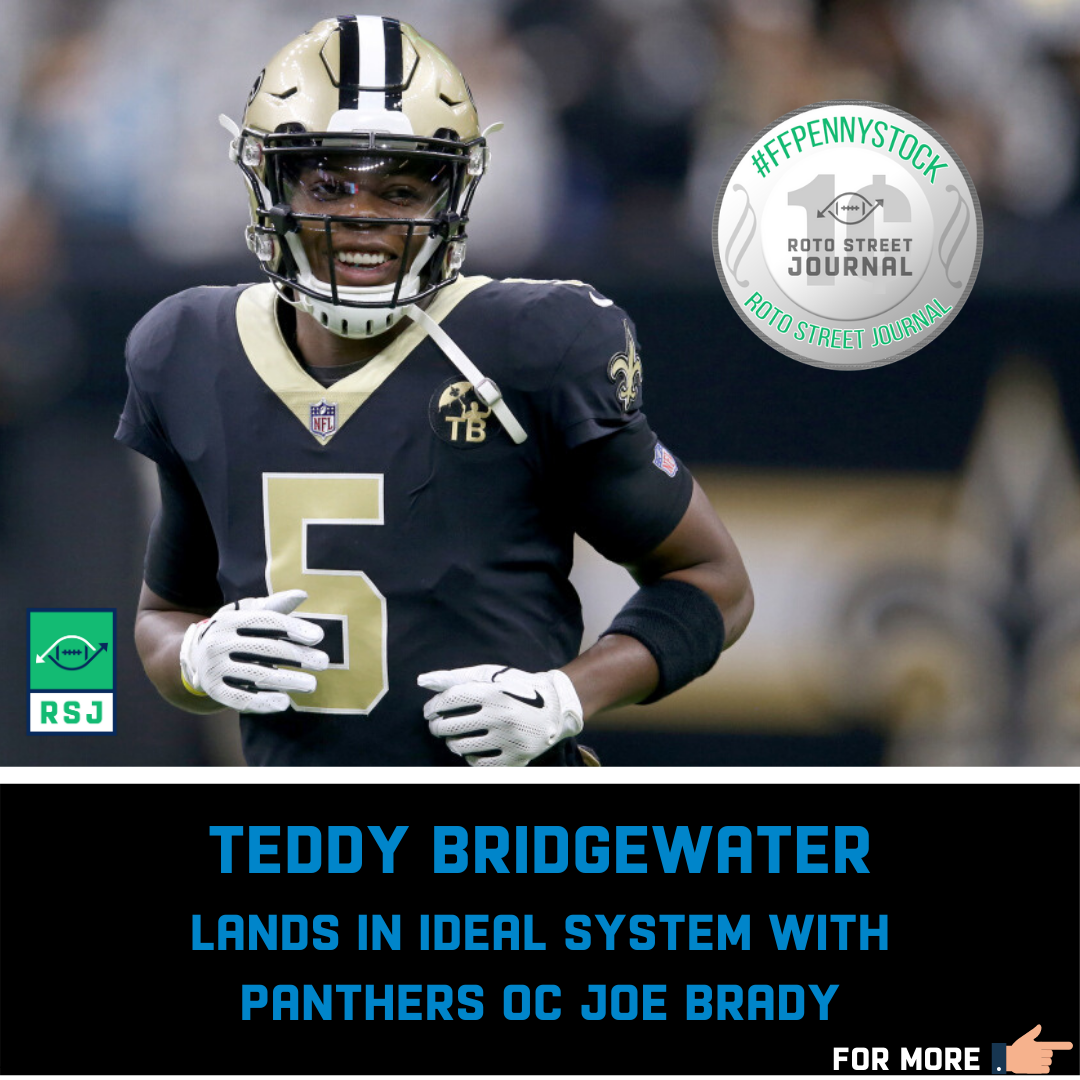 3) Teddy Bridgewater: The 2020 Late Round Fantasy Cheat Code QB
In back-to-back years, Patrick Mahomes and Lamar Jackson won countless owners championships, pacing QBs in fantasy scoring despite bottom-barrel prices.
In 2020, Teddy Bridgewater just may be that QB.
After spending time together in New Orleans, Brady immediately went out and signed Bridgewater to a monster 3-year, $63 million deal. Despite all his limitless upside, Cam Newton was sent out like yesterday's garbage in favor of the lesser-proven Bridgewater's scheme familiarity.
We've already outlined the insane weapons cabinet Bridgewater have that'll make life easy on him.
But why will Bridgewater be the one to unlock the upside of them all, and in turn himself?
For the 1,000th time, Brady's scoreboard-breaking LSU attack was largely inspired by the Saints, mimicking Sean Payton's quick-strike offense. One that constantly finds mismatches with motion, and overmatches coverages by unleashing five options into routes on nearly every play.
While in New Orleans, Brady was able to sit in meetings with Payton and Drew Brees (and Bridgewater), where he undoubtedly absorbed plenty of perspective on attacking defenses. In fact, insiders suggested Brady was the man in charge of catching Bridgewater up to speed when he was acquired via trade.
Is it any surprise the team targeted Bridgewater then?
It's clear Brady and the Panthers favored his accurate skill-set, Saints background, and scheme knowledge, enough to let go of Newton and his higher potential.
Yet, Bridgewater wasn't selected solely for his scheme knowledge.
His Own Skills
1) Accuracy and Field Awareness
Even if Bridgewater doesn't bring the "sizzle" of Newton, he has more dependable "steak" to his game that's necessary for a quick-strike, high-percentage offense. Bridgewater completed 67.9% of his passes last season in going 5-0 for the Saints, and has a career completion percentage of 65.2. He's calculated, reads the field well, and is an excellent anticipation and rhythm passer — all staples to execute this scheme.
Contrastingly, Newton has topped 60% in completions in only one season, and has a career percentage of 59.6.
Bridgewater's high completion percentage, most detractors say, is a result of an overly-conservative nature. They aren't necessarily wrong: his average career pass has traveled just 6.8 yards downfield, third shortest among the 39 QBs with 1,000 passes since he entered the NFL in 2014. Yet…
2) Adequate Deep Ball
Just because he tends to play it safe doesn't mean Bridgewater is incapable of slinging the rock. PFF did an excellent breakdown of Bridgewater's rapid growth from his first three games with the Saints (Weeks 2-4) compared to his final three (Weeks 5-7):
| | | |
| --- | --- | --- |
| Stat | Week 2-4 | Week 5-7 |
| PFF passing grade | 55.8 | 83.0 |
| Adj. Completion % | 80.3% | 80.6% |
| Clean-pocket rating | 99.7 | 125.2 |
| Average depth of target | 5.4 | 6.8 |
| Yards per attempt | 6.2 | 7.7 |
| Big-time throw % | 1.1% | 5.5% |
| Turnover-worthy play % | 4.2% | 0.9% |
They noticed a QB who, once he had a few starts to knock of the rust and gain confidence in his knee and own ability, experienced "a genuine change in his comfort level playing quarterback." Highly understandable, considering the devastating nature of his injury and lack of real playing time since. Perhaps the coaching staff grew more comfortable letting him unload a bit more too.
Rather than hitting the shortest, quickest read, Bridgewater let the longer routes develop. He spun the ball into tight windows, flashing high-end, big play ability to go with his well-established baseline.
In these last three games, despite pushing the longball more regularly, Bridgewater completed 68% of his passes, averaging nearly 280 passing yards per game. He fired seven touchdowns against one interception and compiled a 108.4 passer rating.
He may not have the strongest, most live arm. Still, Bridgewater can push it when called upon, especially on anticipation throws involving in and out-breaking routes. As detailed in this "Teddy Bridgewater Deep Ball Dive":
"He was accurate on 21 of 24 of those anticipation routes – an astoundingly high number. In fact, Pro Football Focus noted that he was the most accurate deep passer in the NFL on those kinds of routes. Bridgewater was similarly great throwing with anticipation on deep crossing routes, as he was accurate on 8 of 12 of those routes."
He struggles more with the straight up vertical routes (i.e. fades and flies). Thankfully, when Brady dials up the deep game, it's almost exclusively on anticipation style throws — just like the Saints.
3) Solid Athleticism
Though no Newton, Bridgewater does offer some escability and mobility in the pocket.
This will be crucial to execute Brady's RPO plays
If the QB has zero athleticism, these RPO plays can be erased. Thankfully, Bridgewater offers plenty of rushing ability, even if he's a pocket-passer first and foremost. Thus, expect Bridgewater to add some solid bonus "Konami Code" upside to his game through his sneaky rushing ability.
Summary: A Perfect Fit of Talent and Scheme
From his scheme familiarity, to his accurate, rhythmic arm, Bridgewater is tailor-made for Brady's scheme — the same one that vaulted LSU and Burrow from mediocre to shattering NCAA records.
Thankfully, Bridgewater will also be afforded the ideal weaponry to execute the scheme. With the key getting "speed in space," Bridgewater will have plenty at his disposal: again, WRs DJ Moore, Curtis Samuel, and Robby Anderson run respective 4.42, 4.31, and 4.34 forties.
Oh, and then there's Christian McCaffrey  — the slowest of the bunch with a (still blazing) 4.48 forty, but arguably the hardest tackle when he has grass in front of him.
Every single one of these guys have the speed to take a short pass the distance, and Brady's scheme excels at shaking them free. Even if Bridgewater maintains his 6-7 throw distance, he could still be in line for massive big play points on scheme and talent alone.
With weapons galore, the perfect scheme and skillset to operate it, and some sneaky rushing upside, Bridgewater truly has Top-Five upside at a QB2 price.
Summary: Get Your Popcorn Ready
Prior to the 2019 season, Brady told LSU Fans to "get your popcorn."
"You're going to see an up-tempo offense that's going to get our speed in space…I say, 'Get your popcorn.' When you're sitting there enjoying a movie and everything is good, that's what you're going to be doing when you see this offense this fall… If you're utilizing your tempo and the athletes you have on the field at the time, good things will happen."
This confidence bordered on cockiness… yet, after LSU and Joe Burrow's epic explosion, every ounce of conviction rung true.
Now, Panthers and fantasy fans should be preparing their popcorn butter now, as Brady has plenty of athletes to mold around.
He loves pushing the pace, often in no-huddle, while utilizing minimal protection packages to get as many possible routes out in space for his QB. Similar to Shanahan and Reid, Brady utilizes tons of pre-snap motion and unique packages with the same personnel, creating mismatches galore for his weapons.
No one fits a malleable, ever-changing offense better than All-World tailback Christian McCaffrey, who remains a no-brainer at No.1 overall. Meanwhile, based on Brady's previous work with WRs, DJ Moore should see his numbers — especially TDs — spike en route to ascending to the truly elite, while Curtis Samuel's expected 2019 breakout will come to fruition a year late. Despite likely ranking fourth on the target totem pole, Robby Anderson should notch enough big plays to still be a week-swinging flex from time to time, at worst. Perhaps Brady uncaps a ceiling we have yet to see, especially with Anderson facing weaker coverage than ever before.
Plus, Teddy Bridgewater already knows the ins and outs of this complex scheme. With these weapons and a shootout slate, he could be the 2020 Cheat Code QB.
Of all the 2020 coaching hires, Brady carries the most "McVayian" upside. Enjoy your discounted Panthers while you can, fantasy fans. The 20th ranked offense is about to ascend to the Top-8.