Player Stock Ticker
Damien Harris 2020 Fantasy Football Sleeper, Showcasing 3-Down Skill Set at Patriots Camp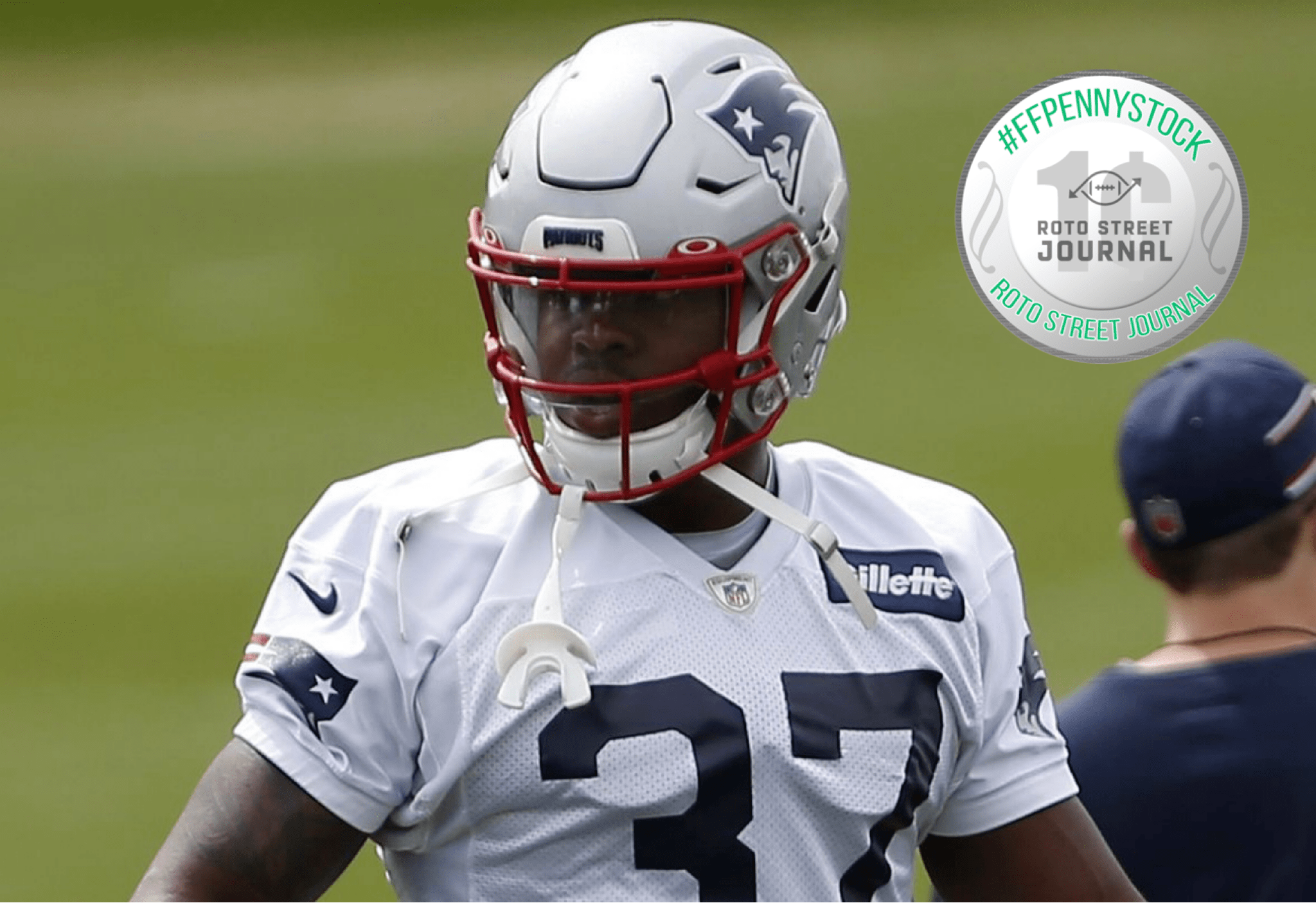 With both Sony Michel and newly acquired Lamar Miller currently on the PUP list, Damien Harris has been showcasing his talents at Patriots camp. Harris' versatile skill set might give him the nod over a healthy Michel, since he's been proving himself in the passing game and developing a solid connection with Cam Newton throughout training camp. Although the former Nick Saban bell-cow did not make an impact as a rookie, Harris seems poised for a significant role in year-two and has legitimate 2020 fantasy football sleeper upside.
Drafted in the third round, it was apparent early on the Patriots were going to use Harris' rookie year as a redshirt season. He only carried the ball four times for 12 total yards and was a consistent healthy scratch.
However, it looks like he'll be a fantasy factor during his second season.
"Well, he had a lot of opportunity to work as the scout team running back (last season) and do the things that those players did, whether it be in the running game or the passing game," Bill Belichick said.
"He's a smart player, and he has a lot of skills that I think we'll be able to utilize. He's had an opportunity to get quite a few reps here in the work that we've done to this point, so I think that's helped him, but he seems like he's in good shape and ready to go. Looking forward to seeing him."
So far during camp, Patriots beat writers have gushed over the second-year back.
"Damien Harris looked really good again," wrote The Athletic's Jeff Howe. "He was decisive with his reads, elusive in traffic and powered through the line for a touchdown in goal-line work."
ESPN's Mike Reiss went even further when he basically said it's Harris' job to lose.
"I think he's running back #1 right now" —@MikeReiss on #Patriots RB Damien Harris

Joe Thuney used the word "explosive" to describe him recently

Reiss notes Harris has been "hard to tackle"

— OMF (@OMFonWEEI) August 21, 2020
Greg Bedard joined 9.85 The Sports Hub and gushed:
"Harris has been sensational. Plays bigger than he is. He makes some cuts and his vision, I haven't seen in some time.
"Certainly an upgrade over Sony Michel. And he is a dynamite pass-catcher out of the backfield. It's very natural to him. He has been the clear Breakout Star of this camp and he is the No.1 running back by far this offseason."
Even if Michel returns to health, it's Harris' pass-catching ability that can set himself apart and make this offense far more difficult to defend.
With Michel on the field, the Patriots offense is exceptionally one-dimensional. In Michel's first season, the Patriots ran the ball 76 percent of the time when the rookie was on the field. Last year, they ran the ball 66 percent of the time he was on the field, according to Patriots beat writer Phil Perry. In Michel's first two seasons, he's totaled an insignificant 19 receptions in 29 games.
This could be Michel's doom, and Harris' boom, in an offense WEEI's Ryan Hannable expects "the running backs to be much more involved."
Hannable continues how "Having Harris on the field would give Josh McDaniels a number of different options in terms of what plays he can call…This would help the offense as a whole with being more unpredictable…if Harris is the No. 1 back there will be even more things a defense would need to prepare for."
To stay on the field, Harris must prove his chops in pass protection, which he was able to do under Nick Saban at Alabama. He also caught 52 passes in college, highlighted by 22 during his final season.
"I feel comfortable," Harris said about his pass-catching. "Obviously, there's still room for improvement. That'll be something along with all of the other things I'll work on day in and day out. It's just a part of it. There's not any part of your game that you can't improve on. That's one of the many things that every single day I go out there with the mindset to get better at."
While Harris has the receiving pedigree from his time in Tuscaloosa, he's also been Newton's top target in camp. Through four practices, Harris leads the team with seven receptions from the Patriots' new quarterback, according to Howe.
The longer Michel is on the PUP list, the more likely it is that Harris can outright win the Patriots RB1 job. Currently going in the very, very late rounds of fantasy football drafts, Damien Harris can be a season-changing 2020 fantasy football sleeper.
Currently, we are much higher on Harris than the rest of the industry. He checks in at RB44 in our 2020 Fantasy Football Rankings, which is +11 vs. the ECR.