While the coronavirus continues to hold a tight grip on our everyday lives, a sense of normalcy is near. In a COVID-19 world, depth is especially paramount while preparing for this fantasy football, especially those backing up fantasy workhorses. Benny Snell Jr. and Darrel Williams are two overlooked RB handcuffs that have league winning upside should illness or injury befall James Conner and Clyde Edwards-Helaire, respectively.
Last season, while Conner was out with injury, Snell proved more than capable of shouldering a heavy load. In fact, in the four games that Conner missed with injury, Snell made the most of his opportunity.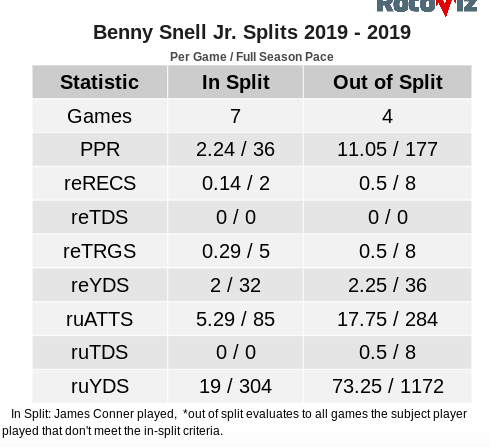 While Snell doesn't provide really anything in the passing game, he was an efficient and decisive runner. Should Conner, who has had an injury-plagued career thus far, go down again this season, Snell is next in line to inherit a heavy workload on the ground.
To stay on the field, Snell needed to work out his issues in pass protection, an area that OC Randy Fichtner praised during training camp.
"That level that Benny Snell is at right now and his growth in his second year (are) the kind of things that come (with) growth and happen over the course of one season," Fichtner said. "He has put himself in a unique situation now because he is in good condition, and his usefulness and his knowledge is getting better every day."
As for the Chiefs, should fantasy tragedy befall the rookie golden child, Edwards-Helaire, Williams is Clyde's clear backup. In camp, Williams "has been exceptional at every task in the offense" while splitting first-team reps with Helaire.
In particular, the Chiefs offensive coordinator, Eric Bieniemy, endorsed Williams' pass-catching and blocking abilities:
"With a veteran like Darrel Williams, he's done a hell of a job," Bieniemy said. "He's smart, he can run it, he does a great job of picking up the blitz, and he's also good in the pass game as far as catching passes out on the perimeter. So, the thing is that we want to continue to grow with that position."
It's no secret that the Chiefs backfield offers some of the most lucrative fantasy touches. It's also no secret that Andy Reid is one of the premier workhorse running back breeders. While Williams has never been one of the most efficient runners (3.4 career YPC), his pass-catching chops make him an excellent stash at the end of benches this season.
Benny Snell Jr. is currently the RB53 (+13 ECR) and Darrel Williams is the RB56 (+27 ECR) on Wolf's 2020 Fantasy Football Big Board. Snell and Williams both posses RB1 upside and belong in the handcuff conversation with the likes of Tony Pollard and Chase Edmonds this season.