Player Stock Ticker
Antonio Gibson Fantasy Outlook After Adrian Peterson's Release: Round 4/5 RB League-Winner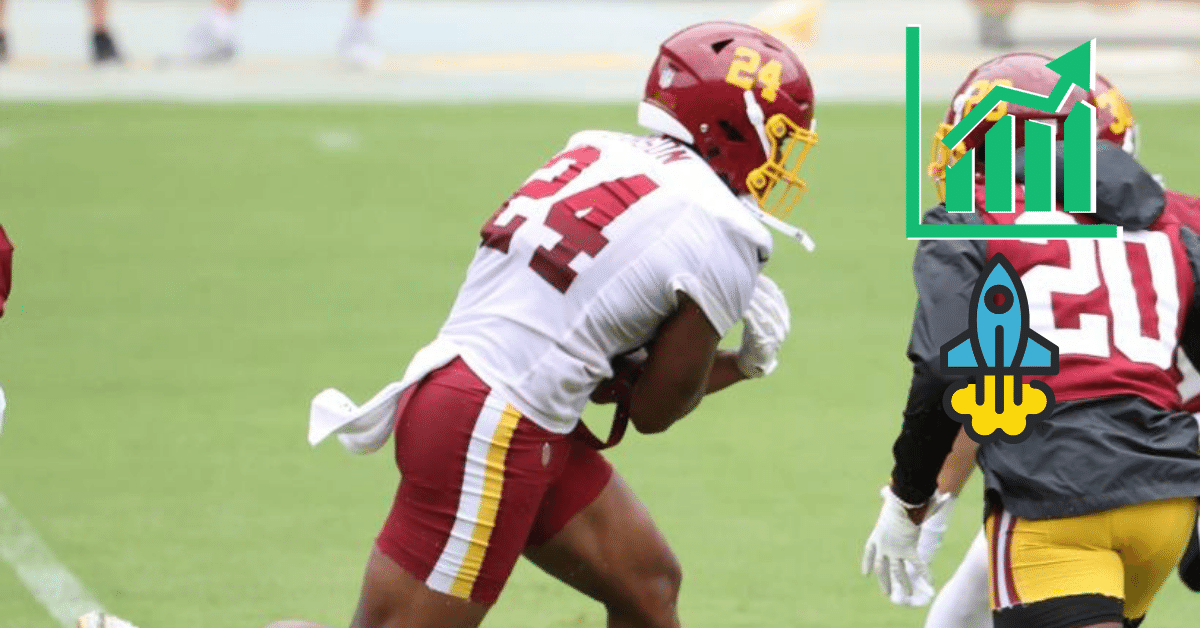 We haven't been quiet in building Antonio Gibson's fantasy drumbeat this offseason. Our tapping began when Gibson landed in a congested, but easy-to-climb, depth chart on a Washington team desperate for playmakers. This tap tap tap soon became a bang, first when Derrius Guice was released, and even louder as Gibson thrived in early camp.
Just last night, I expressed my bafflement at Gibson's ADP falling
Now that Adrian Peterson has been released? Good lord, our drums are now broken. We're bringing out the gongs and cymbals. Antonio Gibson is the 4th/5th Round RB pick who could win you your fantasy league.
If you don't believe me, take it from the mouth of the man just released, AP:
"Look Antonio Gibson is a hell of a talent…This system really fits him. I feel like I can do that pony style too, more as a receiving back. We were all working on it, but they really want one main guy to do it & they drafted Gibson for it." – AP

Pony Style FTMFW

— Wolf of Roto Street (@RotoStreetWolf) September 4, 2020
Did someone say… "Pony Style?" Perhaps my new favorite, surpassing even "Animal" or "Doggy." (I'm a loser).
If you somehow need more encouragement, let's run him through the most important parts of the Fantasy Stock Formula, Talent & Usage, to show why Gibson is even more likely to swing fantasy leagues in 2020:
Talent: Gibson Lab-Created PPR Specimen
Gibson's raw athleticism is off the charts. He ran a 4.39 at the combine at 228 pounds. In his limited work as an RB / WR hybrid, he broke 33 tackles on only 71 career touches. Gibson flashed elusiveness, power, and rare explosiveness / long speed at his size to create mammoth plays and week-changing swings.
Here's the scouting report one of my favorite film evaluators, Greg Cosell of the great FantasyPoints, tweeted out: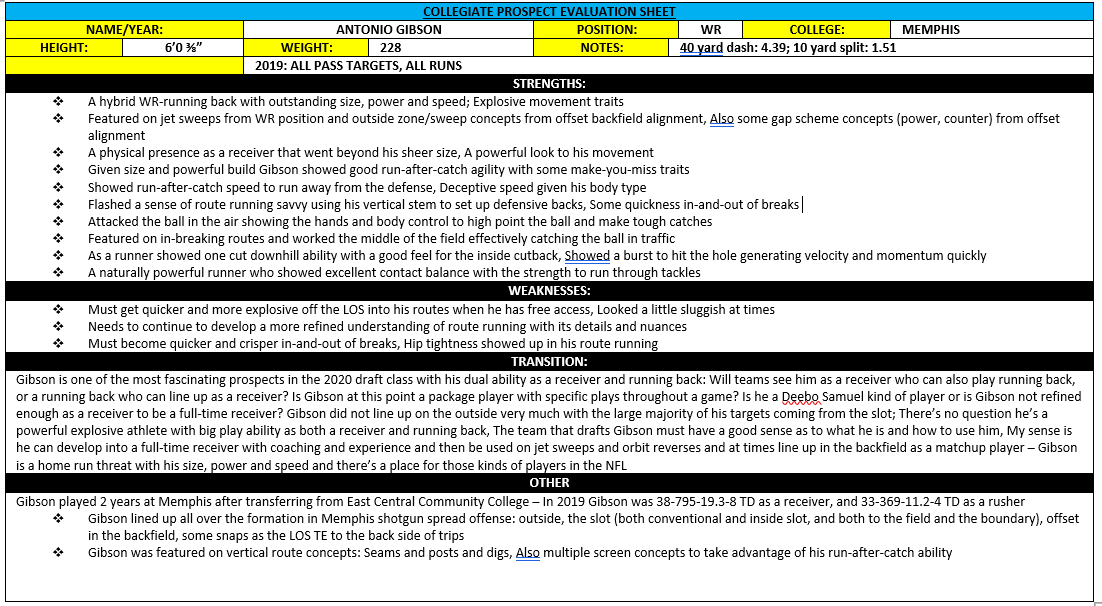 Of particular note: Gibson's versatility as a runner and receiver. In addition to being raw, many of Gibson's "weaknesses" are in route-refinement and beating press coverage.
Fortunately, we shouldn't have to worry much about that.
As Cosell wisely points out: "The team that drafts Gibson must have a plan how to use him."
With AP's release, we're starting to see our wildest Gibson usage dreams come true:
Usage: Potential PPR Heaven & (Dare-I-Say) Bell-Cow Upside
AP's release signals far more than just a clearer path to volume for Gibson.
It implies an entire offensive philosophy change is underway, one grounded in Norv Turner, new Football Team (lol) OC Scott Turner's father, philosophy:
Pepper a dangerous RB in space.
Under Norv Turner, Washington OC Scott Turner's dad, RBs avg'ed 134.9 targets per season (8.43 per game) & over 32% tgt share.

Adrian Peterson: "They really want one main guy, *pony style*, more as a receiving back. They drafted Antonio Gibson for it." https://t.co/rLN9PJz1KN

— Wolf of Roto Street (@RotoStreetWolf) September 4, 2020
Remember: this is a system that fed thing named Chris Ogbonnaya 74 targets, facilitated a 70 reception season from LaMont Jordan, and helped Frank Gore set career highs in targets (86) and receptions (61).
Also remember, as the GOAT Scott Barrett points out: a target has been worth 2.74 times as much as a carry in PPR leagues
Let the targets rain upon thy Gibson! Throughout camp, even prior to AP's release, that seems to be the exact case:
Nevermind that Gibson's extremely powerful. He has repeatedly been a factor in team Red Zone drills, whether up the gut or stretching to the pylon's outside on sweeps / tosses. Ultimately, with AP gone, Gibson should win the GL role above this lackluster pack.
Indeed, Bryce Love, JD McKissic, and maybe Peyton Barber could siphon some touches. But don't underestimate AP's endorsement. He's seen far more practice time than any other, and if he believes it's about to be the Gibson Show, I trust his word more than any beat writer.
Nevermind that the Football Team's offense as a whole is due for a massive spike in total plays, and thus, total volume:
Plus, the Washington Football Team is due for a major step in sheer volume. As RotoViz's Jack Miller points out:
"Washington is also likely to see a bump in total volume. They ran just 55.3 plays per game in 2019, the fourth-lowest mark over the last 20 seasons. As you can see in the table below, teams that run an abnormally low number of plays per game usually see an increase in the following season. The average increase from the list below was 5.0 plays per game.

Washington only threw the ball 480 times last season. From 2009 to 2018, there were 60 instances of an NFL team attempting fewer than 500 passes. 86.7% increased their pass attempts in Year N+1, and the average change was +55.3."
Yes, Gibson will likely still share work. But, if he's as legit as his athleticism, his 228-pound frame should have no trouble sprinting ahead of this lackluster pack at a 4.39 forty pace.
Summary: Hammer Gibson in Late 4th, Early 5th
We all know the bell-cows fall off in Round 2, after the Top-14 RBs are taken. Thankfully, Cam Akers and now Antonio Gibson offer potential bell-cow relief in the midrounds.
Gibson was already a great bet even with Guice and Peterson ahead of him. Now, with those two roadblocks gone, he faces minimal competition for the most valuable backfield volume within an ascending Washington attack.
There's real "Next David Johnson" upside here, and the floor is now significantly higher to pair with that astronomical ceiling. Gibson has become a must-hammer pick in remaining fantasy drafts.
Really, the only negative here, is I can no longer scoop him in Rounds 9-10. On my latest 2020 Fantasy Football Big Board, Gibson has leaped from 79 overall to now 44 overall, just below Akers at RB19, and ahead of Odell Beckham overall.