Player Stock Ticker
2020 Daily Fantasy Football: DraftKings NFL Week 1 Picks and Sleepers
Folks! We are back and we couldn't be any happier. With all the uncertainty in life right now, it's nice to have DraftKings NFL back in our life to obsess over and spend all our time constructing masses of lineups. This year will be tricky to start with no preseason games and limited training camps to get real early looks at guys, but we have what it takes to produce some high-quality lineups to get the cash flowing early this NFL season.
Here are our DraftKings NFL Week 1 picks and sleepers:
QUARTERBACKS:
Carson Wentz ($6,300)

In Week 1, I want to save money at the QB spot in order to maximize my spending at the RB position. The most expensive I'll go would be Carson Wentz against Washington. Historically, Wentz has had great success against Washington and averaged 25.24 points last year against them. This game has shootout potential if Dwayne Haskins and co. build off their late-season success.

Jimmy Garoppolo ($5,800)

While Jimmy Garoppolo's receiving core is currently depleted, a look at his 2019 production against Arizona puts him right onto this list. Garoppolo bludgeoned the Cardinals in 2019 to the tune of 317 yards and 4 touchdowns and 424 yards and another 4 more scores, totaled  31.88 and 34.66 fantasy points, respectively. Following a tough Super Bowl loss, Kyle Shanahan and Garoppolo will look to break the scoreboard in Week 1.

Dwayne Haskins Jr ($5,000)

A real punt at QB that may not be so ridiculous if you stop to think about it. Finding a QB in this price range that actually starts it pretty rare, but Haskins is the day-one starter and it won't take much for him to cover his salary from a production-wise. In his start last year against the Eagles, Haskins threw for 261 yards and 2 scores. He totaled 20 DK points that week, and if we could guarantee a similar result for this price he'd have to be considered a candidate for lock potential.
RUNNING BACKS:
Christian McCaffrey ($10,000)

The demigod himself. What's best about Week 1 are the prices come out so early, you're able to find some hidden game and save money at other spots. It's a steep price tag, but you pay for what you get, and with CMC, that's 20-plus touches and tons of receiving work against a bad Raiders team. He's gonna feast per usual.

Austin Ekeler ($7,000)

I love this range/tier of RBs (Jacobs/Mixon included) and I especially love Austin Ekeler even more so with Melvin Gordon no longer in the picture. Ekeler basically has the backfield to himself, a new QB in Tyrod Taylor who isn't really classified as a gunslinger, and he gets the Bengals' defense. Ekeler should have extremely high volume this week against a defense that can easily be produced on.

Miles Sanders ($6,300)

Give me a guy like Miles Sanders, who similar to Jacobs and Mixon, has little to no backfield competition. Add in the $500 discount and I'll pounce every time. Sanders was a huge offseason winner when Doug Pederson went against his lifelong strategy of RBBCs and will be set to feast in Week 1.

Mark Ingram ($5,500)

While JK Dobbins is starting to attract tons of hype, don't sleep on Mark Ingram this week. Ingram was a guy consistently priced in the mid $6k range last season but sees a nice discount to start 2020. He has an established role in the league's most run-heavy offense and the Ravens are touchdown favorites over the Browns. Add in a full slate of health and you have an established veteran who should get a ton of touches out of the gate before Dobbins eventually eats his role.

Sony Michel ($4,600)

I know what you're thinking. Puke! Barf! Horrific! That guy stinks! And you may be right, but there's a chance he could actually give us value in Week 1. Expected early-down starter Damien Harris landed on IR, which thrust Michel back into the RB1 spotlight. There's the lingering foot issue that kept him out most of camp, along with competing guys like James White, Rex Burkhead, and now Cam Newton at the goal line. But, this Patriots team looks like they will look to run the ball as their Option A, B, and C. Michel would just need a touchdown and decent yardage to pay off his low price tag.

Antonio Gibson ($4,000)

Here's a name a lot of people will be throwing around after the news of Adrian Peterson's departure from Washington. While Antonio Gibson will share touches with the likes of Bryce Love, Peyton Barber, and JD McKissic, Gibson offers legitimate three-down upside and is a weapon in the passing game. If the team was smart, which we don't know yet, they'd give him 15-plus touches and he would be a bargain at his current $4k price.
WIDE RECEIVERS: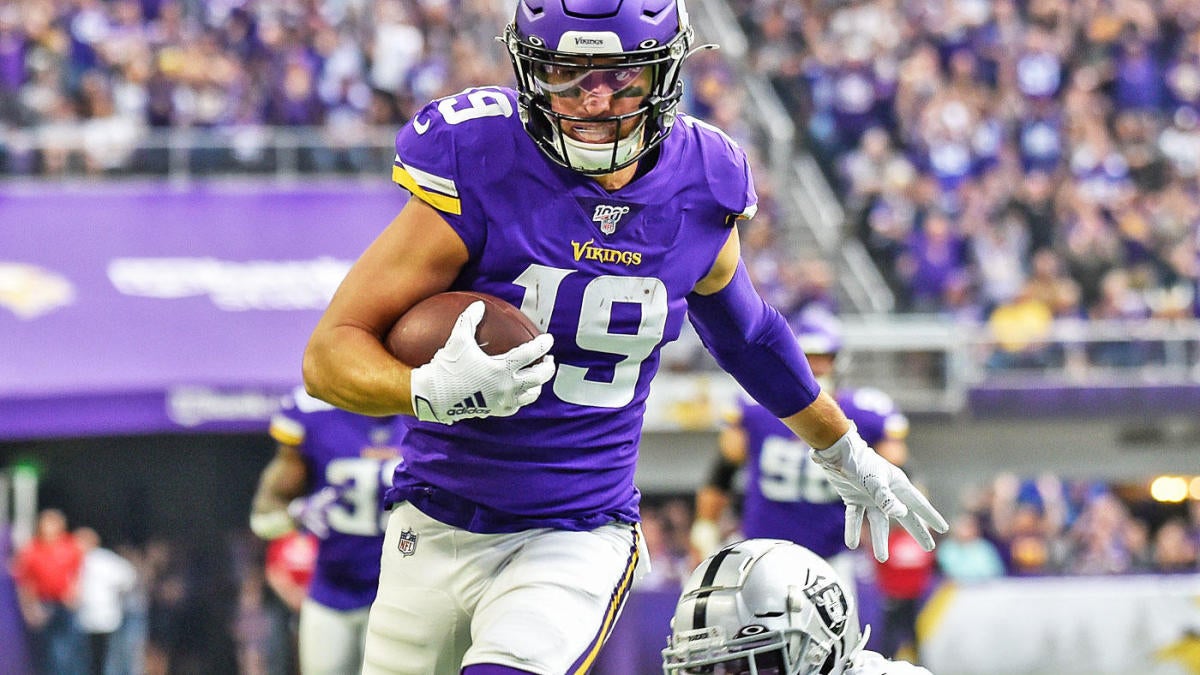 Davante Adams ($7,300)

While Aaron Rodgers hated the Packers lackluster offseason, Davante Adams can rejoice in not having to share his abundance of targets. Last year Adams went for 20.6 and 26.6 DK points versus the Vikings and was consistently priced in the upper $7k or even low $8k range. To get similar numbers and receiving projections at a lower price, I'm all for that.

Adam Thielen ($6,700)

Adam Thielen saw Stefon Diggs leave for Buffalo, and now all of the targets will be coming Thielen's way. As long as he's healthy, which he currently is, Thielen should be Kirk Cousins' clear target hog after the team really only added Justin Jefferson to the perimeter. Ten-plus catches and over 100 yard receiving day with a score is certainly not out of the picture for Thielen.

DK Metcalf ($5,800)

I'm expecting big things from DK Metcalf this season, and what better way to announce your arrival than a massive game against a very poor Atlanta Falcons secondary. Metcalf has a rare combination of size, speed, and power to overwhelm corners, making him a matchup nightmare. This offseason, there's been plenty of buzz surrounding "Let Russ Cook" and the need for Seattle to expand their passing game instead of running the ball exclusively for the first half. Atlanta presents a mouth-watering opportunity for Metcalf to show his true WR1 upside.

Terry McLaurin ($5,600)

The Washington football target hog would be a great option to stack with Haskins if you're bold enough to make that play. Despite the lack of elite talent on the team, Terry McLaurin was able to put up great rookie numbers last year, and certainly made a mark against the Eagles, going for 26.5 and 27.0 DK points. Now in year-five of playing together (as former Buckeyes), McLaurin should be a locked-in WR1 moving forward.

DeSean Jackson ($4,900)

There's always that one guy who blows up early in the season, before coming back to Earth, and having a meh season. That is DeSean Jackson and he's ready for his Week 1 splash. Back with the Eagles in a revenge game against Washington, he put up 8-154-2 last year, before ending his season prematurely. He remains one of the few healthy pass catchers for the Eagles, as first-rounder Jalen Reagor will miss time with his shoulder injury and Alshon Jeffery is out until at least Week 7. While Jackson is healthy and has limited competition for targets, this is a perfect time to play him and go for that rocketship explosion potential.

Hunter Renfrow ($4,500)

A lot of people will probably go after the flashy rookie, Henry Ruggs, or even Bryan Edwards in this spot, but give me Renfrow while the season is young. He already has some chemistry built with Carr from last year, and it's going to take time for the Raiders rookie WRs to catch on and adapt to NFL life. I can see Renfrow being an early target hog, and this game against the Panthers could be one of the highest-scoring games of opening weekend.
TIGHT ENDS:
George Kittle ($7,200)

If I'm a big fan of Jimmy G this week, someone has to be catching a lot of balls with all these 49ers' injuries. Enter Kittle. Yes, his price tag is alarming but Kelce is off the main slate and there's even more projected volume for Kittle to work with right now. If you want to be contrarian by paying up at TE, this is the way to go.

Hayden Hurst ($4,300)

A year after Austin Hooper entered TE1 territory working in Dirk Koetter's system, Hurst lands in Atlanta, and ready to reap the rewards. A former first-round pick, Hurst has plenty of value to this high powered offense and has worked a lot with Matt Ryan in the offseason. If Hurst can match Hooper's early-season success from 2019, he'll do well against a vulnerable Seahawks' defense.

Chris Herndon ($3,300)

A big offseason winner when the Jets added little-to-no pass-catching help. Chris Herndon is finally healthy and off suspension to a team that's craving receiving help. The athletic tight end has shown great flashes when he's been able to stay on the field and was getting rave reviews from camp. The Bills are a stout defense, so I'd prefer to target Herndon against linebackers or defenders over the middle, instead of testing guys like Tre'Davious White on the outside.
DST:
New England Patriots ($3,200)

An elite fantasy defense in the early stages of last year, the Patriots look good in this spot despite the handful of players that opted out on the defensive side of the ball. New England will be very run-heavy on offense and the Dolphins had a number of opt-outs themselves. This could be a low scoring, divisional game.

Detroit Lions ($2,700)

While I'm not a huge fan of the Lions defense, Chicago announced Mitchell Trubisky will be starting Week 1. That's enough to put the Lions into consideration for your Week 1 defense.

New York Jets ($2,100)

Although the loss of Jamal Adams really hurts this squad, they still seem to be under-appreciated for the remaining talent they have on the defensive side of the ball. Buffalo has never really been an offensive powerhouse, so I wouldn't mind punting the defense here and just hoping for a normal production day from a pesky divisional opponent.
Do you have any early leans? Questions about which guy you should go with this week? Want to yell at me for missing an obvious play? Sound off below or hit me up on Twitter where you can follow for daily news or advice on players.