Emerging fantasy football superstar Terry McLaurin was just about the lone bright spot on the Washington Redskins Football Team last year. The franchise limped their way to the finish line, finishing the season with a 3-13 record and were front-runners, along with the Dolphins and Bengals, for both the 'Tank for Tua' and Joe Burrow sweepstakes.
Dan Synder has been in charge of this dumpster fire of a team for over 20 years, but things may be pointing up for the first time in a long time. However, the bar has been set extraordinarily low in Washington, and just because things are "looking up," it does not mean the team will be any good.
It's always a little scary to utilize a top fantasy football pick on a player who plays in a below-average offense with a wildcard at the quarterback position. But on the flip-side, McLaurin is special. He's currently being drafted as the WR27 (62nd overall) and has the tools to break out in a major way this season.
HERE'S WHY
Despite not having the draft capital to match, McLaurin was one of 2019's most talented rookie receivers. Terry measured in at the combine at 6'0, 208 pounds putting him at about average size at the position. He impressed at the combine athletically posting a 4.35-second 40-yard dash (fifth among wideouts), putting him in the 98th percentile for the position per Player Profiler. McLaurin can flat out fly, and his 37.5-inch vertical jump made him one of the class's most promising contested-catch players. With the 76th selection in the 2019 NFL Draft, Washington selected Terry 'F1' McLaurin as the 12th receiver off the board, behind the likes of Andy Isabella and Jalen Hurd.
It didn't take long for Washington to realize they had a unique talent on their hands with McLaurin. After a scintillating start to his NFL career, catching 5 of 7 targets for 125 yards and one touchdown (in his first NFL game), Terry quickly became a household name among the fantasy football community. Just how good was McLaurin in his first season, you ask?
Highest Graded Rookie WRs (2010-19)

1 Odell Beckham (91.2)

2 Terry McLaurin (86.5)

3 Michael Thomas (86.3)
4 Mike Evans (84.0)
5 Antonio Brown (83.9)
6 Keenan Allen (83.4)
7 Demaryius Thomas (82.7)

8 AJ Brown (82.4)

9 Tyreek Hill (80.6)
10 Doug Baldwin / Chris Godwin (80.4)

— Scott Barrett (@ScottBarrettDFB) December 30, 2019
He was the second-best rookie receiver of the DECADE, per Pro Football Focus. The only receiver from 2010-2019 who had a better rookie season? Odell Beckham Jr. That's pretty good company.
He capped off his season with 58 receptions, 93 targets, and 919 receiving yards. He ranked either second or third in every significant receiving category among rookies at his position, without the one thing his counterparts had that he did not; solid QB play.
McLaurin ranked 85th in target accuracy, but when targeted, his quarterbacks had a QBR of 115.9 (tenth among WR). The former Buckeye was also a reliable deep ball threat, averaging 15.8 yards per reception (14th among WR). His lethal combination leaping ability and body control made him one of the league's best contested-catch players in his rookie season, finishing FIRST in the NFL for contested catch rate (68.4%).
But despite the impressive end of season numbers, it wasn't all smooth sailing for the former Ohio State Buckeye. Through his first five games, Terry averaged 18.8 PPR per game, ranking him as the WR6 on a point per game basis.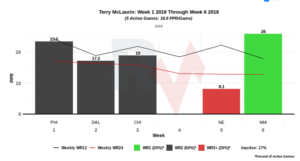 After the team's 0-5 start to the season, the wheels completely fell off the wagon in Washington. Case Keenum was benched in favor of rookie quarterback and McLaurin's former college teammate, Dwayne Haskins.
Despite who was playing quarterback, Terry still produced and ultimately had an impressive rookie season. Inconsistent quarterback play from Keenum and Haskins made him an up-and-down fantasy option, but he was still able to deliver at a high level for a rookie wideout. The splits below show that although there was a drop-off in McLaurin's play, he was still on pace for an excellent fantasy season. 
These are, by no means, world-beating numbers, but McLaurin did show a promising connection with his former college teammate. From weeks 14-16, just as Haskins began to feel a bit more comfortable in the pocket, Terry flashed his huge upside potential, finishing as the WR6 over those weeks. Terry showed us just how good he can be even with mediocre quarterback play (to put it nicely).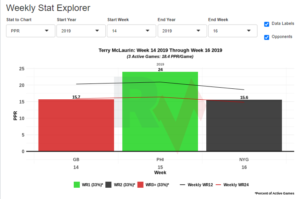 OPPORTUNITY/USAGE
Last season, McLaurin forced his way into the starting lineup, playing on 98.2 percent of the offense's total snaps. His 93 targets ranked 34th at the position and we can only expect Terry to be a beneficiary of increased targets, as there were no new major acquisitions to take from his target share.
Although the quarterbacks only dropped back 478 times, the fifth-fewest in the NFL, he still managed a 19 percent target share. McLaurin's 13 red-zone targets don't put him among the elite red-zone threats in the league, but it certainly places him in the upper echelon — not to mention he caught eight of them, three of which went for scores. Washington also enters 2020 with the fourth most vacated targets (178, 38.4 percent).
For added optimism, Washington hired Ron Rivera. He was near the top of the league in passing attempts his last two seasons as the head coach in Carolina. Rivera also brought along Scott Turner as the team's new offensive coordinator. Turner will implement the Air Coryell offense, and as a result, Washington should exceed 500 pass attempts this season (I'll get into this more later). If Terry gets the same 19 percent target share, and Washington throws 550-plus pass attempts, he would finish the season with just over 100 targets on a 16-game pace.
Turner's offense will be a significant upgrade from last season's attack, which had Washington ranked 26th in seconds/play (Footballoutsiders). Last season, they finished dead last in the NFL, averaging the fewest points scored per game. But the Air Coryell offensive scheme is designed around softening the front seven with a power run game all while stretching the defense to the max with the play-action passing game. 
The scheme will surely help simplify the offense for Haskins and make him feel more comfortable in the pocket. Turner's simplification of the offense won't only help Haskins as the Air Coryell scheme plays directly into the strengths of McLaurin…  his speed. The attack relies heavily on being able to stretch out the defense with vertical routes and deep shots. Terry is the complete package at WR, and his ability to track deep balls downfield and leaping ability will lead him to thrive in the Air Coryell offense.
McLaurin's increased opportunity and usage will be enough for another fantastic fantasy season. Is F1's talent and opportunity enough to push him into the top 10? Or does Terry need more pieces around him to help him reach his ceiling?
SURROUNDING TALENT
We saw what McLaurin could produce as a rookie in a BAD offense, but does Washington have the critical pieces around him to elevate his game to the next level? Washington showed their confidence in McLaurin by way of their offseason acquisitions (or lack thereof).
Although the franchise was aggressively pursuing star receiver Amari Cooper, the team did not make any big-name additions to the receiving corps. In the draft, they settled for Antonio Gandy-Golden with the 142nd pick and running back/ slot weapon Antonio Gibson, who could be a Swiss Army Knife in the passing game.
Outside of the two rookies, we can look at the other "threats" on their offense. Aside from McLaurin, the team didn't have any receiving options who scared opposing defenses. As you can see from the visual below, McLaurin was the only player to eclipse 400 yards receiving. The next closest player Chris Thompson left town and followed Jay Gruden to Jacksonville. On a per-game basis, he averaged about three more targets than any returning receiving threat.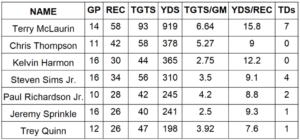 It's safe to say that Terry will be the 2020 target hog, but Washington did add some fresh talent to the offense in the 2020 draft. Gandy-Golden, as mentioned above, is a 22-year-old receiver taken in the fourth round out of Liberty University. He projects as a raw, limited receiver who will immediately compete for playing time on the perimeter due to Kelvin Harmon's season-ending ACL injury.
Then there's Gibson, the versatile weapon taken in the third round out of Memphis. He has already received high praise from Ron Rivera, who made a lofty comparison to Christian McCaffrey in Turner's scheme. Although Gibson likely won't have an impactful fantasy season, he promises to be a significant piece of this offense going forward. 
Despite the new additions, Washington still needs to figure out how to get the most out of Dwayne Haskins Jr., who struggled early-on but flashed towards the end of the season.
McLaurin's upside is directly correlated to the development of his young QB. But it's essential to keep in mind that Haskins is still a young pup who was only a one-year starter at Ohio State before being thrown into the NFL fire in Week 9.
With a new offensive coaching staff and a positive offseason, Haskins has the potential to take a sophomore season leap, which should benefit McLaurin.
IS THE RISK WORTH THE UPSIDE? 
It's a simple question. Is the risk worth the upside?
That is to say: Is the risk of a second-year receiver, with a second-year quarterback, a whole new offensive staff, and a lousy team, worth the potential upside of having a top 10 fantasy wide receiver? Yes. Yes. Yes. One million times, yes. 
Let's start with the risk. McLaurin missed a couple of games due to injury last season, but nothing that should scare you from drafting him this season. His rookie season output can be considered his fantasy floor. He was a part of a dumpster fire team, with a putrid offense, whose grotesque play style was run, run, and run some more.
To quantify his risk, let's say you were to draft him at his current ADP as the WR27.  If he duplicates last season's success, by making no second-year improvements, he will finish around the WR29. Although you may not be thrilled with that return, that draft pick also would not have killed your team.  The only major risk is the development of Haskins in a new scheme, but we saw McLaurin overcome that issue last season.
On the other side of the coin, the upside is immense. Terry finds himself in an advantageous position as the alpha WR1 for a team that will play from behind in most games, therefore being involved in a positive game script.  
I projected what I believe to be Terry's ceiling in 2020-21. At first glance, it may look a little bit outlandish, but let me lay out my assumptions for you, and it will all make sense. 

First, the additions of Rivera and Turner should enhance last season's pathetic passing game. Next, his target share should increase with the lack of high-powered weapons added to the perimeter. If he averages roughly two more targets per game, he'll easily exceed 100 targets. Also, if McLaurin simply matches the same catch rate (62 percent), yards per reception (15.8), and touchdowns (7), he would finish with 254 PPR points — which would've ranked him as the WR9 last season.
BOTTOM LINE
McLaurin is a major value in fantasy drafts right now. Washington doesn't need to make THAT big of a step forward for the Ohio State product to enter fantasy football superstardom. As I stated before, Terry is currently being drafted as a WR3, the WR27 off the board. The upside of what he could be for your team far outweighs the risk.
Overall, McLaurin has the talent to be a top 10 2020 fantasy football WR. His speed, leaping ability, and route running make him a touchdown threat on nearly every play. But will the second-year wideout get consistent enough quarterback play to breakout and become a top 10 fantasy wide receiver this season? We think so.
As of now, McLaurin checks in at WR24 on The Wolf's 2020 Fantasy Football Big Board and Rankings, just two spots below the current ECR.