No RB gained quite as much fantasy value over the 2020 offseason as Eagles RB Miles Sanders. (Assuming Devonta Freeman stays far away).
First, Sanders had Jordan Howard removed. The importance of this unshackling cannot be overstated.
Through Weeks 1-9, Howard out-snapped Sanders in 55% of games, while also seeing more opportunities (attempts + targets) 67% of the time. In fact, here's the exact split in snap percentage and opportunities, between Sanders / Howard:
Week 1: Sanders 49% (13 opps) / Howard 23% (9 opps)
Week 2: 43% (14 opps) / 23% (9 opps)
Week 3: 34% (17 opp) / 32% (12 opps)
Week 4: 35% (11 opps) / 53% (19 opps)
Week 5: 42% (6 opps) / 53% (13 opps)
Week 6: 30% (9 opps) / 63% (13 opps)
Week 7: 53% (6 opps) / 38% (13 opps)
Week 8: 23% (13 opps) / 73% (25 opps)
Week 9: 38% (13 opps) / 50% (20 opps)
Sanders only topped 50% of snaps one time, and never bested Howard by more than 5 opportunities in a single games.
In short, he was most often the second fiddle, and never a clear lead back.
This shouldn't have been overly surprising, either. HC Doug Pederson has routinely favored committees. No Eagles RB had topped 173 carries or over 36% of the rushing attempts over a season under Pederson. In fact, over 57 games as Eagles HC, Pederson's lead RB played 75% or more snaps all of one time (1.7%). Only 4 RBs actually crossed the 60% snapshare threshold (7%).
Well, until the Sanders Show.
Perhaps Pederson just lacked the right talent to truly feature. Following Howard's Week 9 stinger and the Eagles Week 10 bye, the fun begins.
From Weeks 11-16, Sanders logged:
61 snaps (84%)
63 (85%)
61 (88%)
50 (56%)
55 (71%)
59 (82%)
Yes, Sanders accrued the three highest snap totals by an RB ever under Pederson.
More importantly: he thrived.
Over this span, Sanders averaged 19.833 touches — unfathomable for a Pederson back. Sanders ultimately racked up the third most FPs (112.5, 18.8 FPPG) among RBs during this time, trailing only Christian McCaffrey and Ezekiel Elliott.
Particularly of note: in the three games he topped 20 touches, Sanders posted 21.5 FPs (RB6 finish), 35.2 (RB3), and 26.6 (RB7). He led the team in "explosive plays" (over 20+ yards), producing one on every 17 touches.
Sanders ultimate splits: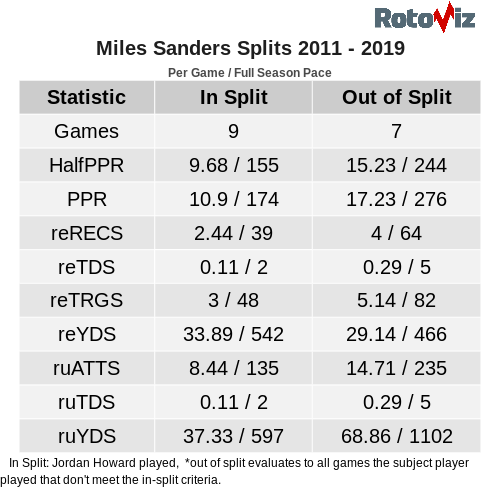 His 276 FP pace would've ranked him as the RB6 in 2019.
All good and well, but the Eagles and Pederson surely added some competition, right?
None. Nada. Zero.
Not a single drafted rookie. No free agents — not even Carlos Hyde or Frank Gore. While they've been linked to Devonta Freeman and LeSean McCoy (lol), there's still been zero movement.
Ultimately, Pederson and the Eagles appear ready to commit to Sanders as they were forced to down the stretch.
Just how good could Sanders be with a full season of featured work?
After speaking to sources in Philly, NFL analyst Brian Baldinger predicts:
"He's going to get 300-350 touches this year. You talk to the guys in Philadelphia right now, the offensive line one of the best in the league, they'll tell you: Sanders is going to break out this year. We're going to see him at the top of the league's rushing leaders this year."
Sanders himself is calling for an "MVP Year," saying "I believe they drafted me to be the featured guy in the first place," while raving:
My confidence is through the roof and I know what I can do for this team, I ain't apologizing for saying that, just don't be surprised when it happen!

— Miles Sanders (@BoobieMilesXXIV) May 20, 2020
While MVP ambitions may be lofty, Sanders clearly checks all the boxes for a super star fantasy season.
He flashed explosive ability on all three downs, especially as a pass-catcher. While excellent in the screen game, Sanders can also run the full route tree, as he posted five catches of at least 30 yards. Even in a limited role, he ultimately ranked 7th in RB receiving yards (509) and 12th in RB receptions (50). Just look at this insane body control:
Plus, in terms of "Surrounding Talent," the entire offense should be far more explosive. After trotting out arguably the worst WR corps in the NFL, the Eagles injected insane speed via free agency and the draft.
Less stacked boxes and more scoring chances will only boost Sanders outlook. They also return almost the entire offensive line that finished first in PFF's 2019 rankings.
Volume and Coaching Scheme were really the only question marks for Sanders fantasy portfolio. Based on the Eagles offseason moves, or lack thereof at RB, Sanders appears to be the true workhorse. Perhaps Boston Scott will change the pace after his late season surge, but Sanders faces zero competition otherwise.
Ultimately, all the stars are aligned for a massive fantasy season from Sanders. He could truly be 2020's version of Dalvin Cook: a lead RB who falls to Round 2, and is going within everyone's Top-Five come next year. He's my RB11 and 15th overall ranked player.