The Fantasy Trade Deadline is fast approaching for many owners, with November 18th a common stopping point in leagues. With most Fantasy Postseasons beginning in Week 15, this will be among the last chances to make any key roster shakeups before the big dance.
Sure, a few more Waiver Wire gems will emerge. Still, swinging a final fantasy trade could be the difference between winning it all and being sent home early.
To make sure you are equipped with the best Fantasy Trade Strategy and know who to target, we've done a deep dive into the strength of schedule for all the key fantasy positions (QBs, RBs, WRs, and TEs).
For those scrapping and clawing to get into the playoffs, we break down the best and worst remaining rest-of-season strength of schedules, identifying who could be key pieces to "Win Now."
Conversely, many owners are set at the top of their fantasy leaderboards and simply looking to optimize their rosters for Weeks 15-17. Excellent. We also dive into the best and worst Fantasy Playoffs schedules to help you load your roster with the best matchups, at the most important time.
This piece will focus specifically on the best Quarterbacks to Buy and Sell ahead of your fantasy trade deadline. Dive in now to find out the best schedules, especially for the fantasy playoffs, to craft your fantasy trade strategy around.
Calculating Fantasy Football Strength of Schedule
Before diving too deep into the specific wide receivers to Buy and Sell in your fantasy trades, we wanted to be clear about how we calculated our Strength of Schedule rankings. If strictly interested in the names, dive down to the later sections of the article.
Primarily, we first look at FFToolBox's excellent "Strength of Schedule" grid. This tool is strictly based on Fantasy Points Allowed by opposing defenses, and paints a great overview of the schedules to target and avoid.
You can also filter this grid by "Remaining Games," or specific parts of the season, including the Fantasy Playoffs (Week 15-17). Here's a screenshot of the SoS Grid, filtered by WRs and Remaining Games: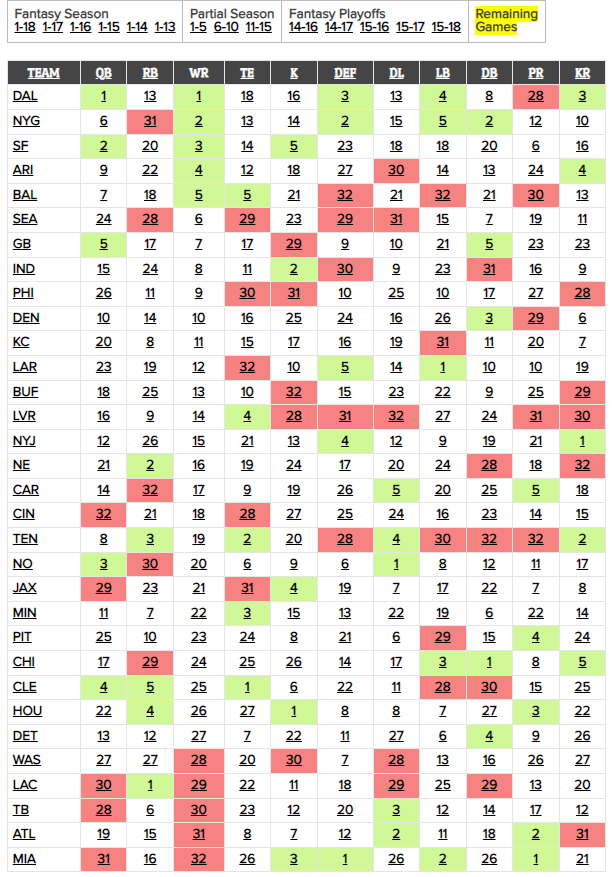 While Points Allowed is a great first measure for Strength of Schedule, many other websites now incorporate "schedule-adjusted points." This type of SoS analysis accounts for the quality of the player(s) this defense has faced, and focuses more on how many points a player adds (+) or subtracts (-) to their usual Fantasy Points Per Game.
As such, we cross-referenced the SoS Grid with a variety of Schedule-Adjusted Points Allowed tools, including FantasyPros, The Athletic, and FantasyPoints.
Thus, you can be confident you are getting some of the best Strength of Schedule analysis in the game!
WRs to Buy: Best Rest of Season Schedules to Help You Win Now
CeeDee Lamb & Dallas Cowboys Receivers
Remaining Schedule: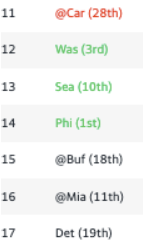 Let's be honest, the price for CeeDee Lamb and Dallas receivers has never been higher. Over the last four weeks, Mike McCarthy has let Dak Prescott air the ball out.
Guess what? It's working. Lamb has three consecutive games with 10+ receptions and 150+ yards and the Cowboys have scored 40+ points in two of these games.
Former Cowboys' OC Kellen Moore had to bite the dust for McCarthy to come to his senses, but it's clear that this offense runs through Prescott and Lamb.
The game plan in Dallas shouldn't be changing anytime soon. First, there's always the saying, "If it ain't broke, don't fix it". Second, Dallas faces a series of teams that can be attacked through the air.
Washington, Seattle, and Philadelphia are all premium matchups for WRs. Buffalo, Miami, and Detroit aren't top-tier matchups but all three of these teams have high-powered offenses, creating the potential for a shootout in any of these games.
There is no question in the talent of Lamb. When CeeDee is fed targets at the level he's seen over the past few weeks, he is nearly a lock to be an elite receiver. The price might be high for Lamb right now, but he will see great matchups for the remainder of the season and will continue to produce at an elite level.
When it comes to Brandin Cooks and other Dallas receivers, I am much less enthusiastic. Cooks has connected with Prescott in recent weeks and still seems to have some tread left on his tires. However, Cooks still profiles to be a boom or bust receiver.
If you need consistent WR production, Lamb is the obvious answer in Dallas. But if you need a flex that can win you a week, Cooks is a great option given the offensive environment and schedule for the Cowboys.
Marquise Brown & Cardinals Receivers
Remaining Schedule:
All signs point to a strong close for Marquise Brown, Trey McBride, and the Arizona passing attack.
Arizona's remaining schedule ranks 4th for WRs, bolstered by matchups with Pittsburgh, San Francisco, and Philadelphia. Outside of the strong remaining matchups, Arizona pass catchers will benefit from the return of Kyler Murray.
In just one game back from injury, Murray looked quite close to 100 percent health-wise. He also had several flashes where he looked like the dynamic playmaker he was before his ACL injury.
While it's quite obvious that Murray is a step up from Clayton Tune, some people may be unaware of what Murray and Brown are capable of doing in fantasy.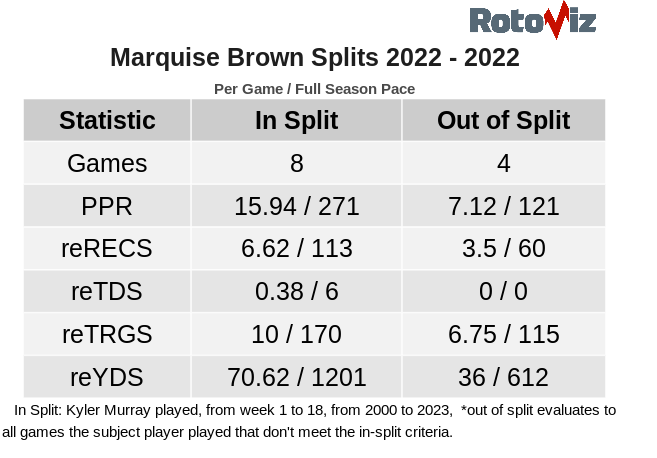 These are Brown's splits with Murray playing vs. not playing last season. The duo started off on quite a heater last season. Through Week 6 of 2022, Brown was the WR5, scoring 18.3 PPR points per game.
Unfortunately, these two were unable to relight their spark in Murray's 2023 debut and Brown scored just 3.8 points. But this might be a good thing as Brown's price has likely taken a dip following a pair of underwhelming outings.
Given the return of Kyler Murray, a strong upcoming schedule, and a reduced price, Marquise Brown is a premium trade candidate prior to the deadline.
DK Metcalf & Seahawks Receivers
Remaining Schedule:
First, there are three fantasy-relevant receivers in Seattle. Given the strength of their upcoming schedule, all of them are solid potential trade targets. Given that DK Metcalf is the largest underperformer of the three and likely has managers panicked, he will be the focus.
Although Metcalf has not been delivering the fantasy results that we all hoped for, he is still the alpha receiver in Seattle. In the last three weeks, Metcalf leads Seattle in target share (25 percent), air yards share (49.9 percent), yards per route run (2.15), and receiving yards (215). Metcalf has been able to do all this with a miserable 46.4 percent catch rate.
Metcalf's alpha nature was on display in Week 10, leading the team in targets and yards while playing a pivotal role in Seattle's game-winning drive.
Despite being the top target in Seattle, Metcalf has struggled to produce for fantasy managers. A lot of this has to do with his lack of touchdowns. On top of leading the team in air yards, Metcalf leads the team in red zone targets (14, 5th among WRs) and is second in endzone targets (9, T-4 among WRs).
All of this is to say that Metcalf is due for regression in terms of yardage and more importantly, touchdowns. As the top dog on a team with a favorable upcoming schedule, consider trading for DK Metcalf.
WRs to Sell: Worst Rest of Season Schedules to Consider Selling
Jaylen Waddle & Dolphins Receivers
Remaining Schedule: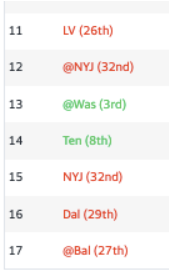 Similar to Metcalf and the Seahawks, multiple fantasy-relevant receivers will be affected by this difficult schedule. Those players are Tyreek Hill and Jaylen Waddle. When it comes to Hill, he is one of the best fantasy assets and has proven throughout his career that he is essentially matchup-proof. For those reasons, it's incredibly difficult to sell him before the fantasy playoffs.
When it comes to Waddle, the story is quite different. I wrote about Waddle as a faller this week due to his underwhelming first half of 2023.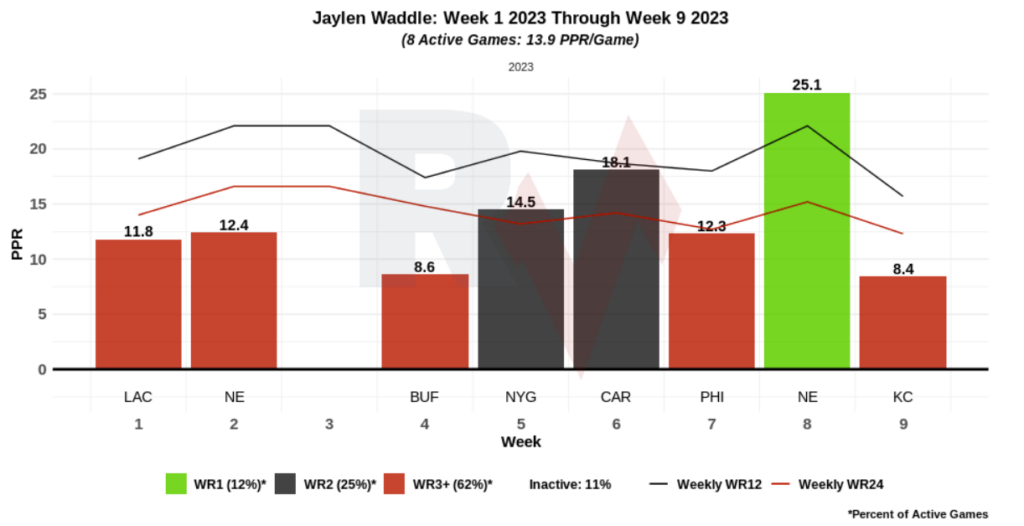 Although Waddle has dealt with injuries throughout the season, his performance has been nothing short of a disappointment.
It doesn't seem like things will be getting better for "The Penguin" either. Miami faces the hardest remaining schedule for WRs, facing multiple shutdown secondaries.
Waddle has taken a massive hit in value this season but you may be able to get a reliable starter for Waddle given his name recognition and the fact that he is a Dolphin. If you can get a quality WR2 for Waddle, the time to sell is now.
Mike Evans & Buccaneers Receivers
Remaining Schedule: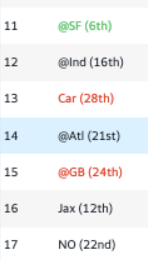 Mike Evans has steadily produced for most of the season, finishing as a WR2 or better in six games this season. Following a WR5 (overall) outing last week, it's the perfect time to sell Evans before Tampa Bay's schedule stiffens up. The Buccaneers face the 3rd toughest schedule for WRs moving forward.
While Evans has been consistent this season, he has been overachieving. Evans is expected to score 15.3 points per game, 18th among WRs. In reality, Evans scores 17.0 points per game, 11th among WRs.
Using expected fantasy points is a great way to identify players who are candidates for regression. In the case of Mike Evans, signs point to his production taking a step back in future games.
When considering that Evans is overachieving and that Tampa Bay faces a brutal schedule, Evans is a great player to move ahead of the trade deadline. However, if your deadline isn't until next week, consider holding onto Evans as they have a premium matchup with the 49ers this week.
Terry McLaurin & Commanders Receivers
Remaining Schedule: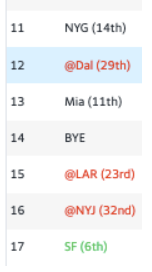 Nothing makes sense in Washington this season. Quarterback Sam Howell leads the league in passing yards and attempts and the Commanders have regularly been involved in high-scoring affairs. Somehow, Terry McLaurin is just the WR21 and has not scored more than 17.3 PPR points in a game this season.
The logic just doesn't add up. The WR1 for the NFL's leader in passing yards is a fringe WR2 in fantasy. While it doesn't make much sense, it takes one look at a Commanders' box score to see what's going on.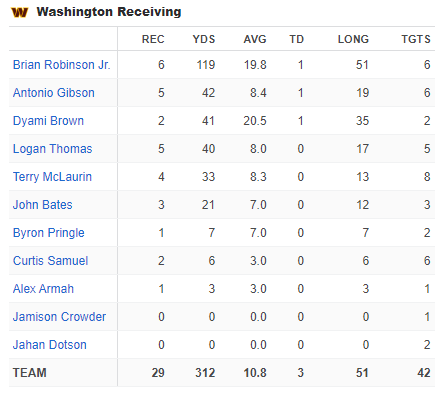 Feel free to check my math, but I count eleven different receivers with a target and nine with a reception. This isn't a one-time thing either. Nine different players caught passes in Weeks 9 and 10 as well.
Howell's willingness to spread the wealth has led to a 19.1 percent target share this season and a 17.7 percent target share in the last three games. Any way you slice it, this is simply not enough volume for McLaurin to succeed.
The Commanders now face a series of tough opponents and McLaurin will miss the final game of the fantasy regular season with a bye. McLaurin will be a liability on fantasy rosters moving forward, get him off your roster.
Best Fantasy Playoffs Strength of Schedule for Wide Receivers (Weeks 15-17)
If you've punched your ticket to the big dance and just want to maximize your roster for Weeks 15-17, here are some names to target.
If you need another reason to swipe DK Metcalf from another team's roster, take a look at his playoff schedule. Philadelphia, Tennessee, and Pittsburgh. Three teams that can be exploited through the air. If you roll into the playoffs with Metcalf on your roster, expect an explosive game or two from him with these patty cake matchups.
Similarly, CeeDee Lamb has a series of phenomenal matchups in the fantasy playoffs. Buffalo, Miami, and Detroit aren't the best matchups but they are all above average at a minimum. However, all three of these matchups will likely have game totals set in the high 40s and the potential for a shootout. This schedule is juicy enough to salivate and we're still four weeks out from the playoffs.
For a new trade target, though, consider:
Garrett Wilson & Jets Receivers
Remaining Games: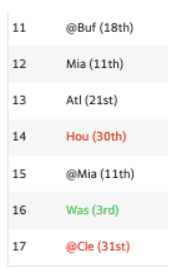 Let's be real… with Zach Wilson under center, Garrett Wilson is the only receiver you should be interested in.
Don't get me wrong, Zach Wilson has had his moments this season but he should not be a starting quarterback in the NFL right now. With Zach Wilson on the field, Garrett Wilson's fantasy ceiling is significantly limited.
Despite the lacking quarterback play, Garrett Wilson has quietly produced at a high level.
At this point in the season, Wilson is the WR16. He's not a bust but he's not paying off the second-round price that you paid for him. But taking a look at his playoff schedule, it's hard to not get excited.
Washington and Miami are two teams with beatable secondaries (especially Washington) and prone to playing in high-scoring games.
Cleveland in the fantasy championship is less than ideal. Actually, it doesn't get (much) worse than that. But that's a problem to deal with when we get there. Not if, when.
Garrett Wilson's playoff matchups are too juicy to pass up. If you already have a spot locked in, make a push to acquire Garrett Wilson.
To close, here's a phenomenal Adjusted Points Allowed grid of the Fantasy Playoffs via Jake Ceily and The Athletic: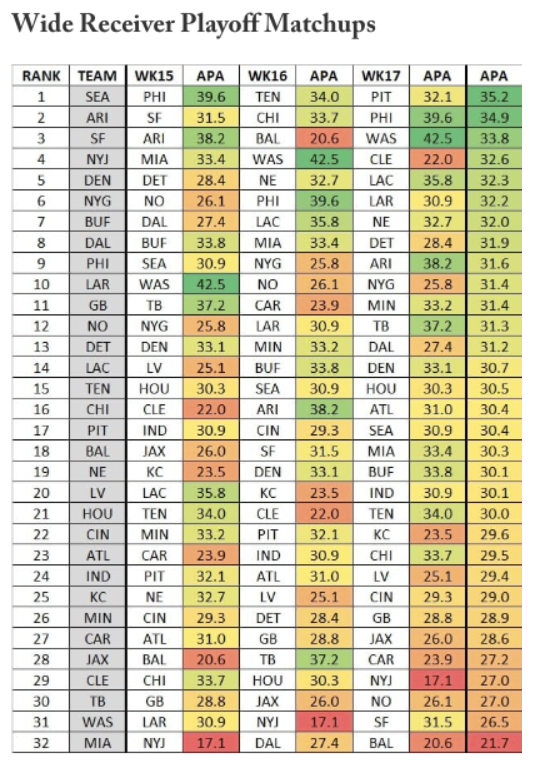 We hope this Quarterback Strength of Schedule breakdown has been helpful and helps you dominate ahead of the deadline!