The Fantasy Trade Deadline is fast approaching for many owners, with November 18th a common stopping point in leagues. With most fantasy postseasons beginning in Week 15, this will be among the last chances to make any key roster shakeups before the big dance.
Sure, a few more Waiver Wire gems will emerge. Still, swinging a final fantasy trade could be the difference between winning it all and being sent home early.
To make sure you are equipped with the best fantasy trade strategy and know who to target, we've done a deep dive into the strength of schedule for all the key fantasy positions (QBs, RBs, WRs, and TEs).
For those scrapping and clawing to get into the playoffs, we break down the best and worst remaining rest-of-season strength of schedules, identifying who could be key pieces to "Win Now."
Conversely, many owners are set at the top of their fantasy leaderboards and simply looking to optimize their rosters for Weeks 15-17. Excellent. We also dive into the best and worst fantasy playoff schedules to help you load your roster with the best matchups at the most important time.
This piece will focus specifically on the best running backs to buy and sell ahead of your fantasy trade deadline. Dive in now to find out the best schedules, especially for the fantasy playoffs, to craft your fantasy trade strategy around.
Calculating Fantasy Football Strength of Schedule
Before diving too deep into the specific running backs to buy and sell in your fantasy trades, we wanted to be clear about how we calculated our Strength of Schedule rankings. If strictly interested in the names, dive down to the later sections of the article.
Primarily, we first look at FFToolBox's excellent "Strength of Schedule" grid. This tool is strictly based on Fantasy Points Allowed by Opposing Defenses and paints a great overview of the schedules to target and avoid.
You can also filter this grid by "remaining games," or specific parts of the season, including the Fantasy Playoffs (Week 15-17). Here's a screenshot of the SoS Grid, filtered by RBs and remaining games: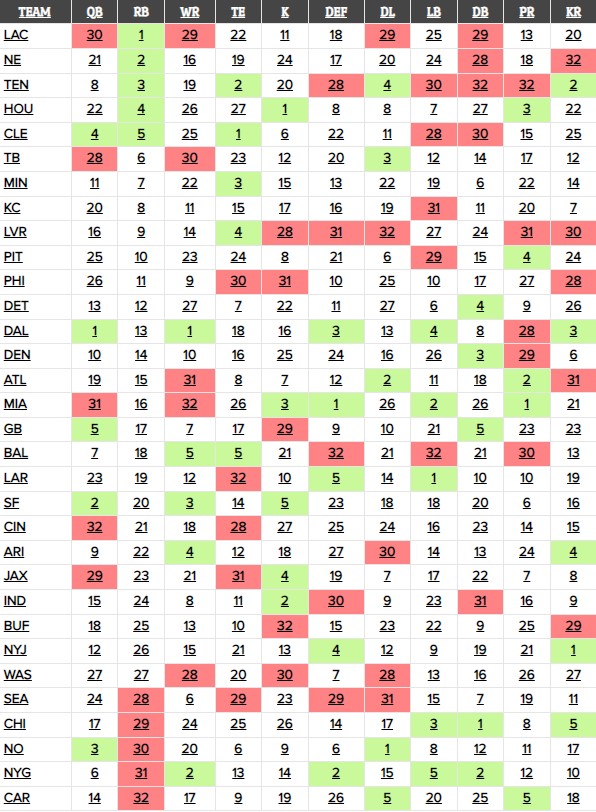 Points allowed usually does a good job of painting a picture of which teams and position groups to exploit, it can be misleading. Case in point: Denver Broncos.
The Broncos got embarrassed by the Dolphins, and I'm honestly being polite by calling it embarrassing. Allowing a team to hang 70 on you is inexcusable. Since then, no team has scored more than 31 points on the team, and, in the last four weeks, no team has eclipsed 22 points.
During that span, the Broncos have faced Patrick Mahomes twice, Josh Allen, and Jordan Love. So three out of four top-tier QBs. Still, the Broncos show up as an exploitable matchup across the board, even though that's not necessarily the case anymore. Which is why we incorporate "schedule-adjusted points."
This type of SoS analysis accounts for the quality of the player(s) this defense has faced and focuses more on how many points a player adds (+) or subtracts (-) to their usual Fantasy Points Per Game.
As such, we cross-referenced the SoS Grid with a variety of Schedule-Adjusted Points Allowed tools, including FantasyPros, The Athletic, and FantasyPoints.
Thus, you can be confident you are getting some of the best Strength of Schedule analysis in the game!
RBs to Buy: Best Rest of Season Schedules to Help You Win Now
Austin Ekeler and the Los Angeles Chargers
Remaining Schedule:
Ooooh yeah. I'm going out on a limb here. Ekeler is still one of the premier fantasy running backs in the league, even if he is starting to show some wear and tear.
Still, after a bit of a ramp-up period, Ekeler has rounded back into form.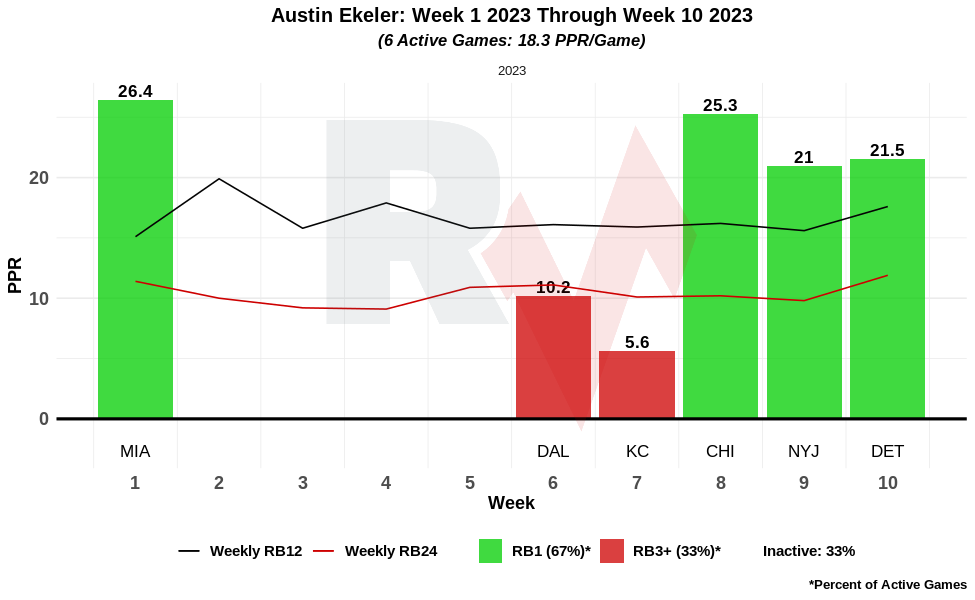 Across six games, Ekeler has been getting FED in the red zone. He has 19 rush attempts in the red zone and has seen five targets. Ekeler is sixth among RBs in FP/g (18.0) and 14th in xFP.
With exploitable matchups for the playoff hunt and a juicy playoff schedule, Ekeler is someone worth investing a little extra capital in before the trade deadline.
The crazy part is… as good as Ekeler has been, we still haven't had any of his patented 30+ FP blow ups. He has the schedule to deliver multipe of them in these final few weeks, including two dates with the most-generous run defense in the league, the Broncos… in your CHAMPIONSHIP WEEK!
Ekeler won't be cheap to acquire. But if you can move, say, Tyreek Hill (with the WORST ROS schedule for WRs) to land the Chargers stud, I wouldn't hesitate. In fact, Ekeler is up to The Wolf's #2 overall player on his 2023 Rest of Season Fantasy Rankings, ahead of Hill!
Jerome Ford and the Cleveland Browns
You're joking, right? Look at this schedule coming up!
There's enough green on that upcoming schedule to get even the grinch-iest Scrooge excited for Christmas!
No, Kareem Hunt isn't going anywhere. Across seven games with the Browns, Hunt has averaged the seventh-most points per game in the red zone (5.8). For context, Hunt ranks just behind David Montgomery (6.4) and ahead of Gus Edwards (5.5).
Still, that doesn't mean there isn't enough juice in that backfield to satiate the thirst of Ford fantasy managers. While Hunt dominates the red-zone work, Ford's role is still good for an average of 11.6 xFP.
In the last two games, Ford has seen 64% of the offensive snaps and has averaged 22.5 opportunities. Following Deshaun Watson's season-ending surgery, the Browns are likely going to rely more heavily on the ground game.
With such a soft, juicy schedule, Ford drips with fantasy upside that could push your squad over the top.
The risk of this offense just flat-out sucking with Dorian Thompson Robinson at the helm are very real. Yet, PJ Walker kept this team and offense very much afloat, so at worst, Ford has that baked into his floor.
Even with QB questions, Ford's ceiling is astronomical if he maintains his borderline RB1 usage amidst this JUICY schedule.
Alexander Mattison/Ty Chandler and the Minnesota Vikings
Remaining Schedule:
I've made my feelings about Alexander Mattison well known. He was handed the golden goose as far as opportunity is concerned and has squandered it all season.
His -4.93 fantasy points over expectation is on par with the likes of Tony Pollard and Miles Sanders and ranks 128th in the league.
It's worth noting that Ty Chandler may get the nod in the backfield as Mattison is still in the concussion protocol. Mattison's role should be good for around 15.2 xFP and, when given the chance, Chandler has shown the most juice in the backfield.
Should Mattison not be able to go, Chandler immediately becomes a must-start running back.
Regardless, Mattison managers are bound to be frustrated with Mattison's pedestrian performance thus far, and he could likely be had on the cheap.
With the following upcoming schedule, Mattison and/or Chandler could carry fantasy players into the playoffs.
Isiah Pacheco and the Kansas City Chiefs
Ignoring week 11, Pacheco should be one of the most attractive fantasy running backs going forward.
Over the last four games Pacheco has seen at least four targets in three of the four and has not seen the majority of the offensive snaps since week three. In other words, this is Pacheco's backfield.
Other backs will be sprinkled in, primarily Jerick McKinnon.
Pacheco (12.9 ppg) is averaging 0.8 FPOE and is averaging 18 total opportunities since week 4. While he may not have a strong game against the Eagles stout rush defense, the schedule beyond that is enticing!
Two matchups against the Raiders, all Top-half matchups following the Eagles, and a soft layoff schedule all make Pacheco a strong trade for candidate.
RBs to Sell: Worst Rest of Season Schedules to Consider Selling
Saquon Barkley and the New York Giants
Barkley is averaging 15.2 ppg and is seen as one of the biggest disappointments in fantasy. Why is that?
He has scored only three touchdowns this season, with only one coming on the ground. That's essentially the problem.
Barkley's surrounding talent was enticing and polarizing early in the season. Expectations were high in year two with Brian Daboll.
Injuries have plagued the Giants this season. Daniel Jones was playing badly before tearing his ACL. Darren Waller was serviceable but was not living up to expectations. The season was an absolute disaster and Barkley became the entire offense.
He has seen 32 red zone opportunities and his role is worth 19.9 xFP. Barkley should be a slam dunk.
His remaining schedule is just DISGUSTING and the talent around him is gone. The Giants haven't scored more than 17 points since week two.
We recommend selling Barkley now and cashing in on name value and upside and reinforcing your roster.
Chuba Hubbard and the Carolina Panthers
There was some buzz when Chuba Hubbard took over as the starting running back for the Carolina Panthers.
Since taking over the backfield, things haven't exactly been smooth sailing for Hubbard.

While not quite as inefficient as Miles Sanders, to say Hubbard has been dynamic would be lying. This season as a whole, Hubbard's 8.1 ppg is disappointing relative to his 10.7 xFP.
Things really took a turn for the worse after Frank Reich handed over play-calling duties to OC Thomas Brown. Three games later and Reich is taking back play-calling duties.
Still, with grueling matchups against Dallas, Tampa Bay, and New Orleans in the next four weeks, there's little reason for optimism for Hubbard going forward. He's been inefficient on a bad offense and that doesn't equal fantasy success.
You probably can't yield much for Hubbard. Yet, maybe you could package him with a WR3 and land a Marquise Brown type that has WR1 upside (and a juicy ROS Schedule) that has yet to be fully realized.
Alvin Kamara and the Saints
This seems unheard of, doesn't it? Suggesting Kamara be traded as the zenith of the playoff push is before us?
Kamara is pacing for 121 receptions on 136 targets. Surely he's matchup-proof, right?
Well maybe. But Kamra isn't getting much done on the ground and has not exactly been efficient with his touches.
Nobody is suggesting Kamara is about to struggle. That's the point. Despite averaging almost an entire point below expectation, he's still averaging 20.5 ppg. There's just a rough three weeks ahead.
Fantasy managers are likely riding high after Kamara's smashing return from his three-game suspension. With a bye in week 11 and two brutal matchups against running backs, perhaps fantasy managers could instead look to cash in and upgrade weaker parts of their rosters?
Kamara has another tough stretch to finish the season and underperform when managers need him most… especially with Derek Carr, aka Checkdown Charlie, currently injured. Just two weeks ago, Kamara was outcarried by Taysom Hill. The role has been secure… until it hasn't.
Again, we want to emphasize: sell HIGH. We aren't abandoning Kamara just because of a few tough matchups. But if he can be the piece that lands you CeeDee Lamb, then absolutely go for it.
Kenneth Walker and the Seahawks
Early on in the season, Walker seemed like an untouchable asset. With 34 red zone rush attempts on the season, his opportunity has led to 12 touchdowns scored across the first five games.
Since then? Walker has scored only one touchdown and has seen less than 50% of the team snaps in three consecutive weeks.
With rookie Zach Charbonnet working his way more into the rotation and a backbreaking end-of-season schedule, Walker's value projects to dip quite a bit. Well below his season-long 14.6 xFP suggests.
Plus, Walker continues to rack up injuries, and feels on the verge of breaking down. Capitalize on Walker's recent 64 yard touchdown and current rank as the RB7 before his value comes crashing down.
Running Backs with the Best Schedule for the 2023 Fantasy Playoffs (Weeks 15-17)
Austin Ekeler: League-Winning Fantasy Playoff Schedule
We already mentioned Austin Ekeler as the top rest of season running back. But if you needed any more incentive: Ekeler has the EASIEST Fantasy Playoffs schedule.
In Week 15, Ekeler gets the creampuff Raiders that surrender the 4th most FPs to RBs. Next, he gets a Buffalo Bills defense that has been far more generous to opposing run-games, and has now lost multiple starters along the defensive line over their past two game.
To put a bow on an epic stretch run schedule, Ekeler gets the Broncos in Fantasy Championships. He could absolutely score his annual 35+, 3 TD gem when owners need it most.
We get that landing Ekeler will be near-impossible. But trade that WR1 & RB2, or whatever it requires, to land this man.
D'Andre Swift: Top Week 16 & 17 Matcup combined
While Swift's rest of season schedule is middling, his Week 15 to 17 could not be any better, with three straight Top 10 "Green Zone" matchups.
First, he squares off with the Seahawks. They currently surrender the 5th most FPs to RBs, and have been especially bludgeoned as of late. Over their last four, no team has given up more FPs (over 32!) to RBs. The Eagles should maul them, and Swift should reap the rewards.
Next, Swift gets the hapless Giants (9th most FPs to RBs), who he should see plenty of bleed-the-clock action against. He wraps up wth a Cardinals team that surrenders over 130+ rush yards and the third most FPPG to backs.
With the Eagles trying to preserve Jalen Hurts and likely to murder all three of these opponents, Swift should see extensive burn, in prime matchups, when you need him most. With a mediocre past three games, he can probably had for far cheaper than his playoff upside represents.
Time to Trust Bijan Robinson? Second Best RB Playoff Schedule
It's salubrious how the fantasy community has come together to collectively hate what Arthur Smith has done to Bijan Robinson. Smith deserves every second of it.
Finally, though, Smith may have seen the light. In Week 10, Robinson finally saw usage worth his talent and draft pedigree: 77% of the snaps, 58% of the rushes, a whopping 85% route share & solid 11% slice of the targets. Via Fantasy Life's Utilization Hub:

Bijan rode the volume bump to 18 FPs and an RB11 finish — his highest since Week 2. Hopefully, the apparent changing of the guard from the Tyler Allgeier nonsense is permanent (but you can never be sure with ole Arthur)
With Carolina (2nd most FPs to RBs), Indianapolis (4th), and Chicago (12th) on tap to bring the season to a close Bijan has a chance to entrench himself as a top 3 fantasy RB in 2024. Oh, and bring those smart enough to target Bijan a fantasy championship as well!
Atlanta averaged just 2.9 yards per pass attempt in their last game. Taylor Heinicke turned back into a pumpkin and Desmond Ridder had to be brought back into the mix. This means there's a strong chance the Falcons lean heavily on the ground game.
After seeing his highest rushing share of the season, Bijan is likely going to be a little more expensive. With the playoff schedule mentioned above, he just might be worth it and then some.
RBs with Fantasy Playoff Schedules to Worry About
We already mentioned Saquon Barkley and Alvin Kamara, who's matchups rank 32nd and 31st in opposing raw points allowed during Weeks 15-17.
Barkley gets the Saints (29th), Eagles (32nd), and Rams (23rd) – an absolute murderer's row. Meanwhile, despite a soft opener vs. the Giants (9th), Kamara then faces the Rams in the semis and Bucs (31st) in the finals.
After these two, Joe Mixon gets the third hardest fantasy playoff schedule among RBs. Leading into it, Mixon does get some cream puffs, so if you're in "Win Now" mode, he's an advisable hold. Yet, if you know your playoff bound, it may be worth capitalizing on his recent string of TDs — especially with Joe Burrow again shaky after TNF.
Brian Robinson – the current RB4 in fantasy – gets the fourth hardest schedule. He's been an absolute monster and is impressing as a pass-catcher as of late. Yet, with a Week 14 Bye, followed by the Rams (23rd), Jets (13th), and 49ers (25th), Robinson's recent string of dominance could be cut short when you need him most.
To close, here's a phenomenal Adjusted Points Allowed grid of the Fantasy Playoffs via Jake Ceily and The Athletic: