The Fantasy Trade Deadline is fast approaching for many owners, with November 18th a common stopping point in leagues. With most Fantasy Postseasons beginning in Week 15, this will be among the last chances to make any key roster shakeups before the big dance.
Sure, a few more waiver wire gems will emerge. Still, swinging a final fantasy trade could be the difference between winning it all and being sent home early.
To make sure you are equipped with the best Fantasy Trade Strategy and know who to target, we've done a deep dive into the strength of schedule for all the key fantasy positions (QBs, RBs, WRs, and TEs).
For those scrapping and clawing to get into the playoffs, we break down the best and worst remaining rest-of-season strength of schedules, identifying who could be key pieces to "Win Now."
Conversely, many owners are set at the top of their fantasy leaderboards and simply looking to optimize their rosters for Weeks 15-17. Excellent. We also dive into the best and worst Fantasy Playoffs schedules to help you load your roster with the best matchups, at the most important time.
This piece will focus specifically on the best Quarterbacks to Buy and Sell ahead of your fantasy trade deadline. Dive in now to find out the best schedules, especially for the fantasy playoffs, to craft your fantasy trade strategy around.
Calculating Fantasy Football Strength of Schedule
Before diving too deep into the specific Quarterbacks to Buy and Sell in your fantasy trades, we wanted to be clear about how we calculated our Strength of Schedule rankings. If strictly interested in the names, dive down to the later sections of the article.
Primarily, we first look at FFToolBox's excellent "Strength of Schedule" grid. This tool is strictly based on Fantasy Points Allowed by opposing defenses, and paints a great overview of the schedules to target and avoid.
You can also filter this grid by "Remaining Games," or specific parts of the season, including the Fantasy Playoffs (Week 15-17). Here's a screenshot of the SoS Grid, filtered by QBs and Remaining Games: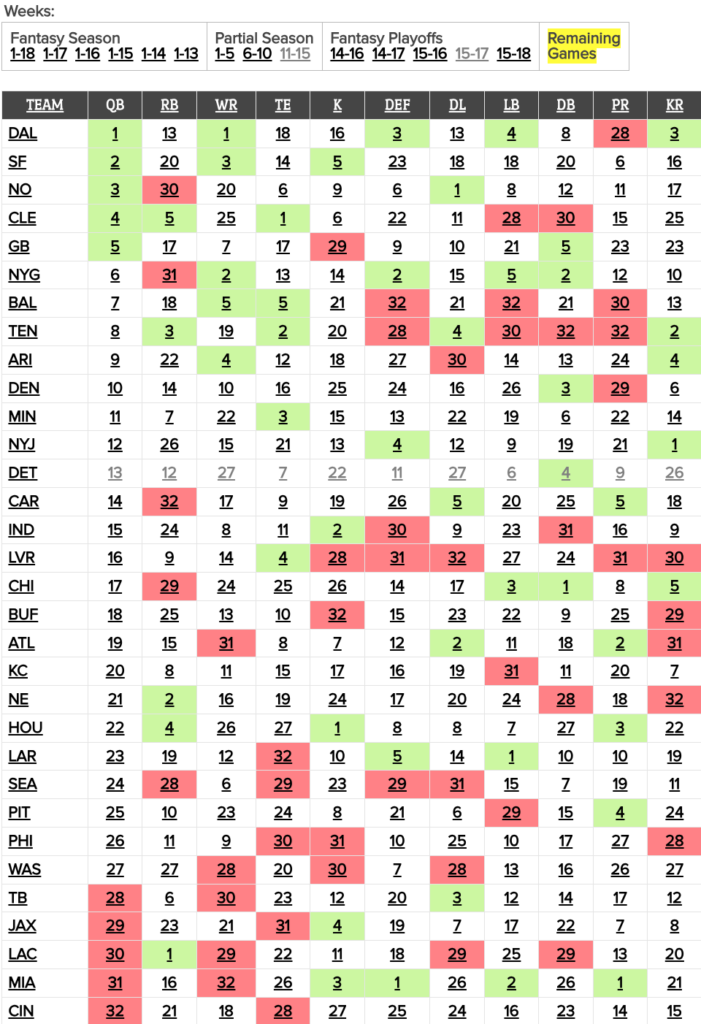 While Points Allowed is a great first measure for Strength of Schedule, many other websites now incorporate "schedule-adjusted points." This type of SoS analysis accounts for the quality of the player(s) this defense has faced, and focuses more on how many points a player adds (+) or subtracts (-) to their usual Fantasy Points Per Game.
As such, we cross-referenced the SoS Grid with a variety of Schedule-Adjusted Points Allowed tools, including FantasyPros, The Athletic, and FantasyPoints.
Thus, you can be confident you are getting some of the best Strength of Schedule analysis in the game!
QBs to Buy: Best Rest of Season Schedules to Help You Win Now
Dak Prescott & Dallas Cowboys
Remaining Schedule:
On the season, Dak Prescott has posted an impressive 268.3 passing yards (7th) per game and 19 TDs (4th) with just six interceptions. He ranks as the QB6 in total scoring.
This is all the more impressive considering Prescott's sluggish start. Not a single Top-12 QB performance until Week 6. At this point, Mike McCarthy and the Cowboys turned the keys over to Dak and CeeDee Lamb, making the passing game the focal point of the offense.
Dak has posted 24.9 FPs (QB1), 29.1 (QB3), 28.4 (QB2), and 38.9 (QB1) FPs in the four games since. Yes, four straight Top-3 QB outings, largely thanks to 361 YPG and 12 TDs (1 rushing) across his last three: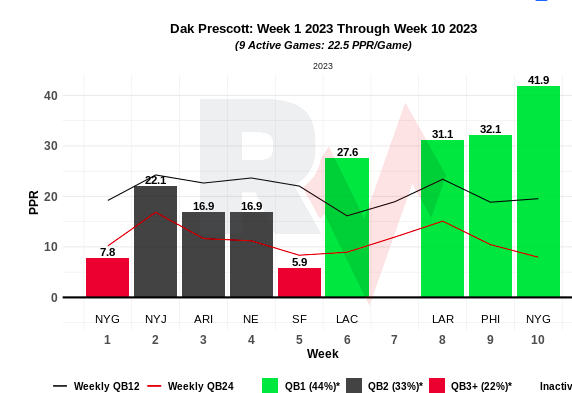 So no, trading for Dak won't be cheap. Yet, with just one subpar matchup and three very juicy ones on tap, Dak should prove to be worth every penny.
He's risen to my QB4 (+3 ECR) in my Rest of Season rankings, ahead of both Lamar Jackson and Patrick Mahomes. You could likely move either of the latter two for Prescott and perhaps extra.
Brock Purdy & 49ers
Remaining Schedule
The current QB11 on the season, Purdy ranks 11th in yards (258.8 per game) and 9th in TDs (17). He has been the epitome of consistency, finishing inside the Top-12 QBs and above 20 FPs a whopping 67% of the time this year: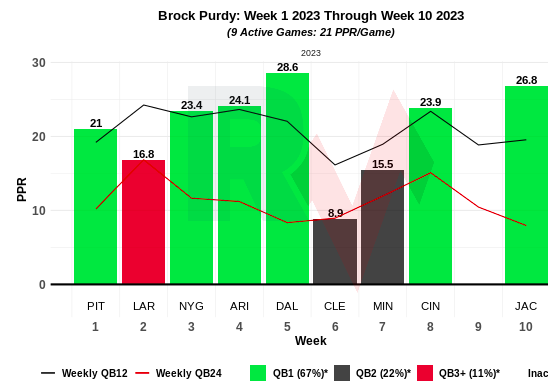 You'd be hard-pressed to find a safer weekly option than Brock, who continues to flash his high-ceiling each week too.
When you're throwing to Christian McCaffrey, Brandon Aiyuk, Deebo Samuel, and George Kittle, within guru Kyle Shanahan's scheme, Top-12 numbers aren't tough to come by.
With four Top-10 matchups (TB, PHI, ARI, WAS) and just one glaring tough one (Week 16, Baltimore), Purdy has the schedule of fantasy dreams. In fact, if you can find a decent plug-and-play for his Ravens matchup, Purdy's fantasy playoffs could not be juicier.
Purdy is mostly viewed as a High-End QB2, often finding himself outside the Top-12 (despite finishing here more consistently than Patrick Mahomes).
Josh Dobbs & Minnesota Vikings
Remaining Schedule:
Don't look now, but Josh Dobbs has 25+ FPs in three straight contests. With the ultimate "Win Now" schedule featuring the Broncos (8th most FPs allowed) and Chicago (1st) in his next two games, he's a strong bet to extend the 25+ streak to five weeks.
This makes Dobbs the ultimate "Win Now" buy.
Truly, stories don't get better than Dobbs. His rushing upside creates a super-high floor, as Dobbs has hit 40+ rush yards in seven of 10 games so far (70%).
Remove his Week 1 travesty when he was unexpectedly thrust into the Cardinals starting role, and Dobb now ranks as the QB4 in total QB FPs and QB9 in FPPG.
Yet, very few view him as a true QB1, and his owner may have been streaming him to fill in for Pat Mahomes, Jalen Hurts, or Tua Tagovailoa in Week 10. Thus, he may only cost you a bench piece.
While the schedule stiffens after the next two games, Dobbs has the makings and feel of a true "Stretch Run Hero" — both for the Minnesota Vikings, and Fantasy Managers.
Honorable Mention: Deshaun Watson
Remaining Schedule:
While I can't stand Watson and never want to put my faith in him, his schedule ranks fourth easiest and had to be at least mentioned. Three of his next five rank Top-8, and just two of his remaining seven fall outside the Top-13 of fantasy friendliness.
Watson seems to be rounding into form despite nagging injuries. Fresh off posting 17 FPs against the toughest defense vs. QBs, Watson could be primed for a major final-third surge, and likely wouldn't cost much (if anything) to acquire.
QBs to Sell: Worst Rest of Season Schedules to Consider Selling
Trevor Lawrence & Jaguars
Remaining Schedule
While you probably can't yield a whole lot for the underwhelming Trevor Lawrence, this is your cue to consider cutting him fully.
His ceiling has been non-existent. Lawrence has not topped 2 TDs or 18 FPs all season. He ranks just 17th in pass yards, 22nd in pass TDs, and 22nd in FPPG. His highest weekly finish is as the QB8… and that came in Week 1.
Any hope of a second-half surge should be tampered due to a rough Rest of Season schedule that ranks 29th among QBs. While the schedule is serviceable over the next three games, Lawrence squares off with the second-hardest and hardest defenses in both Week 14 (final hurrah) and Week 15 (playoff start).
He probably won't yield much in a trade… but this is just your warning to hunt for alternatives if Lawrence is still your QB1. If you can swing him for Josh Dobbs, do it with zero hesitation.
Justin Herbert & Chargers
Remaining Games:
Herbert, the current QB4 in FPPG, is not an easy QB to let go. He's been a Top-12 QB in 80% of games, and ranks 4th in pass TDs and 8th in yards. This would definitely be a "Sell HIGH," and is only recommended if you can indeed land a massive haul.
Still, over half of Herbert's remaining games are Bottom-five for QBs, including two of three Fantasy Playoff matchups. His only "green" matchups remaining are both against Denver, who seem to be getting stiffer by the week, having just held Josh Allen and Pat Mahomes under 15 FPs.
The Chargers defense is so bad that they should routinely have to keep pace. Yet, four of seven games come against lackluster offenses. Don't just sell Herbert to sell him. But be wary that he has the third worst ROS Schedule, and see if you can get a haul for him.
Tua Tagovailoa & Dolphins
Remaining Schedule:
Tua ranks dead last in remaining strength of schedule, and it's easy to see why: two lingering dates with the Jets. A fantasy championship matchup against the Ravens. Just one positive matchup in the remaining seven.
Granted, Mike McDaniels is a genius. No one maximizes speed better, and this offense is still capable of popping the huge play on any given moment.
Between Tua's historic injury concerns and this rough schedule, though, the time could be ripe to make a move. Hype up the fact that Tua is 1st in TDs and 3rd in yards, and see if you can move Tua (or Tua +) to land Dak.
Best Fantasy Playoffs Strength of Schedule for Quarterbacks (Weeks 15-17)
If you've punched your ticket to the big dance and just want to maximize your roster for Weeks 15-17, here are some names to target.
As if you needed any more reason to buy, the aforementioned Dak Prescott gets the 4th easiest fantasy playoffs schedule. In fact, all three contests vs. the Bills, Dolphins, and Lions offer ripe shootout potential. Prescott has all the makings of a second-half league-winner.
Similarly, Brock Purdy sandwiches a brutal matchup with the Ravens (32nd in FPs allowed), with two absolute creampuffs, facing off with the Cardinals in Week 15 and Commanders in Week 17. Both teams rank bottom-three in schedule-adjusted points allowed.
For a new trade target, though, consider:
Kyler Murray & Arizona Cardinals
Remaining Games:
In his first action since his ACL surgery, Murray looked like he hadn't missed a beat. He scrambled all over the place, flashing his trademark elusiveness all game against the Falcons:
Despite not throwing for just 249 yards, no TDs, and 1 INT, Muray still finished as the QB10 in his return thanks to six carries, 33 yards, and a rushing TD.
If he had any rust, consider it shaken off.
In Week 15, Murray will get a surging 49ers defense. This could be tough, but San Francisco is much more susceptible to the pass. Still, its not an ideal matchup.
After this, though, Murray could win you your league. He faces Chicago (1st in FPs allowed) and the Eagles (5th) in Weeks 16 and 17. If you have a Bye Week sewn up, no QB gets a better one-two punch to close out the fantasy season.
Moreover, Murray is not just a playoff buy. He has the 9th best Rest of Season schedule, with three winnable matchups against the Texas (12th most), Rams (13th), and Pittsburgh (22nd) heading into his Week 14 bye.
Could Will Levis be Viable Come the Fantasy Playoffs? ROS Outlook for Waiver Wire QB
Remaining Games: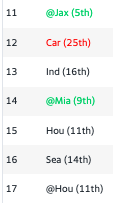 Following a four-TD, 26.6 FPs debut, Levis has come crashing back to Earth. He hasn't thrown a TD or cracked 10 FPs in back-to-back games, despite a juicy matchup with the second most generous Bucs last week.
Thus, Levis is a "buy with caution" type pick up. He's stuck in the slow, moribund Titans offense that ranks just 29th in pass attempts, 26th in yards, and 28th in TDs for 2023. This also marks the sixth straight year of the Titans ranking 25th or lower in attempts under Vrabel.
Still, matchups against CJ Stroud and Houston twice (11th most) in the final three weeks offer Levis high-yardage upside with back-and-forth game scripts. The Seahawks offer similar shootout upside.
Levis has also made plenty of "wow" throws and passes the eyeball test. It's just a matter of how strapped will this offense keep him.
As his schedule shows, Levis also has a juicy ROS schedule, too — the eighth easiest according to FFToolBox. Though unlikely, he could catch fire and prove to be a stretch-run hero for the QB desperate out there.
Buyer Beware in Fantasy Playoffs: Dolphins, Texans, Bengals, Jaguars
We've already mentioned the Dolphins and Jaguars, who's schedules don't ease up in the slightest during Weeks 15-17. The Dolphins rank last, while the Jaguars are 29th in FPA during the playoffs.
Meanwhile, Joe Burrow and the Bengals rank 30th. He seems to finally be rounding into form, but with a brutal schedule and constant injuries around him, consider selling Burrow at his peak value right now. Minnesota, Pittsburgh, and especially Kansas City are all bottom-half matchups. If he could yield you Dak, do it with no hesitation.
CJ Stroud is deservedly the talk of the town right now as the lock to win Rookie of the Year. He has passed for nearly 300 yards per game (291.8, #1 in NFL), with 17 touchdowns and two interceptions. He is unlikely to stumble much during the stretch run, but a tough playoff schedule may trip him up when you need him most. No one is more hyped right now than Stroud, so if he could net you an absolute haul, consider moving him.
To close, here's a phenomenal Adjusted Points Allowed grid of the Fantasy Playoffs via Jake Ceily and The Athletic:
We hope this Quarterback Strength of Schedule breakdown has been helpful and helps you dominate all your Fantasy Trade Strategy ahead of the deadline!