The Fantasy Trade Deadline is fast approaching for many owners, with November 18th a common stopping point in leagues. With most Fantasy Postseasons beginning in Week 15, this will be among the last chances to make any key roster shakeups before the big dance.
Sure, a few more Waiver Wire gems will emerge. Still, swinging a final fantasy trade could be the difference between winning it all and being sent home early.
To make sure you are equipped with the best Fantasy Trade Strategy and know who to target, we've done a deep dive into the strength of schedule for all the key fantasy positions (QBs, RBs, WRs, and TEs).
For those scrapping and clawing to get into the playoffs, we break down the best and worst remaining rest-of-season strength of schedules, identifying who could be key pieces to "Win Now."
Conversely, many owners are set at the top of their fantasy leaderboards and simply looking to optimize their rosters for Weeks 15-17. Excellent. We also dive into the best and worst Fantasy Playoffs schedules to help you load your roster with the best matchups, at the most important time.
This piece will focus specifically on the best tight ends to Buy and Sell ahead of your fantasy trade deadline. Dive in now to find out the best schedules, especially for the fantasy playoffs, to craft your fantasy trade strategy around.
Calculating Fantasy Football Strength of Schedule
Before diving too deep into the specific tight ends to Buy and Sell in your fantasy trades, we wanted to be clear about how we calculated our Strength of Schedule rankings. If strictly interested in the names, dive down to the later sections of the article.
Primarily, we first look at FFToolBox's excellent "Strength of Schedule" grid. This tool is strictly based on Fantasy Points Allowed by opposing defenses, and paints a great overview of the schedules to target and avoid.
You can also filter this grid by "Remaining Games," or specific parts of the season, including the Fantasy Playoffs (Week 15-17). Here's a screenshot of the SoS Grid, filtered by TEs and Remaining Games: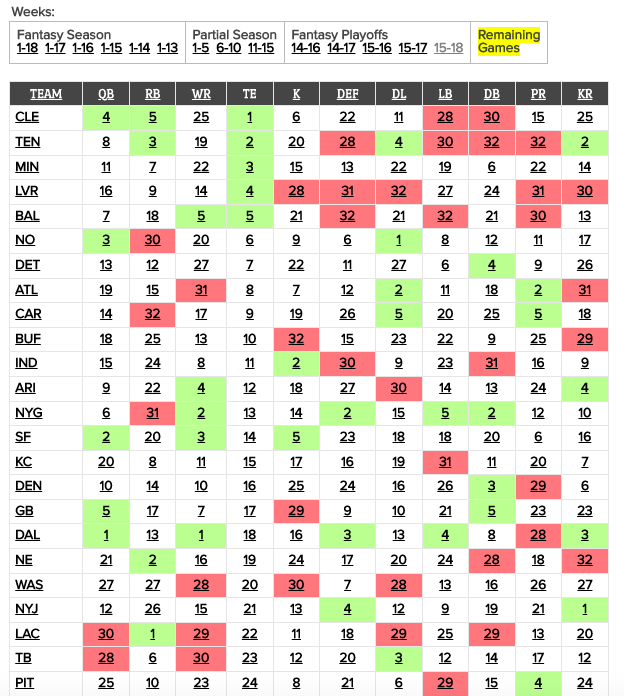 While Points Allowed is a great first measure for Strength of Schedule, many other websites now incorporate "schedule-adjusted points." This type of SoS analysis accounts for the quality of the player(s) this defense has faced, and focuses more on how many points a player adds (+) or subtracts (-) to their usual Fantasy Points Per Game.
As such, we cross-referenced the SoS Grid with a variety of Schedule-Adjusted Points Allowed tools, including FantasyPros, The Athletic, and FantasyPoints.
Thus, you can be confident you are getting some of the best Strength of Schedule analysis in the game!
TEs to Buy: Best Rest of Season Schedules to Help You Win Now
David Njoku – Cleveland Browns
Remaining Schedule:
2023's TE16 through 10 weeks, David Njoku is 3rd on the team in targets, 2nd in receptions and yards, and tied for the team lead with two receiving TDs on the year.
He's managed this production with a mix of Deshaun Watson, PJ Walker, and Dorian Thompson-Robinson as his QB, and that door continues to revolve as Watson has now been ruled out for the season, leaving Walker as the likely starter for Cleveland moving forward.
Njoku had a surprisingly small role early in the year despite the 4-year, $54.75 million extension he signed in the offseason, but his responsibilities have steadily increased as the season has gone on. Luckily for David and his fantasy owners, he's hitting the sweet spot in his schedule at just the right time.
After a tough matchup against the Steelers, Njoku rounds out his fantasy season facing five straight defenses that have allowed over 500 receiving yards to tight ends this year, then the Jets, who have limited yardage production by opposing TEs but have allowed a league-high six touchdowns to the position.
Njoku is The Wolf's TE13 on the Rest of Season Big Board, behind guys with much tougher upcoming schedules like Evan Engram and Dalton Schultz. You probably won't have to give up much to acquire him, and he could pay off big-time to close out your season.
TJ Hockenson – Minnesota Vikings
Remaining Schedule:
TJ Hockenson is far from an "under the radar" guy, especially ever since Josh Dobbs took over in Minnesota and completely rejuvenated their offense. Hockenson is 2023's TE2, averaging over seven catches and 68 yards per game, and is coming off an explosion in Week 10 where he caught 11 of 15 targets for 134 yards and a touchdown.
Aiding his already incredible season is a cake walk of a final stretch, facing some of the most generous defenses to tight ends that the NFL has to offer. A Week 13 bye complicates things a bit, but that may just make your short-sighted league-mates a little more accepting to parting ways with him.
Hock is The Wolf's Rest of Season TE2, and he could even top those expectations given his easy remaining schedule. You may have to give up some valuable assets, but if you need a solid tight end to round out your roster, he's probably your best bet.
Sam LaPorta & Brock Wright – Detroit Lions
Remaining Schedule:
Obviously, Sam LaPorta is the primary target here to take advantage of this downright salivating rest of season schedule ahead of the first place Detroit Lions. LaPorta is 2nd on the team in every major receiving category and tied for the team lead with four receiving TDs on the year, racking up 33 air targets over his past four games.
LaPorta should absolutely feast against a meatball remaining schedule including some of the worst defenses in football in limiting TE production. And you know his head coach, former NFL tight end Dan Campbell, loves to see a big guy making big plays at his former position.
LaPorta is also our Rest of Season TE4, so your league-mates may be hesitant to give him up if they're paying attention. Much easier to acquire (as he's available in virtually all leagues) would be Brock Wright, a 3rd-year tight end out of Notre Dame who caught two passes for 23 yards and a touchdown in Week 10.
Wright isn't a sexy pick and won't necessarily win you any matchups, but he's becoming a target Jared Goff likes throwing to, and he's one LaPorta injury away from being the starting TE against that sexy schedule above.
I wouldn't be advising it if it would cost you a lot, but a few clicks and maybe $2 of FAAB is worth it for a solid insurance guy for the postseason.
Honorable Mention: Michael Mayer – Las Vegas Raiders
Remaining Schedule:
Finally we get into the real no-names. Michael Mayer was a highly-touted rookie coming out of Notre Dame, AKA Tight End U, but hasn't done a lot in his inaugural NFL campaign. The Raiders' dysfunction can be blamed for a lot of that, as Mayer has played with three different starting quarterbacks and multiple offensive play callers.
Mayer didn't set any new career highs with his three catch, 19-yard performance in Week 10, but he did find the end zone for the first time, fighting through congestion in the middle and absolutely snagging the ball over Jordan Whitehead for his first career TD.
The Raiders' offensive shortcomings will limit Mayer's ceiling a bit, but with a rookie QB and first-time head coach trying to earn their spots for next season, we know Vegas won't be throwing in the towel down the stretch.
Mayer and the Raiders also have a Week 13 bye, but face some TE-generous defenses down the stretch in Miami, Minnesota, and the Chargers. He's The Wolf's Rest of Season TE21, and probably won't cost you much more than a bench FLEX play to acquire for the stretch run.
TEs to Sell: Worst Rest of Season Schedules to Consider Selling
Dalton Schultz – Houston Texans
Remaining Schedule: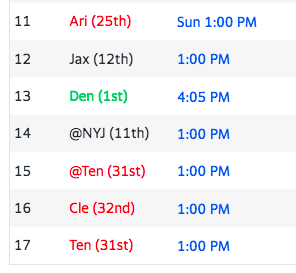 Quickly becoming a favorite target for his rookie QB, Dalton Schultz has shone as a top 10 fantasy TE in his first year with the Texans. Even with a dud in Week 8 against Carolina (one of the league's best defenses at slowing down opposing TEs), he's still averaged 12.4 points per game over his past six with four touchdowns and two double-digit reception games in that span.
It may not be easy to part ways with Schultz if you've been reaping the benefits of his increased role, but the data says it's time. The remainder of his regular season is pretty tame and he may still have some big games left in the tank, but once the fantasy postseason rolls around, he hits an absolute gauntlet with three straight matchups against two of the best defenses in football at limiting TE production.
Schultz is our Rest of Season TE8, but if you have the opportunity to move him and strengthen your other roster spots in the process, do it.
Evan Engram – Jacksonville Jaguars
Remaining Schedule: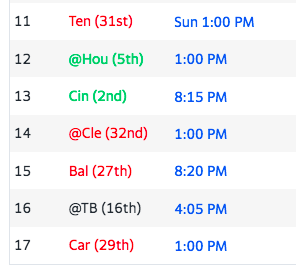 Evan Engram has yet to score a TD this season and has failed to live up to preseason expectations that had him as a top 10 TE, currently sitting at TE14 behind guys like Taysom Hill and Logan Thomas. Despite low production, he's been targeted seven or more times in every game since Week 1, and most who have him on their roster are just waiting for Jacksonville to turn on the jets offensively and lead to some breakout games for Engram.
Unfortunately, the schedule doesn't bode well for that plan. Like Schultz, Engram has some easier matchups to end the fantasy regular season, but his playoff schedule is brutal and doesn't give me much confidence in a late surge to make it worth holding onto him.
Engram's our Rest of Season TE12, and he's a big enough name on a good enough team that someone in your league will be eager to pull the trigger for him. Let them, and get your roster ready for the postseason in the process.
Cole Kmet – Chicago Bears
Remaining Schedule: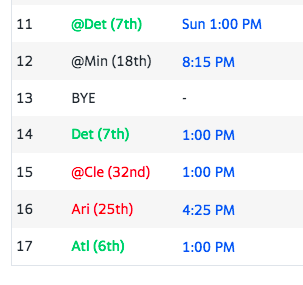 Expectations for Cole Kmet were tempered heading into the season as he finds himself in an inconsistent offense, but despite QB injuries, he's managed to muster up a top six TE season to this point. Kmet is another guy who has a solid schedule to round out the regular season (aside from a Week 13 bye), but once the playoffs come around, things get a lot tougher with the Browns and Cardinals on the horizon.
The Bears are in the unique position of being able to contend for the #1 pick without losing their own games, as they own Carolina's 1st round selection. Still, it's possible with Justin Fields' injury situation and no realistic shot at the postseason, they may put the brakes on a bit down the stretch.
Kmet has been producing this year to the point that someone in your league will want to add him, and you should happily part ways with him if the deal makes sense for you.
Best Fantasy Playoffs Strength of Schedule for Tight Ends (Weeks 15-17)
Trey McBride – Arizona Cardinals
Remaining Schedule: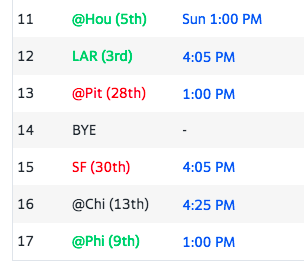 With Zach Ertz on IR, Trey McBride has exploded over the past three weeks, converting 28 targets into 21 catches for 248 yards and a TD — including a 25.5 (TE1) and 21.1 (TE2) explosions in two of his last three.
All this, despite a revolving door at QB. Well, that door is done spinning, as Kyler Murray is back for the remainder of the year, and McBride proved to be a valuable asset for Murray in his first game back.
He's been flat-out elite. In fact, McBride's 2.39 yards per route run trail only Travis Kelce (2.43) at tight end. Beyond just TEs, McBride ranks 14th among 179 qualifying pass-catchers in the metric:
This all might make McBride tougher to acquire, but he's worth every penny it takes. The on-paper schedule looks good, not great. But using The Athletic's Adjusted Points Allowed, and McBride actually finishes with THE BEST schedule for TEs in the playoffs.
Yes, a Week 15 date with SF will be tough. But the Bears and Eagles have actually surrendered the most schedule-adjusted points, and McBride gets them in the ever-important semi-finals and championship weeks.
Use Ertz's looming return to drive down the price. Surely, it'll complicate things, right?! (No. This is McBride's job through and through- but maybe your leaguemate doesn't know this).
With the talent, QB, and schedule to thrive, McBride is now The Wolf's TE6 in his Rest of Season Fantasy Rankings, behind only Dalton Kincaid, Sam LaPorta, Mark Andrews, TJ Hockenson and Kelce.
Jake Ferguson – Dallas Cowboys
Remaining Schedule: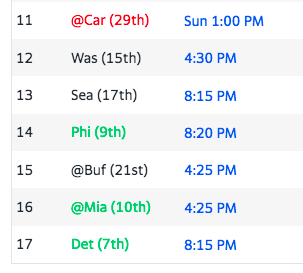 Jake Ferguson took over Dallas' TE1 spot this year when the team let Dalton Schultz walk in free agency, and he's rewarded their confidence in him with a top 10 TE season thus far. Despite this production, he's still available in 15% of leagues, so start by checking your waiver wire and make sure he's not already sitting there for you.
If you do have to work a bit harder to acquire Ferguson, put that work in, because it'll be worth it once the postseason rolls around. Dallas' schedule isn't so friendly to TEs to round out the regular season, but in Weeks 16 and 17, they'll face some generous defenses as they make a final push into the real-life playoffs.
Ferguson already dominated the Eagles in Week 9 to the tune of seven catches for 91 yards and a touchdown, and with Miami and Detroit looming for the fantasy playoffs, his stock will only continue to rise.
Chigoziem Okonkwo – Tennessee Titans
Remaining Schedule:
Chigoziem Okonkwo is more than just a fun name to say — although he definitely has that going for him. Chig has just 200 yards receiving on the year and has yet to find the end zone, but he's been targeted over 4.5 time per game in 2023, and that number has jumped up to an even five since Will Levis took over at QB.
The rest of the regular season isn't particularly generous for Okonkwo, but in the playoffs he benefits from two matchups with Houston, who's given up the 2nd-most receptions and 7th-most receiving yards to opposing TEs. Chig's target numbers keep rising and his schedule speaks for itself — and he's only rostered in 26% of leagues, so you may not even have to give up anything besides a few FAAB dollars to get him.
To close, here's a phenomenal Adjusted Points Allowed grid of the Fantasy Playoffs via Jake Ceily and The Athletic:
We hope this Tight End Strength of Schedule breakdown has been helpful and helps you dominate all your Fantasy Trade Strategy ahead of the deadline!