RSJ's Jackson Barrett created a value-based drafting Excel tool to create the preseason values for this Fantasy Football Trade Value Chart. The tool uses the FantasyPros consensus projections to assign values based on a 12-team, full PPR league.
Each week throughout the season, I will alter these values to reflect the player's value for the rest of the season. I have made changes based on the FantasyPros ECR, results from the season so far, and The Wolf's Rest of Season Rankings. But for the most part, the below values should generally reflect consensus rankings. The values provided also allow for comparing player values across positions, not just within one position group.
For more information on how to make successful deals, check out our strategies for negotiating trades.
Before going over player values, let's take a look at the biggest changes to the trade value chart and some potential trade targets.
READ: WR Trade Targets Based on Strength of Schedule
RISERS
Following a trip to the IR for Justin Jefferson and a season-ending injury for Kirk Cousins, most people assumed that the Vikings' season was over. Personally, I thought the Vikings would implode and there would be a real chance that Jefferson would be shut down for the season.
Somehow, the Vikings have won five straight games and a in the thick of the playoff race. It looks like the Vikings will be riding the hot hand of Josh Dobbs and trying to sneak into the playoffs. Everything going on in Minnesota recently points to Jefferson returning sooner rather than later.
Jefferson's previous week of practice indicates this as well. Following a week of limited practices, there is a realistic chance for Jefferson to suit up in Week 11. Practice reports this week will give us a clue about his health, but if he is able to log a full practice, it should be wheels up for Jefferson.
There's no sense in discussing Jefferson's value. When healthy, he is among the best fantasy options at any position. This is a matter of health and team environment. Given the recent success in Minnesota and Jefferson's return to practice, it seems that the time is coming.
Mr. 1000 is back. Mike Evans is simply inevitable. It doesn't matter who the quarterback, head coach, or other receivers are, the man will get there.
Through 10 weeks (nine games), Evans has 737 yards and six scores, placing him as the WR12.
There are plenty of cases to make for Evans to not succeed. But the reality is that he has been one of fantasy's most reliable receivers throughout his career.
Although I don't agree with Joe's top eight outlook, Evans should be viewed as a very strong WR2 for the rest of the season.
FALLERS
Let's be honest, what has Jaylen Waddle truly done this year? In eight games, Waddle has been a WR1 once. That game was also the only time Waddle scored more than 20 fantasy points.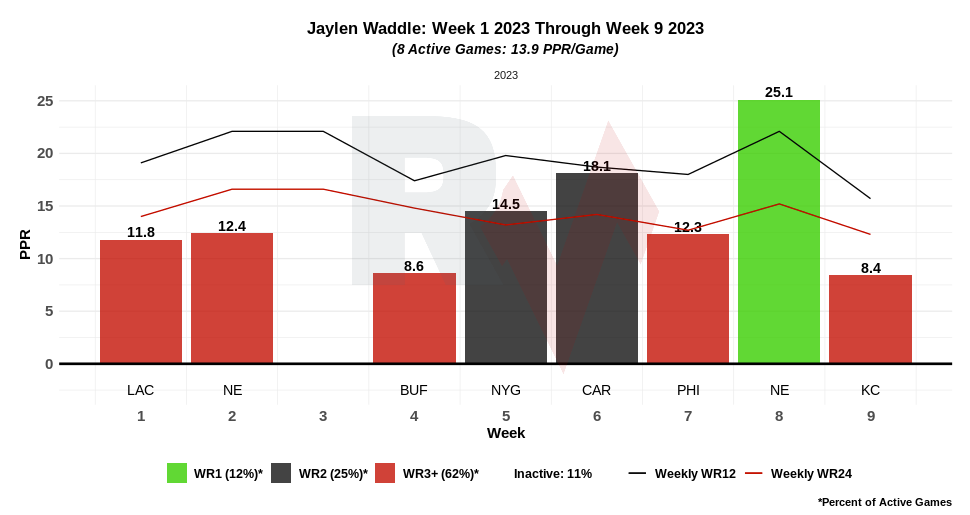 At this point in the season, it appears that Waddle has fully taken the backseat to Tyreek Hill.
This isn't to say that Waddle won't produce this season. But it is time to seriously reevaluate how we value him in fantasy. Fantasy Pros ECR has Waddle as the WR12 for the rest of the season. You'll see him as WR17 on this Trade Value Chart and WR19 in Wolf's ROS Rankings.
Waddle has the talent and offensive environment to explode in any game. Unfortunately, this has yet to happen. It's especially concerning that Waddle has yet to erupt considering the Dolphins have scored 30+ points in half of the games he has been available.
There are still plenty of games for Waddle to find success but after eight lackluster performances, it's time for Waddle to take a significant bump down.
Following a ridiculous start to the season, Adam Thielen has come back down to Earth. Prior to a Week 7 bye, the former Viking was the fantasy WR3. Following Carolina's bye, Thielen is the WR29, averaging 11.1 points per game.
This can be attributed to offensive struggles in Carolina and touchdown regression. In the last three weeks, Bryce Young and the Carolina offense have looked like what we expected… bad. Carolina has scored 15 or fewer points in three straight games and Thielen has not caught a TD in this time.
This should not come as a shock to anyone. Thielen is a 33 year old receiver in an offense with a rookie quarterback. What Thielen was doing early in the season was unsustainable.
TRADE TARGET
Following a disappointing performance in a favorable matchup, now is the time to buy DeAndre Hopkins.
Rookie Will Levis connected with Hopkins three times on Sunday, resulting in 27 yards. While this stat line is disappointing, Hopkins still saw eight targets. This is now 25 targets for Hopkins in three games with Levis.
The volume should remain consistent as I expect the Titans to stick with Levis as long as he remains competent under center. The 2023 season is over in Tennessee and I expect them to see what they have in Levis.
Levis and Hopkins have already shown a strong connection. Outside of a high number of targets, Levis has shown no hesitation in pushing the ball downfield to Hopkins.
If Hopkins sees eight targets per week and can connect on some big plays, he can easily finish as a WR2 this season. If the Hopkins owner in your league is discouraged and undervaluing him, go pick him up for your playoff push.