Player Stock Ticker
Top 2020 NFL Player Prop Bets and Team Props to Hammer This Season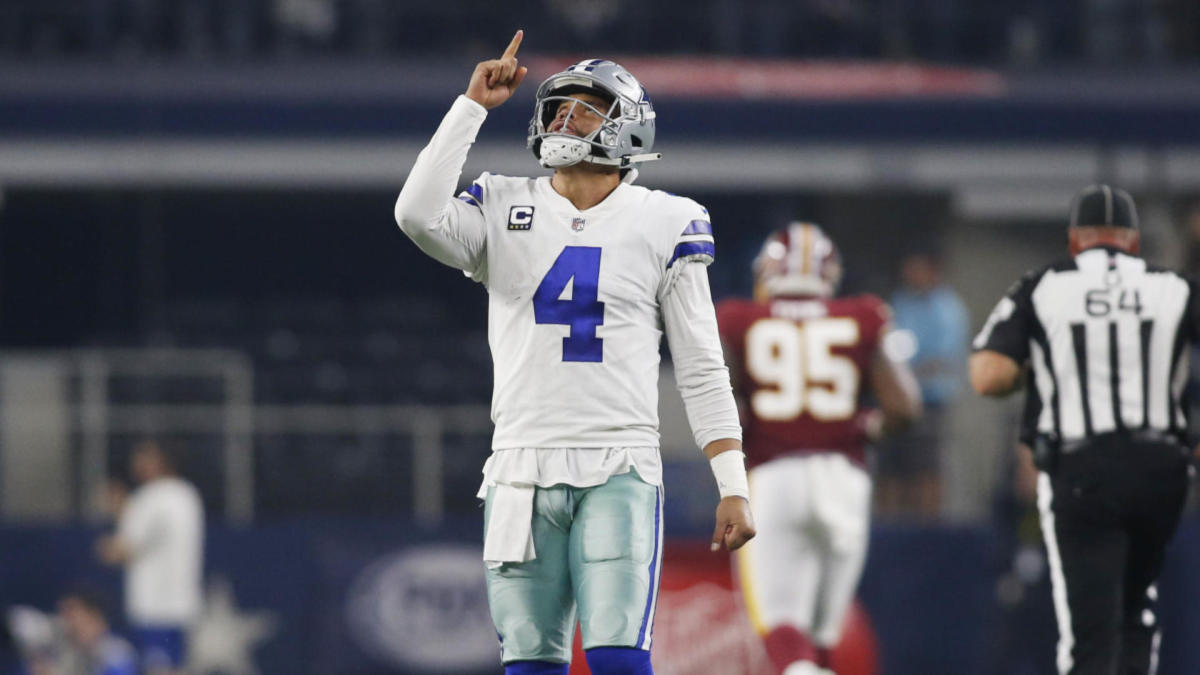 Here at Roto Street Journal, we are jumping on the gambling and NFL player props wagon during the 2020 season. While I've been a long-time degenerate who will often play the board, it'll be fun to talk a little shop throughout the season.
Let's put some bets in now to cash out at the end of the season. It's always a nice surprise when you get a little extra money in your account around the New Year.
Note: Odds from FTN's Prop Shop
QUARTERBACKS
Dak Prescott
MVP +1400
Over 27.5 Touchdowns (-110)
It's Dak's time to shine. The weapons are there, the coaches are there, and he's looking to get paid after this season. For as much shit as Mike McCarthy got in Green Bay, Aaron Rodgers played his best football under him, casually tossing 40-plus touchdowns on the regular. Plus, Prescott is also coming off a career year, where he threw for 30 touchdowns and nearly 5,000 yards, under Kellen Moore's tutelage. Oh, and they added the most electric receiver in the draft.
If you think I'm nuts since I'm riding the Dak for MVP bandwagon, then you'll think I'm in certifiably insane once you get to the bottom of this article.
Drew Lock
Over 3,425 passing yards (-112)
Over 21.5 TD (-110)
We had our guy Eliot Crist on Fantasy Fullback Dive and he shared a secret with us: every quarterback who played 16 games in 2019 threw for over 3,700 yards… besides Josh Allen. With that knowledge and John Elway going bonkers to add pieces around his young quarterback, Drew is a LOCK to surpass 3,425 yards in 2020. On top of that, sprinkle a few more shekels on his touchdown total with those athletes making plays on the perimeter.
Teddy Bridgewater
Over 18.5 TD (-110)
Over 3,500 yds (-110)
I already told you the FTN inside info above on passing yards, so I'll touch on the joke of a touchdown total. In 12 starts last year, Kyle Allen was willed to 17 touchdowns. Yes, Kyle Allen, who sucks, threw for 17 touchdowns in 2019. Enter Teddy Bridgewater and his former Saints coach, Wonderboy Joe Brady. Just like at LSU, Brady will get the athletic Panthers' weapons into space and make life easy for Two Gloves. I don't care if he doesn't throw one pass over 15 yards all season, he's going to surpass 18 touchdowns by Week 12 at the latest.
Cam Newton
Comeback Player of the Year +450
Over 3,199.5 yds (-112)
As a Patriots fan, I'm all-in on my new quarterback and I'll prove it by hammering these two props (plus Patriots over 8.5 wins). During his career, Cam Newton has never had a season under 3,200 yards passing, outside of a 14 game season in 2014, and last year where he played for a few minutes. Not to mention, he's been surrounded by a one-legged Greg Olsen and a bunch of trash throughout his career. Put him in a Josh McDaniels' offense where he'll be let loose in a contract year, and he'll coast past 3,200 yards through the air.
Tom Brady
MVP +1800
Is there anything better than a pissed off Tom Brady, with something to prove? He's going to want to shove this season up Bill Belichick's hoop, while throwing to the best weapons of his career. Mike Evans, Chris Godwin, Rob Gronkowski, OJ Howard, Cam Brate, AND Leonard Fournette?! If Brady stays healthy and the arm strength replenishes a bit, the touchdown and yardage upsides are limitless.
Kyler Murray
Offensive Player of the Year +4000
If you don't know by now, we were ringing the Arizona Air Raid since Kliff Kingsbury signed on the dotted line. Although we were probably a year too soon on Kyler Murray and Kliff, the addition of an alpha WR1, such as DeAndre Hopkins, will place Murray in elite QB company this year. Not to mention Kingsbury's quarterbacks tend to blow up in year two, it's Murray's time to be this year's Lamar Jackson or Pat Mahomes.
Josh Allen
MVP +5000
Okay, hear me out. Quarterbacks have won the last 13 MVP awards, so scratch off the non-QBs on the list. Last year, Lamar Jackson won it at 100-1, the same odds as Kyler, Marcus Mariota, Antonio Brown, Sony Michel, and a handful of others with "no shot." The year before, while we were higher on Patrick Mahomes than the rest of the industry, he opened at +5500 — unfortunately, none of us played it. Then if you want to go back to 2016, Matt Ryan won MVP and he opened at +9000.
If Allen takes advantage of his upgraded weapon cabinet, scores a bunch on the ground, and the Bills win 12-plus games, he'll be in consideration at the end of the season.
RUNNING BACKS
Jonathan Taylor
Offensive Rookie of the Year +1000
Over 700.5 rushing yards (-110)
We've talked about this silly rushing yards prop since it opened a few months ago, so I'm just reminding you again to put it in before it's too late. He was our "must-draft, league-winner" in the third round and he should have no problem cruising over 1,000 yards behind the league's nastiest offensive line. Send us a Venmo after you cash out on that and potentially OROY at +1000.
Clyde Edwards-Helaire
Offensive ROY +400
Over 1,250.5 total yds (-110)
Reminder of just how perfect Clyde Ewards Helaire fit is with the #Chiefs, especially now with the only perceived "DW thorn" removed from his side.

Just put him above Kamara.https://t.co/rOjNYQiUZ9

— Wolf of Roto Street (@RotoStreetWolf) July 29, 2020
If you thought we were high on Jonathan Taylor, then buckle up. We have been all-aboard the Clyde Edwards-Helaire hype train since day one. Talent, fit, usage, surrounding upside, etc. It's all there for CEH to be a league-winner in 2020. His pass-catching chops should give him 500ish yards, then he'll only need 750 on the ground to hit the prop. He's going to clear 1,500 total yards, don't be stupid.
JK Dobbins
Offensive ROY +2800
Although I'm a bit of an Ohio State homer, the JK Dobbins-Ravens fit could not be more perfect. The Ravens run a similar offensive scheme to the Buckeyes, where Dobbins just broke Ohio State's single-season rushing record. If Mark Ingram gets banged up or Dobbins proves to be the more electric back by Week 6'ish, he could be in-line for a monster second half.
WIDE RECEIVERS
Davante Adams
Offensive Player of the Year +7500
Once again, the Packers did nothing on offense during the offseason, outside of drafting two backups. As a result, Davante Adams is in-line to have a Michael Thomas-esque season. There's a real shot Adams can re-write the record books this year and get
Allen Robinson
Over 5.5 touchdowns (-112)
Over 999.5 yds (-102)
Evan Silva joined the Fantasy Fullback Dive podcast, and not only was it our most-listened-to episode, but he predicted Allen Robinson would be showered in targets and he is a legitimate candidate to lead the league in receptions. There wasn't a reception prop, so I'll just make with what's due and we'll go 2-0 here.
Robert Woods
Over 1,050.5 yds (-110)
In the last two seasons, Robert Woods has put up back-to-back 1,000-yard seasons and this year will make it a third. In the final half of last season, the Rams' shifted to 12 personnel to help their shaky offensive line. As a result, Cooper Kupp was no longer a starter and Woods became Jared Goff's target-hog. With the Rams likely to be based in 12 personnel this year, Woods will once again feast and he seems like a lock for 100 receptions and over 1,000 yards.
TIGHT ENDS
George Kittle
Over 7 touchdowns (-110)
For those who don't know or didn't realize… George Kittle has NEVER eclipsed five touchdowns in a season. Nope, I'm not lying. In fact, he only has 12 touchdowns in his three-year career. With a new 49ers pass-catcher going down each day, it's Kittle's time to shine. Not only will he exceed the seven touchdowns prop, but he will double his career touchdown total.
Also, if you're feeling a bit crazy, sprinkle something on his OPOY odds at +8500.
TEAM PROPS
Buffalo Bills
Over 8.5 Wins (-110)
To win AFC East (+125)
Cincinnati Bengals
Over 5.5 Wins (-130)
Pittsburgh Steelers
To win AFC North (+400)
To win Super Bowl (+3000)
Dallas Cowboys
To win Super Bowl (+1700)
New Orleans Saints
To win Super Bowl (+1200)