Player Stock Ticker
Drew Lock is Now the Late-Round Fantasy QB to Own in 2020 After Broncos Add Elite Weaponry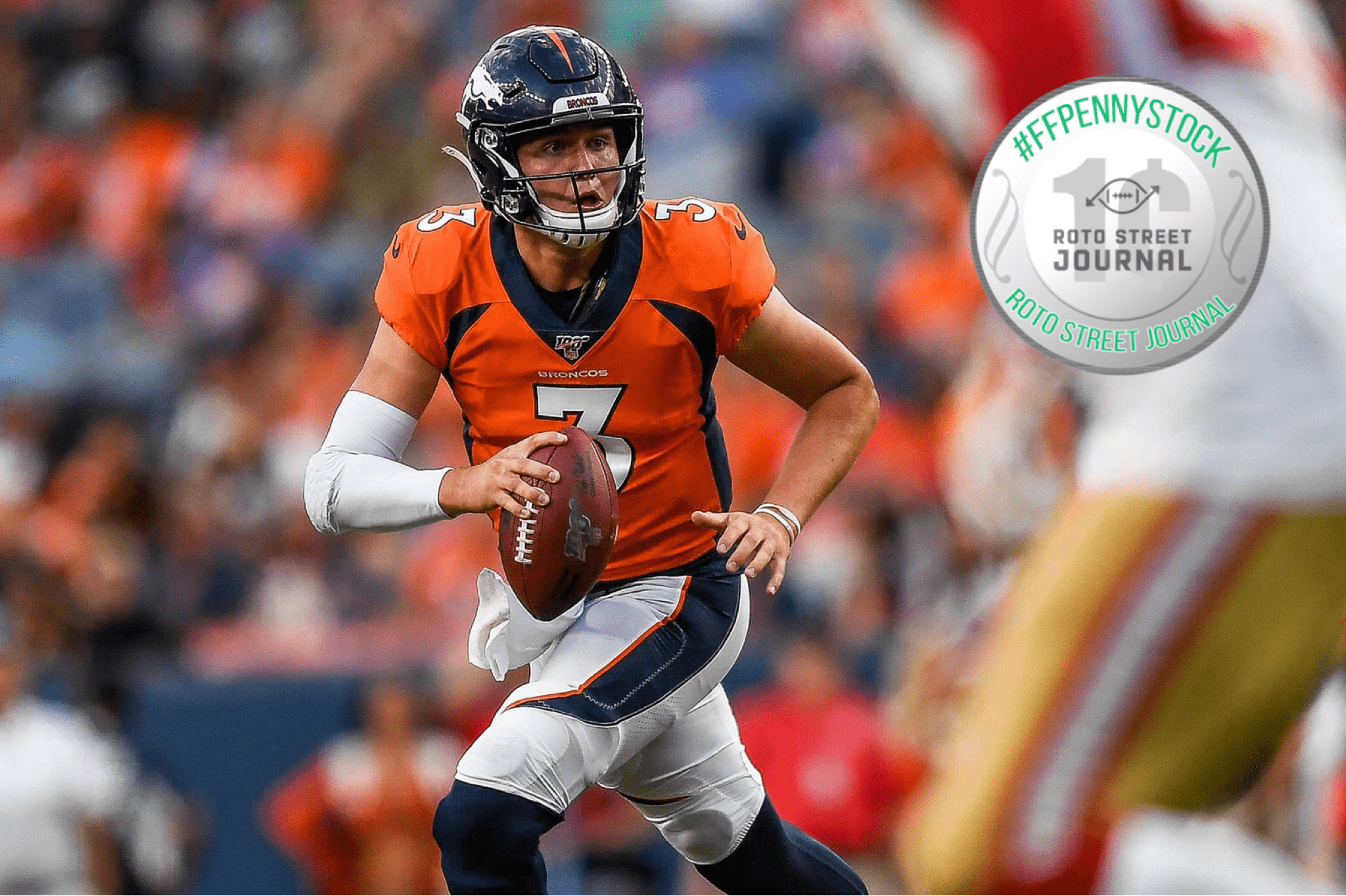 John Elway is pushing his chips all-in on Drew Lock. After adding Melvin Gordon in free agency and both Jerry Jeudy and KJ Hamler on the perimeter in the draft, Lock has one of the better weapon cabinets in the league. Adding Gordon, Jeudy, and Hamler to an offense that already boasts Courtland Sutton, Noah Fant, and Phillip Lindsay is just plain scary. As a result, Lock is now a quarterback you must take a flier on late in your fantasy draft. 
Stay up to date on all the Free Agency Fantasy Fallouts! Bookmark our Fantasy Stock Watch. Even better, consume them in our cleanest format by downloading the Roto Street App.
Although the weapons are great, maybe even more importantly he gained Elway's confidence in his five starts last season.
In those five starts, Lock made his presence felt early, going 4-1, while adding 7 touchdowns to only 3 interceptions. He also showed tremendous accuracy for a rookie, completing 64 percent of his passes.
He made his mark against the Texans in his second career start, where he completed 22-of-27 passes (81%) for 309 yards, while adding three touchdowns through the air.
"We feel that he's the guy," Elway said about Lock on Monday when asked if they would target a quarterback in the draft. "We really liked what we saw (last year)."
Then Elway added Jerry Jeudy in the first round, who surprisingly fell to 15th overall, to pair with Sutton. Most believe Jeudy is the most NFL-ready WR prospect in the draft and has the potential to be a WR1.
"We're looking to make our offense a little bit more stressful for people to defend," Vic Fangio said after the first round.
Jeudy lined up on the outside and in the slot at Alabama and he'll be able to bring that versatility to Mile High.
"Jeudy can run every route in the playbook and is a very quarterback-friendly target with his ability to separate, making sharp, collected cuts at full speed that defenders can't match," wrote Dane Brugler of The Athletic. "Everything he does is quick, including his ability to snare-and-secure throws, but focus drops plagued his tape, especially over the middle."
On Friday, the team added KJ Hamler, an electric playmaker with track speed in the mold of Tyreek Hill.
@Kj_hamler nah this crazy wicked… and you cool off at the 10 yard line 🤦🏾‍♂️🤦🏾‍♂️ pic.twitter.com/d1b5fj5T48

— Saquon Barkley (@saquon) April 21, 2020
"A jitterbug athlete, Hamler is tough to corral due to his burst and balance, showing the twitch at the top of routes that makes him a nightmare to cover man-to-man," wrote Brugler. "Overall, Hamler's diminutive size and shaky focus could limit the way he is deployed in an NFL offense, but his explosive speed has the potential to light up the scoreboard, projecting as high-upside playmaker in the slot."
Not to mention the team also added OG Graham Glasgow in free agency and Lloyd Cushenberry, Brugler's No. 1 center in the draft, to an already strong offensive line.
With Pat Shurmur, a known maximizer of talent, now calling the shots in Denver, Lock will be put in a position to succeed. He'll be asked to get the ball to his playmakers in space to let them do their thing, while also leaning on Melvin Gordon and Phillip Lindsay in the running game.
The mix of a veteran play-caller and an arsenal of weapons moved Lock up to QB15 (+8 vs ECR) on our updated 2020 Rankings and Big Board, making him a must-own at the end of your fantasy draft.
The upside is ginormous across the board at Mile High.