Player Stock Ticker
Clyde Edwards-Helaire Lands in Fantasy PPR RB Heaven Under Andy Reid, in Chiefs Elite Offense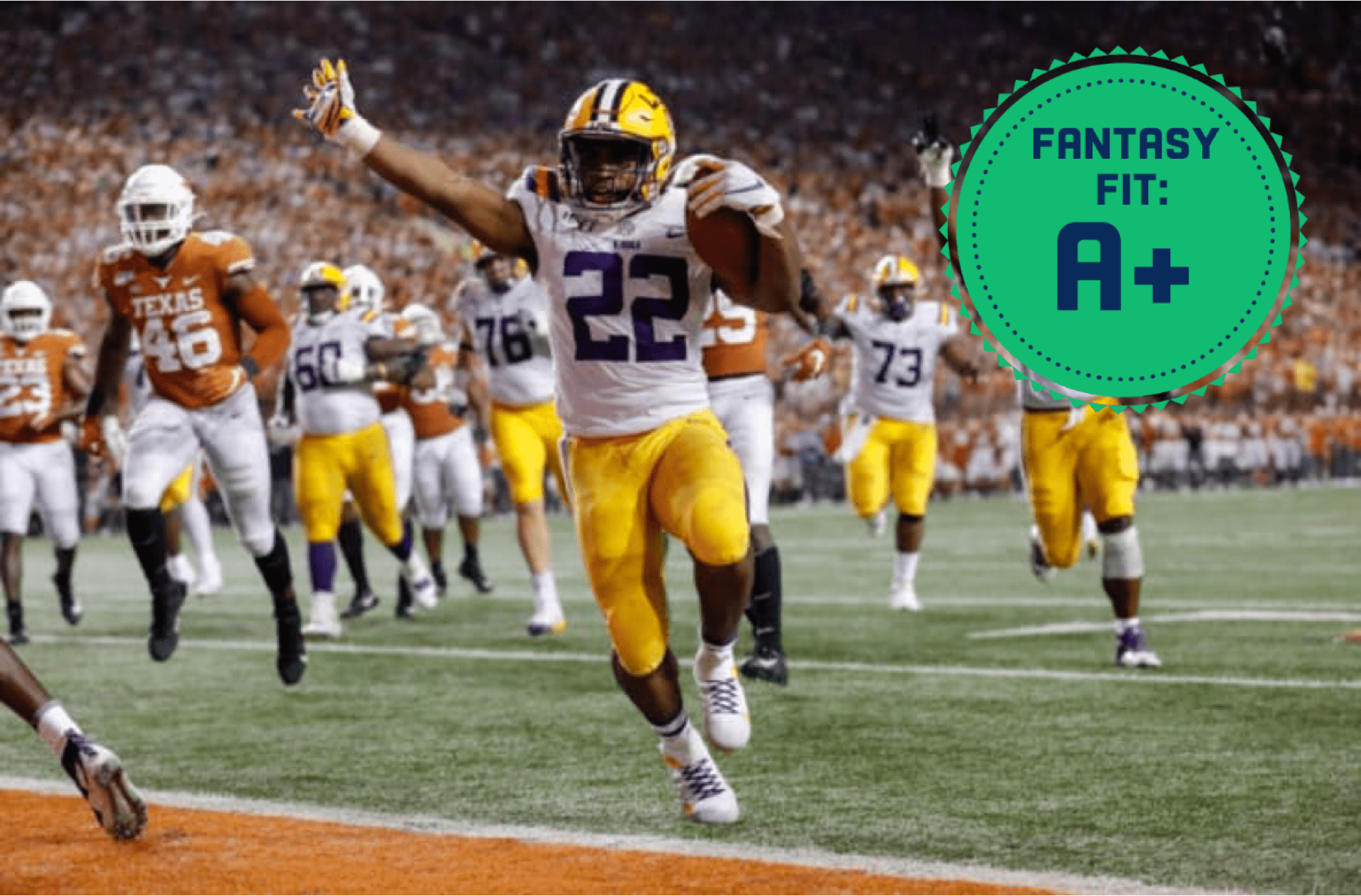 LSU dynamo Clyde Edwards-Helaire has landed in, quite literally, the perfect spot with the Kansas City Chiefs. The move checks every single fantasy value-box: Talent. Scheme Fit. Explosive offense. Perhaps most importantly, immense Usage as Andy Reid's next "Brian Westbrook." The fit is beyond ideal, both for real-life and fantasy.
Hyperbole? Perhaps.
Or maybe not. Reid himself called Helaire "better than Brian" while he and GM Brett Veach had phone sex while watching their first rounder amass 1,867 total yards and 17 TDs on 270 touches (including 55 rec – most by any SEC running back in 20 seasons).
Before we begin our fantasy porn, though, let's remove the one perceived "thorn": Damien Williams.
Indeed, I, and surely the Chiefs, appreciate Williams' flashes, especially in back-to-back playoff runs. He won me leagues aplenty in 2018, and is an excellent Number 2 and even solid starter given the Chiefs friendly confines.
Even still, Reid and Veach made the Helaire "luxury" pick with every other 2020 rookie at their fingertips. The Chiefs didn't need an RB, and had every other option on the table. That alone speaks volumes to their opinion and vision of his new back, and fantasy owners can't ignore that.
If those "context clues" aren't enough, Veach has already labeled Helaire as "a franchise-type running back… Pro Bowl running back" He cited the five-year option on first rounder contracts as a major reason they did not trade back.
The math is simple: Talent + Fit + Usage + Surrounding Talent = Immediate Top-Five Fantasy Ceiling. Don't over-complicate this.
Still, if you need more swaying, prepare the lotion and dive in:
Stay up to date on all the 2020 NFL Draft Fantasy News and Analysis! Bookmark our Fantasy Stock Watch. Even better, consume them in our cleanest format by downloading the Roto Street App. 
Helaire's Talent and Fit with Chiefs
Talent is important. Talent that fits the scheme is infinitely better.
Thankfully, Helaire drips in both.
As his underwhelming 4.6 forty exhibited, Clyde won't be hitting a ton of home-runs. He doesn't have the breakaway speed to outrun entire defenses. That's not his role. Between Tyreek Hill, Travis Kelce, Sammy Watkins and Mecole Hardman, the Chiefs already ooze with "track-star," "game-swinging" speed.
Instead, Helaire will operate more as a steadying force. A consistent five or six yard chunker, capable of the longer-gainers when afforded the space. He's the engine that'll keep the clock ticking, offense churning, and deep-bombs deadlier.
For that task, Helaire is built perfectly.
My favorite 2020 Rookie Profilers are FantasyPoints' Greg Cosell and The Athletic's Dane Brugler. I trust their eyes far more than my own, and they describe an RB that that fits Reid's scheme — both as a runner, and more importantly, a receiver — to perfection.
In the run-game…
Reid and the Chiefs prioritize the inside-zone, often out of shotgun. This is almost identical to LSU's record-setting 2019 attack.
Beyond scheme familiarity, Helaire routinely flashed the critical traits to succeed within it: vision, contact balance, and the beautiful dance of patience, decisiveness, and change-of-direction that craft a zone-running monster.
Described by the gurus, first Cosell:
Down-to-down running:
Showed patience and vision in the zone-run game, then decisiveness and burst when he read the hole.
Outstanding short-area burst through the POA. Patience to the hole and burst and speed through the hole
Worked well in confined space with higher-level lateral agility, contact balance, and competitive mindset
Flashed the ability to get skinny and get through small cracks at the POA without losing velocity
Second-level ability for chunk gains:
Showed a good feel for pressing the hole and manipulating second-level defenders, then cutting to space
Showed make-you-miss ability at the second and third levels of the defense. Flashed shiftiness and wiggle
A slashing, darting running style at the second and third levels. Sharp cuts without losing velocity and speed
Brugler similarly sees an "explosive lower body with the lateral burst to juke away from roadblocks…unique ability to stay afloat and break tackles…makes defenders miss in the hole…instinctive with the ball in his hands, resetting his vision on the move…highly competitive runner with NFL-level toughness…lowers his pads and drives his feet."
Reid himself gushed, "With [Edwards-Helaire], his strengths are his ability to run the zone scheme and the gap scheme that they did at LSU. He has a unique ability to push the line of scrimmage in the run game and make his lateral cut and then accelerate up the field. I'd tell you that's kind of what separated him from the other guys with. He's got a real knack for that.
In the same mold as Westbrook and Kareem Hunt before him, Helaire will thrive on his 15-18 carries per contest.
But we're really here for Helaire's pass-catching chops…
We will cite FantasyPoints' Scott Barrett plenty later on when we dig into projected usage, based on Reid's historic trends. (Prior to the Draft, Scott & I had an incredible discussion on Fantasy Football Upside and 2020 League Winners, don't miss it).
Before, though, is a crucial Barrett stat: a target has been worth 2.83 times as much as a carry in PPR leagues. (A reception, obviously, is worth even more than that.)
So while Helaire's beautiful fit as a runner is nice, it's his upside in the passing game that truly vaults him into "Fantasy Cheat Code" potential.
As a pure pass-catcher, Graham Barfield, one of the premier RB evaluators for his work in Yards Created, had high praise:
Among RBs, Clyde Edwards-Helaire is the best route runner to come into league since Christian McCaffrey. CMC is a little more versatile, but few backs consistently create separation against LBs like Edwards-Helaire.

— Graham Barfield (@GrahamBarfield) April 15, 2020
Brugler expands: "Excellent pass catcher in the screen game with clean routes and reliable ball skills (ranked second in the FBS in catches among running backs in 2019)…daring in pass protection, throwing his body around to chop down blitzers.
"With his high-level ball skills, he is dynamic in the passing game and shows the ability to shake defenders mid-route or hide behind blockers in the screen game… projects as an any-down player who can line up across the formation."
Cosell acquiesces, labeling him an "effective as a receiver on angle routes, designed checkdowns, corner routes in high red zone."
If there's one rub, Helaire must improve in pass-protection; both Cosell and Brugler label blitz pickup as a clear area of improvement. An inability to keep Mahomes upright would send Helaire straight to the pine — perhaps the only real risk in his stock.
In short, Helaire can run the full route tree. He experienced pro-style, creative receiving usage under Joe Brady, where he moved all over the lineup and ran routes at all field layers. He has the skills to be an every-down, high-touch player in the league's most explosive offense.
When asked why Helaire was his top-choice at RB, GM Veach labeled all the traits it takes to dominant in Andy Reid's offense:
"Interior running ability. Vision, instincts. Start / stop, redirect. Hands out of the backfield. The guy has the ability to play in slow motion. We felt like he had all the traits.

"The vision and lateral agility. Can't coach that. God-given ability. It's like he plays in slow motion. He's certainly tailor-made for this offense and what we build moving forward.  We knew what he could do in this offense would be special. For five years would be special."
This is especially apparent when considering Reid's past RB usage.
Usage: Andy Reid's Historically Dominant RBs
In the 16 years since Brian Westbrook really took over the backfield in 2004, 12 of Reid's RB1s have finished top-eight among RBs in fantasy points per game (75%).
In fact, just seeing the eye-popping stats and usage really tells the story:
Brian Westbrook (2004-08)
250 touch (73 rec), 1515 YFS, 9 TD (RB4)
217 touch (61 rec), 1233 YFS, 7 TD (RB7)
317 touch (77 rec), 1916 YFS, 11 TD (RB4)
368 touch (90 rec), 2104 YFS, 12 TD (RB1)
287 touch (54 rec), 1338 YFS, 14 TD (RB1)
Trash RBBC w/ Rookie McCoy & Washed Up Westbrook (2009) 
LeSean McCoy (2010 – 12)
285 touch (78 rec), 1672 YFS, 9 TD (RB3)
321 touch (48 rec), 1624 YF, 20 TD (RB3)
254 touch (54 rec), 1213, 5 TD (RB8)
Jamaal Charles (2013-14)
329 touch (70 rec), 1980, 19 TD (RB1)
246 touch (40 rec), 1324, 14 TD (RB7)
Trash RBBC w/ Creatures (2015)
Creature Spencer Ware Emerges (2016)
247 touch (33 rec), 1368 YFS, 5 TD (RB16)
Kareem Hunt (2017 & 11 GP in 2018)
325 tch (53 rec), 1782 YFS, 11 TD (RB5)
207 tch (26 rec), 1202 YFS, 14 TD in 11 GP (RB8)
Damien Williams Injury Trash (2019)
Half of Reid's RB1s have hit 11+ TDs, and no coach over that span has even approached his expected RB Touchdown market share. More than half have hit 50+ rec, and RBs have ultimately averaged north of 20 touches per game. Elite receiving talents (Westbrook, Charles) topped or approached 100 targets.
Simply put: the track record of RB1 production is long and well-established. I'll bet on 75% Top-Eight finishes, especially when Reid goes out of his way to secure his clear-cut RB1.
Even better? The team has confirmed they view Helaire in the same "workhorse" mold of these other monster Reid RBs. In fact, when Veach was asked bluntly: "Can he be featured like Hunt or Charles," the GM didn't try to cover up any intentions of riding him:
"I think because of the type of offense we run, I do. If we were more traditional – 2TE sets, power run game – there would be some questions. But the way that we spread teams out, make them play east-west, and the threat of our vertical passing game. Again, this kid's low center of gravity and ability to make people miss. I think just the way our offense is constructed, I think he will thrive and I think that he'll handle the workload."
Yet… if you have any lotion left… the perfect talent, fit, and usage aren't the only selling points here. Oh no.
Surrounding Talent: The Mahomes Effect
Do you really need me to spell out how explosive the Chiefs offense is?
We can begin with the best QB in the world, Patrick Mahomes.
In his epic first season starting (2018), the Chiefs averaged 35.3 PPG — third highest in NFL History. 
Even with Mahomes out and limited for portions of 2019, Kansas City still ranked second in total PPG (29.9).
This offense is a points factory that has only gotten more dangerous with Helaire's emphatic receiving presence. From a sheer scoring lens, don't be shocked if the 2020 Chiefs beat their record-setting 2018, affording Helaire 15+ TD upside.
Surrounded by the NFL's speediest WRs corps, Helaire should also be gifted bountiful space underneath, both in the run and also short-to-intermediate receiving game. I mean,Tyreek Hill (4.34) and Mecole Hardman (4.33) both rank in the 99th percentile in forty times. Sammy Watkins ain't too far behind with 4.43 jets of his own, and Kelce brings freakish athleticism to the seams. With Mahomes' cannon-arm the straw that's stirring this explosive concoction, the Chiefs already were near-impossible to stop.
Amidst this group of burners, Helaire's also is the closest thing to a slot-WR on this squad. He'll undoubtedly line up plenty here in empty sets, something he did 26% of the time in 2019 (tops among RBs). Here, Helaire can provide a consistent chain-moving presence as he roasts poor LBs who attempt to stick with him in coverage.
Mahomes had already had immense success targeting his RBs: over the last two years, he ranks 4th-best in adjusted completion rate (for drops) and first in QB rating when targeting his RBs. Hunt is solid, but Helaire is just that much smoother of a separator, with more branches on his receiving tree.
Certainly doesn't hurt that Edwards-Helaire had already caught the eye of his All-World QB, who labeled the LSU back as his top draft choice:
Wow — the #Chiefs were actually 'Clyde Edwards-Helaire' no matter what pic.twitter.com/c13NEfQWjQ

— Arrowhead Pride (@ArrowheadPride) April 24, 2020
Bottom Line: Clyde Edwards-Helaire is a Fantasy First Rounder
Rookie fantasy fits are rarely this perfect. Sure, we've been spoiled recently, with Ezekiel Elliott and Saquon Barkley entering the NFL into immediate workhorse roles for Top-2 RB finishes. While Helaire won't hit their early volume, he could still hit their lofty fantasy totals, as he's tailor-made, both as a runner and receiver, for a centerpiece role within the league's most explosive attack.
Reid wouldn't have burned a first rounder on Helaire without a clear RB1 vision. A rookie season that approaches Westbrook, Charles, or McCoy's "Cheat Code" totals is well within Helaire's reach. Dynasty-wise, Helaire is the immediate rookie 1.01 given, as more of a pass-catcher, he'll have greater longevity than your typical RB. With Mahomes likely a Chief for life, Helaire will have annual Top-Five RB upside for however long he too remains in KC.
For Seasonal, Helaire slides in as my RB11, and 12th overall, among the "Remaining RB1" tier — right below Joe Mixon and Austin Ekeler, and ahead of Kenyan Drake and Josh Jacobs. If signs point to him truly locking down a 65-70% role right from the start, he could shoot up to the top of this tier, and even fight with Alvin Kamara for the 6th spot.
Stay up to date on all the 2020 NFL Draft Fantasy News and Analysis — bookmark our Fantasy Stock Watch.
Or, even better, consume them in our cleanest format by downloading the Roto Street App. 
Other Rookie RB Fantasy Fits: