Player Stock Ticker
Dak Prescott Top 3 2020 Fantasy QB Upside With Full Cowboys Weapon Cabinet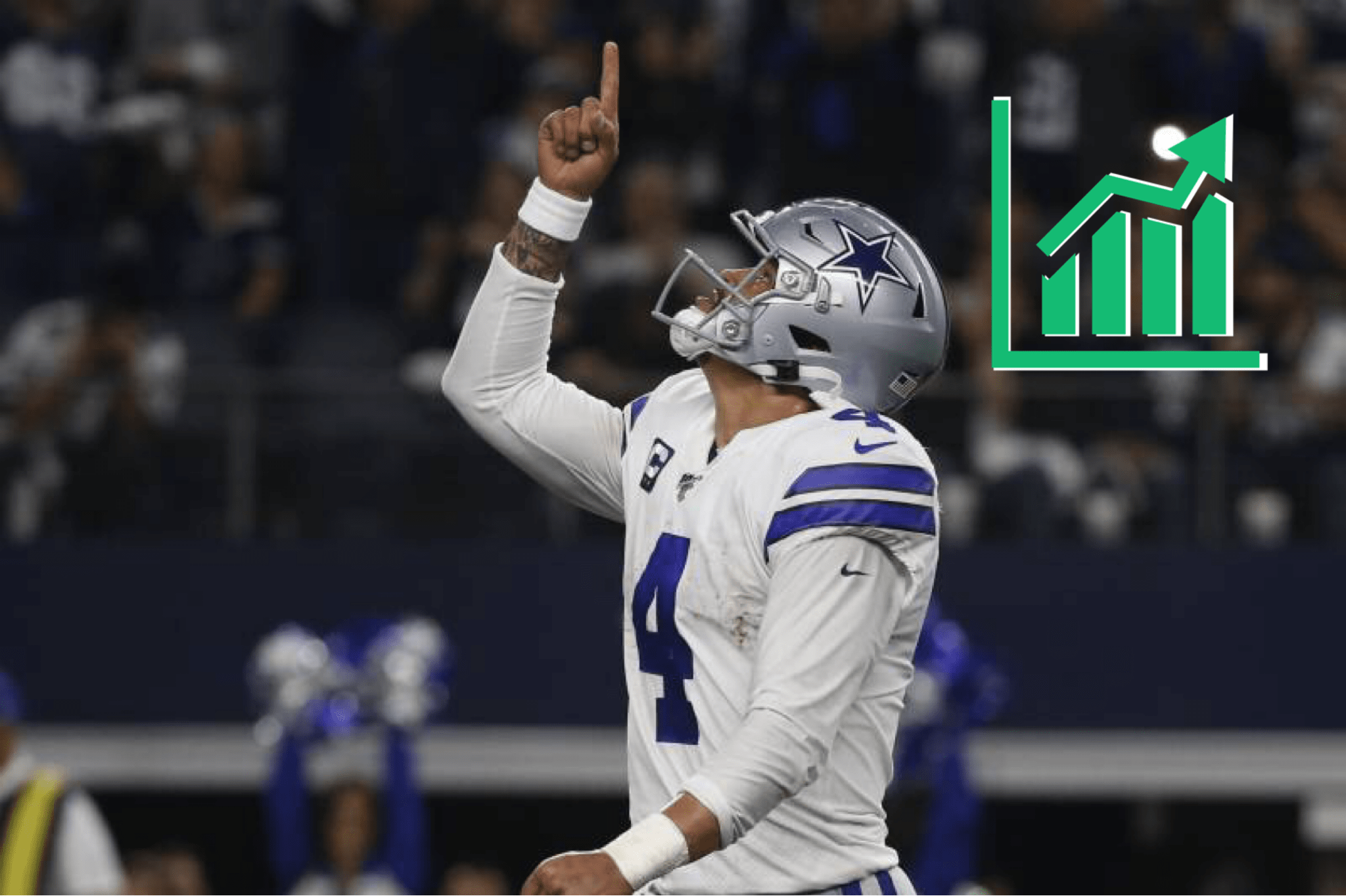 Amari Cooper, Ezekiel Elliott, and Michael Gallup, oh my! After handing out a massive contract to Cooper, Dak Prescott will once again have a full cabinet of weapons in Dallas. With a new head coach in Mike McCarthy, and the retaining of offensive coordinator Kellen Moore, things appear to be trending even higher for the Cowboys offense. Add in an upgrade at tight end in Blake Jarwin, and Dak has arguably the best surrounding talent of his young career.  
Stay up to date on all the Free Agency Fantasy Fallouts! Bookmark our Fantasy Stock Watch. Even better, consume them in our cleanest format by downloading the Roto Street App.
While most of the offseason was spent wondering if Dak was going to get his new deal and if Cooper was going to return, Dallas retooled their coaching staff. The offseason began with Jason Garrett clapping his way into the Giants offensive coordinator gig and McCarthy replacing him as head coach.
Last season, Dak's passing ability improved immensely. He finished the season second in passing yards and tossed 30 touchdown passes. Although Prescott likely won't rank in the top three in passing yards again this season, McCarthy's system does favor the quarterback.
From 2008 to 2016, Aaron Rodgers threw for at least 28 touchdowns in every season, except 2013 which was an injury plagued season for Rodgers. Included in those are two seasons of 40+ touchdowns and six seasons of 30+ touchdowns.
With all of the passing volume that Dak shouldered last season (596), he only averaged a 5.0 percent touchdown rate. Rodgers, during that amazing nine season stretch, had a touchdown rate of 6.4 percent — including outlandish seasons with touchdown rates of 7.1 and 9.0.
The new HC has already expressed his excitement and firm belief in his new signal-caller:
"I've always been impressed with him," McCarthy said of Prescott. "You're going to able to run the whole offense and then some. I think he has an incredible foundation to build off of. And our offensive system will be built around making the quarterback successful. That's the way I've learned it. That's the way I believe you play offense. We have a great one here to work with."
Long story short, Dak is still in a great position to be a top five fantasy quarterback in 2020 with even more touchdown upside on an explosive offense.
Stay up to date on all the Free Agency Fantasy Fallouts! Bookmark our Fantasy Stock Watch. Even better, consume them in our cleanest format by downloading the Roto Street App. Latest value changes include: