If it's any solace to Patriots fans, Tom Brady gained some serious fantasy value by leaving New England for the Buccaneers. (Yes, that's a joke…Kind of. No, you're crying).
Still, after two decades of pure AFC dominance, Patriots fans are left to "not cry because it's over, but smile because it happened." Boy, do us New Englanders have plenty of fond memories:
Tom Brady in 20 seasons with the Patriots:
▪️6X Super Bowl winner
▪️4X Super Bowl MVP
▪️9 Super Bowl appearances
▪️17 AFC East titles
▪️14X Pro Bowl
▪️5X All Pro
▪️3X NFL MVP
▪️2nd all-time in passing yards and passing TD
▪️Won 77% of games he started

Greatest to ever do it.

— Field Yates (@FieldYates) March 17, 2020
Nonetheless, Brady is headed to sandier pastures and the NFC. The Bucs and Bruce Arians, who were "all-in" on the future HOFer, got their guy via a $30 million annual deal.
Stay up to date on all the Free Agency Fantasy Fallouts! Bookmark our Fantasy Stock Watch. Even better, consume them in our cleanest format by downloading the Roto Street App.
Now, Brady finally has the chance to prove the only doubt that remains wrong: can he win it all without Bill?
From a fantasy perspective, even at age 43, Brady couldn't have landed in a better spot.
Surrounding Talent – NFL's Best Pass-Catching Corps
Obviously, the "Surrounding Talent" boost in Tampa doesn't need to be spelled out… but it turns me on to do so.
Mike Evans and Chris Godwin form the best WR tandem in the game. OJ Howard remains one of the NFL's biggest size / speed mismatch at TE. Antonio Brown is rumored to be part of a Brady package (although Arians has already poured cold water on this). I'm sure an elite pass-catching back (Kareem Hunt?) isn't far behind at this point.
Compared to the Patriots 2019 weapons cabinet, Brady is going from a squirt gun to the control panel of a nuke show.
Truly, even if no other moves are made, the Bucs have a Top-3 weapons cabinet, and perhaps the best in the league.
Hell, with these weapons and in Arian's offense, a half-blind Jameis Winston led the NFL in passing (5,109 yards, 8th all time) and ranked second in TDs (33), racking up the third most regular-season points per game (29.1).
Imagine what the GOAT can do?
Scheme: The Brady / Arians Marriage
A Perfect Mismatch?
Actually, that's a very fair question given Brady's fit in Arians' offense is… odd, at best.
See, Arians is known for coining his philosophy as "No Risk It, No Biscuit." Further, he explained, "We have six home runs on the play sheet every week, and we're not leaving any bullets unused." He's all about the long ball, sacrificing safety for splash plays.
Which, on paper, is the exact opposite of Brady.
TB12 prioritizes ball-control. He's never thrown more than 14 picks in 20 seasons of play, including single-digit INTs in five of his last six years. He has less interceptions in his last four years combined (29) than Winston had in just 2019 (30).
Much of this is because Tom and New England's "small ball" style. They wear teams down with relentless quick-strikes, often to the slot WR or pass-catching RB, and allow pass catchers to rack up YAC. No one found a weakness, and then repeatedly wrung more juice from it, than Tom and Bill.
For a visual on just how contrasting this duo is on paper, check out Arians' team and Brady's "Average Air Yards per Attempt," via ESPN: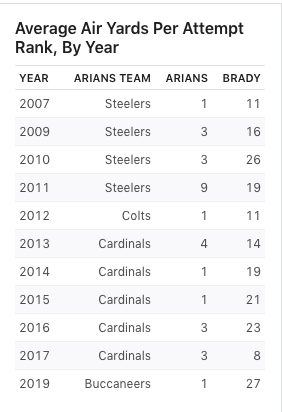 In nine of his past 11 seasons, Arians has led one of the three deepest passing attacks in football. Brady and the Patriots have ranked in the top 10 once in that time.
As recent as last year, Winston averaged 8.16 yards per attempt last year — sixth-most in the league — and Brady averaged 6.62, which was 27th. Only twice have Arians' offenses averaged fewer than 7 yards per attempt per season. Winston also attempted 48 passes of 30+ "Air Yards." Brady was at 19. Arians' teams have never attempted fewer than 26 passes of 30-plus air yards in a season.
So, we ask again… imagine what the GOAT can do? Or, more simply… will it work?
Perhaps Brady couldn't stop asking himself this question, which propelled this ultimate decision to leave.
For all those labeling me a "System QB," let me go into the exact opposite "system"… and still thrive.
According to the Tampa Bay Times' Rick Stroud, "Brady's preparation, as usual, was next level. He knew all about Arians' offense and was eager to operate it."
SI's Albert Breer notes a similar mindset, saying Brady "thoroughly studied the Bucs' offense and personnel, while explaining, then showing, that he'd kept an eye on Arians's offense through the years."
Perhaps, after years of the same tutelage, Brady wanted to know what Arians, heralded for his work with Ben Roethlisberger, Peyton Manning, Carson Palmer and a rookie Andrew Luck, could add to his game. Arians may be one of only 2-3 coaches in the league capable of actually teaching and challenging Brady in ways he hasn't been before.
Ultimately, Tom needed a change of scenery. Some more breathing room. A fun, new, aggressive attack and opposite coaching style to the militaristic Belichick. Robert Kraft admitted as much, saying "if Tom Brady wanted to stay, we would've worked it out… Tom wanted to leave."
Maybe that's why, as odd as the TB to TB fit seems, it'll be perfect.
SI's Andy Benoit feels the fit is more than fine, detailing how he expects the Bucs' weapons and system to fit with the new QB:
Their pass game, much like New England's in years where talent surrounded Brady, often gets all five eligible receivers out in routes. Many of those routes are intertwined in ways that out-leverage specific coverages downfield, demanding that a QB aggressively target 18-to 22-yard timing-and-rhythm throws.

Those throws are not necessarily Brady's forte, but they're in his wheelhouse and will feel enticing—maybe even liberating—with a lanky 6′ 5″ target like Mike Evans. The seventh-year receiver also gives Brady the best downfield and jumpball weapon he's had since Randy Moss.

Another characteristic of an Arians scheme: "tight split" alignments, where a receiver aligns just a few yards away from the offensive tackles, as opposed to all the way out near the sidelines. Those tight splits propagate rubs and picks routes—concepts that Brady mastered in New England. Many of those concepts will feature Chris Godwin, who last season caught 86 balls for 1,333 yards (in 14 games) playing the slot and Z-receiver role. The guy who filled that role for Brady in New England was Julian Edelman.

…The Bucs don't have a Gronkowski (no team does), but they have two highly capable receiving tight ends in O.J. Howard and Cameron Brate, both of whom can prosper on crossing routes and down the seams. A one-two tight end punch can be lethal with a smart QB; having that second tight end compels the defense to account for more gaps against the run, limiting what the D can do in coverage. From understanding these limitations, a veteran QB can often decipher that coverage. And in Brady's case, the QB can audible to a different play that specifically attacks the coverage.
We know Brady is arguably the NFL's best at picking apart mismatches and audibling to the right looks. But does he still have the skills to operate this high-powered, vertical machine?
Capable Deep Thrower
Any Patriots fan is aware that Brady's deep strength and accuracy have been eroding, perhaps faster than any other part of his game.
Yet, who has he really had to uncork to?
With a barren 2019 weapons cabinet, Brady still ranked 10th in PFF's deep passer rating (102). He's not 2011 Tom, but Brady still took the timely deep shot, especially in the right match up.
Which is where, in addition to the bolstered weaponry, Arians can help Brady thrive.
For one, Arians and GM Jason Licht are very confident in Brady's arm. According to SI's Albert Breer: 
"Arians's report back was similar to Licht's. As he looked at Brady's tape, the veteran coach—who'd historically worked with big-armed Clydesdales like Ben Roethlisberger, Carson Palmer and Andrew Luck—saw a quarterback who could make every throw his offense required."
Plus, BA is far more calculated than his "No Risk It" moniker suggests. He schemes up perfect double-moves. He utilizes an assortment of packages, and even more unpredictable calls within that personnel. His impeccable timing, as Palmer detailed:
"It wasn't the game plan, it was his timing," Palmer says. "He was just on point with his calls..when he was calling certain things. When he was calling screens, we were gashing them. When he was calling [deep] shots, the shots were there. The run-game calls were spot on."
Those shots will be there more often than not when Evans and Godwin are at your disposal. Both WRs, especially Evans, can outmuscle any defender in 50 / 50 situations. Both can work the short game to set up double-moves to streak behind defenders. Howard paced the league in back-to-back seasons with 16.6 YPC.
When has Brady ever had this type of bonanza? Maybe 2011, with Randy Moss and Wes Welker… and we all know how that went.
Thus, while the long-ball hasn't been a huge part of Brady's game, perhaps he's had it reigned in due to playcalling and weaponry. No one is more capable of unshackling Brady and letting it fly than Arians.
Plus, the offense isn't entirely dependent on air-mailing every throw. Arians consistently tells his QBs: You never go broke putting money in the bank. No QB has represented this "distributor" mindset quite like Brady.
"And where some saw Arians's bombs-away style as a weird fit for Brady, the coaches saw where they could have Brady putting that money in the bank, hitting faster receivers on the move, running through zones rather than sitting stationary in them."
Which brings us to:
Molding to Brady's Skills
Yes, Arians' play-calling and Brady's fit within a downfield attack will be a fascinating.
Yet, BA's far too smart to just chuck out everything that's made Brady so dominant for 20 years.
Arians has long prioritized his relationship with his QBs: "The building of relationships, and getting to know guys, especially quarterbacks, that bond has to be so much stronger and deeper than any other bond," Arians said in an NFL Films documentary.
He's well aware that crafting a playbook, and weekly game plan, that fits the QBs strengths and preferences is of the utmost importance:
"The one thing we always have done with all our quarterbacks is they've really called the game…Friday, we'll sit down and pick out his 15–20 favorite first-and-10 plays.. then we'll sit down and go through the entire third down package and let him pick the plays, the ones he's most comfortable with. I can call what I think is the greatest play, but if he's not comfortable with it, it's probably not going to work."
Palmer gushed about the time they would spend together, crafting each gameplan over dinners so intricately that he'd know it like the back of his hand come Sunday.
Expect Arians and Brady to work as hard, if not harder, than any other pairing in the game. This won't exclusively be Arian's or Brady's offense, but the perfect marriage of both.
In fact, Arians' collaborative approach was one of the strongest draws for Brady:
"The idea of it was to collaborate with the quarterback, while keeping the offense simple for everyone else in it. Palmer wound up loving that part of it, and Brady indicated to the Bucs, after going through it, that the idea of that was one of things he was most excited about."
Before Brady's signing, NFL insider Dianna Russini said the Bucs are "willing to give Tom Brady the things he needs, he wants. Some of those things he wants — control over the roster, he wants to be part of making decisions on the play-calling … If (Brady) wants control, Bruce Arians is a guy he should match up with."
Neither Brady nor Arians will force the other into a completely new style. Instead, their opposite styles seem likely to form a perfect yin-yang, flawlessly complementing each other's opposites to bring out their respective bests yet.
Summary
Indeed, the Brady to Buccaneers marriage has its fair share of questions. Does Brady have the arm to execute Arians' bombshow offense? Will the offensive line, which surrendered the second-most sacks (47) in 2019, hold up? Can Brady and Arians' seemingly contrasting styles of play be married?
Ultimately, these concerns are far outweighed by the upside Brady now presents with the Buccaneers.
He'll have the best weapons he's had in years, perhaps ever. He'll learn from a true QB-whisperer and genius schemer in Arians that can tap into areas of his game that've never been explored. He'll be in an NFC South featuring explosive offenses and non-existent defenses, setting up countless shootouts.
Perhaps, more than anything else, Brady will be more motivated now than ever before.
He has the chance turn around an entire franchise, one that's not too far off already. Of their nine losses last year, seven were by one score, and in those games, Winston threw 18 interceptions. Just a dash of Brady's clutch and careful play will go a long way to turning around a career .387 winning percentage.
And he can finally prove he can get it done away from Bill and the safe confines of New England.
If 20 years of Brady lovegazing have taught me anything, it's to never count him out. When you're equipping him with elite weapons, aggressive playcalling, and weekly shootouts, that's a pretty easy ask in fantasy.
In Tampa, Brady has exploded from irrelevant QB2, to high-upside QB1. He currently sits at QB6 in my Post-Free Agency 2020 Fantasy Football Big Board and Rankings. 5,000+ yards and 30+ TDs — like Winston last year — aren't impossible.