Player Stock Ticker
Can David Johnson Provide Fantasy RB2 Value with Texans?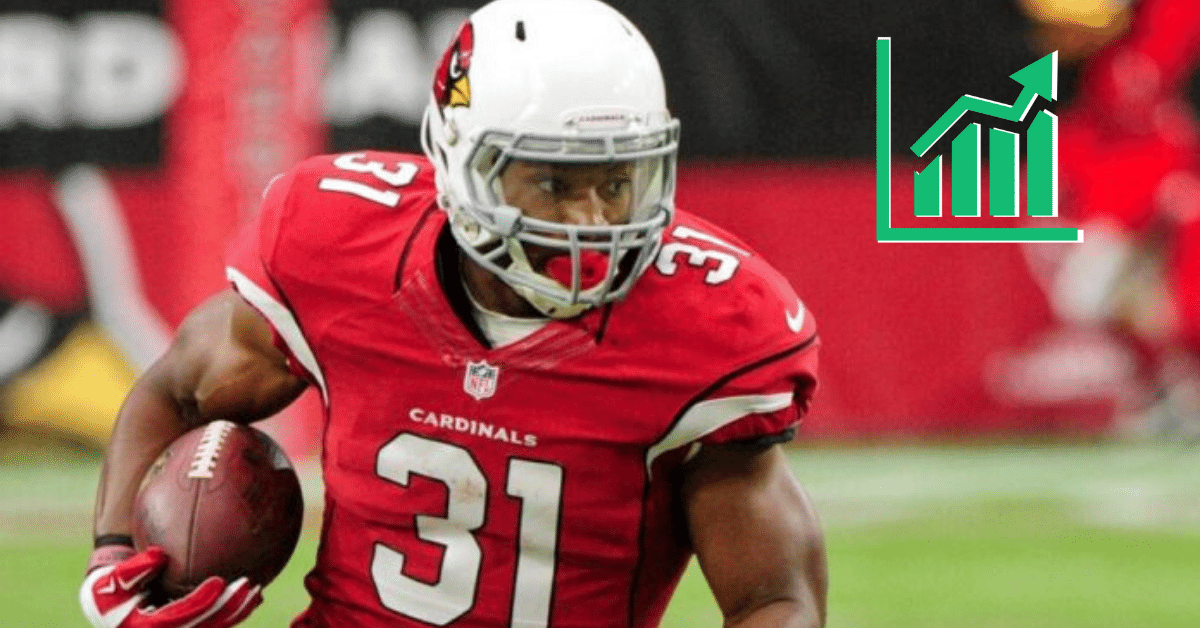 Strapped with an anchor of a contract and running on fumes to end 2019, David Johnson seemed unlikely to escape Arizona.
Thankfully, for his usage and fantasy upside, Bill O'Brien was moronic enough to bite. The Texans got fleeced in perhaps the most lopsided trade in NFL history, acquiring DJ, a $20 million cap hit, and a second rounder for DeAndre Hopkins. What?
Stay up to date on all the Free Agency Fantasy Fallouts! Bookmark our Fantasy Stock Watch. Even better, consume them in our cleanest format by downloading the Roto Street App.
Regardless of this idiocy, Johnson is now in a prime situation to rebound majorly in fantasy for 2020. Should owners bite?
For one, shaking the memory of this run won't be easy:
Close your eyes, David Johnson owners 🤮 pic.twitter.com/XeyYtdvvB2

— Roto Street Journal (@RotoStJournal) November 12, 2019
After a strong five-game start, Johnson looked completely toast for the rest of 2019. He lost his job to Chase Edmonds AND Kenyan Drake in the same year. Unless Johnson looks like a chiseled monster and shows some actual burst in offseason workouts, it'll be hard to get behind a major 2020 rebound campaign.
Still, it's not impossible. Early on, Johnson looked like a surefire weekly RB1. He ranked 12th among RBs in touches (106), efficiently turning this into the eighth most YFS (613) and ranking as the No.5 RB in FPs. If healthy, Johnson remains a size / speed terror who can demolish teams up the middle or in the passing game (even if we haven't seen that form since 2016).
Johnson will also have plenty of volume up for grabs. With Carlos Hyde headed for Free Agency, nearly 60% of the Texans rushing attempts are vacated. The Texans have ranked Top-12 in rushing attempts in all six seasons under Bill O'Brien, including three Top-Five rankings. Moreover, the plodding Lamar Miller, who's now a Free Agent, was fed 18.36 touches per game when healthy. With their top receiving weapon now gone, expect another enormous ground pie here for DJ to gobble up.
Unfortunately, Johnson's receiving ability, arguably his top asset, may go completely un-utilized. He has a 10.7 YPC average, and hauled in 30 catches for 315 yards and three scores in only five games last year.
Yet, O'Brien has never passed to the RB. The Texans rankings in RB Targets since he took over in 2014:
2019: 28th (79 total RB targets, 62 to the top RB)
2018: 32nd (68 total RB targets, 35)
2017: 28th (86 total, 35 top)
2016: 28th (83 total, 39 top)
2015: 11th (114 total, 31 top)
2014: 26th (90 total, 59 top)
Sure, this number could jump up with 28% of the team's Aerial Pie now in Arizona. Still, Duke Johnson remains here. Who knows how the third down snaps will be divided up.
Ultimately, if Carlos Hyde can top 1,000 yards and register a Top-24 RB season, then DJ is certainly capable. But remember, Hyde's performance came in a juggernaut offense that couldn't stack the box. With Hopkins gone and new No.1 Will Fuller far from a health guarantee, this could become a disgusting slopfest of an offense.
If the price is right, I'll take a stab. But that'd be in the RB28-30, sixth round range.