After a year of supposed self-education and reinvention, Mike McCarthy is returning to the NFL to become the Cowboys ninth head coach. He inherits a Ferrari of an offense that ranked first in total yards (431.5 per game), second in passing (296.8), fifth in rushing (134.6), and sixth in scoring (27.1). Moreover, Dak Prescott finished as fantasy's QB2, Ezekiel Elliott the RB4, Amari Cooper the WR9, all while Michael Gallup broke out as a Top-24 WR. Between the juicy weaponry, and McCarthy's track record of explosive attacks, this hire holds enormous weight for fantasy football owners.
In an ideal world, Dallas just landed their version of Andy Reid: a coach with longstanding offensive success who ultimately grew stale in his first home, only to be reborn for an even more potent second run. Based on McCarthy's previous résumé, alongside his film and analytics filled year away, Cowboys fans should be optimistic they've landed exactly that.
Mike McCarthy's Resume & Year of Growth
Indeed, McCarthy boasted the top track record of 2020's candidates, including:
125-77-2 record (.618 winning percentage)
Nine playoff berths in 13 seasons (including eight in a row)
10 playoff wins, trailing only Bill Belichick since 2006
Four NFC Championship appearances and 1 Super Bowl win over the Steelers (SB XLV)
A Top-10 Offense in Scoring and Yardage in 9 of 13 years, and No.3 overall for this stretch
Despite the impressive resume, McCarthy's offense grew stagnant in his later years, leading to rifts with Rodgers and his ultimate dismissal. Humbled, McCarthy summoned his most trusty former coachmates to his barn man cave (what?!), embarking on the cleverly titled "McCarthy Project":
"The theme of his year away has been self-improvement, in every area, and thus was born The McCarthy Project — a collaboration with fellow coaches Jim Haslett, Frank Cignetti Jr. and Scott McCurley that McCarthy says has made him "definitely a better coach" than ever before. Together, they've spent months preparing as if they're the NFL's 33rd coaching staff, from studying league trends and rebuilding playbooks to deep dives on analytics and mapping out a calendar for practices and meetings all the way through training camp.

His coaching group studied every offensive snap of the top 10 offenses last year, and they've continued dissecting the best teams this year…the group traveled to Cincinnati for a six-hour meeting at Pro Football Focus to stay on top of trends in the NFL and college football in anticipation of a return in 2020.
With his newfound commitment to analytics — McCarthy wants to create a "14-person Football Technology Department, including a six-person video unit and an eight-person analytics team" — plus his deeper understanding of the NFL and NCAA's top offenses, McCarthy's already-successful scheme could be even more potent in Dallas.
Blogging the Boys broke down the key takeaways from McCarthy's interview with Peter King about the "McCarthy Project." McCarthy broke down his favorite coaches, the top lessons he learned from studying them, and his new focuses following the project:
Likes Kyle Shanahan's aggressiveness. Mentioned he was relentless and never took his foot off the gas.  In reference to Shannahan, he also mentioned how offenses can get too situational and sometimes take their foot off the gas, but he liked that Shanahan never did that.
I'm studying league-wide trends tapes, RPOs, red zone passes, etc.
Scheme is an evolution, you have to stay on top of it.
Versatility, multiplicity are things I looked at, when you have success you can go down a certain path too long. You have to evolve in all three phases, and evolve your preparation and education.
So, what does this all mean for fantasy football? Specifically, will the already-soaring values of Prescott, Elliott, and potentially Cooper (a 2020 Free Agent) rise or fall under McCarthy?
Mike McCarthy Scheme Overview – The West Coast Offense
Getting Horizontal:
McCarthy is a Bill Walshian West Coast purist — so much so, he donated the entire history of the scheme to the Packers Hall of Fame Inc. In general, a West Coast attack prioritizes quick, short passes that create YAC opportunities and rapid chunk plays. Primarily horizontal with plenty of flats, outs, and slants, the West Coast Attack is quite a reversal from the more vertically-based Air Coryell offense that the Cowboys (successfully) employed under Kellen Moore and Jason Garrett. With its high-percentage nature, the West Coast attack is often thought of as an extension of the run-game.
For a greater breakdown of the history and concepts of this scheme, check here.
Fast Pace, No Huddle:
Despite the seemingly conservative nature of a West Coast offense, McCarthy adds his own aggressive and vertical flair. Most prominently, McCarthy prefers pushing the pace. According to Pro Football Focus, the Packers used no-huddle on 20.7% of their plays from 2014 through 2018 under McCarthy — the third-highest rate in the league during this span. Conversely, the Cowboys used no-huddle on just 9% of plays.
Prior to his hire, McCarthy told Peter King he'd "stress" the two-minute offense "from the first day of mini-camp," wherever he landed: "So many advantages to playing fast," McCarthy said.
Granted, the Cowboys already played extremely fast under Moore, rising from 24th in 2018 pace (28.73 sec per pay) to 2nd in 2019 (25.54). However, McCarthy's incorporation of more no-huddle should afford Dak more control and disguise, and cost defenses less substitution chances and fewer coverage package options.
Pass-Happy:
The Packers also consistently ranked in the top-10 in shotgun usage under McCarthy, most recently ranking seventh with 72% of snaps.
Between the pace and formation, the Packers were consistent league-leaders in pass attempts; from 2014-2018, Green Bay topped the league by dropping back to pass on 66.2% of plays. McCarthy had a tendency to call pass plays on first down almost twice as often as he'd call run plays on first down — something the analytics community loves. Of course, having a QB of Aaron Rodgers' caliber was heavily influential, and he surely checked out of his fair share of runs.
Still, expect a fast-paced, quick-strike, pass-heavy scheme under McCarthy
Growth Area(s)? More Motion and Personnel Groupings
McCarthy openly admits he didn't utilize pre-snap motion or unique player packages nearly enough, especially towards the end of his tenure:
"We got away from motion and shifts and multiple personnel groups that we used in the past," McCarthy told King. "So you look at the why … and quite frankly you apply it to the next opportunity."
While breaking down top offenses during the "McCarthy Project," the coaches found how the smart offensive teams—the Ravens, Rams, Niners —heavily relied on a variety of motion speeds and different snap-points to frustrate defenses.
"As a play-caller, you've got to stress the defense," McCarthy said, "and one of the things watching all these teams has shown us is how good some teams are at challenging the eye discipline of the defense. Makes 'em think at the snap of the ball, which is huge. This bullet-motion sweep, this jet motion, at different tempos, different speeds. I just really like what it does to a defense. We call those things 'nuisances' for the defense."
This is an area Kellen Moore excelled. Moore's extensive history with motion and unique player packages at Boise State formed backbone of his offense with the Cowboys. Through pre-snap movement, Moore allowed Prescott to get reads on defenses all while "dressing up" similar plays in unique ways to keep defenses uncomfortable, imbalanced, and honest. Moore, who's expected to be retained, should significantly aid McCarthy in these areas.
In fact, when McCarthy picked out a play to show King an example of what he wanted to do in his next coaching stint, he chose a Cowboys RPO play. "The beauty of it," McCarthy gushed.
As mentioned, McCarthy gushed over Shanahan's aggressiveness in all situations. Moore's Air Coryell attack could provide the perfect counterbalance to the horizontal West Coast offense, injecting some unpredictable verticality when its least expected.
In short, the strengths of the McCarthy / Moore duo should mesh perfectly for juggernaut results. What does that mean for specific players?
Mike McCarthy Fantasy Football Impact
1) Dak Prescott should continue to evolve as a passer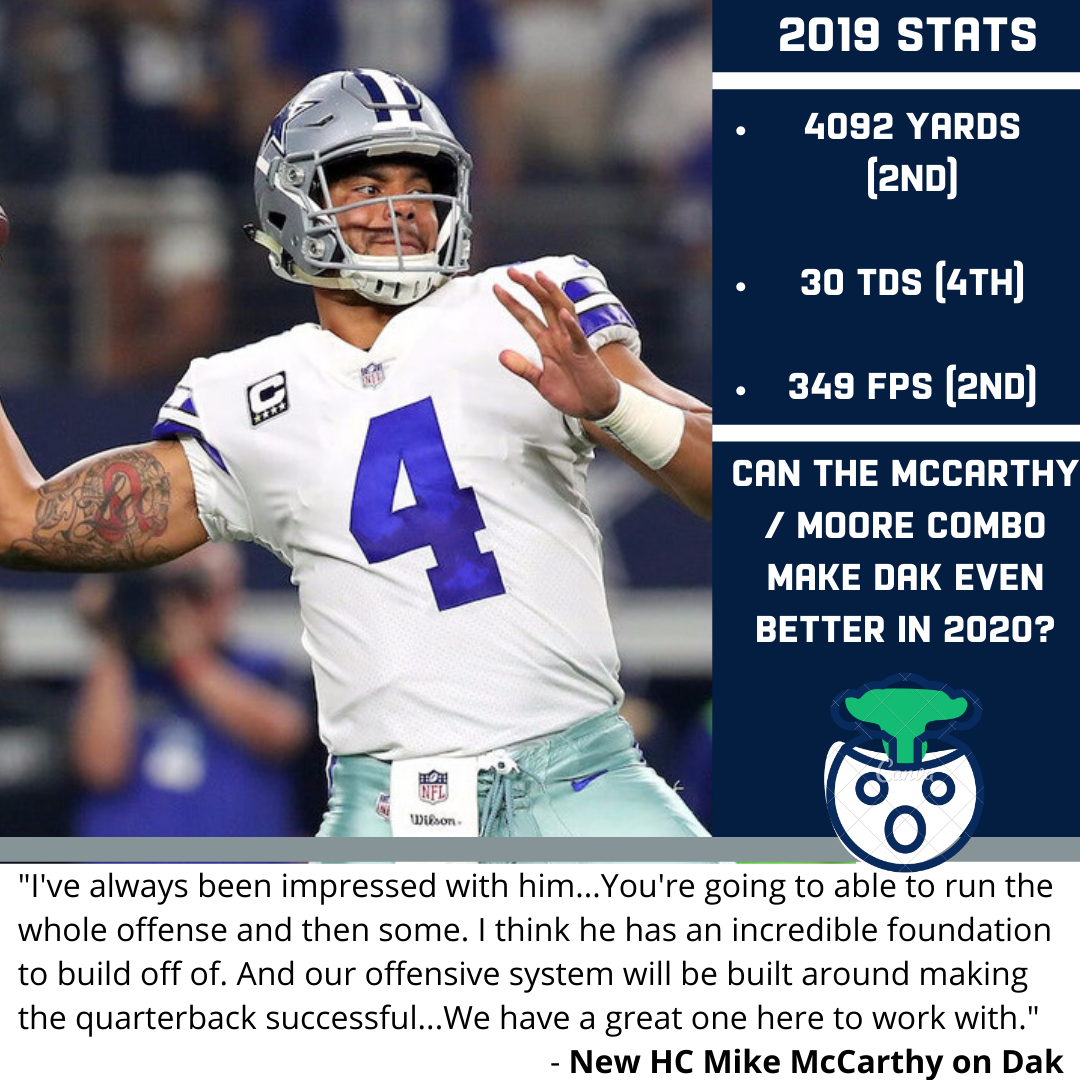 Previously considered a "game manager," Prescott exploded for 4,902 yards and 30 touchdowns to 11 interceptions under Moore in 2019. Expecting yet another step forward may seem foolhardy for last year's Fantasy QB2… yet McCarthy may just be the right guy to lift Dak's ceiling even further.
That's because, after his brilliant work with an aging Brett Favre and a young Aaron Rodgers, McCarthy has earned a reputation as a QB guru. Specifically, he stresses the fundamentals, especially in regards to footwork, as seen in his QB school.
Every year around March, McCarthy invites his QBs back to the facility for a two-week camp where he reviews every play from the previous year with his QBs while honing in on the finer details: arm angle, head positioning and footwork that enable effective play from the QB position. He pores over every detail with a fine toothed comb in a process Rodgers described as "breaking that thing (QB play) down to a science… It really gives you a good feel for what you need to work on."
Though he only played two years under McCarthy, Favre was similarly effusive in his praise, specifically in McCarthy's ability to scheme and craft around his QBs strengths:
"I think any young quarterback would like him," Favre said of McCarthy on Friday on SiriusXM's NFL Radio. "I do think he brings a level of toughness, but also a confidence that as a player, as a quarterback for him, you feel confident that he's going to call plays that cater more to your ability rather than maybe a previous guy he had. So I think he's a simple but yet confidence-building and technique-driven coach."
While Prescott undoubtedly took many strides in 2019, he still has plenty of mechanics and lazy habits to fine tune (outlined here). The detail-oriented McCarthy should undoubtedly clean this up, and help Prescott continue building upon his wildly successful 2019.
The new HC has already expressed his excitement and firm belief in his new signal-caller:
"I've always been impressed with him," McCarthy said of Prescott. "You're going to able to run the whole offense and then some. I think he has an incredible foundation to build off of. And our offensive system will be built around making the quarterback successful. That's the way I've learned it. That's the way I believe you play offense. We have a great one here to work with."
Rodgers heaved 40+ TDs on multiple occasions under McCarthy, and that outcome isn't out of the question for Prescott should he take to his new HC's tutelage, especially if the McCarthy Project truly advanced this scheme. Plus, retaining Moore, whom Prescott already thrived under, and preserving this continuity, only helps. Prescott has already risen to my QB3, behind only Lamar Jackson and Patrick Mahomes.
2) Ezekiel Elliott Should Still Thrive in Fantasy Under Mike McCarthy, a sneaky Bellcow Breeder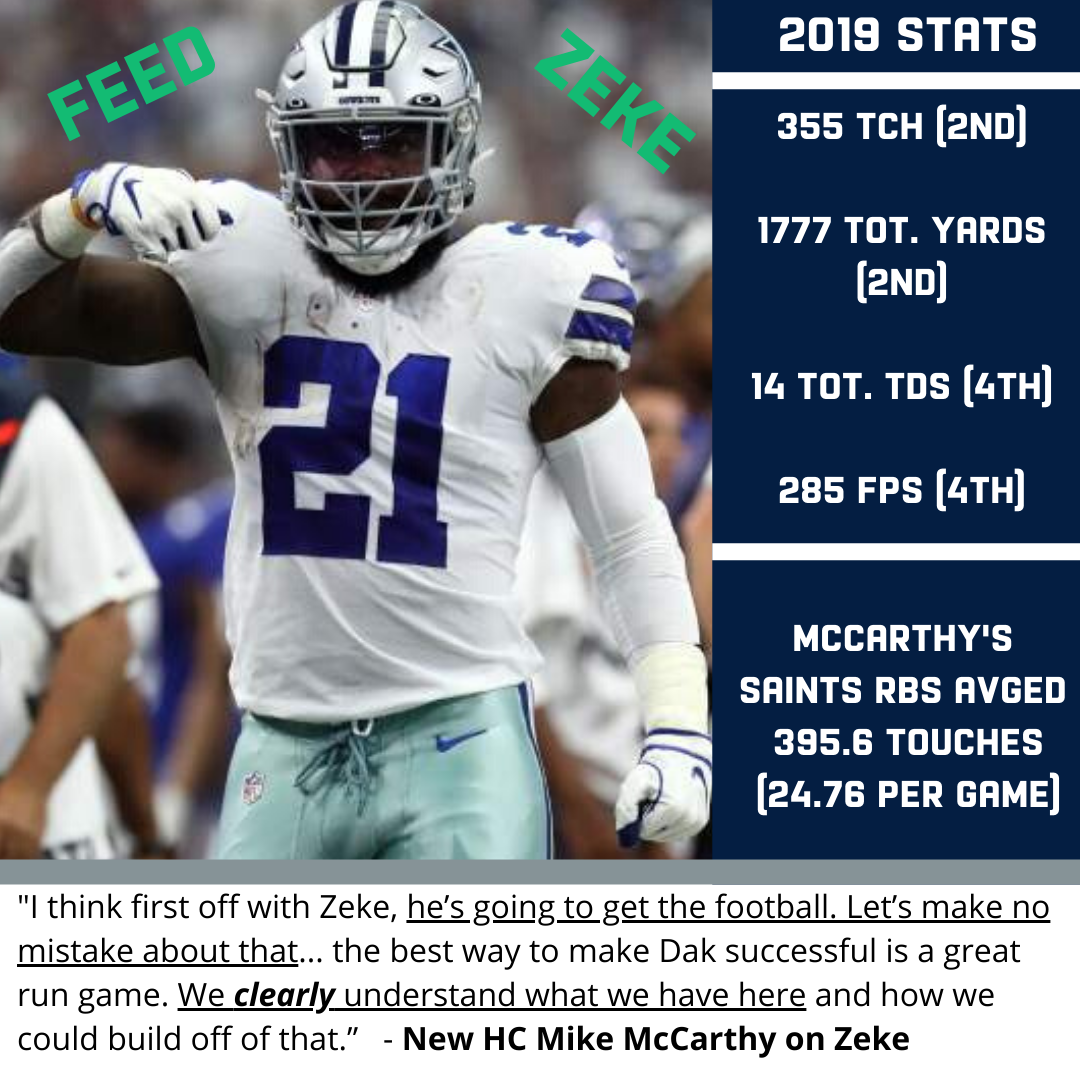 McCarthy's pass-happy Packers' past has many worried for Ezekiel Elliott's 2020 fantasy prospects. Understandable, as he fed his lead RB 240+ carries only five times across 13 seasons with Green Bay (Ahman Green, Ryan Grant twice, and Eddie Lacy twice). Moreover, McCarthy has ranked Top-10 in total rushing attempts only once, while finishing in the bottom-half of the NFL in 12 of 17 seasons.
Yet, plenty of hope exists for Zeke, perhaps even for a career year.
Despite the lack of sheer rushing volume, McCarthy's attacks have been consistently efficient. From 2016-2018, the Packers finished top 5 in rushing offense DVOA each year, and landed in the top 10 in this category every season dating back to 2013. Moreover, each of Green, Grant, and Lacy topped over 1,000 yards rushing across those five seasons as bonafide fantasy RB1s, and none of them can even sniff Zeke's jock strap. Their outputs:
2006: Ahman Green (GB)-  312 touches (46 rec), att, 1432 tot. yards, 6 TDs
2008: Ryan Grant (GB)- 340 (18), 1319, 5
2009: Ryan Grant (GB)- 307 (25), 1450, 11
2013: Slim Eddie Lacy (GB)- 319 (35), 1435, 11
2014: Growing Eddie Lacy (GB)- 288 (42), 1566, 13
Then, dig a little deeper to McCarthy's past as an offensive coordinator for the Saints, and you'll have a hard time hiding your fantasy wood.
Across five years with New Orleans, McCarthy had Ricky Williams (2000-01) and Deuce McAllister (2002-04) at his disposal — far more comparable talents and styles to Zeke than anything he had in Green Bay. Their usage and outputs:
2000: Williams (NO, 10 games) –  292 touches (44 rec), 1409 tot. yds, 9 TDs (16 game pace = 467 (70), 2254, 14)
2001: Williams (NO) – 373 (60), 1756, 7
2002: McAllister (NO)-  372 (47), 1740, 16
2003: McAllister (NO)- 420 (69) (double nice), 2157, 8
2004: McAllister (NO, 14 games)- 303 (34), 1302, 9
Simply put: outside of his mismanagement of Aaron Jones in 2017-18, McCarthy has ridden workhorse-level talent into the ground when it's provided.
These touch totals mirror (395 touch average over 16 games), or even top, Zeke's 355, 268 (10 GP, 429 full season pace) 381, and 355 across four seasons, and McCarthy will likely force-feed his stud RB centerpiece. He vows as much at his introductory press conference, gushing:
"I think first off with Zeke, he's going to get the football. Let's make no mistake about that," McCarthy said. "I think you have to clearly understand when you saw the offense is going to make a quarterback successful, the best way to make him successful is a great run game. We clearly understand what we have here and how we could build off of that."
The RB2, RB5, and RB4 across his three full seasons (suspended in 2017), Zeke should once again finish among the Top-Five RBs in 2020 under McCarthy. Should McCarthy feed him a Williams / McAllister style 370+ touches, Zeke would easily flirt with 2,000 total yards, 15+ TDs, and the RB1 crown.
3) The No.1 and 2 WRs Should Flourish
Mike McCarthy's pass-centric attack has funneled almost exclusively through his WRs. For six straight seasons, McCarthy's finished in the Top-9 in total WR targets, while his RB and TE numbers have ranked on the opposite end of the spectrum.
With such large slices of an enormous Aerial Pie, McCarthy's top-WRs have consistently posted elite WR1 numbers. And no, this wasn't just a byproduct of Rodgers slinging the rock. Just look at Joe Horn's stats with Aaron Brooks (lol) tossing the rock:
2000: Joe Horn: 94 rec (151 tgts), 1340 yards, 8 TDs
2001: Horn: 83 (156), 1265, 9 & Willie Jackson 81 (135), 1046, 5
2002: Horn: 88 (149), 1312, 7 TDs
2003: Horn (15 GP): 78 (130), 973, 10 
2004: Horn: 94 (153), 1399, 11
Toss out a hideous 2005 with the 49ers, and McCarthy consistently churned WR1s in GB. In fact, he frequently produced two Top-15 WRs among the same squad.
2006: Donald Driver 92 (173), 1295, 8
2007: Driver: 82 (122), 1048, 2 & Greg Jennings: 53 (84), 920 (17.4), 12 TD
2008 Jennings: 80 (140), 1292, 9 &  Driver: 74 (116), 1012, 5
2009: Jennings: 68 (119), 1113, 4 TDs;  Driver: 70 (113) – 1061, 6
2010: Jennings: 76 (125), 1265, 12  *NO GOOD NO.2
2011: Jordy Nelson: 68 (96), 1263, 15 TDs & Jennings: 67 (101), 949, 9 TDs in 13 GP
2012: Randall Cobb: 80 (104), 954, 8 & James Jones: 64 (98), 784, 14 TDs
*Note: Jordy (12 GP) was balling but got hurt: 49 (73), 745, 7 =  78 (116), 1192, 11 pace
2013 (Rodgers Hurt): Jordy still crushed 85 (127) 1314 + 8
2014: Jordy: 98 (151), 1519, 13 TDs &  Cobb: 91 (127) 1287 12 TDs
2015: No 1000 yard WRs, Jordy tore ACL in preseason, Adams was huge bust,  top-WR = James Jones: 50 (99), 890, 8 TDs
2016: Jordy: 97 (152), 1257, 14 & Davante: 75 (121), 997, 12 TD
2017 (Rodgers Hurt):  Davante goes 74 (117), 885, 10 TDs in 14 GP
2018: Davante: 111 (169), 1386, 13
Indeed, down seasons without at least one Top-10 Fantasy WR were rarities in McCarthy's high-volume pass attack. Consequently, Cowboys WRs should be prioritized on Draft Day.
The question becomes: who'll be the top option?
Despite playing through injury for much of 2019, Amari Cooper set career highs in yardage (1189) and TDs (8) en route to the best fantasy season of his five year career (WR9). He's slated for Free Agency, however, and is no lock to return with Prescott commanding $30M+ a season. If he returns, Cooper would shoulder McCarthy's pass-attack as his next Davante / Jordy, likely putting up gaudy Top-Five WRs numbers like his predecessors. He can run the entire route tree as well as any in the league, and masterfully work the sideline with Jordy-esque grace.
If Cooper departs, Michael Gallup might just approach the fantasy elite. He more than doubled every statistic as a sophomore, going for 66 rec, 1107 yards, and 6 TDs en route to a WR22 finish. Gallup has impressive body control, and uses this + plus his lanky frame to win contested ball battles far more often than he loses. Still, Gallup undoubtedly benefited from the attention Cooper commanded, and his ability to handle true No.1 defensive attention remains to be seen.
In an ideal world, Cooper returns, and McCarthy schemes enough volume for both to clear the Top-15 as he did so often in Green Bay.
Conclusion & Final Thoughts
Fresh off career-highs across the board, Dak Prescott could soar even higher under McCarthy's tutelage. He's a QB-guru who'll finetune Prescott's mechanics and footwork like no other, and his high-percentage pass game is extremely QB friendly. Moore's retention is huge for continuity and comfort.  Should Amari Cooper return, Prescott would be in line to repeat, if not grow, his 4900+ yard, 30+ TD gem. He sits behind only Lamar and Mahomes in my early 2020 Fantasy Football rankings.
Speaking of Cooper, he and Michael Gallup form a potent duo that rivals any McCarthy had in Green Bay. His offense funneled through WRs, frequently forming 1,000+ yard, 10+ TD Top-15 Fantasy WRs pairings. These two would drip in similar upside in 2020.
Lastly, despite all the passing game glory, McCarthy has force-fed workhorses whenever given the opportunity. Ezekiel Elliott is arguably the top RB that McCarthy's ever had, and we expect him to revert back to his New Orleans days of 370+ touches for Ricky Williams and Deuce Mcallister. If Deuce can top 2100 total yards and 16 TDs under McCarthy, Zeke's ceiling is truly limitless. He remains a Top-Five lock, and any discount provided by McCarthy's pass-happy history needs to be capitalized upon.
All-in-all, topping Kellen Moore's explosive 2019 Cowboys' offense will be no easy feat. Yet, McCarthy's coached plenty of league-leading attacks himself, and Moore will thankfully return. Between McCarthy's experience, year of studying, and proven West Coast pass-attack, combined with Moore's strengths in creative pre-snap motion and personnel groupings, this could be a perfect marriage that births an even more potent offensive baby in 2020.
Are you ready to dominate Fantasy Football in 2020? Catch all our Coaching Carousel Articles, and all the Player Value impacts, at Roto Street Journal. Even better, consume our content in its cleanest form with the RSJ App!