Player Stock Ticker
Will Darrell Henderson Shoulder the Rams Rushing Load? Huge Fantasy 2020 Upside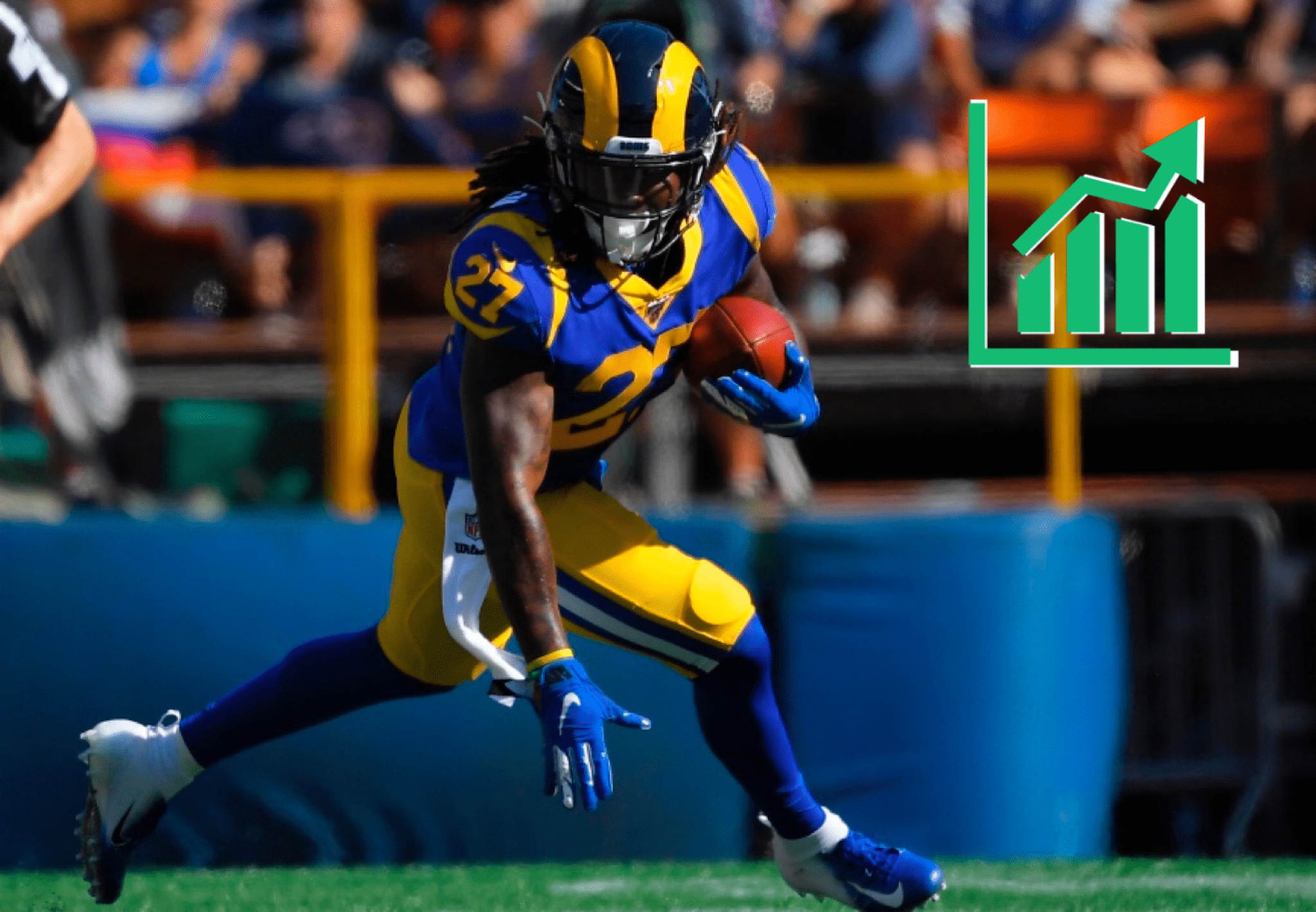 The RSJ was far too high on Darrell Henderson in 2019, who never got a real chance to shine. Still, his 2020 fantasy upside is mammoth following the release of Todd Gurley.
With Gurley gone, the Rams now rank second in vacated backfield carries (228, 56.8%), including 12 carries inside the five yard line (54.5%). Gurley also logged 50 targets, and ultimately logged 76% of the snaps (6th most) and 72.4% of total backfield opportunities (9th). This field time and these 278 looks have to funnel somewhere.
Why not Henderson?
Last offseason, he was all the rage. Sean McVay "thought Henderson was THE most dangerous offensive player in the draft." In pre-draft video, GM Les Snead compared the Memphis monster to Alvin Kamara:
"The Memphis guy does give you a Kamara element. I won't get off of that, won't say it, we'll play against him and you'll feel it," Snead said.
Ultimately, with minimal draft capital and Gurley still on the roster, the Rams still traded up in Round 3 to select Henderson. Clearly, they liked the talent and fit just a year ago, and hopefully a wasted rookie year won't ruin that.
Stay up to date on all the Free Agency Fantasy Fallouts! Bookmark our Fantasy Stock Watch. Even better, consume them in our cleanest format by downloading the Roto Street App.
Henderson's college stats and tape make it easy to fall in love. He racked up an insane 1,909 yards on only 214 carries, and owns the FBS record with 8.23 yards per carry.  He also accumulated the most plays of 40 (14) and 50 (12) plus yards last year, scoring 22 TDs in the process.
More importantly, Henderson was a monster on outside zone runs. According to PFF, Henderson led all of college football with a staggering 10.7 yards per carry on these concepts.
No team runs more outside zone than the Rams.
Draft expert Dane Brugler compared Henderson to Dalvin Cook , saying he's: "at his best when he can slash and weave through gaps, using his open-field moves to make defenders look silly at the second level." Aka, a perfect zone fit.
After establishing this zone-running backbone, McVay then loves to "marry the run and pass games." This is where Henderson could be most dangerous, with plus receiving skills and deadly ability in space.
Upon being drafted, Henderson himself called the Rams offense "a perfect fit" because "if you go back and watch my college film and you watch the Rams film, it's the same. So I thought that was the best system I could get in."
Henderson's college coach Mike Norvell agreed, gushing "I don't know if there's a better fit in the NFL for him than the Rams… the number of explosive runs he's had on stretch plays is incredible… he can do it all."
The question becomes, then: what the hell happened his rookie season?
Why did he only touch the ball 43 times? Why did he play 10% or fewer snaps in all but three games, and never topped 43%?
McVay never provided a clear answer to this when pressed last year, and just danced around the issue:
"I think that's one of those things that we're going to look at and are evaluating," Sean McVay stated regarding Henderson's lack of playing time. "It's our job and it's my job to make sure we find a way to continue to develop him and give him an opportunity, because I think he is a guy who can help us whether it's immediately or whether it's later on in the season."

"He's done a nice job, it's really just kind of that ultimate deal of figuring out, 'All right, how do you get him with the amount of guys involved that you feel like are deserving touches?' That's a positive problem for us, but that's something that I think you could expect us to see trying to find creative ways to maybe get him going a little bit."
Around Week 6, the work began to ratchet up. He recorded 7, then 12, then 13 touches… before going down in Week 10 right as he was hitting his groove.
Still, in his very brief appearances, Henderson flashed the vision needed within the scheme, and ability to make people miss in a phone booth. Both could him special if featured in 2020:
On this limited work, Henderson forced a missed tackle 25.6% of time and tallied 3.72 yards after contact per attempt. Both metrics were towards the top of the NFL.
Still, Gurley notwithstanding, we can't pretend Henderson didn't just spend a full year as an afterthought.
When Gurley missed Week 6, it was Malcolm Brown — not Henderson — who filled in for 67.4% of the snaps. Brown has some bulldozing qualities, but he's plodded to a career 3.9 YPC. He's nothing special, and Henderson brings far more explosiveness to reignite McVay's attack.
Thus, despite the oodles of available volume, we can't just slide Henderson right in. Moreover, if this line isn't addressed, it might not matter who sees the work. They dropped from 6th in 2018 to 31st last year in PFF's line rankings. Gurley may have lost a step, but the line did him no favors.
With these questions, Henderson can't be considered a lock for anything. The Rams may make a backfield move still, with Carlos Hyde, Lamar Miller, and Devonta Freeman all unclaimed.
Still, the upside remains mammoth if Henderson inherits the majority of work. The fit is too perfect, and the opportunity is now huge. This makes Henderson a highly desirable midround play in early Best Ball drafts. He's up to my current RB28, while Malcolm Brown shoots up to RB35.