Player Stock Ticker
2019 Fantasy Football Waiver Wire: Week 11 Start, Stash and Stream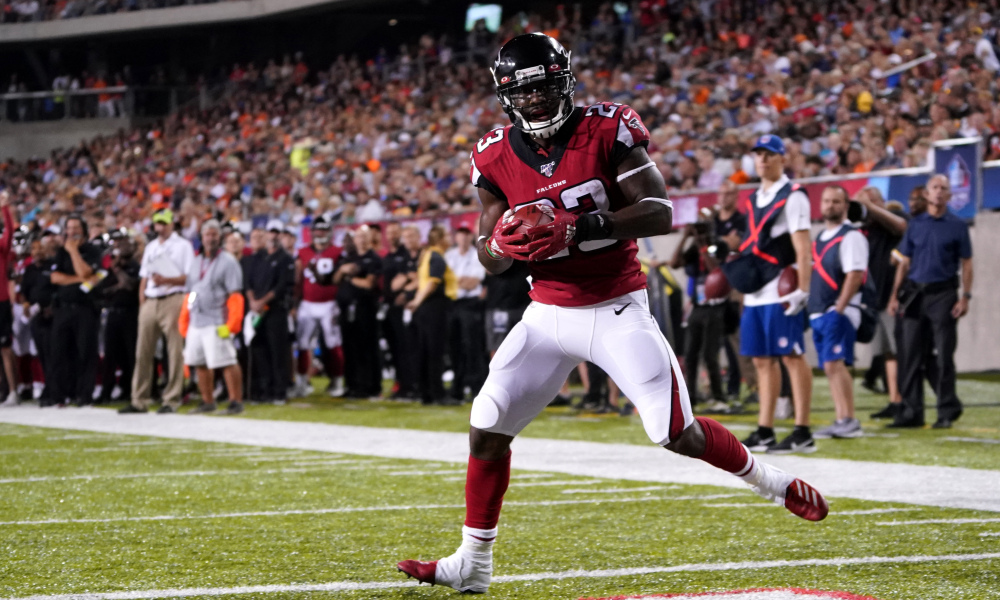 We're back for the 2019 Fantasy Waiver Wire Week 11 Start, Stash and Stream, where we break down the Free Agent landscape and give you the best picks for the short and long haul. We'll keep building on our Week 10 Waiver Wire momentum.
Per usual, think of this Waiver Wire set-up kind of like dating. In the first category, you've met "the one," the love of your life, and you want to keep him/her forever. Those are your "Starts."
Next, you have the person you've known for a while, but you find yourself asking: what are we? One week in, one week out, holding on for comfort and little else… they're the "Stashes." You just can't quit them.
And then you have that Tinder date that serves a one-time purpose, most often leaving you feeling dirty and hopeless, but occasionally a solo home run. These are your "Streams."
To get our Stock Watches, Weekly Rankings and Podcast episodes directly on your iPhone, download our brand-new app in the App Store.
With all that went down Week 10, here's what we can use going forward.
Note – Ownership % based on Yahoo; all players are less than 50% owned
Start
Brian Hill, RB Atlanta Falcons (4% owned)
Kyle Rudolph, TE Minnesota Vikings (34%)
JD McKissic, RB Detroit Lions (21%)
Cole Beasley, WR Buffalo Bills (32%)
The loss of Devonta Freeman for an extended period of time opens the door for Brian Hill to operate as Atlanta's RB1 in a high scoring offense. Hill rushed 20 times for 61 yards last week while catching a 10 yard touchdown pass. The coaches have expressed their faith in Hill as a lead back and he'll be ready to roll as long as Freeman is sidelined. Hill gets the terrible Panthers' run defense in Week 11 — who have let up 17 rushing touchdowns in only nine games.
Big Country had himself a Sunday Night in Dallas. Kyle Rudolph has been a red zone machine and added 4-14-2 and a 2 point conversion on 5 targets on SNF. He's scored in 3 of the last 4 games and has been a weapon for Cousins at the goal line — especially with Adam Thielen dinged up. The TE position is getting thinner, meaning Rudolph carries even more value.
The stat line wasn't sexy, but the volume was for JD McKissic in the Lions offense. He lead all Lions backs in rushes with 10 for 36 yards and added 6 catches (team high) for 19 yards. The PPR effect makes him fantasy relevant and worthy thanks to all the dink and dunks out of the backfield with Matt Stafford sidelined. The team is lacking playmakers at RB and McKissic is doing his best to make due.
No touchdown this week for Cole Beasley, but he still put up a respectable fantasy day that is worthy enough to be in your starting lineup during another bye-heavy week. 4-74 on 6 targets, he should find even more success against Miami's defense in Week 11.
Stash
Derrius Guice, RB Washington Redskins (37% owned)
Darius Slayton, WR New York Giants (10%)
Danny Amendola, WR Detroit Lions (38%)
Noah Fant, TE Denver Broncos (15%)
Josh Reynolds, WR Los Angeles Rams (10%)
Andy Isabella, WR Arizona Cardinals (1%)
A potential RB1 for a run heavy offense? Sure, Derrius Guice could be a very useful fantasy commodity as he's expected to return from IR in Week 11 against the Jets, but it wouldn't hurt to stash him for a week to see how he'll be utilized. With the team turning to rookie Dwayne Haskins for the remainder of the year, it'll be interesting to see Guice's usage for the rest of the season.
Similar name, but Darius Slayton exploded against the Jets, going for 10-121-2 on 14 targets. That's true target hog numbers for a guy thrust into a big role in the absence of both Sterling Shepard and Evan Engram. Obviously those numbers will regress with those two likely coming back, but the production has been impressive.
Danny Amendola is still stash worthy thanks to his target numbers that have been very high for someone this low-owned. 8 targets in Week 10 and 32 over his last four, Amendola is working his way into the offense.
Again, the tight end position is thinning by the minute leaving rookie first rounder Noah Fant as someone of intrigue. He was finally utilized in the team's last game featuring Brandon Allen with 3-115-1 on 4 targets. The team lost Emmanuel Sanders to trade, opening up more looks for pass catchers in the offense.
The injury to Brandin Cooks (concussion) has kept him out the past few weeks and this allows Josh Reynolds to slide into the WR3 role in Los Angeles. 8 and 5 targets over the last two games, and Cooks already ruled out again for Sunday night against the Bears, Reynolds could be an emergency WR3 option.
Andy Isabella followed up his electric one catch for 88 yard day against the 49ers with three grabs for 78 yards in Week 10. It's not necessarily the numbers that are standing out with Isabella, it's the opportunity. Over the last three weeks, Isabella ran one route in Week 8, 10 routes in Week 9, and 18 routes last week. His time is coming… just wait.
Stream
Oakland Raiders D/ST (3% owned)
Derek Carr, QB Oakland Raiders (45%)
Dallas Cowboys D/ST (44%)
The Raiders DST put up 18 points last TNF against the Chargers forcing a handful of turnovers and converting one for a score. Oakland gets the Bengals next who just allowed the Ravens defense to feast with two defensive scores of their own.
The Raiders relied more on Josh Jacobs last week, but Derek Carr still makes for a valuable streamer against the Bengals. Cincinnati gives up many big plays, and while Carr isn't necessarily the playmaker Lamar Jackson is, he can still throw it and put up good numbers against this defense.
The Cowboys DST didn't have their best game on Sunday night, but should Jeff Driskell start in place of Matthew Stafford again, then the Cowboys could make for a streamable defense.