Week 10 of Fantasy Football features some brutal Bye Weeks, particularly at the QB Position. Jalen Hurts, Patrick Mahomes, Tua Tagovailoa are all off the table, leaving many fantasy managers scrambling for a back-up plan.
Thankfully, the Week 10 Fantasy Football QB streamers bin is plentiful. In fact, it's so well-stocked that you may find yourself weighing a handful of options.
Among the most popular and available QB streamers: Josh Dobbs vs. Will Levis vs. Baker Mayfield.
What are the Week 10 Fantasy Outlooks for these QBs? Who should you prioritize if multiple are available?
And if all three are gone… is there any other potential Hail Mary?
Let's dive right in:
1. JOSH DOBBS WEEK 10 FANTASY OUTLOOK
Despite a tougher matchup, Josh Dobbs is easily my favorite Week 10 Streaming QB option. In fact, beyond this week, I truly think Dobbs has league-winning upside for fantasy stretch runs.
He may be already scooped, or better yet, on your roster, as Dobbs' ownership spiked from 16% to 51% in the past few days.
Deservedly so.
We've all heard the heroics, but it bears repeating: entering Sunday, Dobbs didn't even know the playbook, let alone his teammate's names. Yet, when an injury to Jaren Hall thrust Dobbs into the lineup, he led a comeback win over the Atlanta Falcons.
Kevin O'Connell and Dobbs were drawing plays up on the fly, while Dobbs reportedly had to check with his pass-catchers on the routes they'd be running. In all honesty, it was the closest to "Street Ball" as you'll find on the NFL level.
And it worked. Dobbs went 20-of-30 for 158 yards and two touchdowns. More importantly, he added seven carries for 66 yards and a rushing TD, as well.
Without his bearings, in the wildest of circumstances, Dobbs managed 25 Fantasy Points. It was the second week in a row he hit 25 and the third time this season.
Imagine what Dobbs can do after a full week of practice as the QB1?
The fact that he finished as the QB5, with only 158 yards passing, shows you the sturdy floor and ceiling Dobbs' "Konami Code" rushing abilities create. He's topped 40 yards in six of nine games (67%), which has helped Dobbs finish as a Top-8 QB in 44% of his contests so far.
For Super-Flexers and 2 QB Leagues, Dobbs has only one game outside the Top-24 QBs, which came in Week 1 when he was similarly thrust into an unfamiliar, less-than-ideal spot start. If you remove that dud, Dobbs is currently the QB5 in fantasy and QB9 in FPPG.
Justin Jefferson is not due back in Week 10. Once he returns, Dobbs will have one of the best weapons cabinets in the NFL. With Jefferson, Jordan Addison, and TJ Hockenson wreaking havoc, Dobbs could find tons of open scrambling space.
Dobbs is also willing to push the ball deep, ranking 5th in Air Yards (2383) and 12th in Air Yards per Attempt (8.1). He has the perfect supporting cast to ensure those yards convert at a higher clip and improve his deep ball completion percentage (29.4%, QB25).
Also working in Dobbs' rest of season favor: Kevin O'Connell is among the brighter play callers in the NFL. Yes, O'Connell will tailor the offense to Dobbs' skillset. Still, he's always been pass-happy, and these Vikings still rank second in pass attempts per game (39.0).
No, Dobbs' matchup is not ideal. The Saints rank 25th in FPs allowed to QBs, surrendering just 202.7 yards, 1.3 TDs, and a lowly 13.92 FPs to the position. I still question how valid this is, as the defense did surrender 24 and 23 FPs to Jordan Love and Baker Mayfield, respectively, and they haven't been exactly tested.
Dobbs slides in as the QB11 (+4 ECR) in my Week 10 Fantasy Football Rankings. He is 100% my Top Week 10 QB Streamer. Dobbs also ranks as QB17 in my Rest of Season Fantasy Rankings; he has the ceiling to go crazy and be a true stretch-run hero.
2. WILL LEVIS WEEK 10 FANTASY OUTLOOK
If you miss on Josh Dobbs, Will Levis (48% rostered) is a solid consolation prize.
The rookie absolutely smashed in his debut, slinging 4 TDs and dropping 26.6 FPs. Only two other QBs in NFL history have thrown for 4 TDs in their debuts, while Levis led the Titans to their highest score since 2021.
No, Levis did not light up the scoreboard in his Week 9 follow-up. Ultimately, he posted 262 scoreless yards and a pick. Bleh.
Still, I came away incredibly impressed with the rookie. The way the ball effortlessly floats off his hand. How he drops missiles into his WRs' breadbaskets with the flick of the wrist… while falling backward. Based on the eyeball test, Levis has true Top-10 arm talent.
At minimum, Levis is slinging, with an average depth of target of 12 and 11 across his first two starts. For comparison, Ryan Tannehill has just one game above 10 aDot.
In fact, I firmly believe Levis would have a Top-8 Weekly QB Ceiling if he wasn't shackled to the moribund Titans offense. The Titans rank just 29th in pass attempts, 26th in yards, and 28th in TDs. This marks the sixth straight year of the Titans ranking 25th or lower in attempts under Vrabel.
Perhaps a cannon-toting rookie will cause Vrabel to loosen it up a bit and let the ball fly more. Levis sure warrants it.
At minimum, Levis is in a juicy Week 10 Matchup vs. the Buccaneers. Tampa Bay is fresh off allowing fellow-rookie CJ Stroud hurl an NFL-record 470 yards and 5 TDs.
Across their last 4 games, the Bucs have surrendered 22.5, 14, 30, and 41 FPs to QBs. Levis could absolutely paste another 3-4 TD effort on the scoreboard in Week 10.
The Bucs also rank Top-5 against the run right now, stifling what the Titans want to do the most. Given the Titans are also a bottom-10 pass defense, we've got ripe potential for a shootout.
In my Week 10 Fantasy Football Rankings, Levis slides in at QB13 (+4 ECR).
3. BAKER MAYFIELD WEEK 10 FANTASY OUTLOOK
Amidst a career renaissance in Tampa Bay, Mayfield may be the highest-floor Week 10 QB Streamer.
Mayfield has 19, 21, and 17 FPs across his last three starts with five total TDs. He's been unabashedly slinging it to Mike Evans, who continues to ball out for a new contract.
In fact, since Week 4, Mayfield has been a Top-12 QB in four-of-five contests (80%):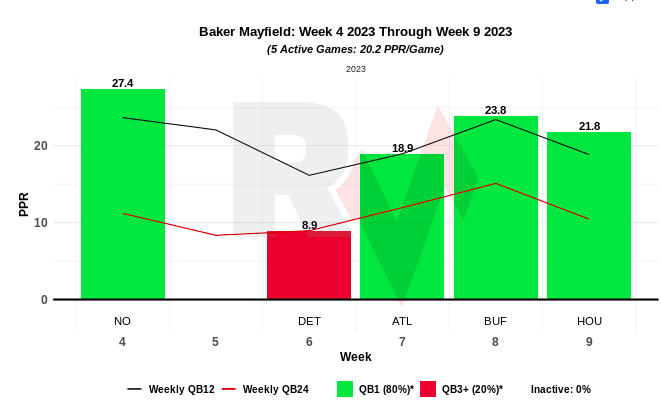 The Titans pass defense hasn't been quite the pushover they were in 2022. They still represent a Top-13 matchup in points allowed to QBs, and are a definite run-funnel.
While I personally prefer the ceilings of Dobbs and Levis, Mayfield's floor can bring more comfort for the risk-adverse. He's my QB14 for Week 10, right in line with the ECR.
4. TAYLOR HEINICKE WEEK 10 FANTASY OUTLOOK
"But Wolf," you may complain, "none of these guys are available in my super-competitive league of the ultimate fantasy minds across the land!"
Fair. All of my Top-3 options do all hover around 50% ownership, so there's a very fair chance they are all gone in your hunt for a Week 10 Streamer QB.
IS that…. Taylor Heinicke's Music?!
I know, I know. It's ugly. Still, Heinicke is almost guaranteed to be out there (19% rostered). With Washington, Heinicke proved capable of providing solid enough fantasy stats while keeping Terry McLaurin and Jahan Dotson very relevant.
Thrust into Week 8 for the floundering Desmond Ridder, Heinicke quickly racked up 12 FPs in only a half of action. He posted an impressive 11.7 aDot, showing a willingness to sling that this offense sorely lacked.
In his first start of 2023, Heinicke ripped off a QB13 finish thanks to 16 FPs. He posted 268 yards, 1 TD, 1 INT, and 20 rushing yards… a fairly classic Heinicke stat line. His 9.4 aDot was still impressive and higher than anything Ridder has posted all season.
Keep in mind that Heinecke did this with arguably the worst WRs corps in the league (Khadarel Hodge WR1 Season). Mercifully, Drake London will return to the lineup in Week 10, giving Heinicke a McLaurin-level talent to sling to in tough situations and deep downfield.
The Cardinals have allowed the 9th most FPs to QBs this year (18.09 FPPG). Yet, when adjusted for the joke schedule they've faced, the Cardinals actually have been the third most generous team to QBs in schedule-adjusted FPs allowed (+3.5 FPPG to a QBs average).
It may not always be pretty, but Heinicke possesses a true 20 FP ceiling in Week 10. He's my top streaming QB option for the truly desperate where none of the first three are available.
SUMMARY
Josh Dobbs. Not only does he have the highest ceiling of this bunch, but Dobbs has true "stretch run hero" upside for the remainder of 2023 once Justin Jefferson returns. The rosy short and long-term outlook makes Dobbs the top Waiver Wire QB of Week 10.
The safest is arguably Baker Mayfield. He's been a Top-12 QB in 4 of his last 5, and has a good-enough matchup to continue that trend in Week 10.
I still prefer Will Levis on the other side of the ball, though. Even in a disgusting Titans scheme, Levis has proven to sling the rock. On matchup alone (TB = 2nd most FPs allowed), Levis has a 3-4 TD ceiling.
If all are gone, plug your nose and turn to Taylor Heinicke (19%). Between his flashes so far and past production in Washington, the return of Drake London, and a juicy date with the Cardinals, Heinicke could sneak into the Top-12 QBs of Week 10.
Best of luck navigating your QB woes in Week 10! Be sure to tune into our Week 10 Start 'Em Sit 'Em Live Stream to get answers to any of your specific QB Dilemmas, LIVE @ 8AM ET this Sunday: