One. Last. Week.
For many, that's what Week 13 represents for their 2017 Fantasy Season. A final chance to climb into the playoffs, avoid a harrowing Last Place Punishment, or, for true Wolves, a chance to lock up a First Round Bye. At minimum, you have a chance to screw over your dreadful league mates.
Regardless, 50%+ of fantasy owners (re: those who don't follow us) won't play another meaningful fantasy game after Week 13. (Note – if you do a playoff bracket for last place loser, you're a bag of shit. Convince me otherwise).
This means owners are likely divided into three distinct categories:
A) Playoff-minded Wolves
B) Scrambling Playoff Pushers
C) Spoilers
If you're in Category A, congratulations. Make sure to educate yourself on "Cuffing Season" to know which bruising, 250 lb men you'd want Big Spooning your depressed carcass should an RB1 tragedy hits.
If you're in B or C, a few options are out there worth plucking. We'll unearth them all below.
Above all… WIN!
Week 13 Waiver Wire Options
I. Quarterbacks
First Check: Aaron Rodgers (QB – GB, 59% ** ESP IF IN PLAYOFFS), Case Keenum (QB – MIN, 46%), Tyrod Taylor (QB – BUF, 49%)
1. Josh McCown (QB – NYJ, 31% owned)
FAAB: $10
Stat Line: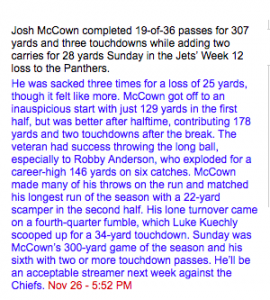 Schedule (21st easiest among QBs):

Breakdown:
After dismantling the 28th easiest (re: very difficult) Panthers for 307 yards and three TDs, it's official: Josh McCown is matchup proof. Alongside "I do," there's something I never imagined saying.
Though this was easily McCown's "Mona Lisa" so far, this is hardly his only excellent day. Over his past 6, McCown has topped 22 FPs half the time, and only dipped below 16 once. Between Robby Anderson emerging as one of the top deep-threats in the league, ASJ being reborn, and Jermaine Kearse playing surprisingly reliable ball, this seeming horror show receiving crew is giving a massive middle finger to all who doubted.
The schedule doesn't elicit blood flow, but, at minimum, a date with the highly burnable Chiefs will make McCown a shoo-in Top-12 option this week. Plus, can you imagine a more insulting way to hoist a championship trophy than on the shoulders of Josh McCown?
2. Blake Bortles (QB – JAX, 35%)
FAAB: $4
Stat Line: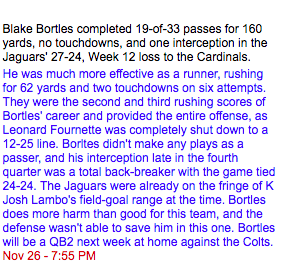 Schedule (3rd easiest EGGPLANT WET DROPS):

Breakdown:
Grab a trash bag. Try to swallow back the puke, but let it up if needed. Wash yourself. Then listen.
Bortles has gone 18, 16, 18, 10 (ew), and 23 over his last five. This means 80% of the last five weeks he's been highly usable, and a complete cake walk late season schedule means that % should continue growing.
Bortles is benefitting from both Leonard Fournette's injury and ineffectiveness, as well as the emergence of rookies Dede Westbrook and Keelan Cole. In particular, Westbrook's huge play ability could really help Bortles down the stretch here. All of Indy, Houston, and San Fran are susceptible to huge plays, and Bortles still has the cannon arm to move it down field. Plus, Bortles is attacking with his legs even more (62 rush yards and 2 TDs last week), further increasing his weekly ceiling
Fantasy isn't about being pretty, it's about getting wins. Whether stealing these juicy matchups from a counter part or balancing out your own QBs schedule, Bortles should score 18+ at least two more times in 2017.
Upside Stashes:
3. Jimmy Garoppolo (QB – SF, 9%)
FAAB: $2
Stat Line:

Schedule (25th easiest):

Breakdown:
Two pass attempts and already a TD! Garoppolo is indeed the Second Coming. 49ers Fans rejoice!
All kidding aside, Garoppolo can ball. As a Patriots fan, I've seen plenty of him, and he's a smart QB with excellent pocket awareness who can drop beautiful dimes all over the place. Ability is not the issue.
Plenty else is, however. Number one, Garoppolo isn't even guaranteed to touch the field. If the disgusting CJ Beathard's injury proves to be non-serious, the team would be wise to protect their prized asset. However, the team may have no choice.
So let's assume he's on the field. The weapons cabinet could not be more barren, with the always-threatening Marquise Goodwin leading the charge. Even worse, the line is abysmal, and Garoppolo isn't known for his durability?
Still, the ability is so tantalizing, Jimmy G has absurd upside. As a pure stash, he might be my favorite of the bunch here. He's not someone you can add and depend on by any means, though.
4. Patrick Mahomes (QB – KC, 1% owned)
FAAB: $0
Schedule (10th easiest):

Breakdown:
This is obviously pure speculation. Yet, after another floundering Alex Smith performance and embarrassing Chiefs loss (1-5 after starting 5-0), Mahomes has to at least be on radars.
If ever named the starter, Mahomes would vault to the top of this list, no questions asked, and would be a weekly top-10 option. That's how astronomical his upside is.
The weapons cabinet couldn't be deeper, with Tyreek Hill, Travis Kelce, and (maybe) Kareem Hunt all threats to break big plays at any moment. Then, consider Mahomes' talent himself: Big arm and high-end running ability, aka the Fantasy QB Goldmine. Deshaun Watson rode a similar skillset and surrounding cast to elite numbers, and Mahomes honestly would be capable of similar outputs. Though Andy Reid's playcalling has been highly questionable, he didn't hand-select Mahomes to keep the reins on.
This offense could explode with the rookie under center, and fantasy owners could laugh their way to a title. Be a week early, especially if you don't need immediate help.
II. Running Backs
First Check: Rex Burkhead (RB – NE, 51%), Danny Woodhead (RB – BAL, 53%), Jamaal Williams (RB – GB, 58%); Kenyan Drake (RB – MIA, 56%)
1) Austin Ekeler (RB – LAC, 34%)
FAAB: $25
Stat Line: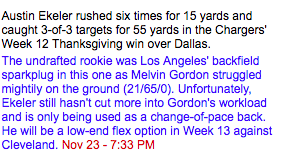 Schedule:

Breakdown:
Despite being featured on here three straight weeks, Ekeler's stock has barely moved. This is a grave mistake.
For one, Ekeler has some standalone appeal. Now locked into the third-down role, Ekeler's logged 39% of the team's RB snaps over the past three weeks. He's scored three times in that span while logging fantasy totals of 24.4, 12.8, and 8.5, and looked mighty explosive doing so. With a schedule that could include mop-up, blow out duty to Cleveland next week, and a few shootouts vs. WAS, KC, and (yes) NYJ, Ekeler has the schedule to continue producing useful flex numbers.
Yet, in addition to his "use now" appeal, Ekeler also is among the highest upside handcuffs in the game. The Chargers are really turning it on right now, and Ekeler would be a fringe RB1 play if anything happens to Melvin Gordon, who's looked banged up and sluggish for the better part of 4 weeks now. This ultimate "Use Now / Stash Later" combination makes Ekeler among the most appealing bench stashes in all of fantasy.
2) Rod Smith (RB – DAL, 14%)
FAAB: $13
Stat Line: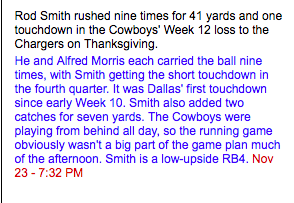 Schedule (Zeke back Week 16):

Breakdown:
Though Smith hasn't taken over as an "every down Zeke Clone" as we had hoped, he's still been the most highly used Cowboys back. He's led the team in RB snaps for all three weeks since Zeke's suspension, and last week marked by far his highest usage — 9 carries, including one at the stripe, as well as two receptions.
Perhaps this was a sign of the pendulum fully switching?
Smith brings far more to the table than Alfred Morris, especially as a pass catcher. He should be expected to continue pacing the 'Boys in snaps until Zeke's return, and has the schedule to do some serious damage if this translates into 12-15 weekly touches: all teams in the top-12 easiest versus RBs, including projected games where they'll be playing from behind.
Smith has serious upside for Weeks 13-15, and is likely out there in your league. There's far worse ways to spend a bench spot, and I wouldn't hate flexing him this week against a subpar Washington D that should keep Dallas passing and thus Smith on the field.
3) Devontae Booker (RB – DEN, 34% owned)
FAAB: $9
Stat Line: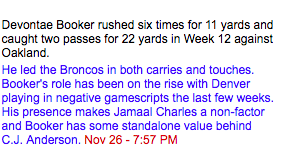 Schedule:

Breakdown:
A popular pickup last week, Booker's ownership spiked from 7% to 34%, yet he could see this plummet after faceplanting for 4.3 FPs in Week 12.
This would be a grave mistake.
For one, CJ Anderson continues to shit his pants every week. The door remains wide open for a takeover, and, in a lost season, Booker could certainly start seeing extended burn. New OC Bill Musgrave hinted as much before Sunday's kickoff, stating: ""Book has really been playing some good football…I think Book deserves more touches. Obviously, we'll see how the game goes."
Though this didn't play out immediately, the stretch run potential is monumental. The schedule is complete cake. If the team decides to hand over the reins and see what they have (which makes complete sense), Booker would have the matchups to run wild. After Booker's paced the team in touches for multiple weeks, the committee could be scrapped entirely.
See if an owner gets impatient and cuts Booker, or gobble him up while no one is looking if he's still available. By the time Indy and Washington roll around, you might have a featured workhorse.
I'm not splurging on…
Jacquizz Rodgers (TB-RB, 7%) or Peyton Barber (TB-RB, 1%)
Yes, I'm aware Doug Martin suffered a concussion and is a serious risk to miss Week 13. I am also well versed in Rodgers' historical success when starting.
But Rodgers' domination was largely volume dependent, including goal line shares. Unfortunately, Barber appears locked into a vulture role after notching two one yard plunges this past Sunday. Charles Sims remains the third-down guy. Without these valuable touches, Rodgers is nothing more than a glorified between-the-20s back behind a bad offensive line and in a sputtering offense.
The more-talented Martin couldn't yield useful stats while monopolizing touches in this awful situation. Why would Rodgers or Barber suddenly become playable in his absence? Don't get cute, and turn away while others splurge here. If I had to go one, I'd take a shot on Barber as the cheaper pick up and better shot at 6.
Stashes / Handcuffs
Tier 1 – Low End RB1 Upside
1) James Conner (RB – PIT, 4% owned)
2) Charcandrick West (RB – KC, 3%)
3) Austin Ekeler (RB – LAC, 34%)
Tier 2 – Quality RB2 Upside
4) Matt Breida (RB – SF, 6%)
5) Marlon Mack (RB – IND, 27%)
Tier 2.5
6) Chris Ivory (RB – JAX, 14%)
Tier 3 – Flex Status:
7) DeAndre Washington (RB – OAK, 8%)
8) Lance Dunbar (RB – LAR, 1%)
9) Elijah McGuire (RB – NYJ, 6%) 
Just to get to 10… other name to consider please send…
10) Jonathan Williams (RB – NO, 0%)
Continue on to Page 2 for Wide Receivers, Tight Ends, and the Week 13 Waiver Wire Big Board