Player Stock Ticker
Fantasy Football Week 12 Waiver Wire: Perine, Coleman, Booker and Cuffing Season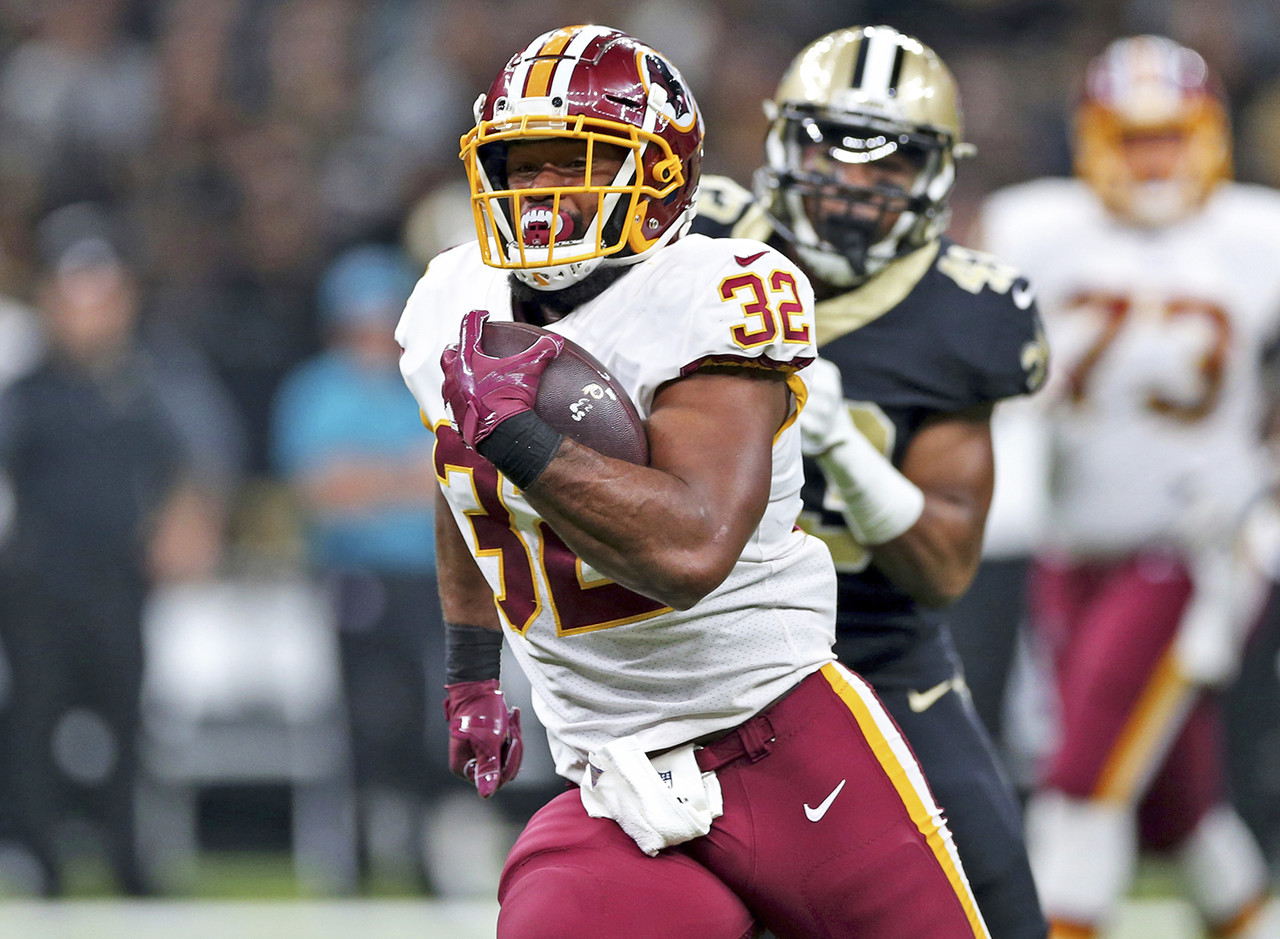 The cold weather is creeping in.  Your "summer bod" was never really a thing, and the soft 15 you've added for hibernation really doesn't help the cause. With each stinging breath of frost-filled air, one thing is abundantly clear:
"Cuffing Season" is here.
Of course, I'm referring to 250 lb dread-locked running backs who are an injury away from RB1 status (hello, Derrick). That necessary insurance policy for your top ball carrier in case Satan pays you a late-season visit.  What else would I possibly be talking about?
With Bye Weeks wrapped up and the Fantasy Playoffs on the horizonm fill-in, "streamable" depth is far less meaningful to your overall team makeup. Thus, a major focus of the Week 12 Waiver Wire will be handcuffs worth owning now — whether you actually have the starter, or have bench trash and want the upside stash. 
Still, an unusual amount of quality "use now" options have emerged this week, so we'll also take our normal "Position by Position" approach as well. Page One will cover RBs, since it's by far the most plentiful position + features the "handcuffs," while all other positions will fall onto Page 2.
Week 12 Waiver Wire
I. Running Backs
A) Long Term Options:
Tier 1
1) Samaje Perine (RB – WAS, 35%)
FAAB: All of it. Time to splurge.
Stat Line: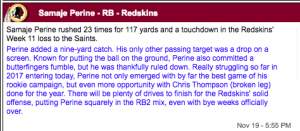 Schedule Analysis (14th Easiest Among RBS)

Breakdown: 
"Clunky" was how NFL Draft Insider Jared Tokarz described Perine to us this summer, and, up until Week 11, this adjective fit like a glove. Yet, against a stiff New Orleans run defense, Perine saw his most work and by far most production while showing more giddy up than he has all season.
The volume was far more need-based than game plan specific, as Chris Thompson had to be fitted for an aircast for a season-ending broken fibula. Even still, Perine had been seeing extensive looks and rumbling, scoring on an explosive burst while Thompson was on the field, and obviously dominating backfield work once he left it. I guess that happens when a creature named Byron Marshall is the only backup.
Perine is definitely a volume back who needs time and carries to wear out a defense. He'll see plenty of both, many in favorable matchups, from here on out. With Kirk Cousins also playing at a high level, the scoring chances should be plentiful. The schedule isn't overly threatening either, meaning the path is very clear for quality RB2 numbers from here on out. Perine should be some late season gold.
Tier 2
2) Devontae Booker (RB – DEN, 7%)
FAAB: $18
Stat Line:

Schedule Analysis (8th Easiest):

Breakdown:
Booker continues gaining snaps and usage by the week, and the pendulum swung more favorably than ever before in Week 11: 47 snaps for Booker, compared to 28 for "starter" CJ Anderson; 19 touches compared to 15; 98 total yard to 56.
The changing of the guard isn't coming. It's officially here.
Booker had already been emerging as the clear third-down guy, notching 18 catches over his past six as compared to five for CJ. Now, he's eating into the work and yardage more than ever before, and the team may hand even more work his way now in free fall mode. Why not see what the young buck's got at this point? Plus, Anderson's extensive injury history could easily leave the team without a choice but to ride Booker.
Which would be ideal, considering the schedule. Look at how soft that slate is! No red, three bottom 10. Booker could emerge as a true hero versus that slate.
Jamaal Charles is owned in more than double the leagues of Booker, which is a crime considering the old veteran was in for a grand total of 4 plays. Booker should be rostered universally, with the usage trends, schedule, and talent for an epic finish here.
3) Austin Ekeler (RB – LAC, 35%)
FAAB: $10
Stat Line: 

Schedule Analysis (15th easiest among RBs)

Breakdown:
Ekeler notched his second useful game in the same time frame, though this one is a bit more deceptive. He was used sparingly and looking like a major Week 12 bust until the fourth quarter, where he racked up almost all of his touches and production.
Still, Ekeler still had a pulse, which was no guarantee. He also continued flashing his explosiveness. Moreover, as much as Ekeler was helped by the blowout narrative late, he was also hurt by it early given his role as the primary pass-catching back. He'll be more active throughout entire games in more contested / losing situations (DAL, WAS, and KC all project for this type of game flow).
Even better, Ekeler is one of the few RB1 Handcuffs out there if anything were to happen to Gordon, who has looked fairly beatdown and sluggish to end 2017. This combination of "usability if desperate" and "huge upside stash" if not makes Ekeler a sneaky fantastic add if he remained unclaimed last week.
4) Corey Clement (RB – PHI, 10%)
FAAB: $11
Stat Line: 

Schedule Analysis (5th Easiest):

Breakdown:
At a certain point, we cannot ignore Clement — yet the industry keeps acting like he hasn't outsnapped or outscored Jay Ajayi for two straight weeks. Or that he doesn't have a meaningful role in arguably the league's most dominant attack as the no-huddle back with a clear nose for the end zone (5 TDs over the past 4 games).
Ignore the 2 FP projections Yahoo inexplicably attaches to him. Clement is very flexable if you're in need. This may be a three-headed monster, but Clement's role on third downs and in uptempo moments might create the sneakiest, highest floor here.
Plus, with a playoff schedule against three bottom 10 opponents vs. RBs (including two bottom five), the scoring chances should remain plentiful. While others call it a fluke, have faith in the line and overall offense. Clement is for real.
5) Damien Williams (RB – MIA, 35%)
FAAB: $10
Stat Line:

Schedule Analysis (1st Easiest among RBs):

Quick Hit:
Though the recent output (2 double digit FP outings in his past 3) and schedule (1st easiest) look nice, this committee is impossible to project week-to-week. Williams still played less than Drake (27 to 38 snaps), despite severely outgaining him, while looking like the lesser talent until Week 11. I'd seek alternative, but the schedule is ripe in case one runner can truly separate.
B) Stashes / Handcuffs
As alluded to in the intro, many owners are set for starters from here on out, and thus are more interested in cheap insurance policies for their studs.
We're not going to provide any in-depth analysis on any of these parties, considering most won't sniff the field or fantasy lineups. Instead, we'll simply rank and organize the RBs by the upside they offer if the starter were to go down. We, of course, follow the < 50% ownership rule, so potential RB1 horses like Tevin Coleman and Derrick Henry are not included:
Tier 1 – Low End RB1 Upside
1) James Conner (RB – PIT, 3% owned)
2) Charcandrick West (RB – KC, 3%)
Tier 2 – Quality RB2 Upside
3) Austin Ekeler (RB – LAC, 35%)
4) Marlon Mack (RB – IND, 29%)
5) Chris Ivory (RB – JAX, 17%)
6) Matt Breida (RB – SF, 6%)
Tier 3 – Flex Status:
7) Elijah McGuire (RB – NYJ, 6%) * There's a real chance Forte continues missing time post-bye, which increases McGuire's stock substantially if you need a Week 12 option*
8) DeAndre Washington (RB – OAK, 8%)
9) Lance Dunbar (RB – LAR, 1%)
Just to get to 10… other name to consider please send…
10) Giovani Bernard (RB – CIN, 11%)
To read all Quarterback, Wide Receivers, and Tight Ends (lol) continue to Page 2 Now!