The Fantasy Trade Deadline is fast approaching in many leagues. Yahoo's default Fantasy Trade Deadline is Saturday, November 18th. Meanwhile, ESPN leagues wrap up trades around November 29th.
Thus, your final chance to optimize your roster for the Fantasy Football Playoffs (Weeks 15-17), besides the Waiver Wire, is nearly past! Below, I dive into 10 players who have the best fantasy playoff schedules that you should be prioritizing in any last fantasy football trades.
Granted, many fantasy owners "Win-Now" mode and can't afford to look ahead. Or perhaps you just want a more detailed breakdown than just these 10 players. Regardless, definitely check out our thorough position-by-position Strength of Schedule guidelines:  (QBs, RBs, WRs, and TEs)
However, for those of you with the luxury of being able to plan ahead, here are the best players with the best schedules you should be making moves to acquire:
QUARTERBACKS
DAK PRESCOTT: SCORCHING AT THE RIGHT TIME
Final Four Games:

Dak Prescott is absolutely scorching right now. Across his last four games, he's posted 24.9 FPs (QB1), 29.1 (QB3), 28.4 (QB2), and 38.9 (QB1) fantasy points and QB finishes.
Yes, four straight Top-3 QB outings, largely thanks to 361 YPG and 12 TDs (1 rushing) across his last three.
This is largely because the Cowboys are finally embracing their strengths, which is airing the ball out. Especially to CeeDee Lamb: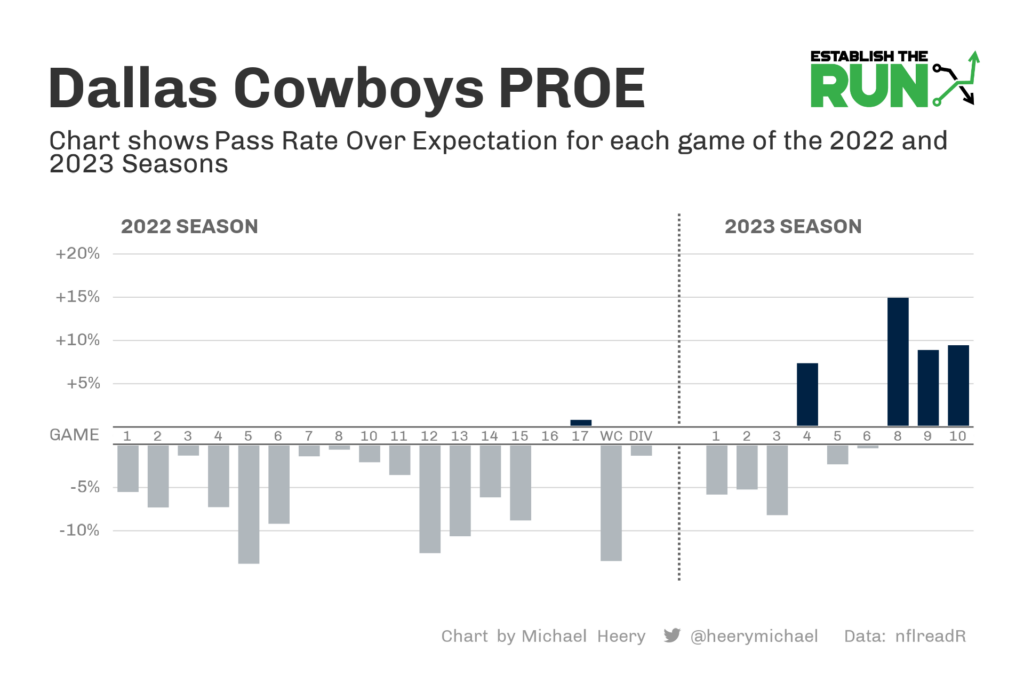 As such, acquiring Prescott won't be cheap. Yet, with the fourth easiest fantasy playoff schedule among QBs, he could be the most commonly-owned QB on rosters.
Sure, Buffalo looms as a tougher matchup to kick off Prescott's fantasy playoffs. Yet, that game has shootout written all over it, and the Bills defense continues to acquire brutal injuries each week.
After that, the fantasy-friendly Dolphins await (10th most FPs allowed), followed by a dome showdown with the Lions — again, another shootout brewing.
Don't be surprised if Dak, who also has the Number One overall schedule from here on out, continues firing when you need him most.
KYLER MURRAY: IDEAL WEEK 16 AND WEEK 17 MATCHUPS
Playoff Schedule:

If you think you'll have a Bye Week, there's no QB set up for better success than Kyler Murray.
In his first action since his ACL surgery, Murray looked like he hadn't missed a beat. He scrambled all over the place, flashing his trademark elusiveness all game against the Falcons:
Despite not throwing for just 249 yards, no TDs, and 1 INT, Muray still finished as the QB10 in his return thanks to six carries, 33 yards, and a rushing TD.
If he had any rust, consider it shaken off.
In Week 15, Murray will get a surging 49ers defense. This could be tough, but San Francisco is much more susceptible to the pass. Still, it's not an ideal matchup.
After this, though, Murray could win you your league. He faces Chicago (1st in FPs allowed) and the Eagles (5th) in Weeks 16 and 17.
Again – if you can dodge a tough 49ers defense in Week 15, no QB gets a better one-two punch to close out the fantasy season. In fact, Murray ranks number one in Jake Ceily's "adjusted points against" that account for the strength of opponents in addition to points allowed.
Moreover, Murray is not just a playoff buy. He has the 9th best Rest of Season schedule, with three winnable matchups against the Texas (12th most), Rams (13th), and Pittsburgh (22nd) heading into his Week 14 bye.
RUNNING BACKS
AUSTIN EKELER: LEAGUE-WINNER WITH EPIC STRETCH RUN
Playoff Schedule:

Oh, baby. Austin Ekeler's playoff schedule is the stuff fantasy (wet) dreams are made of.
Ekeler has recently returned to form, with 21+ PPR FPs in three straight games. Yet, as good as Ekeler has been, we still haven't had any of his patented 30+ FP blow-ups.
He has the schedule to deliver multiple of these week-winning stat lines in these final few weeks. Ekeler, two dates with the most generous run defense in the league, the Broncos… including one in your CHAMPIONSHIP WEEK!
If you needed any more reason to sell the farm for Ekeler, he also gets the Raiders (4th most points) to kickoff the playoffs, followed by Buffalo Bills defense that has been far more generous to opposing run-games. The Bills have also lost multiple defensive starters over the past two games.
Ekeler won't be cheap to acquire. But if you can move, say, Tyreek Hill (with the WORST ROS schedule for WRs) to land the Chargers stud, I wouldn't hesitate. In fact, Ekeler is up to The Wolf's No. 2 overall player on his 2023 Rest of Season Fantasy Rankings, ahead of Hill!
D'ANDRE SWIFT: THE ULTIMATE WEEK 15-17 SCHEDULE
Playoff Schedule

While Swift's rest of season schedule is middling, his Week 15 to 17 could not be any better, with three straight Top 10 "Green Zone" matchups.
First, he squares off with the Seahawks. They currently surrender the 5th most FPs to RBs, and have been especially bludgeoned as of late. Over their last four, no team has given up more FPs (over 32!) to RBs. The Eagles should maul them, and Swift should reap the rewards.
Next, Swift gets the hapless Giants (9th most FPs to RBs), who he should see plenty of bleed-the-clock action against. He wraps up wth a Cardinals team that surrenders over 130+ rush yards and the third most FPPG to backs.
With the Eagles trying to preserve Jalen Hurts and likely to murder all three of these opponents, Swift should see extensive burn, in prime matchups, when you need him most. With a mediocre past three games, he can probably had for far cheaper than his playoff upside represents.
TIME TO TRUST BIJAN ROBINSON? SECOND-BEST RB PLAYOFF SCHEDULE
Arthur Smith's usage of Bijan Robinson, and just his overall offensive skill talent, has been maddening. Smith has quickly become the villain of fantasy football, and deservedly so.
Finally, in Week 10, Smith may have seen the light. In Week 10, Robinson finally saw usage worth his talent and draft pedigree: 77% of the snaps, 58% of the rushes, a whopping 85% route share & solid 11% slice of the targets. Via Fantasy Life's Utilization Hub:

Bijan rode the volume bump to 18 FPs and an RB11 finish — his highest since Week 2. Hopefully, the apparent changing of the guard from the Tyler Allgeier nonsense is permanent (but you can never be sure with ole Arthur)
With Carolina (2nd most FPs to RBs), Indianapolis (4th), and Chicago (12th) on tap to bring the season to a close, Bijan has a chance to entrench himself as a top 3 fantasy RB in 2024. Oh, and bring those smart enough to target Bijan a fantasy championship as well!
Atlanta averaged just 2.9 yards per pass attempt in their last game. Taylor Heinicke turned back into a pumpkin and Desmond Ridder had to be brought back into the mix. This means there's a strong chance the Falcons lean heavily on the ground game.
After seeing his highest rushing share of the season, Bijan will likely be a bit more expensive than had you tried to get him two weeks ago. Yet with the playoff schedule mentioned above, he just might be worth it and then some.
WIDE RECEIVERS
DK METCALF, TYLER LOCKETT, JAXON SMITH-NJIGBA= FANTASY PLAYOFF GOLD
Playoff Schedule:

The Seahawks close the season with four straight Top-10 Matchups for WRs. Indeed, a crowded WRs corps has kept any of Metcalf, Lockett, and JSN from hitting their true ceilings.
Yet, with an absolute feast-worthy schedule coming up, all three WRs could be fixtures on championship-running rosters.
Given that DK Metcalf is the largest underperformer of the three and likely has managers panicked, he will be the focus.
Although Metcalf has not been delivering the fantasy results we all hoped for, he is still the alpha receiver in Seattle. In the last three weeks, Metcalf leads Seattle in target share (25 percent), air yards share (49.9 percent), yards per route run (2.15), and receiving yards (215). Metcalf has been able to do all this with a miserable 46.4 percent catch rate.
Metcalf's alpha nature was on display in Week 10, leading the team in targets and yards while playing a pivotal role in Seattle's game-winning drive.
Despite being the top target in Seattle, Metcalf has struggled to produce for fantasy managers. A lot of this has to do with his lack of touchdowns. On top of leading the team in air yards, Metcalf leads the team in red zone targets (14, 5th among WRs) and is second in endzone targets (9, T-4 among WRs).
All of this is to say that Metcalf is due for regression regarding yardage and, more importantly, touchdowns.
As the top dog on a team with the number one Fantasy Playoffs Schedule, consider trading for DK Metcalf or any of the Seattle WRs. You can just feel the 150 yard, 2 TD Metcalf explosions brewing when you need them most!
MARQUISE BROWN AND CARDINALS RECEIVERS
Playoff Schedule:

We've been on the "Buy Marquise Brown" train for a long time now. The opportunity could not be more perfect just ahead of Trade Deadlines.
Brown is fresh off two duds, including a clunker in Kyler Murray's return. Yet, these came against the Browns' elite secondary, followed by AJ Terrell's shadow coverage, which has erased WR1s all year.
This may have fantasy owners forgetting how damn good Brown and Murray were together last year:
Yes – WR5 in targets (10.7 per) and WR7 in FPPG (18.3).
With three juicy playoff matchups, including the BEST possible spot in your fantasy championship, Brown could absolutely return to true WR1 numbers at the most clutch time.
Best of all, he could probably be bought as a fringe WR3 right now.
GARRETT WILSON: UNSEXY UPSIDE IN WEEKS 15 AND 16
Playoff Schedule:

I get it. Attaching yourself to Zach Wilson feels… awful. This is also exactly why Garrett Wilson can likely be had for far cheaper than his actual value or what it could be in the early parts of your fantasy playoffs.
Despite the lack of quarterback play, Garrett Wilson has quietly produced at a high level.
At this point in the season, Wilson is the WR16. He's not a bust, but he's not paying off the second-round price you paid him. But looking at his playoff schedule, it's hard not to get excited.
Washington and Miami are two teams with beatable secondaries (especially Washington) and are prone to playing in high-scoring games.
In fact, no team is surrendering more FPs to WR1s than the Commanders. Emmanuel Forbes has been routinely getting destroyed, and yet the Commanders are making no real adjustments. Sign me up!
Indeed, Cleveland in the fantasy championship is less than ideal. Actually, it doesn't get (much) worse than that. But that's a problem to deal with when we get there. Not if, when.
Garrett Wilson's playoff matchups are too juicy to pass up, and could help you punch your ticket to the big dance.
TIGHT ENDS
TJ HOCKENSON: SET TO WIN LEAGUES
Playoff Schedule:

TJ Hockenson is far from an "under the radar" guy. He's 2023's TE2, averaging over seven catches and 68 yards per game.
Somehow, Hockenson has been even more productive with new QB Josh Dobbs. He's seen 12 and 15 targets in their two games together, including a monster 11 catch, 134-yard, and 1 TD explosion last week.
This shouldn't be a huge surprise. Under Dobbs, the Cardinals ranked second in TE Target Share at 32.4%.
Also, Doubbs and Hockenson had an under-the-radar rapport before uniting in Minnesota:
Thus, with two Top-5 matchups to kick off the fantasy playoffs, Hockenson should absolutely feast. He also has the easiest entire Rest of Season schedule as well, making him even more valuable.
Similar to Ekeler earlier, Hockenson obviously won't be cheap. Still, even if it takes a high-end WR2 and RB2 combo or more, Hockenson should prove worth it.
TREY MCBRIDE
Remaining Schedule: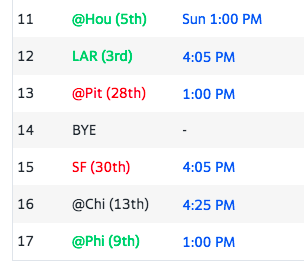 With Zach Ertz on IR, Trey McBride has exploded over the past three weeks, converting 28 targets into 21 catches for 248 yards and a TD — including a 25.5 (TE1) and 21.1 (TE2) explosions in two of his last three.
All this, despite a revolving door at QB. Well, that door is done spinning, as Kyler Murray is back for the remainder of the year, and McBride proved to be a valuable asset for Murray in his first game back.
He's been flat-out elite. In fact, McBride's 2.39 yards per route run trail only Travis Kelce (2.43) at tight end. Beyond just TEs, McBride ranks 14th among 179 qualifying pass-catchers in the metric:
This might make McBride tougher to acquire, but he's worth every penny it takes. The on-paper schedule looks good, not great. But using The Athletic's Adjusted Points Allowed, and McBride actually finishes with THE BEST schedule for TEs in the playoffs.
Yes, a Week 15 date with SF will be tough. But the Bears and Eagles have actually surrendered the most schedule-adjusted points, and McBride gets them in the ever-important semi-finals and championship weeks.

Use Ertz's looming return to drive down the price. Surely, it'll complicate things, right?! (No. This is McBride's job through and through– but maybe your leaguemate doesn't know this).
With the talent, QB, and schedule to thrive, McBride is now The Wolf's TE6 in his Rest of Season Fantasy Rankings, behind only Dalton Kincaid, Sam LaPorta, Mark Andrews, TJ Hockenson, and Kelce.
Note: Sam Laporta and Jake Ferguson deserve Honorable Mentions for absolutely pristine Fantasy Playoff Schedules.
LaPorta's Playoff Schedule:

Ferguson's Playoff Schedule:

SUMMARY
If you have the luxury to plan ahead for the fantasy playoffs, you absolutely must capitalize and stack your roster with the best schedules possible. This is among the most common moves championship-winning fantasy owners can make, yet so few actually do.
Use the above list to help guide your final Fantasy Football Trading Strategy. Find desperate owners who you can pry these championship-swinging pieces away from, and get those lineups perfect for Weeks 15-17 now!