RSJ's Jackson Barrett created a value-based drafting Excel tool to create the preseason values for this Fantasy Football Trade Value Chart. The tool uses the FantasyPros consensus projections to assign values based on a 12-team, full PPR league.
Each week throughout the season, I will alter these values to reflect the player's value for the rest of the season. I have made changes based on the FantasyPros ECR, results from the season so far, and The Wolf's Rest of Season Rankings. But for the most part, the below values should generally reflect consensus rankings. The values provided also allow for comparing player values across positions, not just within one position group.
For more information on how to make successful deals, check out our strategies for negotiating trades.
Before going over player values, let's take a look at the biggest changes to the trade value chart and some potential trade targets.
READ: QB Trade Targets Based on Strength of Schedule
RISER
After four consecutive weeks of fantasy dominance, Dak Prescott is now the QB6 in 2023. About six weeks ago, it appeared that the Cowboys would ride their defense and rushing attack to wins this season.
Things have changed drastically changed in the last month. Tony Pollard has been unable to produce and Dallas is fully leaning into their passing offense.
To keep things simple, relying on Dak has… worked. Dallas has scored 40+ points twice in the last three games and Dallas has won three of their last four matchups.
In these last four games, Prescott has finished no lower than the QB3. Dak also made CeeDee Lamb the first receiver to have 150+ yards and 10+ receptions in three straight games.
It appears that head coach Mike McCarthy has realized that letting Dak sling it is the best way for this team to move the ball. Unless the offensive game plan changes in Dallas, Dak is a must start moving forward.
FALLERS
Trevor Lawrence has been nothing short of a disappointment this season. Following a 4.1 fantasy point performance in Week 10, the former number-one pick is now the QB18.
It's not that Lawrence and the Jaguars are in an offensive drought, he has consistently underperformed this season. In fact, Lawrence has finished as a QB1 just three times this season and doesn't have a weekly finish higher than QB8, which came in Week 1.
Not only is he not meeting expectations in fantasy, but he is also being outperformed from a statistical perspective by some "lesser" quarterbacks.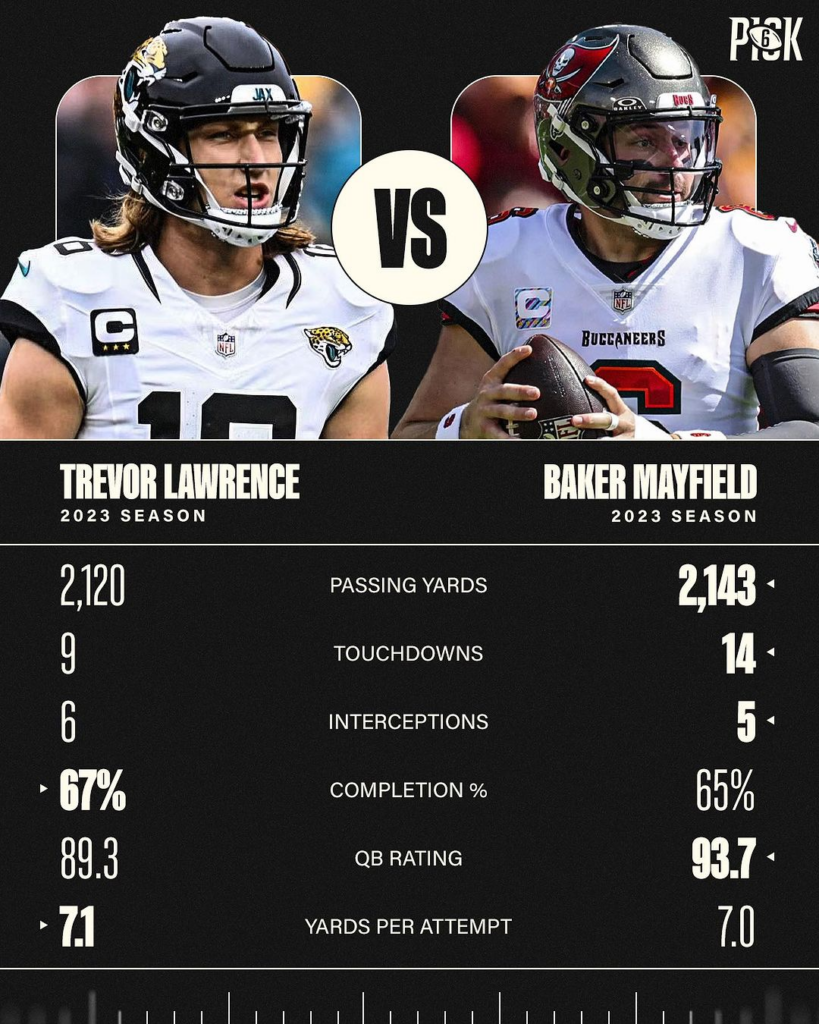 While this may point to Baker Mayfield exceeding expectations, it's still shocking and concerning for Lawrence.
With the addition of Calvin Ridley on top of other weapons in Jacksonville, Lawrence was expected to take another step forward. At this point, it appears that the third-year QB has remained stagnant or even regressed.
The pieces are in place for success in Jacksonville. Until Lawrence is able to take advantage of his weapons and consistently produce, he should remain on the bench.
TRADE TARGET
Also featured in our Strength of Schedule Trade Targets List, Josh Dobbs is a quarterback who is worth highlighting once again.
If you are in desperate need of wins to make the playoffs but don't have an ideal QB situation, look no further than Josh Dobbs.
As highlighted in our Strength of Schedule piece, Dobbs has two premium matchups upcoming. The Vikings take on Denver and Chicago, both of which are top 10 matchups for quarterbacks.
On top of favorable upcoming matchups, Dobbs has been playing at an extremely high level recently. Dobbs has averaged 25 fantasy points across the last three weeks.
Dobbs has been able to connect with receivers rather quickly in Minnesota. On top of this, Dobbs' legs have been a legitimate threat this season. Rushing for 40+ yards on seven occasions this season, the man nicknamed "The Passtronaut" has contributed significantly to fantasy teams on the ground.
Considering this is by far the best Dobbs has looked in his six-year career, things could collapse at any moment. But Dobbs is hot, has an easy upcoming schedule, and the return of Justin Jefferson seems to be coming sooner rather than later.
If you need to win now, look to Josh Dobbs.