RSJ's Jackson Barrett created a value-based drafting Excel tool to create the preseason values for this Fantasy Football Trade Value Chart. The tool uses the FantasyPros consensus projections to assign values based on a 12-team, full PPR league.
Each week throughout the season, I will alter these values to reflect the player's value for the rest of the season. I have made changes based on the FantasyPros ECR, results from the season so far, and The Wolf's Rest of Season Rankings. But for the most part, the below values should generally reflect consensus rankings. The values provided also allow for comparing player values across positions, not just within one position group.
For more information on how to make successful deals, check out our strategies for negotiating trades.
Before going over player values, let's take a look at the biggest changes to the trade value chart and some potential trade targets.
MUST READ:
RISERS
It looks like Zach Moss's time as Jonathan Taylor's vulture is finally over. A sigh of relief for Taylor owners everywhere.
As Levitan pointed out, this was inevitable. Intelligent organizations don't pay running backs and keep them in a timeshare with Zack Moss. Although Taylor had a fairly pedestrian day with 14.5 points (RB17), Taylor's usage is highly encouraging.
Taylor maintained a 96 percent opportunity share on Sunday. Although this is unsustainable, it indicates that Taylor will take on a workhorse role.
On top of what should be elite usage, Taylor will benefit from a strong offense. Believe it or not, the Indianapolis Colts are putting up their fair share of points. Prior to a Week 10 matchup in Germany, the Colts had scored 20+ points in every matchup this season.
With a workhorse role and a team regularly in high-scoring affairs, Taylor is a top-tier RB moving forward.
Ravens rookie running back Keaton Mitchell has been taking the fantasy world by storm in recent weeks.
With just 14 touches in the last two weeks, Mitchell has produced 200 total yards and 34 fantasy points. These two breakout games have earned the rookie a larger role in Baltimore's RB room.
Mitchell is incredibly exciting because he's yet another young speedster who seems to be capable of scoring on any play.
As of now, Mitchell seems to be more of a "wait and see" player than a guaranteed contributor to your team. There is a pretty ugly split in the Baltimore backfield as it stands.
Mitchell's usage in Week 11 will be critical in determining his rest of season outlook. If he is able to regularly get 10-12 touches per game, he will be a nice piece on rosters. But until the dust settles in this RB room, be cautious about starting or trading for Mitchell.
FALLER
Don't look now, but things are getting scary for Kenneth Walker. Let's start with the stat that everyone is talking about. Walker was out-snapped by rookie Zach Charbonnet in Week 10, making this the third week in a row this has occurred.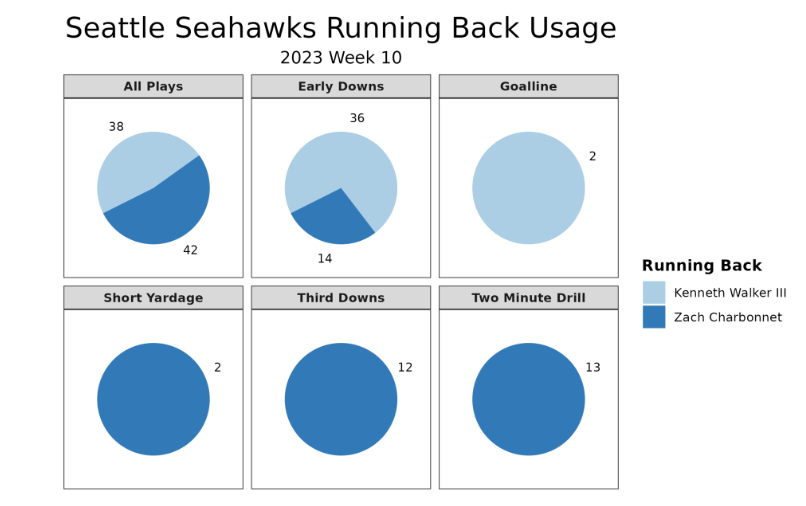 At this point, the roles are quite clear. Walker will handle most of the rushing work, especially on early downs as well as the goal line touches. Charbonnet will catch passes and mix in on early downs.
This role is less than ideal for Walker. It appears that Walker will have to rely on short touchdowns and explosive plays to succeed in fantasy. While Walker is capable of doing both of those things to succeed, this is not a recipe for a truly elite fantasy RB. Walker did just this in Week 10. His week was saved by a 64 yard touchdown reception that came on his only target. This play accounted for 13.4 of his 19.7 points on Sunday.
Walker's role and play style make him a volatile player on a week to week basis. This is fine and Walker can produce in fantasy, but he should be viewed as an RB2.
TRADE TARGET
Someone that I have been talking about for the last few weeks, Devin Singletary finally had his big game.
Singletary was able to take over the Houston backfield thanks to an injury to second-year RB Dameon Pierce. Prior to his injury, Pierce was playing quite poorly. Averaging an uninspiring 3.0 yards per carry, Pierce has taken a step back from his rookie campaign.
Pierce's struggles, combined with Singletary's big day in Week 10 open the door for Singletary to take on a significant role. Not to mention the fact that Pierce's injury is certainly lingering and his availability for Week 11 is not a sure thing.
The Texans also have a very favorable schedule. In the next four weeks, the Texans take on Arizona, Denver, and the Jets, all premium matchups for running backs.
The path is there for Devin Singletary to play a big role in Houston and contribute to your fantasy team. Grab him before your league mates realize what's going on in Houston.