RSJ's Jackson Barrett created a value-based drafting Excel tool to create the preseason values for this Fantasy Football Trade Value Chart. The tool uses the FantasyPros consensus projections to assign values based on a 12-team, full PPR league.
Each week throughout the season, I will alter these values to reflect the player's value for the rest of the season. I have made changes based on the FantasyPros ECR, results from the season so far, and The Wolf's Rest of Season Rankings. But for the most part, the below values should generally reflect consensus rankings. The values provided also allow for comparing player values across positions, not just within one position group.
For more information on how to make successful deals, check out our strategies for negotiating trades.
Before going over player values, let's take a look at the biggest changes to the trade value chart and some potential trade targets.
RISERS
In the wake of the Jahmyr Gibbs arrival, it's very easy to forget about what David Montgomery was doing earlier this season. From Weeks 1-5, Montgomery ranked as the RB5 in PPG.
In four fully healthy games to start the season, Montgomery handled at least 59.3 percent of running back carries, maxing out at 74.4 percent in Week 4.
Montgomery also held the goal line role in these four games, handling 72.7 percent of carries from inside the five-yard line.
Gibbs won't turn to dust when Montgomery returns. But also don't expect Montgomery to return to a 75 percent rush share. There will be significantly more balance when the Lions return from the bye week.
However, I expect Montgomery to be the primary back in Detroit. This lead role, combined with goal line work in an efficient offense is a great spot for Montgomery.
Rachaad White has quietly become a very reliable producer in fantasy. White has scored 15+ PPR points in three straight games, finishing as an RB1 in each.
White also holds a very valuable role as Tampa Bay's lead back.
White controls the carries and is involved passing game, something that is true of very few RBs. On top of this, White has handled 75 percent of the goal line carries for the Buccaneers. White has the trifecta of usage (high rush share, passing work, and goal line) and it is finally paying off.
There hasn't been another back in Tampa Bay that has truly challenged White for work. Because of this, I expect White's elite role to hold up. White should be viewed as a reliable starter and could even find himself in RB1 territory if this keeps up.
FALLERS
The two men frustrating fantasy managers worldwide: Bijan Robinson and Tony Pollard.
Let's start with Robinson. When it comes to the rookie phenom, there is a third man who is infuriating managers: Arthur Smith.
Robinson's lack of production primarily comes down to his lack of usage. There are several mind-boggling pieces of data and information information regarding his usage. For one, Tyler Allgeier saw more touches than Robinson on Sunday. There's also this…
Robinson has also seen a reduced role in the passing game. In the last two games, he has caught two passes while holding a 9.7 percent target share. In Weeks 1-6, Robinson maintained a 15.7 percent target share. The two-game sample size is small and this could change quickly, but this is worth noting.
It's becoming quite clear that Arthur Smith is committed to using his players in the most unpredictable way possible. Until Robinson is more involved, he should not be viewed as a truly elite option at RB.
Tony Pollard is the other highly drafted running back that is struggling this season. Sunday marks yet another game where Pollard has failed to crack the 10 PPR point mark, bringing the total to four times in 2023.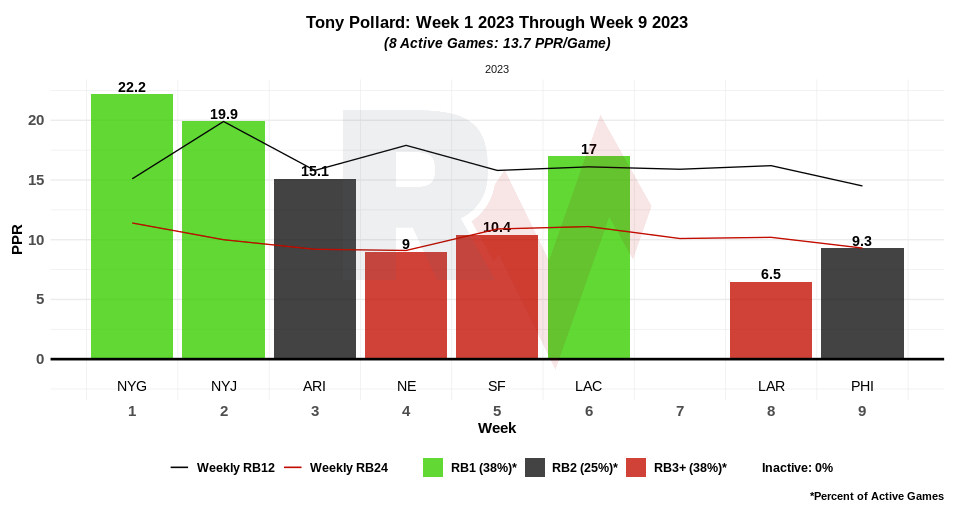 Pollard barely hit the threshold to be an RB2 in Week 9. Regardless of that, this is simply not the production Pollard was expected to have.
Unfortunately for Pollard owners, this is not an issue of usage like Robinson, this is an issue of production. Pollard ranks 6th among RBs in expected fantasy points per game, which measures how many points a player should score based on how they are used. On the flip side, Pollard is RB18 in actual fantasy points per game, indicating he is underperforming.
Underlying metrics back this up as well. Pollard ranks among the league's worst in several critical efficiency metrics. Arguably the most concerning is his breakaway run rate, or the percentage of runs that go for 15+ yards.
Pollard made a living ripping off big plays when he was under Ezekiel Elliott. This hasn't been the case in 2023, with Pollard ranking 31st in breakaway run rate at just 3.7 percent.
At a certain point, game script and "uncreative" usage can't be the excuses. Pollard simply isn't producing and it's highly concerning.
TRADE TARGET
The return of James Conner is upon us. The man that some (me) call the "King of The RB2s" is back and ready to deliver RB2 production for the rest of the season.
Let's first take a look at his production recently.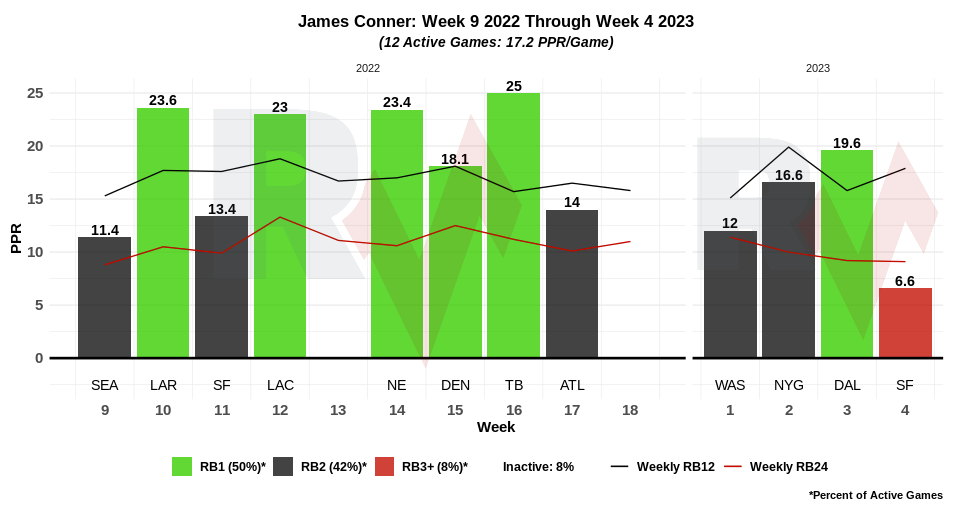 Since returning from injury in Week 9 of last year, Conner has done nothing short of produce.
When fully healthy, Conner will come back and dominate this RB room. In four healthy games, Conner played at least 60 percent of snaps and handled at least 50 percent of carries in each game. I expect this to continue when he returns given the state of Arizona's run game.
Kyler Murray is also expected to return, elevating the offensive outlook in Arizona. The return of Murray and Conner will change the dynamic of this offense and they should be snatched up while the price is low.