Well, everyone, the wait is over!
Generational running back Bijan Robinson was drafted to a run-heavy team with the eighth pick in the 2023 NFL Draft. Sometimes, the fates just smile fondly upon fantasy players. Sorry to any Tyler Allgeier stans, but he's been relegated to mop-up duty.
A year ago, 2022 first-round picks were seen to be less valuable than the insanely-hyped 2023 running back class. The class ended up being more top-heavy than fantasy and dynasty players would have liked, but the class is still deep at this position.
While The Wolf has his own 2023 Dynasty Rookie Rankings, here are my post-NFL Draft 2023 dynasty rookie running back rankings:
1. BIJAN ROBINSON, ATLANTA FALCONS
All eyes were on Bijan Robinson before he ever donned Texas burnt orange.
With 4.46 speed while standing 5'11" and weighing 215 lbs, Robinson boasts an ideal, prototypical size for the running back position.
Robinson averaged an impressive 6.3 yards per carry along with 2.1 yards per route run while lined up as a receiver. The words "can't miss" prospect is tattooed all over Robinson's profile.
Still, last season the Falcons ranked well into the bottom half in terms of total yards (24th) and right in the middle in scoring offense (15th). The problem was not with the ground game.
Arthur Smith is a high T, roll up your sleeves and put up your dukes, physical type of coach. Think Dan Campbell without the yoked biceps. In 2022, the Falcons ranked first in total rush attempts and third in total rush yards. The Falcons ranked second in estimated points added per rush, third in success rate, and first in touchdowns per rush attempt.
Allgeier performed adequately as a rookie in this rushing attack, averaging 4.9 yards per carry, and managed to put up 1,035 yards with four total touchdowns. So, what makes Robinson still a lock for the RB1 rank?
Because he's Bijan Robinson. But it goes beyond that.
Last season, Allgeier saw 210 rush attempts, but he was a fifth-round pick. Draft capital is everything.
In 2022, Falcons running backs saw 454 rush attempts. Allgeier may have been the lead back on the team, but he failed to command over 50% of the team's rush attempts. That will not be the case with Robinson.
He's locked into all the work he can handle in 2023 and beyond.
2. JAHMYR GIBBS, DETROIT LIONS
Hiding somewhere in Robinson's shadow is possibly the most intriguing running back prospect in this class.
Theoretically, Jahmyr Gibbs has the highest upside among all of the 2023 backs. Think I'm crazy? Let's break down the numbers.
Over the last three seasons, the average, run-of-the-mill running back rush attempt yielded an average of 0.485 fantasy points per opportunity. Meanwhile, running back targets averaged 1.380 FPPO — meaning targeting the running back was 2.85x more valuable in terms of fantasy production. In the red zone, running back rush attempts averaged 1.355 FPPO vs. 2.185 FPPO for red-zone targets to the position. While not quite as jarring as 2.85, running back targets in the red zone are still worth 1.61x more than running back handoffs.
So, what does that have to do with Gibbs?
Well, despite his small stature, the 5'9″ 199 lb. back still scooted his way to an alluring 4.36 40 and is a true pass-catching weapon. He boasts an impressive running back route tree and can even be used effectively in the slot and out wide.
How valuable is that? Just think of the names Austin Ekeler, and Christian McCaffrey to name a few.
Gibbs is not just a gadget/weapon in the receiving game. He is also a dynamic runner with the ball in his hands. At Alabama, he ran the ball 151 times for 926 yards and seven trips to pay dirt. He also caught 44 passes for 444 yards and three more scores.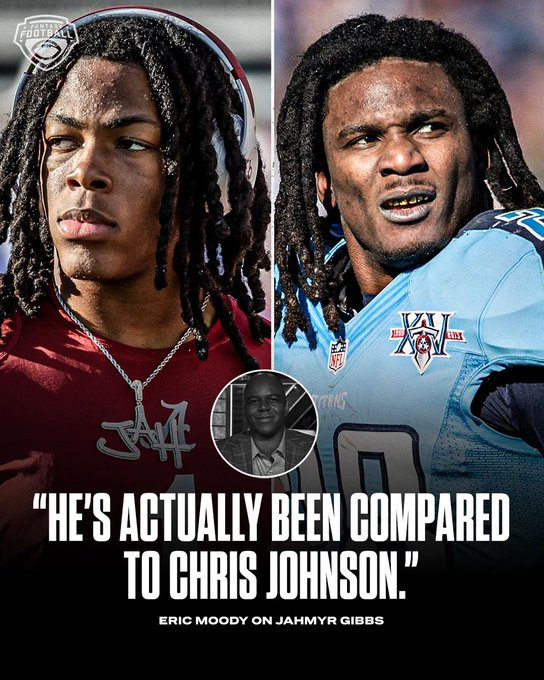 Gibbs has been described as "quick as a hiccup and makes impressive full-speed cuts using sudden steps and varied tempo to create his own run lanes," according to The Athletic's Dane Brugler. He is slippery in the open field and displays good contact balance, allowing him to shake off and squirm away from tackles for a few extra yards. He ranked third in the SEC in yards per carry (6.1).
His size and lack of true high-volume production are what keeps Gibbs from challenging Robinson for the top spot in the rankings and he never eclipsed 200 touches in college.
Still, there should be more than enough targets to elevate Gibbs' stock. In 2022, Lions OC Ben Johnson targeted running backs 115 times (19.6%), with five targets per game going to former Lions running back D'Andre Swift. Gibbs is the clear RB2 in this class and should be treated as such.
3. ZACH CHARBONNET, SEATTLE SEAHAWKS
Ladies and gentlemen, can we get a round of applause for Pete Carroll and the Seahawks for absolutely destroying two juicy fantasy running backs at once?
Pour one out for the Kenneth Walker and Zach Charbonnet stans. As long as both are healthy, neither will be more than middling fantasy values.
So, why is Charbonnet my RB3? Talent.
At UCLA, he toted the rock 398 times for 2,511 yards and 27 touchdowns at a clip of 6.31 YPC. Not to mention he is a bulky 6′ 214 lb. back who can plow over defenders and quickly accelerate.
Charbonnet averaged a nice 4.15 YAC/att. and around 22% of his carries went for first down. Oh, and he also caught 60 targets for 501 yards.
Walker, when he got the keys to the kingdom after Rashaad Penny went down to injury, averaged 16.4 points per game in the games he finished. It's worth noting Walker did start the season injured and missed another game due to injury, so he is not without injury concern.
UCLA head coach Chip Kelly described Charbonnet as "his work ethic on our team is second to none."
It's worth noting Charbonnet has a better resume as a pass catcher coming in, but the Seahawks only targeted the running backs on 14.7% of the team's pass attempts. This backfield smells like a dead-split situation and the two backs will cannibalize each other's values in 2023.
4. DEVON ACHANE, MIAMI DOLPHINS
What if I told you an SEC running back caught 60 total passes across two seasons as a primary player landed in a perfect schematic landing spot with day two draft capital?
Some would immediately get excited and some would immediately be skeptical. What about his rushing ability? Was he just a gadget player in an underachieving offense?
Devon Achane, who stands 5'8″ and weighs 188 lbs soaking wet, electrified the gridiron while at Texas A&M. As for his workload? He totaled 369 rush attempts, with almost half of those coming in his final season. Despite questions surrounding his size at the next level, Achane went to the Miami Dolphins in the third round. Oh… and did I mention, he has legitimate 4.32 speed?
Along with accumulating 2,376 rushing yards and 554 receiving yards for the Aggies, Achane ran a 10.14 100m. and a 20.20 200m. on the track. For context, the standard 200m. Olympic qualifying time is… 20.24.
Between 2017 and 2022, running backs taken in the third round have an RB1 hit rate of 22.2% and a hit rate of 27.8% as an RB2. Not exactly a glowing endorsement. But, the pedigree is still there for fantasy value being extrapolated in the third round.
Why are Achane and Miami a dream fit? The first answer that comes to mind is speed, and not just speed in the receiving game. Raheem Mostert boasts 4.38 speed and operated as the primary running back for Miami last season.
Of Achane's 181 rush attempts in 2022, 114 came from zone-running schemes and 61 of the remaining 67 came from gap-running schemes. As a whole, Miami utilized zone schemes on 54.8% of their rush attempts and 32.4% came from gap-running concepts.
According to Pro Football Focus, Achane boasted an elite rushing grade and gap running grade along with a strong zone-rushing grade. In 2022, Achane averaged 3.6 YCO/att and continued to build on his strong pass-catching ability.
"He's a tremendous human being, player, leader, competitor, and he has nothing but heart and toughness about him in everything he does," Jimbo Fisher said about his star running back.
Achane does not profile as a high-ceiling workhorse running back and will likely split time with Mostert and Jeff Wilson Jr. in 2023. Drafting Achane is betting on his speed, talent, and schematic fit with the offense and trusting him to separate himself from the rest of the running backs by 2024.
5. KENDRE MILLER, NEW ORLEANS SAINTS
Elijah Mitchell in 2021, Dameon Pierce in 2022, and now Kendre Miller in 2023.
Like Mitchell and Pierce before him, Miller is the undervalued, high-upside running back I have planted my flag on.
After Zach Evans departed to Ole Miss, Miller took over the starting role at TCU in 2022 and immediately looked like a dynamo. He toted the rock 224 times for nearly 1,400 yards and 17 touchdowns.
At first glance, it doesn't look like Miller landed in too sexy of a fantasy spot. The Saints added him to a crowded running back room alongside Alvin Kamara and Jamaal Williams.
Miller, who averaged 6.7 YPC in college, is a strong, hard-to-bring-down bruiser who doesn't shy away from contact. However, he is far from your stereotypical plodder. His 5'11" 215 lb. frame allows him to thrive through contact but he also displays strong lateral agility, which allows him to glide through the crowd at the line of scrimmage.
In college, he posted an elite 119.9 elusive rating and also produced an elite 3.64 YAC/att. An MCL injury he sustained in the College Football Playoff held Miller out of the title game and the NFL Combine, which might've allowed him to slip down draft boards.
Still, on tape, Miller displayed good vision, strong contact balance, and more than enough speed to rip off chunk yardage and take runs to the house. In fact, in 2022, he ranked tied for 18th in college football with 21 carries of 15+ yards and was tied for 21st with 70 missed tackles forced.
"It all goes back to height, weight and speed. Loved his running style," Saints assistant GM Jeff Ireland said of Miller. "He's a down-hill runner, runs with great pad level. He's got explosive breakaway speed in the open field. He's creative. He makes people miss … And we just felt like, man, this is too good to be true."
With Kamara potentially facing a lofty suspension due to off-field concerns and the 28-year-old Williams teetering on the RB age cliff, Miller will have an opportunity to produce earlier than many think.
6. TANK BIGSBY, JACKSONVILLE JAGUARS
Perhaps one of the more intriguing draft selections, Tank Bigsby, joins Travis Etienne in the Jaguars backfield.
Doug Pederson has a long history of using multiple running backs, particularly as the Eagles' head coach from 2016 to 2020. In three of those five seasons, Pederson's teams ranked inside the top 10 in rush attempts and ranked 11th or better in rush yards in four of those five seasons.
Last season, before handing the keys over to Etienne full-time, James Robinson served primarily as the lead running back for weeks 1 through 6 but touches became more evenly split.
In college, Bigsby displayed natural power with the ability to turn corners with explosiveness. He displayed good burst and body control and displayed competent, fluid pass-catching capabilities. Bigsby's elusiveness is perhaps his most redeeming quality, with a PFF elusive rating of 139.9.
Bigsby is a perfect compliment to Etienne with home-run hitting ability in his own right and offers league-winning upside should Etienne go down with an injury. He's worth the flier.
7. TYJAE SPEARS, TENNESSEE TITANS
Tyjae Spears was taken in the third round by the Titans. That means in 2023 he'll be buried behind Derrick Henry. Yet, the conversation still has to be had because Henry will be 30 years old at the start of the 2024 season.
Henry has eclipsed 1,500 rushing yards in three of the last four seasons, and in each of those three seasons, Henry has also seen over 300 rush attempts. Still, rumors swirled about the rebuilding Titans looking to trade him. This makes Spears an interesting 2023 stash in case Henry goes down with an injury, but his 2024 outlook is tantalizing!
On the flip side, Spears' concerns lie with his multiple ACL tears in the same knee, and there are reports stating he does not have an ACL in that knee. The word degenerative knee was also thrown out, and that strikes fear in all who remember the rapid fall of Todd Gurley.
When asked about his knee, Spears reiterated, "I am healthy."
"I was out there," Spears said, via NFL.com. "I did everything. So, I feel perfectly fine. Nothing wrong with me. I'm healthy."
On the field, Spears is borderline awe-inspiring. As a full-time starter at Tulane during his final year, Spears rushed for nearly 1,600 yards and 19 TDs. He also caught 22 passes for 256 yards and two scores.
Despite being 5'9″ and weighing 201 lbs., Spears averaged 4.52 YAC/att and displayed consistently quick feet, lateral agility, and explosive cutting skills. At the Senior Bowl, Spears was voted the Senior Bowl practice player of the week by NFL scouts.
He is an enticing, but risky running back prospect with a high ceiling. If the reports are true surrounding the state of his knees, his shelf-life could likely be very short.
8. ROSCHON JOHNSON, CHICAGO BEARS
Let me tell you a story.
Out of high school, Roschon Johnson was the top-ranked quarterback, yes quarterback, in the state of Texas. He had scholarship offers from the likes of Ohio State, Oklahoma, Penn State, and Texas A&M to name a few. But, he fulfilled his childhood dream of earning a full-ride scholarship to play for the Longhorns.
Once he landed in Austin though, this man just had the misfortune of playing behind Bijan Robinson and Keontay Ingram and never got the opportunity to shine. Sometimes, history has a funny way of repeating itself.
Johnson was drafted by the Bears, who shipped off David Montgomery after Kahlil Herbert's breakout campaign and also brought in another former Longhorn in D'onta Foreman. That backfield is crowded!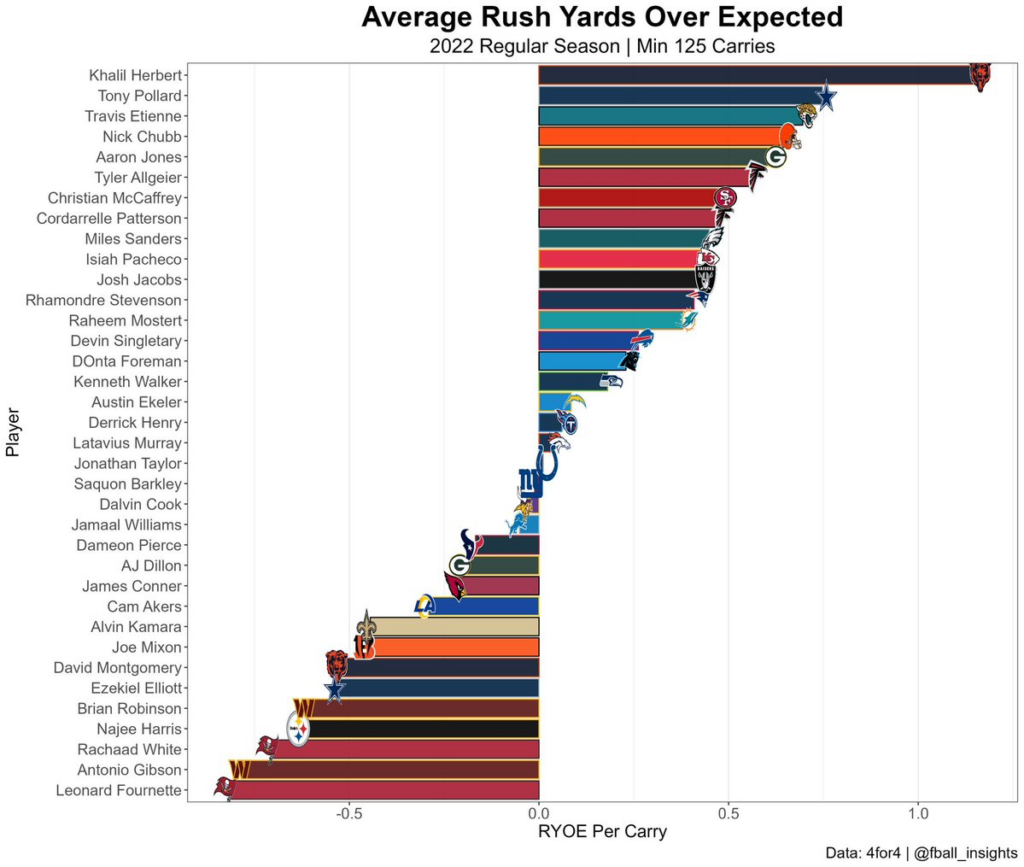 Herbert led the NFL in rush yards over expectation per carry and averaged 1.71 fantasy points over expectation (per game) based on opportunity. Meanwhile, Foreman averaged 2.91 FPOE/g. The rookie faces an uphill battle but has tremendous upside if he wins the job.
Here's the rub, Johnson is the only one of the big three who boasts valuable third-down skills, especially in the pass-catching game. Should he get third-down work, Johnson could easily take over as the lead back in 2023 and have a stranglehold on the job in 2024.
9. ZACH EVANS, LA RAMS
Zach Evans is an enigma. He has an intriguing draft profile.
Evans was the No. 2 overall running back in class behind Robinson. In fact, he was the highest-ranked running back recruit in the state of Texas since Adrian Peterson.
After some issues during his recruiting process, Evans signed with TCU and his tumultuous college career began.
The positives: Evans never averaged less than 7 YPC across two seasons at TCU and averaged 6.5 YPC at Ole Miss in 2022. He is a sleek, powerful runner with good burst. He displayed an ability to power through tackles at the second and third levels. He also displayed fluid pass-catching skills while on the move.
The negatives: Evans was overshadowed at both TCU and Ole Miss and never saw more than 144 carries in a season. He also failed to eclipse 1,000 yards in any season. Evans was expected to be the guy after transferring to Ole Miss and was quickly overshadowed by incoming freshman Quinshon Judkins.
After "falling" in the 2023 NFL Draft, Evans landed with a descending Los Angeles Rams team and is behind incumbent starter Cam Akers, who appears to have finally fully recovered from his 2021 torn Achilles injury and is only 23 years old.
Evans' path to fantasy relevance is currently dependent upon Akers being injured or struggling early. He is most likely a high-upside handcuff for the next two seasons.
10. CHASE BROWN, CINCINNATI BENGALS
Chase Brown is built like a track star.
Most of his 5'9″ 212 lb. weight comes from his tree trunk-sized thighs. The fifth-round draft pick out of Illinois is one of the most divisive running backs in this class.
What makes him so appealing are his crazy measurables and evident on-field athleticism.
Brown's 4.43 40-yard dash time puts him in the 93rd percentile in the class and an 89th percentile speed score, according to PlayerProfiler.
He finds himself in an intriguing situation with the Bengals. Joe Mixon is no spring chicken and was drastically less efficient than his previous season after falling from 4.9 YPC to 3.5. Throw in what, at one point, seemed like a never-ending carousel of legal issues, and he was suddenly a really risky dynasty piece.
Brown, should Mixon get injured, suspended, or benched, would have an immediate opportunity for fantasy relevance. Last season, Mixon's usage and opportunity should have equaled around 15.8 expected fantasy points, about 0.93 fantasy points per game better than his actual output of 14.9 fppg.
This doesn't mean Brown will have no opportunity for relevance with Mixon in the fold. In fact, as the change-of-pace running back, Samaje Perine's usage should have equaled about 8.3 expected fantasy points.
As for on the field, Brown displays excellent linear explosiveness between his top-end speed and 95th-percentile burst. He is also a fluid pass catcher and can rip off chunk plays in the open field.
What made Brown fall to the fifth round is, despite having powerful, driving legs, he doesn't run through his tackles and play through his pads. In other words, he doesn't generate much yardage after contact. So goal-line work and short-yardage situations will not likely be where he shines.
Also, he also does not offer much in pass protection. He often allows defenders to drive him back with little to no resistance, despite being a willing blocker. Thus, third-down work will likely be limited for Brown as well.
With Brown's role appearing to be relevant and him having legitimate upside should Mixon not be on the field, he is an interesting dynasty stash, at least in 2023. The Bengals' running back uncertainty in 2024 makes him a risky long-term investment.
THE REST:
11. Sean Tucker – Tampa Bay Buccaneers
12. Chris Rodriguez Jr. – Washington Commanders
13. Deuce Vaughn – Dallas Cowboys
14. DeWayne McBride – Minnesota Vikings
15. Eric Gray – New York Giants