Dameon Pierce was just starting to get some traction in the fantasy football and dynasty community prior to the draft. Those with savvy eyes for running backs and/or a keen understanding of numerical data and analytics were quickly able to pinpoint Pierce as a person of interest.
The 5'9″ 218-pound bull from the Florida Gators was taken by the Houston Texans in the fourth round. Immediately, those in the fantasy community were intrigued when Pierce's name was called.
With great interest comes great scrutiny and many differing opinions.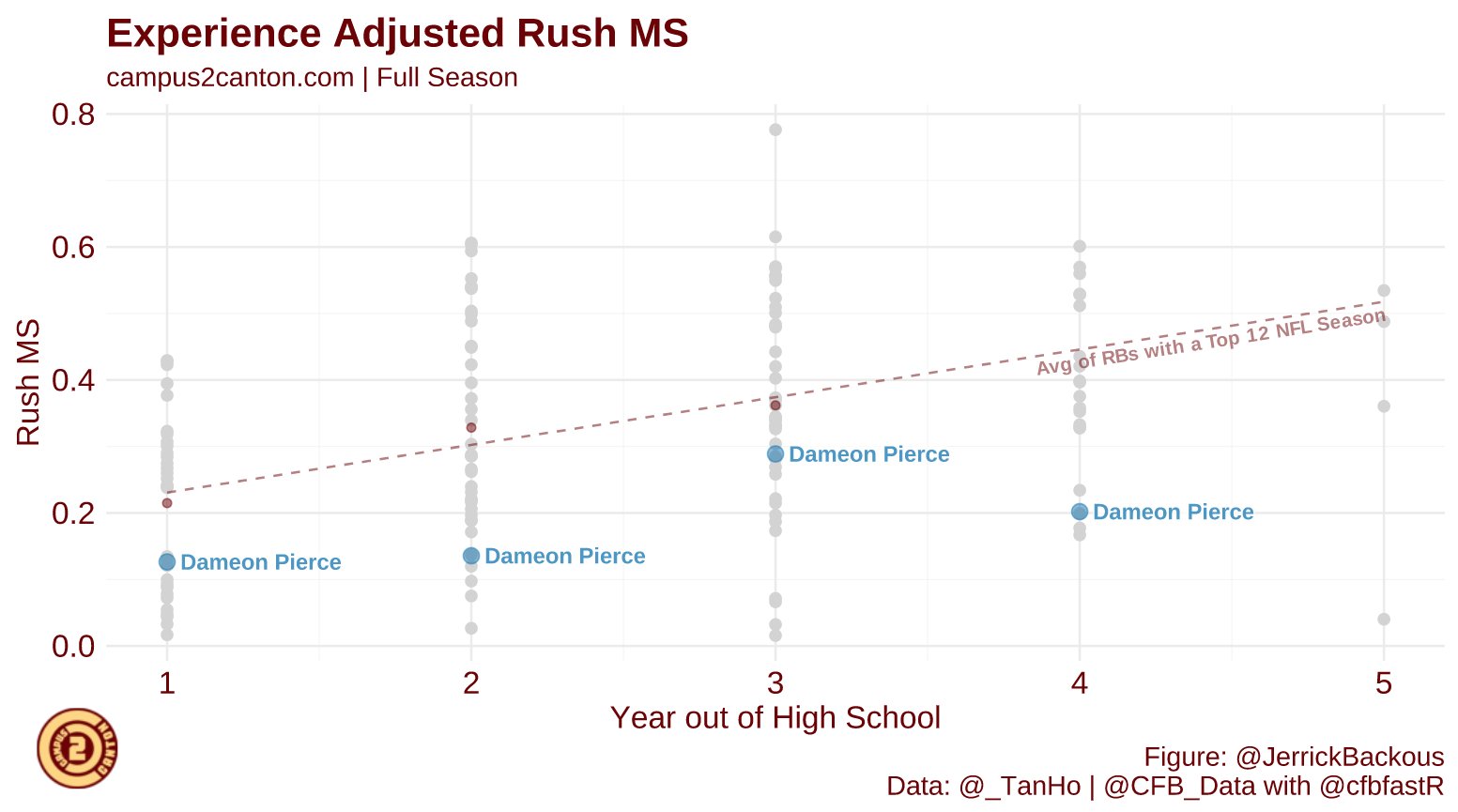 It's true. Pierce never saw more than 28% of Florida's rush attempts. That naturally raises eyebrows into exactly why someone like Pierce never saw more run at Florida. The general consensus is… well former Florida Gators head coach (emphasis on former) Dan Mullen and his coaching staff were incompetent.
Pierce possesses all of the on-field traits fantasy football players so highly covet.
He ranked fourth overall in Graham Barfield's "Yards Created" metric for the 2022 class, with an alluring 4.53 YC/A. What makes Pierce most alluring is his elusivity in both the rushing and the receiving game.
Pierce averaged:
0.310 missed tackles forced per attempt (MTF/A), which ranks second in the class behind only Kenneth Walker
0.380 MTF/Reception which was first in the class
For context, Pierce ranks ahead of the likes of Travis Etienne, Javonte Williams, and Breece Hall in receiving game elusivity and right behind Kenyan Drake, Kareem Hunt, and Derrick Henry.
Being able to do things like this also helps.
Due to his skill-set and backfield competition, Pierce should have ample opportunity to see the field early in Houston.
Dane Brugler of The Athletic scouted Pierce as part of his 2022 NFL Draft Guide:
His scouting report described Pierce as having "outstanding contact balance and feel between the tackles… displays sharp footwork and body control to hug blocks and burst to open space." Brugler also noted that, despite only seeing 19 targets, Pierce caught every one including "a few seam and wheel routes", which indicates Pierce's hands are not a problem.
Furthermore, Pierce created over 5 yards on 38% of his rush attempts, according to Barfield.
THE LANDING SPOT IS JUICY
As far as projecting team touchdown total, Pierce is doggy-paddling in the shallow end of the league swimming pool. The Texans scored eight rushing touchdowns, which was good for 31st in the league last season.
However, the Texans did have a solid NFL Draft and selected Kenyon Green, a guard out of Texas A&M, who is a mauler in the run game and should help solidify their offensive line.
More importantly, the Texans ranked 23rd in rush attempts last season. Adding more help to the offensive line and not blowing the bank on weapons in the passing game seems to confirm the team's dedication to running the ball.
As far as roster competition, well, Pierce is very likely to be the most talented back on the roster on day one.
Pierce will be competing with the likes of:
Marlon Mack: An average running back with no elite qualities and appears to be over the hill after his 2020 Achilles tear
Rex Burkhead: He will be 32 prior to the start of the season and averaged 3.5 YPC last season
Even better, Texans OC Pep Hamilton has experience in deploying a feature back. In 2015, Frank Gore saw 318 opportunities alone. But when he did not have a feature back, he's had to use a committee, such as in 2013 and 2014 when he had to pick between Trent Richardson, Donald Brown, and Ahmad Bradshaw.
2022 FANTASY OUTLOOK
Pierce has a great opportunity to take over from the opening jump. However, the most likely course of action will be that Mack starts the year as the lead back and Pierce splits receiving work with Burkhead.
Drafting Pierce as anything more than a re-draft sleeper and a second-round dynasty draft pick would be risky. Most likely, Pierce will begin his breakout after the team's bye week and should be the lead back by the end of the season.
Pierce comes in at RB43 on The Wolf's 2022 Fantasy Football Rankings.