If you haven't checked out my comprehensive guide on how to dominate an auction draft, please click the links below. Part 1 includes an overview of my fantasy football auction draft philosophy, plus an amazing Excel tool to help you set the perfect player prices. This Excel tool generates the suggested prices below.
The previous series lays out a comprehensive auction strategy, but this article takes a deeper dive into specific players I am targeting in auction drafts this year. Auction prices are based on a 10-team, half-PPR Yahoo league. If your league is different, download the tool and input your league settings to get your own custom auction values!
DATA EXPLANATION
The below data is based on 2021 games. When calculating these values, I removed all games where a player got injured and left the game early while missing a significant amount of their normal snaps.
XFP calculates the value of each target and rushing attempt based on the distance to the end zone and air yards. These historical data attributes correlate highly with actual fantasy points scored (PPR scoring).
For more information on Expected Fantasy Points and to utilize our XFP data tool, click the link below:
RSJ'S XFP TOOL: CARRIES, TARGETS, AND AIR YARDS FOR EVERY PLAYER
The Wolf's 2022 Draft Guide is HERE!
100+ Pages of The Wolf's fantasy soul + Projections & Auction Prices
UNDERVALUED 2022 AUCTION PLAYERS
CHRISTIAN MCCAFFREY
Fair Value: $67, Current Yahoo AAV: $61

Christian McCaffrey should be the number one pick in 2022 drafts. He has the most upside of any player in fantasy football. He ranked first among all running backs in points per game, and first among all players in XFP per game last season in his five healthy games.
After removing injured games as explained above, CMC still beat out Derrick Henry (21.5) in XFP, Cooper Kupp (21.2), Alvin Kamara (20.4), and Jonathan Taylor (18.8) in addition to all other players. He also finished behind only Kupp in points per game despite scoring only two total touchdowns in his five healthy games. He even finished as the RB1 overall without scoring a touchdown in Week 1, which tells you all you need to know about his weekly upside.
McCaffrey is the only player in auction drafts who is guaranteed to smash his average price if he can stay healthy. He was worth an astounding $87 according to the tool last year.
Dr. David Chao and Edwin Porras, DPT are both optimistic that McCaffrey can stay healthy this season.
To summarize, running backs get injured a lot in the NFL, but none of McCaffrey's previous injuries appear likely to reoccur this season. The medical professionals referenced above do not believe he is significantly more likely to get injured than other players at the position.
Take the gamble on CMC's nuclear upside and watch him single-handedly carry your team to wins.
ALVIN KAMARA
Fair Value: $46, Current Yahoo AAV: $39

Part of the reason for Kamara's discount is that he could be facing a suspension for an alleged assault during Pro Bowl weekend last season. However, Adam Schefter is reporting that it is "more and more unlikely" that Kamara will be suspended in 2022. Attorney Drew Davenport, the best fantasy football legal analyst in the business, agrees.
Kamara should be on the field in 2022, and when he is on the field, he is fantastic. His 20.4 XFP per game trailed only McCaffrey and Henry last year. An improved Saints offense could lead to more scoring opportunities for Kamara this year, and he has still produced elite numbers with Jameis Winston at quarterback.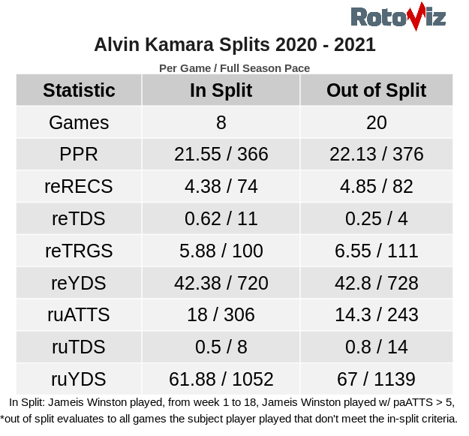 JALEN HURTS & KYLER MURRAY
Hurts Fair Value: $20, Current Yahoo AAV: $6
Murray Fair Value: $21, Current Yahoo AAV: $6
I believe there are six quarterbacks who can realistically finish as the QB1 overall in 2022: Josh Allen, Patrick Mahomes, Justin Herbert, Lamar Jackson, Jalen Hurts, and Kyler Murray. Each player is either an elite passer, an elite rusher, or both, and all offer at least some rushing upside.
I have no problem targeting Josh Allen ($33 AAV), Patrick Mahomes ($14), Justin Herbert ($15), or Lamar Jackson ($14) in your auction draft if you can fit them in your budget, but they do have a significant opportunity cost.
Hurts and Murray are my top targets in auctions because they are going so cheap. At an average price of just $6, you can find room in your budget on almost any team. I would slightly prefer Hurts over Murray because Hurts has significantly more rushing upside and better weapons, but either is great. I primarily want access to an elite QB ceiling for as little cost as possible, and both guys fit the bill.
As you can see below, the value of an elite QB is absurd relative to their cost. Hurts or Murray could potentially provide you with an extra win for just a few bucks, which could be the difference in securing a first-round bye and getting knocked out in the first round of the fantasy playoffs.
BRANDIN COOKS
Fair Value: $16, Current Yahoo AAV: $5

Cooks is an extremely solid, cheap option at receiver. If you spend big on running back and grab McCaffrey and Kamara, you can still easily fit him into your budget. Cooks averaged 15.8 XFP per game last season, which was good for WR15. He secured 130 targets over his 15 healthy games, yielding an elite 26.7% target share across those games.
Cooks is a target monster, and the Texans still have nobody else on the roster to compete with him for targets. If he simply repeats last year's numbers in a very similar situation, he will be a steal at his $5 price tag. In addition, there's always a chance that quarterback Davis Mills takes a step forward as he enters his sophomore season and elevates Cooks to WR1 status.
The Wolf's 2022 Draft Guide is HERE!
100+ Pages of The Wolf's fantasy soul + Projections & Auction Prices