As the Roto Street Journal staff dives into its own dynasty startup league for the 2021 season, the redraft insight on RSJ will naturally include more and more of a voice on how players are affected in the dynasty world.
Almost immediately into the 2021 NFL Draft, the falling dynasty value of Bengals receiver Tee Higgins couldn't be ignored. Not to rag on Higgins' talent, it wasn't unreasonable to think he could take over as the alpha WR over an aging AJ Green. It showed promise when he was the PPR WR11 from the time he burst onto the scene in week 3 until Joe Burrow's season-ending injury in week 10. But, when Cincy drafted Ja'Marr Chase at 5th overall, in an unprecedented year for QBs being reunited with their premier playmakers, that prospect essentially became a pipe dream.
Chase brings elite physical traits that scream alpha-dog, drawing comparisons to Julio Jones, considered best comparable to Odell Beckham Jr. by Player Profiler, and the list goes on. In dynasty, there's no shame in taking him as the first receiver off the board in rookie drafts, or the first rookie WR off the board in startups.
Redraft, however, begs the question. Can you trust a rookie receiver to produce? Receivers haven't been known to hit the ground running… until last season.
Rookies like Justin Jefferson, CeeDee Lamb, and the aforementioned Higgins broke out within a month of last season and never looked back (when their franchise QB was healthy, anyway).
SPEAKING OF JUSTIN JEFFERSON…
There's no denying Chase's high floor once he's up to speed with the pro game. And, we now have plenty of evidence not only that it can be done hyper-quick, but that Chase can do it with his old LSU teammate Joe Burrow. Burrow has already done it with Higgins, and if Ja'Marr's comments on reconnecting with his former LSU teammate during OTA's is any sign of what's to come, Ja'Marr could break out in week 1. Per Bengals.com Senior Writer Geoff Hobson:
"We can look at each other and already know what we're thinking," said Chase, who said it has happened during these last two weeks of voluntary practices. "I just knew it. I just know sometimes. I had a feeling."
So what could possibly hold back such an already established, uber-productive connection that made college football history in 2019? Check out what the scouts say about Chase and another old LSU mate Justin Jefferson and you'll find the same concern. Yes, the physical traits are great, but the route running could use a little work. Well, that didn't stop Jefferson from being the PPR WR4 from week 3 on last year.
Still, route running is the most important part of a receiver's game, and maybe Ja'Marr doesn't come into the league with quite the prowess in that area like DeVonta Smith does. Fortunately, Chase's route-running chops aren't thought to remain a liability.
As Pro Football Network's Tony Pauline's report noted, Ja'Marr's issues with that aspect of his game is more about being "more focused" on the art. And Chase's understanding of route nuance means "he'll only get better" as he works to master it.
IS 2020 JUSTIN JEFFERSON A REALISTIC CEILING?
Doubtful. Chase could definitely lead the Bengals in targets this season as Jefferson did for the Vikings. However, Minnesota only has two fantasy-relevant receivers in Jefferson and Adam Thielen. Cincy will be dolling out a trio of Ja'Marr, Higgins, and savvy veteran Tyler Boyd. Minnesota's third-highest targeted player was Dalvin Cook, with 54. Whoever's third in targets for the Bengals will certainly see more than that.
Despite the stock drop that we can expect from having to contend with two other viable fantasy receivers instead of one, a couple other factors help negate that difference, perhaps completely. If you've read Kendall Brown's dive into Joe Mixon and Joe Burrow, you're already familiar with this..
#Bengals with a healthy Joe Burrow Weeks 1-10 (versus without Weeks 11-17)

Points per game: 22.7 (15.3)
Plays per game: 1st (31st)
Situation-neutral pace: 8th (30th)
S-N pass rate: 1st (23rd)

No one had more opportunities (carries + targets) than Joe Mixon through 6 weeks.

— Pat Thorman (@Pat_Thorman) March 25, 2021
The Bengals offense could contend for the most plays per game this season. And, they didn't make moves in free agency or the draft to substantially improve a mediocre defense from a year ago, lending themselves to another pass-happy year. So while Ja'marr may have to fend off Higgins and Boyd to try and reach a volume like Jefferson's, it is possible. With a more pass-heavy scheme than the Vikings had last season and a subpar D like this year's looks to be, Joe Burrow threw 40.4 times per game last year, as opposed to Kirk Cousins' 32.3.
HOW FAR DO THE STOCK VALUES FALL FOR HIGGINS AND BOYD?
Even though a full season of Burrow throwing 40 times a game would've been second in the NFL in pass attempts, three top-24 fantasy receivers is still quite the stretch. Burrow had no problem spreading the ball around, hitting at least six different receiving options in every full game he played last year, with at least seven players getting at least one reception in seven of those nine games. Chances are someone is left out of being a fantasy WR2, probably Boyd. While he barely out-targeted Higgins last season 110-to-108, his yards-per-target was 7.6 to Higgins' 8.4, and Boyd has the least touchdown upside because of his prominence playing in the slot.
Expert Consensus Rankings reflect this, and are a little more bullish on them than The Wolf in his 2021 Big Board And Rankings, with The Wolf currently having Higgins as the WR28 (-2 vs ECR), and Boyd the WR41 (-4 vs ECR).
COULD CHASE WARRANT ANCHOR STATUS AS A ROOKIE?
If you've seen how I approach draft strategy in redraft leagues, you know that I'm drafting players for their mid-season form and not putting too much stock in a slow start. And Chase is a perfect example of a player who I'd beware of taking a few weeks before hitting his stride, but not let very early struggles affect my rankings.
Ja'Marr can definitely hit Justin Jefferson's 2020 mark of 125 targets. Jefferson's 15.9 yards-per-reception may be hard to match, but Ja'Marr is the receiver most equipped to handle the deep shots and field stretching in Cincinnati.
Take the old storylines of how long it takes wide receivers to break out in the NFL and yeet them out the window. Reunited with Joe Burrow, Ja'Marr Chase is locked in as a rock solid anchor for me as he and Burrow look to make history in the pros like they did at LSU.
The Wolf has Ja'Marr as his WR1 and second overall in his Dynasty Rookie Rankings, but isn't bullish on his ability to anchor your roster in redraft leagues just yet, coming in as his WR25 (+3 vs ECR) on his 2021 Rankings and Big Board. I naturally rank him higher because me and Ja'Marr would make a great puzzle on Wheel of Fortune…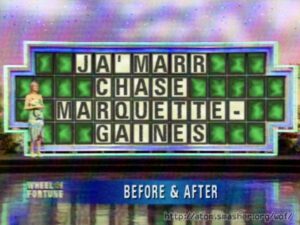 …alright, so I'll probably, likely, be gaining valuable experience running a rebuilding process after year one of RSJ's dynasty league, but c'mon, have a little more faith in me than that.