Player Stock Ticker
Joe Mixon 2021 Fantasy Outlook: Can We Ride the Mixon Express Again with Gio Bernard Gone?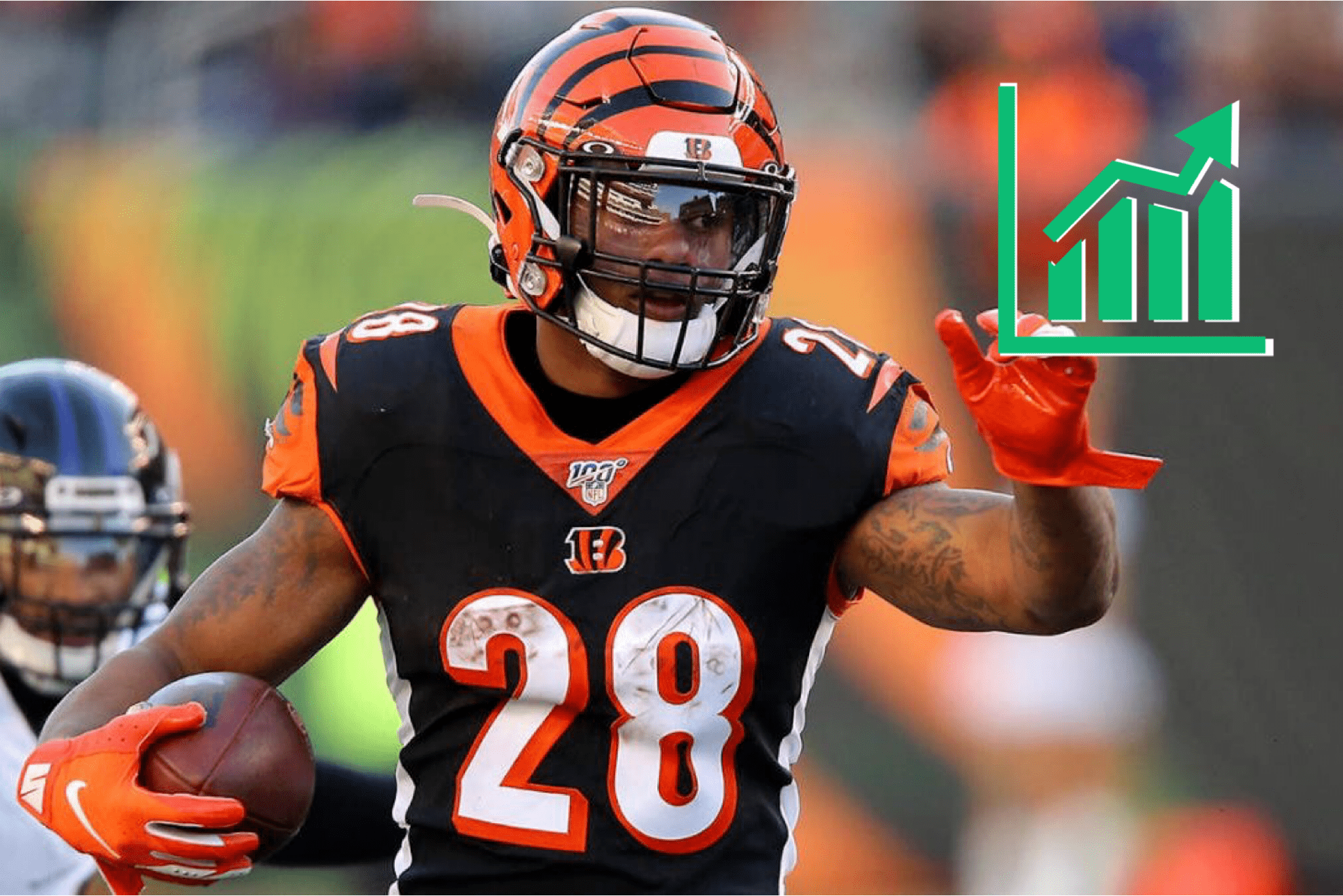 It's hard to believe Joe Mixon is already entering his fifth season in the NFL. He definitely disappointed people last year after a foot sprain cost him the last 10 games of the season. Even still, I am ALL IN on Mixon again in 2021 fantasy football leagues given his vastly improved outlook: Gio Bernard is gone, the offense should be a juggernaut with Ja'Marr Chase added, the offensive line is improved, and Mixon should get a boatload of touches.
Let's dig in and see why you too should be willing to risk another Mixon heartbreak in 2021.
Mixon Thus Far: Elite Flashes, Marred with Inconsistency
Mixon entered 2020 on the heels of two seemingly strong seasons, finishing as the RB9 and RB13 in 2018 and 2019, respectively.
Yet, any Mixon fantasy owner can recognize the wild ride he's provided, illustrated perfectly by RotoViz's excellent NFL Stat Explorer tool.
Mixon provided his most consistent and highest-scoring campaign in 2018: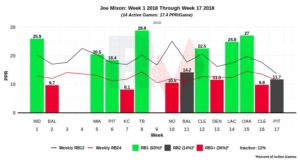 On the precipice of stardom, Mixon became a popular late first/early second fantasy pick in 2019, only to crush his owners' soul to begin the season: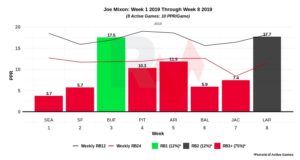 Just one top-12 game across his first eight, and really only two useful fantasy performances.
Granted, he closed the year much stronger. New HC Zac Taylor stopped reducing Mixon to committee duties with Bernard, and fully unleashed his Ferrari. The results were glorious: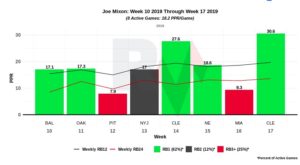 Finally, Taylor had woken up! Though this strong finish was often too-little-too-late for his owners, the results were night-and-day, and had many owners – like our own Wolf – ready to get back in:
Once Taylor committed to Joe Mixon after the Week 9 Bye, he went from:

FPPG: RB41 (10) –> RB7 (18.2)
Touches: RB28 (15) –> RB3 (24.1)
YFS: RB39 (53.8) –> RB3 (124.3) + 70 YFS!

Better line, QB, & skill talent now in place. Top-3 RB season well within Mixon's range of outcomes https://t.co/9KYJUrlplK pic.twitter.com/ZdnNimRJzQ

— Wolf of Roto Street (@RotoStreetWolf) August 10, 2020
How did Mixon reward us for our restored faith? Any owner knows the painful ride of Mixon's six active 2020 weeks: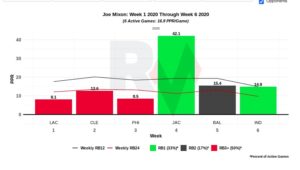 Three straight dismal week ruiners, a blow-up he may have been on your bench for, and then ending the season prematurely due to injury. 
Still, some positive signs emerged. For one, the usage steadied out after Weeks 1-3. In fact:
Joe Mixon led the NFL in touches pre-injury and the Bengals basically declined to add a real replacement for the mustache man.

Starting to think the dude needs to be a top-eight fantasy football RB.

— Ian Hartitz (@Ihartitz) May 2, 2021
He was on pace for 386 total opportunities (317 rushing attempts and 69 targets), most in the league. This pace would have put him in second behind only King Derrick Henry in rushing attempts. His target pace would have been good for 6th in the league among RB's. Of the RB's to rank ahead of him in targets, Ezekiel Elliott is the only one who comes close in rushing attempts at 244 last season. 
Mixon was being fed a TRUE bellcow workload, and that was with Bernard still on the roster. Now, Mixon's 2021 fantasy outlook is even rosier.
KEY CHANGES TO MIXON'S 2021 FANTASY OUTLOOK
SURROUNDING TALENT
Offensive line
The Bengals offensive line's PFF run-blocking grade in 2020 (65.0) was good (or should I say bad) for 21st in the NFL. Joe Mixon doubters may use the argument that Mixon is not worthy of his draft price because of his poor offensive line. 
My counterargument to that would be that Mixon has proven that he can be productive behind a porous offensive line in both 2018 and 2019, where the Bengals offensive line had a run-blocking grade ranking  25th and 31st in the league, respectively. 
The Bengals at least tried to address the need with two offensive linemen drafted in this year's draft. I admittedly don't know a ton about the Bengals 2nd and 4th round OT selections, but the team believes their 2nd round rookie, mauling tackle Jackson Carman from Clemson, can be a day one starter. He'll bookend the line with former first-rounder Jonah Williams, who continued improving as 2021 went on.
Simply put: the line can't be any worse than the ones Mixon has churned RB1 numbers behind. Any assets used to help Joe Mixon rack up some yards and Joe Burrow stay healthy, we will happily take. 
Running Backs
Let's start with Mixon's position — RB and the Bengals additions – or lack thereof. Currently, the Bengals depth chart is looking pretty bleak aside from Joe. Here's a look at the depth chart: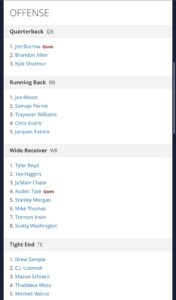 The lack of depth in this backfield is a major positive for Mixon. Truly, who is going to steal work from him? Moreover, Mixon's receiving abilities should be leaned on even more heavily with Bernard now gone.
Bernard's missed just four games since Joe Mixon entered the league. In those games, Mixon averaged 19 PPR points per game and, most importantly, never saw worse than a 12.5% target share. https://t.co/lehC9mKWUN

— JJ Zachariason (@LateRoundQB) April 8, 2021
Giovanni Bernard is the exact player you hate to see when you are the fantasy owner of a top-end RB. The scat, passing-down back who vultures just enough snaps and targets away from your star to keep them from superstardom. 
Over the course of Bernard's eight-year career with the Bengals, he averaged 57 targets per season. Granted, Taylor was only the coach the last 2 seasons, where Bernard averaged 50. But that's still 50 RB targets that have to go somewhere. Mixon may not receive all of those targets, but he should siphon enough to unlock his true RB1 ceiling.
Especially when you consider the offense he'll now be running with.
Wide receivers
The addition of elite WR prospect Ja'Marr Chase will be HUGE for this offense. We saw what Chase's college teammate, Justin Jefferson, was able to do in his rookie season, and by all accounts, Ja'Marr is the better prospect; he outperformed Jefferson when they shared the field as Joe Burrow's preferred target, racking up over 1,700 yards receiving and 20 touchdowns. 
Meanwhile, Tyler Boyd has been a steady possession receiver for three straight years now and Tee Higgins flashed genuine WR1 upside throughout his rookie year.  
Simply put: the Bengals could be among the most difficult offenses to stop in 2021. They were already on an impressive pace during Burrow's healthy games:
#Bengals with a healthy Joe Burrow Weeks 1-10 (versus without Weeks 11-17)

Points per game: 22.7 (15.3)
Plays per game: 1st (31st)
Situation-neutral pace: 8th (30th)
S-N pass rate: 1st (23rd)

No one had more opportunities (carries + targets) than Joe Mixon through 6 weeks.

— Pat Thorman (@Pat_Thorman) March 25, 2021
Now, with an elite WR joining an already sturdy cast, they could ascend to Top-10 status in 2020. Those extra TD opportunities and room to roam will only benefit Mixon.
HEACH COACH & SCHEME
In Zac Taylor's second year as the Bengals head coach, he relied on Mixon as an integral part of the offense. Mixon's opportunities went up from 2019 to 2020 from an average of 20 opportunities per game to about 24 more opportunities per game (1.5 more targets per game). 
The additional targets per game could be attributed to the change in QB, but the increased usage in the running game is definitely an intentional result. 
And the Bengals clearly love what Mixon can do. They don't want to take him off the field! 
Bengals offensive coordinator Brian Callahan on the plan for third-down usage among the RBs: "I don't want Joe (Mixon) to leave the field, and I think he's up for that challenge."

— Ben Baby (@Ben_Baby) May 1, 2021
RISK
As I mentioned, Mixon suffered a foot sprain that cost him the final 10 weeks of last season. But per Player Profiler, Mixon does not have an extensive injury history. He is far from injury-prone and, aside from last year, can stay healthy while receiving workhorse's amount of touches. 
According to Bengals Head Coach, Zac Taylor, Mixon is "working out" and "feeling really good right now". And I personally think Mixon could have come back if it weren't for Joe Burrow getting hurt and their season effectively being over fairly early on.
CONCLUSION
Mixon was already seeing his workload increase in 2020 under Taylor, spiking from 20 opportunities per game in 2019 to 24 last season. Health permitting, that should be Mixon's volume floor in 2021 with Bernard removed, and facilitate his best fantasy season yet.
It's too early to tell where Mixon will be drafted, but I'm very bullish on Mixon in 2021. He's got a great supporting cast at the skill positions, with an offensive line that should be (even if only marginally) improved. He's proven to us that he can have RB1 level seasons behind trash offensive lines with weapons that don't even sniff the current weapons they have in Cincinnati. 
The talent, volume, surrounding talent, and high-paced scheme are all lining up to facilitate  Mixon's best season of his career. His floor is easily among the Top-10 RBs (even if our Wolf only has him at RB14 right now), and everything is in place to avoid the inconsistencies that have so often plagued him and his fantasy owners. Get over your past heartbreak, and get ready to fall in love. Mixon will reward you for it.