Player Stock Ticker
2020 Fantasy Football Week 2 Waiver Wire: Start, Stash and Stream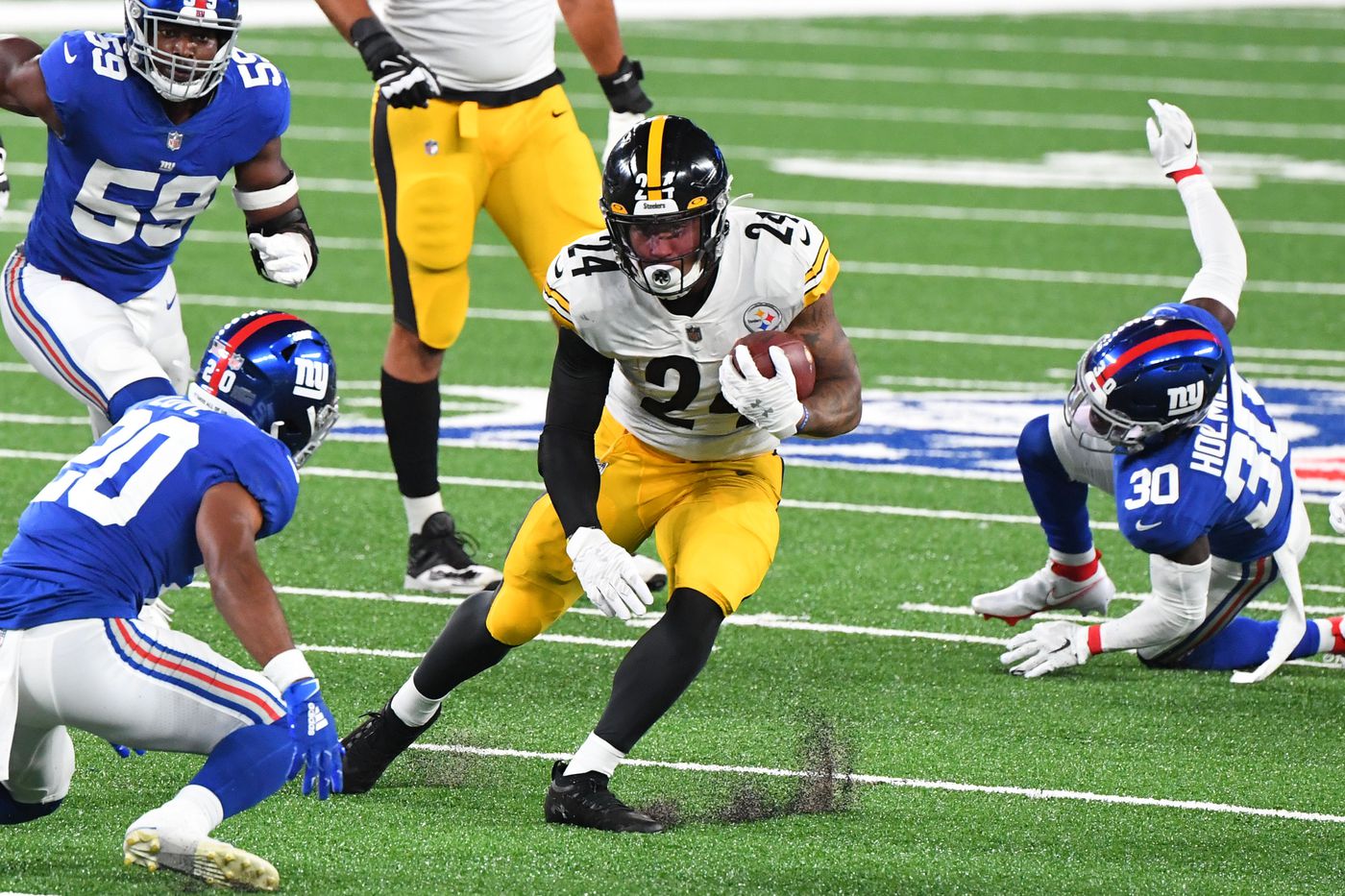 Welcome to the 2020 Fantasy Football Week 2 Waiver Wire: Start, Stash, and Stream, where we break down the fantasy free agent landscape and give you the best picks for the short and long haul.
Similar to last year, we have our three groups of 'starts' 'stashes', and 'streams'. The starts can be inserted into your lineup immediately, the stash guys add depth to the end of your bench and can provide longer-term benefits, and the streamers are generally D/ST's and QBs that are matchup dependent.
So let's look back at Week 1 and see our prospects moving forward for the Week 2 Waiver Wire.
Note – Ownership % based on Yahoo and must be under 50% owned
Start
Nyheim Hines, RB Indianapolis Colts (20% owned)
Benny Snell, RB Pittsburgh Steelers (15% owned)
Malcolm Brown, RB Los Angeles Rams (27% owned)
Robby Anderson, WR Carolina Panthers (31% owned)
The unfortunate injury to Colts RB Marlon Mack flung the door wide open for Nyheim Hines to make his mark on the Colts offense. The team has already come out and declared Jonathan Taylor as the team's starter, but don't think Hines is going to fade away anytime soon. He caught all eight of his targets in Week 1 and scored two touchdowns on the day. Hines was practically even in snap rate with Taylor, logging 20 snaps to Taylor's 21, in the final 30 minutes of game action. The love Philip Rivers has of dumping off passes to his RBs will keep Hines as a fantasy play throughout the year, despite Taylor in front of him.
As I'm currently writing this, James Conner appears to be on the sideline with no helmet and an injured ankle. Color us shocked that Conner is injured, but Benny Snell has entered the game and as the RB1, he finished with 113 rushing yards on 19 carries. We've long detailed that the Steelers RB1, whoever that may be, has great upside as Mike Tomlin's workhorse. If Conner is going to be out for longterm then Snell became a must-add. Our very own Roto Duck has been preaching Snell's abilities for a while now and he looked very good when given the keys. While Schefter gave us an update after the game that Conner has a sprained ankle and the Steelers are "optimistic for a timely return," Snell needs to be owned.
While the world was ready for Cam Akers SZN, Sean McVay had other plans. He rolled out Malcolm Brown as the team's lead back on Sunday night, out-touching Akers 18-14 on the ground and 4-1 in passing game targets. Brown totaled 79 yards and two touchdowns on the ground while looking fluid between the tackles. While his longer-term ceiling might be low as Akers looms over his shoulder, Brown is the clear favorite for the bulk of the workload and goal-line duties in the near future. The Rams offense looks revitalized and better than it was in 2019, so Brown is in a valuable spot as the Rams' current RB1.
The Wolf usually has pretty good intuition and he was all over Robby Anderson's big day for the Panthers. Against a weaker Raiders defense, Anderson was able to beat the secondary on a magnificent move for a 75-yard score. He's easily surpassed Curtis Samuel as the Panthers WR2 and has home run ability each and every game. The Panthers figure to be near the bottom of the league, so positive pass game scripts should be aplenty for Anderson in his future.
Stash
Jalen Reagor, WR Philadelphia Eagles (38% owned)
Jerick McKinnon, RB San Francisco 49ers (11% owned)
Parris Campbell, WR Indianapolis Colts (22% owned)
Laviska Shenault Jr, WR Jacksonville Jaguars (12% owned)
Joshua Kelley, RB Los Angeles Chargers (13% owned)
Russell Gage, WR Atlanta Falcons (2% owned)
Devonta Freeman, RB Free Agent (11% owned)
Peyton Barber, RB Washington Football Team (4% owned)
Scotty Miller, WR Tampa Bay Buccaneers (6% owned)
Marquez Valdes-Scantling, WR Green Bay Packers (7% owned)
Logan Thomas, TE Washington Football Team (2% owned)
Flashing his upside and great speed, Eagles rookie Jalen Reagor could have had a massive day in Washington had it not been for the depleted offensive line that crippled the Eagles offense. Philadelphia took Reagor in the first round to be a playmaker on offense and give Wentz a true weapon in the passing game. While he only caught one ball for 55 yards on four targets, the looks will be there for Reagor especially deep when Wentz has enough time to throw the ball. He'll become a great value play eventually into the season.
Another one of The Wolf's key late-round value picks, Jerick McKinnon, thrust himself into the RB2 role in San Francisco. Excelling in the passing game, McKinnon caught 3 balls on 5 targets for 20 yards and a touchdown. He looked great in the passing game and with the 49ers pass catchers dropping like flies (potentially, George Kittle) McKinnon could become quite useful for fantasy owners.
The Ohio State product, Parris Campbell, tied for the team lead in targets with nine on Sunday. Rivers seemed to take a liking to his new weapon after raving about his playmaking abilities in camp. The Colts haven't had much of a WR2 alongside TY Hilton, and Campbell looks like he'll be a valuable piece of the Colts offense moving forward.
Big names in the fantasy industry labeled Laviska Shenault as a must-own, late-round target due to his versatility in both the running and passing game. In Week 1 he showed that versatility, catching three balls for 37 yards and a score while earning 10 yards on two carries. Shenault was used all over the field in an offense that looks to be in a shootout nearly every week. Overall, both his production and usage are pointing upwards.
One of the more annoying players from Week 1, rookie Joshua Kelley, stole the spotlight from Austin Ekeler when he carried the ball 12 times for 60 yards and vultured a touchdown run at the goal line. Most of us thought Ekeler would be the every-down guy who would amass the majority of the touches, but Kelley managed to weasel his way into Ekeler's workload. After logging 24 percent of the snaps, and looking more than competent, Kelley isn't likely to go away any time soon.
Despite being the WR3 in the offense, Russell Gage but up some impressive numbers for the Falcons, racking up nine catches for 114 yards on 12 targets. The Falcons have a prolific passing attack and even with Julio and Ridley getting their own, Gage managed to put up great numbers. While Atlanta was forced to throw the ball 54 times last week, Gage showed he can potentially be a serviceable weapon in this offense.
While he's not on a team yet, Devonta Freeman is most likely to be added to a roster during the week. Some odd contractual issue or protocol makes him a better signing after Week 1 and there will certainly be a team out there that feels he can be of use on their roster. The big question will be who will sign him, and then from there he can either skyrocket, or plummet in value. If you have an extra spot on the end of your roster, he's worth the add to see if he somehow lands in paradise and becomes fantasy relevant.
Peyton Barber, one of the league's most disgusting and notorious plodders, actually showed some value as the lead back for the Washington Football Team. Barber doubled Antonio Gibson's carries and scored twice on top of that. Yes, his 29 yards on 17 carries is pitiful, but when he owns the goal-line and can punch it into the end zone, he's going to have some current fantasy value.
From Wes Welker to Julian Edelman, a Tom Brady-led offense always needs that scrappy white guy to run crisp routes over the middle to move the chains. After what we saw in Week 1, that could be Scotty Miller. Brady praised Miller in the post-game for his 5-73 line on 6 targets and anyone who gains Brady's trust will see the ball early and often going forward. The stat line could have been inflated with Mike Evans injured, but there might be a smidge of hope for Miller's fantasy future.
The Green Bay passing offense looked VERY good and Aaron Rodgers looked like that patented "bad man" again, in Week 1. Obviously Davante Adams is the WR1 in Green Bay, and while Allen Lazard is the proclaimed WR2, Marquez Valdes-Scantling is right there with him in terms of production. Both MVS and Lazard caught four balls for over 60 yards and a score and if Rodgers keeps up his stellar play, all of the Packers pass-catchers will reap the rewards.
If you had to guess who led Washington in targets in Week 1, would you have said Logan Thomas? Certainly not, but the tight end excelled in camp and really stood out among the lack of pass-catchers in Washington. McLaurin will always be the first option, but Thomas is working his way up the ranks and should be a red zone for Dwayne Haskins as the season progresses.
Stream
Seattle Seahawks D/ST (30% owned)
Arizona Cardinals D/ST (3% owned)
Gardner Minshew, QB Jacksonville Jaguars (26% owned)
Cleveland Browns D/ST (9% owned)
Ryan Tannehill, QB Tennessee Titans (45% owned)
Teddy Bridgewater, QB Carolina Panthers (22% owned)