Player Stock Ticker
Jerick McKinnon: Must-Draft Late-Round Fantasy Sleeper as 49ers 3rd Down RB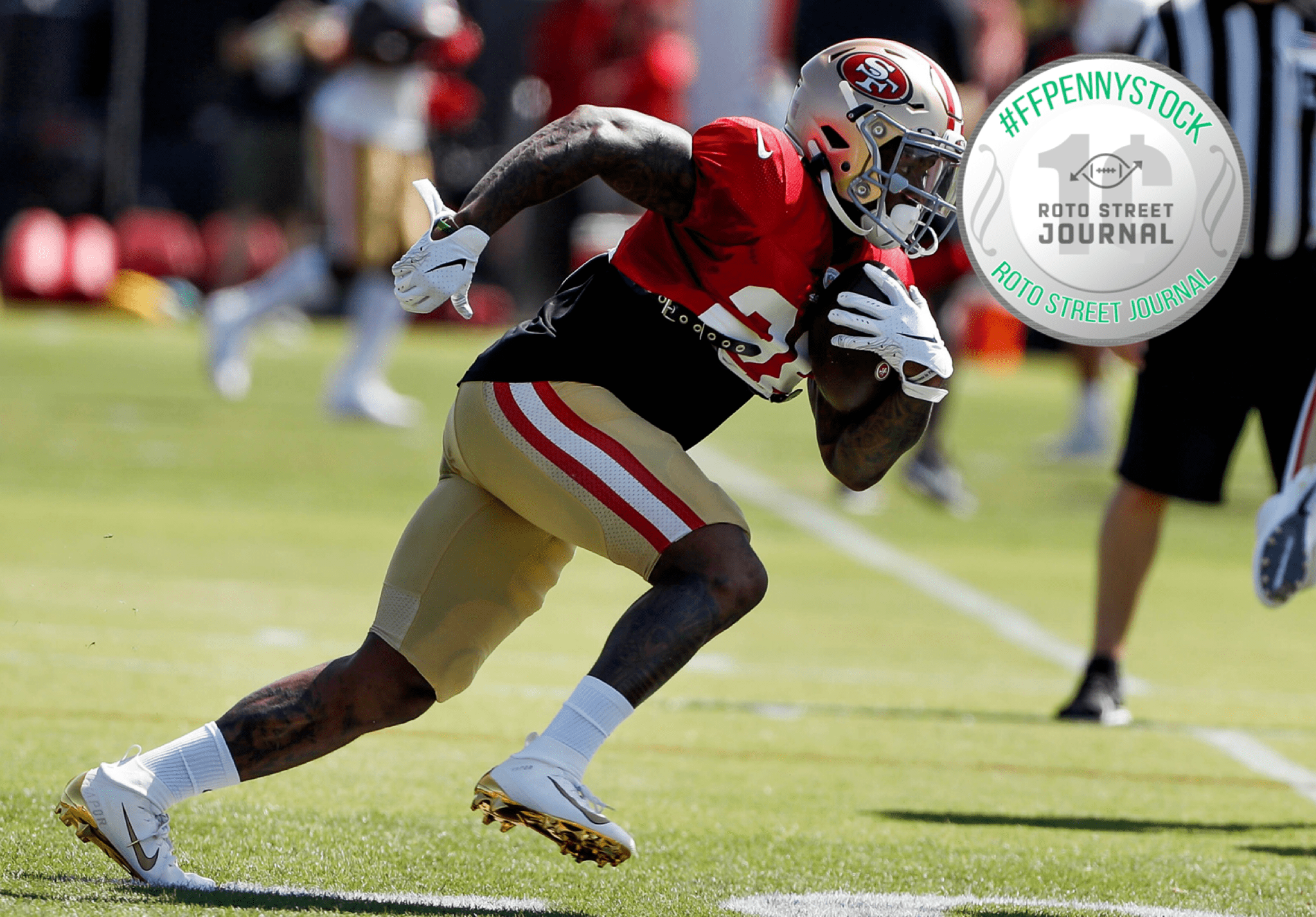 Ah, Jerick McKinnon. I just can't quit you… in fantasy football.
Just two seasons ago, I was labeling you a "Bonafide RB1" as the next great "Shanahan Workhorse." Hell, I confessed to my inability to wear sweatpants in public when discussing your fit in the zone blocking scheme, and your absurd impending target share.
Two years later, as McKinnon looks fully healthy and "sharp running routes," and I'm fully back in again.
The best part? All the narratives I previously waxed poetic on, while a little murkier now, still apply… but the ticket to ride JET, and the limitless upside that comes with his situation, is essentially free.
He goes largely undrafted, currently falling to the RB68 and 213 overall in FantasyPros Best Ball ADP.
Gobble up Jerick McKinnon as the premiere RB penny stock sleeper — he's become far and away my favorite late-round pick.
McKinnon: Finally, Fully Healthy… and Thriving
The McKinnon praise has been endless since Training Camp started, creating an "enough smoke, must be some fire" narrative.
If, like me, McKinnon puff makes you tingle downstairs:
On McKinnon's route-running, QB Jimmy Garappolo gushed:
"He runs them differently than most running backs and he has a feel that's like a receiver, but he feels space like a quarterback…It's very unique and I'm excited to get him back, man. It's been a while."
New LT Trent Williams, who worked out alongside McKinnon and Adrian Peterson, raved:
"After two years, the way he's looked in offseason… I just can't fathom him not being a breakout player."
Speaking of Peterson, the 35-year-old cyborg, gushed:
"It was special to see Jerick… I tell you, he's in probably the best shape he's been in."
Fullback Kyle Juszczyk was stunned at how natural McKinnon's appeared despite his absence, bth physically and mentally:
"Jet has looked phenomenal. You just would never guess, going out there, and watching the way he practices, how smooth he is, how he doesn't second guess himself, how quickly he answers questions in meetings, all that kind of stuff, you would never guess that this guy hasn't been on the field for two years.

"He just makes things look so natural, so smooth, that I think there can only be positive things for him this year. I think he's going to have a really good year."
HC Kyle Shanahan has certainly noticed McKinnon's return to full health:
"Last year when he came back and tried to work through it, you could tell it didn't heal right," Shanahan said. "It's still the first step, first day but you can tell it healed right. He's at a chance to have that comeback now and everybody is pulling for him. He had a real good first day of practice."
So if McKinnon's truly back to post-injury form, or *gasp* even better… what exactly are we getting?
Revisiting McKinnon's 2018 Hype
Why exactly did Shanahan make McKinnon the (at the time) fourth-highest paid RB in the league, despite a limited sample size?
For one, he's among the most athletic freaks in the NFL, leading the 2014 combine in every meaningful category.

While ranking in the 91st or higher percentile in all of PlayerProfiler's workout metrics: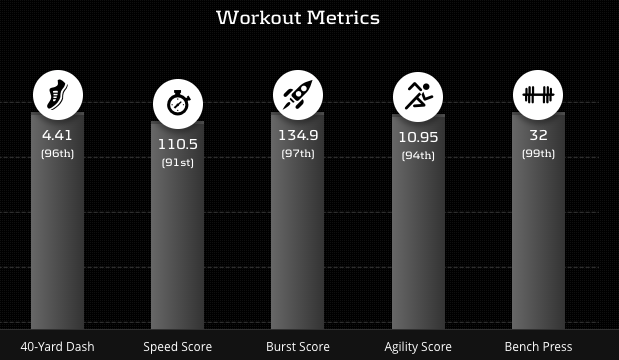 Shanahan gushed how this athleticism fit into his scheme as he "got lost" in what he saw:
"There's so many things I liked about him, just visualizing how I would use him and the stuff that we would do… Even though there wasn't a ton of it, you've still got to see him do some stuff that we do a lot. And whenever he did, he excelled a ton and looked very good at it…I know the stuff we liked him on – if I could just cut up those numbers I think they would have been good numbers."
More importantly for PPR-leaguers, Shanahan raved about McKinnon's ability as a pass-catcher, both as a route-runner and after the catch:
"What is a huge bonus on him is when you talk about the pass game," Shanahan said. "When it comes to separating and beating linebackers and safeties in man-to-man coverage, I definitely think he's an issue for teams. I think this league, when it comes to third downs and things like that, you move the chains based off of matchups, which allows you to get points in the long run.

I think Jerick is very versatile and we can do a lot of things with him. He's good enough to make it as a runner alone in this league. He's good enough to make it in the pass game as just a third down threat alone, but when you can do both of those, it gives you a lot of freedom as a coach."
His last time on the field, McKinnon flashed his receiving upside repeatedly, catching 51 balls for 421 yards.
The good news? McKinnon's reportedly back to this form. Better news?
Tons of Available Receiving Work
In 2019, no 49ers RB saw more than 30 targets.
This wasn't because Shanny doesn't like passing to his RBs. Freakin' Carlos Hyde saw 88 targets within this scheme. Devonta Freeman tallied 97 targets and 73 receptions in 2015. while he and Tevin Coleman combined for 105 targets and 85 receptions the following year.
They simply didn't have a strong pass-catching option out of the backfield.
Unsurprisingly, since returning to the field, McKinnon has "given the 49ers an element they have not enjoyed in recent years."
He's being moved all over, running the full route tree, and looking deadly after the catch. In an offense that ran motion more than any other, and where over half the receiving yards came post-catch, McKinnon should thrive.
Especially with the lack of receiving talent around him.
Jalen Hurd will miss 2020 after tearing his ACL. Deebo Samuel is no lock for Week 1, and remains a candidate for the PUP. While Brandon Aiyuk has impressed early on in camp, he's still a rookie learning the ropes. Only Kendrick Bourne and Trent Taylor, who can never stay on the field, remain from last year, while Tavon Austin recently joined. Not sure if Dante Pettis still breathes.
Realistically, McKinnon could leap to the No.2 target behind George Kittle for however long Samuel is out.
Shanahan said Monday, "I think McKinnon's got the ability to beat corners," leading beats to speculate that McKinnon's "the 49ers player most likely to catch an abundance of passes that travel 20 yards or more." In fact, The Athletic went so far as to compare McKinnon's role to Tyreek Hill, given his ability to "run past a secondary."
On just receiving work alone, McKinnon should pay off his nonexistent draft price x1000. He's a legitimate threat for 60+ receptions and however much damage he does on them.
But then…
Rushing Upside Creates a Kamara-Level Ceiling?!
Thus far in camp, Raheem Mostert and Tevin Coleman have worked ahead of McKinnon in the run game. As expected.
I, for one, love Mostert's glovelike rushing fit in this offense. He could glide for 1200 yards and 10 TDs, even on only 12-15 carries.
Still, don't underestimate Shannahan's stubbornness.
You know he wants to prove himself right for McKinnon's absurd contract. As NBC Sports speculates: "Shanahan has been waiting a long time to unleash McKinnon within his offense. Assuming the running back can stay healthy, we'll soon get to see why."
Similar to Mostert last year, quite often the back you'd never expect ultimately takes over Shanahan's lead role by the end of the season.
Considering the enormous receiving upside we're already presented with… imagine if McKinnon can inherit even 30% of the rushing load? Or, better yet, becomes a true three-down threat and the lead bellcow?!
He'd legitimately be the next Alvin Kamara level breakout.
While unlikely, this scenario actually exists. McKinnon will payoff his nonexistent price tag on just his receiving work. The fact you also get a stab, even if only a small one, at a Shanahan three-down marvel, makes the pick that much sexier.
In short: the cheapest 49ers RB stab could very well be the most valuable. Don't pass up on free 50-60 receptions, with RB1 upside, and secure him by Round 13-14 in every single draft.