Player Stock Ticker
JK Dobbins to Ravens: A Dynasty Fantasy Dreamboat with Rookie Year Upside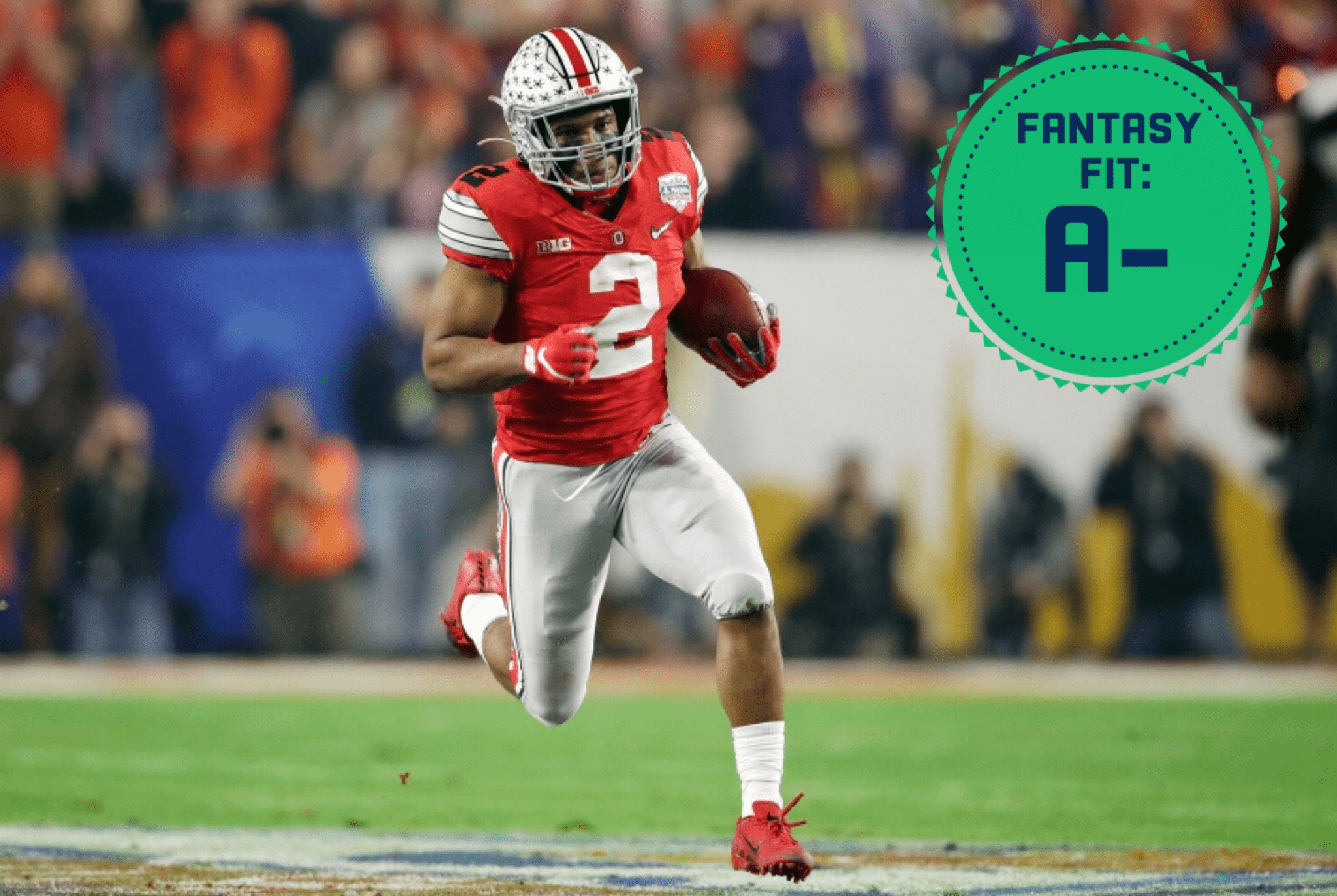 The Baltimore Ravens weren't exactly hurting for rushing production. In fact, they just set the NFL-record with 3,296 total yards, and are one of just two teams in NFL history to feature three 700+ yard rushers (including 2019 Fantasy MVP Lamar Jackson and bonafide RB1 Mark Ingram).
Even still, Baltimore invested the 55th pick to snare Ohio State phenom JK Dobbins — the Raven's highest drafted rusher since Ray Rice in 2008 (also 55th).
This "luxury selection" speaks volumes to how highly the team valued the Dobbins as a near-perfect fit in Greg Roman's incredibly creative run-scheme.
HC John Harbaugh admits as much, gushing: "He was right there, probably our top-rated running back." GM Eric DeCosta, who's quickly putting himself inside the NFL's top scout conversation, similarly raved "We didn't expect him to be there… so we just had to take him. He's just a talented guy. It just made too much sense for us not to take him."
Indeed, Dobbins immediate 2020 fantasy upside feels slightly capped, given he'll be learning the NFL ropes behind Ingram. Yet, with Ingram a potential 2021 cap casualty, Dobbins longterm ceiling is as high as any rookie in this class. In Dynasty fantasy formats, I'd select him third overall, behind only Clyde Edwards-Helaire (perfect fit) and Jonathan Taylor.
Below, find out why Dobbins is such a perfect scheme fit with the Ravens, why he'll dominate in Baltimore years, and his path to some sneaky-high 2020 upside even in redraft leagues.
Stay up to date on all the 2020 NFL Draft Fantasy News and Analysis! Bookmark our Fantasy Stock Watch. Even better, consume them in our cleanest format by downloading the Roto Street App. 
Talent: Vision, Downhill Explosiveness, and Running Versatility
Dobbins Ohio State accolades and production speaks for itself. Among a prestigious program that's churned out Ezekiel Elliott, Eddie George, and Archie Griffin,  Dobbins ranks:
First all-time in single season rushing (2003 yards, 21 TDs, 6.7 YPC in 2019)
Second in career rushing (4,459 yards over three years)
First in rookie rushing (1403) and is only one of two backs in school history to go for over 1,000 in three straight season, despite playing in committees his freshman and sophomore years
Not only this, but Dobbins performed his best against the toughest competition, with over 1,000 of his yards coming in his six toughest matchups:
J.K. vs. the Best in 2019:

172 rush yards vs. Michigan State's No. 4 ranked rush D
163 vs. Wisconsin and its top-ranked rush D
157 vs. No. 4 rush defense of Penn State
211 vs. No. 13 rush defense of Michigan
172 vs. Wisconsin's No. 7 rush defense
174 vs. No. 9 rush D of Clemson

— Jerry Emig (@BuckeyeNotes) April 25, 2020
You can't accomplish these feats, amidst such heralded names and in the biggest games, without abundant talent and durability.
He didn't miss any games, and is built to absorb carries and punishment, posting three consecutive games late in 2019 with 30+ carries. He also led all draft eligible runners with 31 carries of 15 or more yards in 2019. His seven yards of over 40 yards were tops in the power five.
So what are Dobbins strengths that facilitate such beastly production?
In his own words: "Definitely my vision. I think I have vision that's out of this world. It's definitely a God-given talent. I think that's the best thing about my game." Strong self-awareness, as nearly every scout points to this as Dobbins' greatest asset.
Harbaugh cited other aspects: "Just such an explosive, downhill runner, he has lateral cut ability. I think we added a lot speed and he's a big part of that."
Our favorite Draft Analyst, The Athletic's Dane Brugler, ranked Dobbins as his top RB prospect, raving: "Dobbins is very skilled at finding and clearing holes and he makes it a chore on defenders to finish him, chopping his feet in space… he is built for the pro game and runs with outstanding vision, decision-making and open-field elusiveness, displaying the innate qualities to be a reliable three-down starting running back in the NFL."
Speaking of three-down ability, Dobbins is a strong, natural receiving option out of the backfield, racking up over 70 career receptions and at least 20 in all three seasons. His brutal concentration drop against Clemson notwithstanding, Dobbins consistently displayed sure hands and solid routes, as well as excellent form and willingness in protection; ESPN credited him with only four pressures in 140 pass protection reps. In fact, he said he emulates his game around Christian McCaffrey "because he's built a lot like me… a tough runner that can do anything." He ultimately logged 10% of snaps in the slot or out wide (PFF), often finding space and working back to the ball for Justin Fields.
Yet, what I find most important about Dobbins' game is his versatility as a runner.
Whereas some runners are somewhat pigeonholed into a specific scheme — i.e. a "zone" or "gap" runner — Dobbins read his blocks and found the best lanes regardless of the concepts. As a freshman, Dobbins feasted on mostly zone-blocking runs in Urban Meyer's zone-read attack. Then, he proved equally adept in Ryan Day's spread that featured more gap concepts out of pistol formations.
As Brugler describes, Dobbins "displayed a natural feel for power, zone and gap schemes…patiently reads and trusts the play design, always knowing where the next block is coming from."
Another of our favorite scouts, Greg Cosell of FantasyPoints, similarly saw a back that could "transition as an inside-zone/mid-zone and gap-scheme runner with his straight-line, downhill traits and short-area burst and acceleration. He can also run outside zone having shown the needed one-cut, downhill ability."
In short, there's not a scheme or concept Dobbins can't execute. He possesses the rare blend of breakaway speed and tackle-breaking power, while remaining loose-hipped to string together moves without losing velocity, remaining dangerous at the first, second, and third levels of the defense.
This blend of skills and scheme versatility is especially important with the Ravens, as Roman's wild run-obsessed attack mixes and matches every known run concept to man.
Scheme Fit: Glove-like in Roman's Run-Centric Attack
Dobbins' experience and success within a variety of schemes was likely the driving factor for the Ravens' selecting him.
That's because Greg Roman's offense is unlike any other, and demands a runner that reads the holes and lets the blocks develop inside every concept.
From a sheer volume standpoint, Roman is, by a wide margin, the most run-centric gameplanner in the NFL. He has never ranked outside the Top-9 in rushing attempts or Top-8 in rush yardage, with his last three offenses all finishing 1st or 2nd in yards and TDs. Similarly, all of these teams have ranked in the bottom-four of pass attempts, with 5 of 6 ranking second lowest or dead last:

Moreover, in 2018, after Jackson took over in in Week 11, the Ravens became borderline comically run-heavy, running the ball 64 PERCENT OF THE TIME. Baltimore passed a bit more in 2019, although they still topped the NFL with 57% runs compared to 43% of passes (one of only three teams that ran more than they threw).
Clearly, Roman's "Ground Pie" will consistently be enormous. Granted, barring injury, Dobbins may not be in line for a huge slice as a rookie. Still, as early as 2021, he could be looking at 300+ touches routinely.
Even better than just volume, Roman's system has been incredibly productive. While his "ground-and-pound" approach may seem ancient and uncreative, Roman's run concepts are anything but. He's incredibly innovative in the blocking patterns, formations and packages, as well as his run designs.
From pistol, to jumbo, to three tight-end, Roman constantly switches up the offensive package to keep defenses off-balance. In addition to a constant rotation of groupings, Roman's run-games thrive by using a wide variety of blocking patterns and designs, centered around his opponents' weaknesses. Roman's lineman are equipped with a rotation of power, outside zone, pin-pull, and counter/trap/wham variations.
This is perfect for the versatile Dobbins, who has experience within any scheme and blocking pattern. He's almost a mini-Ingram in the way he runs low to the ground, explodes through the hole and tacklers, constantly falls forward for positive gains. It's unsurprising, then, the Ravens selected Dobbins to succeed Ingram, who's already "eager" to embrace his mentor role.
Specifically, Roman used a ton of shotgun / pistol formation, and RPOs in 2019, two highly familiar concepts for Dobbins. The Ravens' 230 RPO rushing attempts led the NFL; meanwhile, Dobbins saw more of his carries come from the RPO (57%, 171 carries) than any other draft eligible back.
Additionally, the Ravens used shotgun in 97% of non-goal to go snaps. Jackson and Ingram ranked 1 and 2 in yards from this formation, with both topping 1,000 yards. Similarly, Dobbins ranked second in yards from shotgun last year, amassing 260 carries, 1755 yards, and 18 TDs in this formation.
In short, Dobbins was tailor-made for Roman's offense. He has extensive experience as an I back and offset in the shotgun. He succeeded in zone and gap schemes, and logged significant snaps from pistol. He thrived on misdirection concepts that Roman constantly utilizes.
It doesn't hurt he'll be operating alongside reigning NFL MVP Lamar Jackson. The Ravens averaged 33.2 points per game last season, and Ingram finished as the RB8 in fantasy, racking up 15 total TDs in an offense that lived in the Red Zone.
The only obstacle in Dobbins' way is a clear path to volume, which may open up sooner than expected:
Summary: Dobbins will Feast on Whatever Work He Receives
By now, you've hopefully accepted two facts: Dobbins has immense talent, and it fits the Ravens' run-obsessed offense to perfection.
Sure, his vision, ability to explode downhill, contact balance, and smooth receiving are important. Yet, what truly separates Dobbins from most other rookie runners, and especially for the Ravens offense, is his experience and success within a number of schemes, concepts, and formations. This is critical for success in Greg Roman's creative, complex scheme that demands RBs who can follow zone, gap, and misdirection blocks, and prioritizes experience in the pistol formation. Dobbins checks every box emphatically.
Of course, "Usage" is the engine to fantasy success, and this is far from guaranteed for Dobbins early on with Ingram still around.
Yet consider: Ingram will turn 31 during this season. Despite lighter tread than your typical 30-year old RB, he's already missed time in six of nine seasons (although 2018 was suspension related). In all honesty and for what it's worth, my gut screams Ingram's going to get injured, and it's going to be early.
Even if Ingram defies the odds and plays all 16, Edwards and Hill combined for 206 touches last year. Given Dobbins is a perfect combination of this duo's strengths, he could easily secure the majority of these secondary touches. On even, say, 150 touches (30 rec), Dobbins would approach 800 yards and 8 scores — handcuff with benefits numbers.
By 2021, the job should be entirely Dobbins'. Ingram's largest annual rate ($5mil) is scheduled to come during his third and final contract year, his age 31 season. Yet, the Ravens structured in a potential out that would result in only $1.33 million of dead cap if they cut him. Think that was by accident? Ingram is all but guaranteed to be released after 2020.
As such, within a season, Dobbins should be the featured RB, within one of the league's run-heaviest and highest-scoring attacks, that's tailor-made for his strengths. For dynasty, he'll be an annual Top-10 RB with Top-5 ceiling in this set up, you may just need to wait a year. For redraft, his immense handcuff upside and the potential standalone benefits make him well worth a spot atop your bench and a selection within the first 7-8 rounds.
Stay up to date on all the 2020 NFL Draft Fantasy News and Analysis — bookmark our Fantasy Stock Watch.
Or, even better, consume them in our cleanest format by downloading the Roto Street App. 
Other Rookie RB Fantasy Fits: