Player Stock Ticker
Could Ke'Shawn Vaughn be an Immediate Fantasy Workhorse for Buccaneers?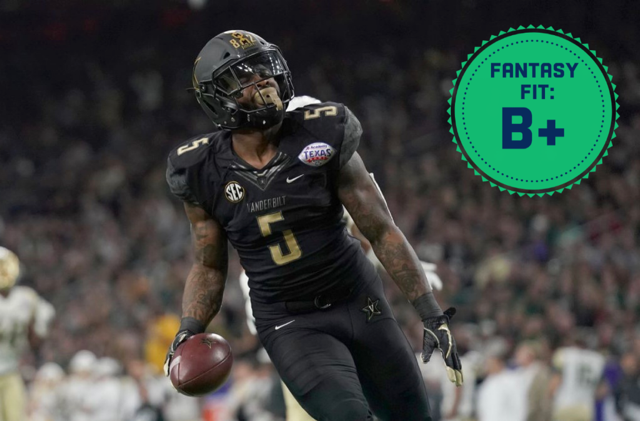 From a sheer "fantasy football" standpoint, no rookie landing spot offered as much upside as the Buccaneers RB gig (well, outside the Chiefs). Although Tampa Bay didn't land one of the truly elite runners like Jonathan Taylor or D'Andre Swift, don't ignore their third round RB selection: Ke'Shawn Vaughn.
We already know the Bucs offense, who finished third in 2019 total scoring (28.6 PPG), is going to be a points factory. New QB Tom Brady loves peppering his RBs in the passing game. Bruce Arians has preferred workhorses when provided the right player. The line, one of the only question marks, has been beefed up with first round mauler Tristan Wirfs. 
Stay up to date on all the Free Agency Fantasy Fallouts! Bookmark our Fantasy Stock Watch. Even better, consume them in our cleanest format by downloading the Roto Street App.
If Vaughn can clear the lone Ronald Jones speed bump — not exactly a towering feat — he could provide immediate Top-20 RB value.
Talent: Three-Down & Homerun Ability
While Vaughn doesn't carry the same pedigree as the 2020 "Big 5 RBs," there's plenty to love about his game. For one, he was highly productive in the NCAA's toughest conference, racking up back-to-back 1,000 yard seasons at Vanderbilt — including 36.2% of the team's total offense in 2019, trailing only stud Jonathan Taylor for this mark. He also scored 24 total touchdowns over his two years (including a 130 yard, 2 TD day vs. LSU), averaging 6.4 yards per carry.
This is all the more impressive considering Vaughn did this behind a patchwork line within a hideous offense that both ranked dead last among the Power-5 Conferences.(125 in 2019). HC Derek Mason confessed as much:
"He put this program on his shoulders and played big on Saturdays…He didn't have great offensive linemen in front of him, but when you watch his yards after contact, his ability to break tackles and go yard, he did it really as good as any back in this conference, given what was around him and what he had to face every week. Especially in 2019, he faced eight and nine-man fronts all the time."
Much of Vaughn's success came from all the cliche and desired "intangible" traits: gym rat, high football IQ, passion and love for the game.
Yet, even if not truly "special," Vaughn has plenty of strengths — more importantly, ones that fit what Arians and Brady will rely on.
Arians loves zone blocking, and Vaughn was one of 2020's top runners with these concepts. He consistently flashed solid vision and that necessary balance of patience and decisiveness before planting his foot in the ground and getting downhill with workmanlike, downhill determinedness. He has strong contact balance, finishes his runs, and consistently competed for extra yards. PFF credited him with 2,208 yards after contact. This helped Vaughn rank quite highly in Graham Barfield's "Yards Created" metric, especially compared to his "competition:"
Have charted 57 RBs over the last 5 years for Yards Created.

– Ronald Jones: 3.97 YC per carry in 2017 at USC ranks 54th-of-57 RBs

– Ke'Shawn Vaughn: 5.41 YC per carry in 2019 at Vanderbilt ranks 16th-of-57

— Graham Barfield (@GrahamBarfield) April 25, 2020
More importantly, however, in Arians' pass-happy offense is Vaughn's ability both as a receiver and as a protector. The latter role — keeping Brady upright — might be most critical. Whereas Ronald Jones struggles here, Vaughn consistently showed up against the SEC's toughest pass rushes:
Ke'Shawn Vaughn (85%) was 3rd in the class in pass protection execution rate behind Swift (90%) and Moss (88%)

— Graham Barfield (@GrahamBarfield) April 25, 2020
Vaughn also flashed solid hands and route-running, particularly thriving on routine screens and checkdowns. He ultimately snared 28 receptions his senior year for an average of 9.6 yards per catch.
Though Vaughn was fairly underutilized here, Buccaneers Director of Player Personnel John Spytek expressed confidence in Vaughn's ability to add branches to his route tree. When asked if Vaughn could be split out and run receiver-like routes that Arians desires, Spytek raved:
"He's a guy who can certainly help us in that realm. As he continues to grow as a player he'll get more opportunities and he's got the ability to do a lot of things that we want a running back to do in the passing game. So it made a lot of sense from that standpoint.

"He's a good runner and a good receiver out of the backfield. He's got the ability to detach and run some of the routes that Coach Arians likes to do…there's a lot to like here. "
Indeed, with 41st percentile adjusted SPARQ and 4.51 forty, Vaughn lacks elite athleticism. He doesn't bring a ton of wiggle or suddenness, and he's already "old" as a 23-year old senior. Even still, Vaughn had eight touchdowns of 60-plus yards over the last two seasons, the most of any back in major-college football, and plays faster than his times suggest.
More importantly, he does exactly what Arians asks as a runner, receiver, and protector, and does them all really well. Their GM, Jason Licht, has already labeled Vaughn "a three down player." The same can't be said for RoJo, which could open the door for immediate usage.
Usage: A Goldmine of Opportunity in an Elite Offense
With 215 carries "vacated carries" (52.5%), the Bucs ranked third in available volume. Given the pedestrian Jones is his only other carry competition, Vaughn's chances at 230-250 touches are quite high.
The upside for more also exists.
Sure, after hyping Vaughn's "three down abilities, GM Licht poured cold water on a potential workhorse, saying "You can't rely on just one back." 
Yet, if Arians has his way, he prefers to ride a solo guy. He confessed as much at the 2020 Combine, saying:
"You can see them all run; I want to see them catch… Can they be a receiver? That separates guys from having to come off the field… Edgerrin James never came off the field. Marshall Faulk never came off the field. For me, I'm looking for that type of guy."
His past usage confirms this. Obviously, we all saw David Johnson rack up 373 touches (80 rec), 2118 YFS, and 20 TDs in a season for the ages — one many fantasy owners still chase.
Yet, Willie Parker, Rashard Mendenhall, and even Andre Ellington are three other runners who cleared 300+ touches under Arians.
If Vaughn proves to be impossible to remove, he'll remain on the field for as much as he can handle. Afterall, Vaughn played on 72% of Vanderbilt's snaps this past season (2nd-most in class).
At minimum, his leg-up in pass protection should open up immense receiving upside. In New England, Brady's RBs have averaged 74 receptions per season, with well-over 100 in three straight years.
Vaughn is especially intrigued by Brady's tendency to target his RBs:
"I feel like that's the best opportunity I can ask for as far as being drafted in this class and being in this situation where you've got Tom Brady as your quarterback, who loves hitting the checkdowns," Vaughn said. "Those could be big-yardage plays that we can capitalize on at any moment. Tom Brady is the GOAT. Can't do nothing but be happy and get ready to go win some games for him."
250 touches, including a lion's share of the Fantasy Gold (GL and receptions) are well-within Vaughn's reach. The upside is even greater if he really separates from Jones, which certainly is not impossible.
Summary: Tons of Fantasy Juice to Squeeze here
The Bucs backfield has lacked explosiveness and truly dangerous pass-catching prowess for a long time. Although Cam Akers or JK Dobbins would've been sexier Round 2 selections, Vaughn brings a ton of the what the Bucs lack, and what Arians seeks, out of the backfield. He has the upside for a mammoth role within a Top-5 overall offense.
Granted, Vaughn must separate from Jones to truly reach his ceiling. The Bucs have gone out of their way to hype up the third-year USC runner all offseason, proclaiming they have "more faith in him than we ever have."
Don't buy it.
Vaughn is the first RB this regime has hand-selected. He does everything RoJo can do as a runner, and offers far more as a receiver and protector, which are both far more crucial within this scheme. While he may need a few weeks to truly separate, I expect Vaughn to spend at least half of 2020 as the Bucs clear lead guy. This'll bring 55-60+ reception, 1,200 total yard, and 8+ TD upside. Helaire and Taylor are the only backs I'd select above Vaughn in redraft, who lands in as my RB28.
Stay up to date on all the 2020 NFL Draft Fantasy News and Analysis — bookmark our Fantasy Stock Watch.
Or, even better, consume them in our cleanest format by downloading the Roto Street App. 
Other Rookie RB Fantasy Fits: