Still want to squeeze out every last drop of fantasy football juice this season? Of course, you do. There's no better way than a 2022 NFL Playoffs Fantasy Football League.
In most NFL Playoffs Fantasy Football leagues, you gain points for however long your player lasts. This makes gaining the most possible games played out of your players absolutely paramount.
Enter Team Stacking.
Below, The Wolf dives into his 2022 NFL Playoffs Team Rankings & Top Team Stacks for Fantasy Football.
Note: For fantasy player rankings, click here. Jump to "Team Rankings" below if you don't care about the fantasy strategy.
Use these rankings to dominate Underdog Fantasy's 'The Gauntlet Returns' best ball tournament — just a $25 entry for a shot at $200K in prizes (kicks off 1/22). Or, for a $5 entry, enter 'The Mitten Returns' for a shot at $100k in prizes (kicks off 1/22) Click the link or use promo code RSJ for up to a $100 first deposit match on Underdog Fantasy.
What is Team Stacking?
One of the most crucial NFL Playoffs Fantasy Strategies is "Team Stacking." This means loading up on as many players as you can from the same team in hopes they play three, or even four, games.
Once you've committed to a team (i.e. I select Josh Allen), it's equally important to fade their upcoming opponent(s). In this example, I'd avoid all Patriots (Bills Wild Card opponent), and also likely the Chiefs, given the high probability of a Bills-Chiefs Divisional Showdown.
Most often, winning rosters consist mostly of 1 AFC & 1 NFC team — whether it's how you project it or how the draft flows.
Team Stacking is especially crucial in large-field NFL Playoffs Fantasy Tournaments, like Underdog's Gauntlet.
Here's an example of a recent fantasy roster I drafted. Do I think the Bills vs. Cardinals will be the Super Bowl? No. Yet, draft flow landed me players on these teams, so I kept loading up in the off chance both teams go on huge runs.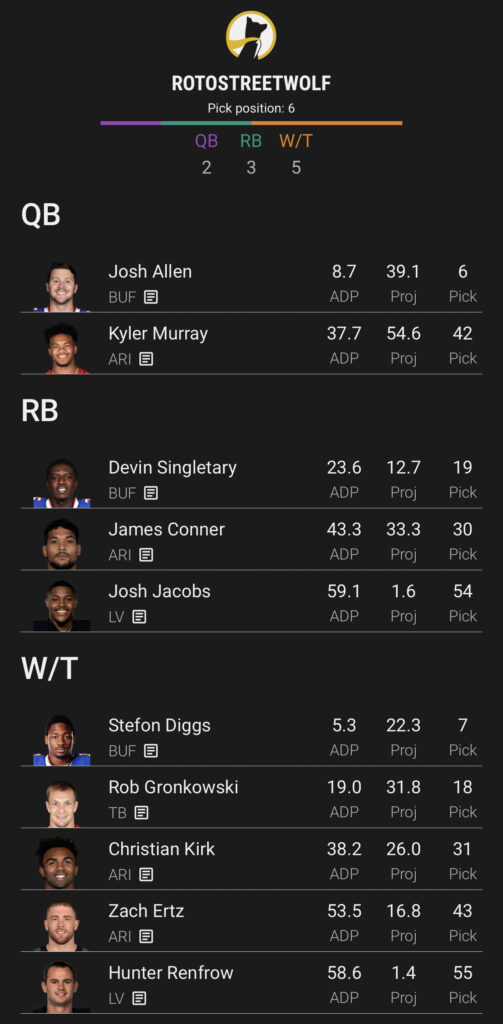 2022 NFL Playoffs Team Ranking Process
These 2022 NFL Playoff Team Rankings for Fantasy factor in:
A) Potential games I project the team to play
B) The Offensive / Fantasy Potency of each team.
In short: I'm looking for who will last the longest, and who's capable of the most damage. NFL Fantasy Playoffs Winners usually strike the balance of both.
For example, even if I thought the Patriots would go on a Super Bowl run in 2022, an aerial attack spearheaded by Kendrick Bourne and Jakobi Meyers isn't exactly a fantasy factory. Four games played for the Patriots is less valuable than 2-3 games for the Chiefs or Bills.
Let's dive into my road map and NFL Playoff Team Rankings for 2022 fantasy football.
2022 Playoff Overview & Super Bowl Prediction
Before you draft, I highly recommend you map out your 2022 Postseason predictions. This way, you get a sense of how many games you see each team playing – a crucial step before you actually rank your players.
Here is how I see the playoffs going.
Updated 1/14: More I think about, no way the Bengals lose to Raiders. And now they'd drip in 3+ game upside because I think they'd knock off the Titans.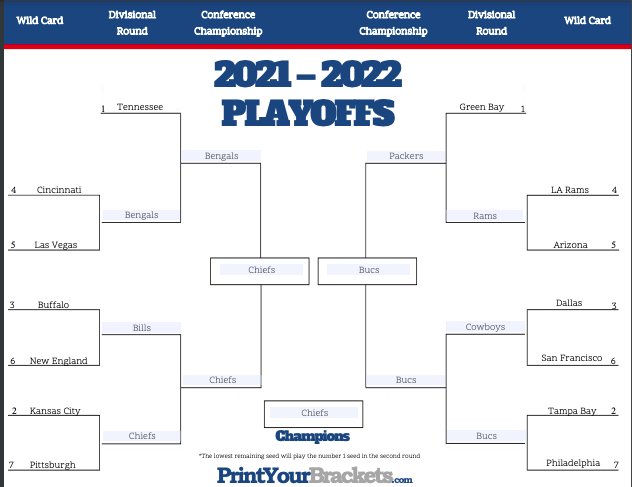 Last year, I got three of four semifinalists correct — and my wallet appreciated it. This year? I have no fucking clue.
This 2022 NFL Playoffs race is completely wide open. Not a single team is a lock. Beyond the 7 seeds, I could see every team make a Super Bowl run (albeit unlikely for my beloved Patriots). This should be one of the most competitive playoff races of all time.
Similar to last year, I believe both 1 seeds will get knocked off in 2022. Consequently, my 2022 NFL Playoffs Player Rankings will have the Titans and Packers players lower than the typical Expert Consensus. Conversely, I will be significantly higher on the Chiefs and Bucs players given their high-powered weapons and four-game upside.
Another key benefit of a "playoff map" is avoiding immediate or soon-to-be opponents. As mentioned, once you have your early-round "anchors," you want to fade anyone they'll be playing in the near future to maximize your fantasy team's upside and longevity.
2022 NFL Playoff Teams: Vegas Odds
In case you don't trust The Wolf's (ample) gut, here's how the good folks in Las Vegas projected Super Bowl odds: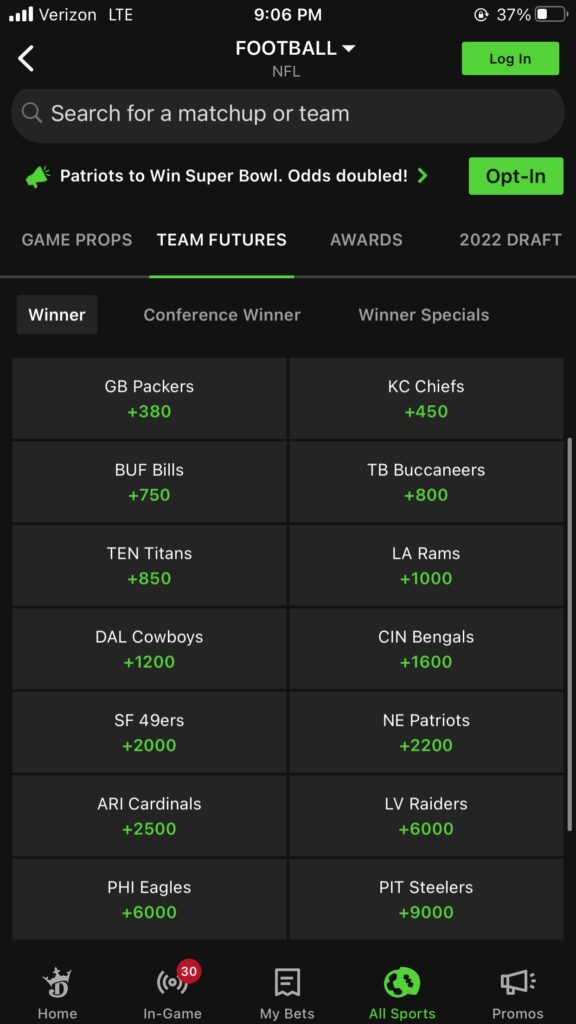 2022 NFL Playoff Team Rankings & Top Stacks (for Fantasy)
Tier 1: Super Bowl Predictions & Juggernaut Os
1) Kansas City Chiefs (12-5)
Record v. Playoffs: 6-3 (66%)
Playoff Opp. Wins: Packers, Cowboys, Eagles, Steelers, Raiders x 2
Playoff Opp Losses: Bills, Titans, Bengals
Points per game: 28.2 (4th)
Chiefs Playoff & Fantasy Outlook:
Indeed, this season was a rollercoaster for the Chiefs. For weeks, the defense was in shambles. Right when they got it together, the offense sputtered out. Yet, with wins in 9 of their last 10, few teams enter with the Chiefs' momentum.
Ultimately, Patrick Mahomes (QB1) is under center. He is 6-2 in the playoffs, with the highest passer rating in NFL History while averaging 290.5 yards and 2.12 TDs per game. He's the easy QB1, and the ideal anchor to build a stack around if you're lucky enough to land Travis Kelce (TE1) and/or Tyreek Hill (WR4). Despite playing only 3 games, both Kelce (360 yards, 120 per) and Tyreek (355, 118 per) led all pass-catchers in 2021 playoff receiving yards. Kelce also led the league in playoff receiving TDs with 3. Imagine the damage they can do in four games this year?
Among the top-tier of WRs, Hill does feel a little shaky after his heel injury last week, and failure to cross 10 FPs in three straight. Still, he's a game-wrecker and oozes upside if the Chiefs play the four-games I project.
More realistic is stacking Mahomes with later-round ancillary pieces like Mecole Hardman, who went over 19 FPs last time out and his 12+ in two of his last three. Or Byron Pringle, who similarly finished hot (26 FPs in Week 16 against the Steelers, who they match up with this week). Should Hill's injury linger and these weapons be leaned upon, they'd be playoff league-winners.
Last is the running game. Good luck figuring out the distribution between Clyde Edwards-Helaire and Darrell Williams, with both practicing in a limited fashion this week. We've seen Playoff Winning RBs from Andy Reid's offense before (Damien Williams epic run), but this feels murkier than usual. Still, if you start with Mahomes, you should likely take a stab at landing the top guy. My guess is Williams (RB12), but CEH is right behind at RB13.
2) Tampa Bay Buccaneers (13-4)
Record v. Playoffs: 4-1 (80%)
Playoff Opp. Wins: Cowboys, Bills (OT), Patriots, Eagles
Playoff Opp Losses: Rams
Points per game: 30.1 (2nd)
Tampa Bay Buccaneers Playoff & Fantasy Outlook:
Two words: Tom Brady (QB2).
31-11 across his playoff career, no QB in NFL history has as many wins or playoff games played as Brady. Beyond a mind-boggling 9-0 loss to the Saints, this Bucs offense was scorching: 7 wins with 30+ points in six, only one below 28. This, despite some tough injuries to Chris Godwin and whatever the hell you'd call Antonio Brown. Nevermind that Tom led all QBs with 5,316 yards and 43 TDs.
Last season, Brady paced NFL QBs in playoff passing with 1,061 yards (265 per), while doubling up the next closest QB in TDs (10). A similar run can't be ruled out.
Even with limited firepower, Brady and Arians seem primed for another Super Bowl run. Should this happen, Mike Evans (WR5) and a reborn Rob Gronkowski (TE2) would play a huge role. At cheaper prices than the Chiefs, a Brady-Evans-Gronk stack isn't as impossible as a Mahomes-Kelce-Hill, either.
Additionally, Leonard Fournette is my RB2, behind only King Henry. His 300 rushing yards and 3 TDs both paced the NFL Playoffs last season, and since Lenny has expanded his role in the passing game, finishing top-5 in RB targets this year. He'll be fresh after three weeks off, and ready to do his best "Playoff Lenny" again.
Tier 2: Explosive Offenses w/ 3+ Game Upside
3) Green Bay Packers (13-4)
Record v. Playoffs: 5-1 (83%)
Playoff Opp. Wins: Rams, Cardinals, Bengals, Steelers, 49ers
Playoff Opp Losses: Chiefs
Points per game: 26.5 (10th)
Green Bay Packers Playoff & Fantasy Outlook:
The Super Bowl favorites by most, the Packers certainly are a strong wagon to hitch yourself to in 2022 NFL Playoffs leagues. For one: likely MVP Aaron Rodgers has finished the year masterfully, and will now have a bye week to rest that "toe injury." He averaged over 320 passing yards last year and should be similarly masterful at home through these playoffs.
Speaking of home-field advantage, these Packers are 8-0 this season. This boosts their shot at making the Super Bowl considerably. They also have the most wins and highest win percentage vs. playoff opponents on the year, proving they are battle-tested. The only downside is their ceiling is capped at only 3 games. Last year, Brady ended up being far more valuable than Mahomes due to that one extra game.
Never mind the shot at a potential early exit. The Packers choked as the NFC one seed last year, and Rodgers is just barely above .500 in the playoffs (11-8). This team feels different, and homefield means a lot more this year, but still, the risk of an early choke-job has to weigh on fantasy drafters.
Still, at the top of drafts, passing on Davante Adams (WR2) is difficult to do. In his final six weeks, Adams finished as the WR3, WR12, WR1, WR15, WR5, and WR4. He and Cooper Kupp (WR1) will likely alternate as the top-scoring WRs for however long both are on the field.
Of course, Aaron Jones (RB1) drips in upside, albeit his RBBC with AJ Dillon capped this for the majority of 2021. He finished as an RB1 just four times this year, but the Packers may lean on him more heavily with everything on the line. Still, expect Dillon to be his usual "hammer" self.
Last, I LOVE Allen Lazard (WR12, +3 ECR) in the mid-to-late rounds of NFL Fantasy playoff leagues. After the Packers' bye, Lazard closed the year with 21, 5, 14, 19, and 25 FPs as their clear-cut No.2 option. Three games of this upside at his current price would be gold.
4) Buffalo Bills (11-6)
Record v. Playoffs: 2-4
Playoff Opp. Wins: Chiefs, Patriots
Playoff Opp Losses: Patriots, Steelers, Titans, Bucs (OT)
Points per game: 28.4 (4th)
Buffalo Bills Playoffs & Fantasy Outlook:
The Bills are perhaps the biggest "wild card" of the 2022 NFL Playoffs. On the surface, they appear fraudulent: a 2-4 record vs. playoff opponents. A risky Round 1 matchup vs. a Patriots team that's already knocked them off at home (in a similarly frigid environment). A matchup with the Chiefs should they win.
Yet, remember the second factor of "Teams to Stack": offensive potency. Josh Allen repeated as the QB1 in fantasy, and he'll be a threat for 30+ FPs for however long the Bills last. If this is somehow four games, you've likely won your league. He's my QB3 for the 2022 NFL Playoffs consequently.
Meanwhile, although Diggs' 2021 was a "letdown" after his wild 2020 as the WR1, he's still a viable threat for the WR1 in playoffs leagues. He ranked third in yardage last year (311) alongside 20 receptions and two touchdowns. After 21+ FPs in two of three games to close the year, Diggs is a prime target in Round 1 of 2022 NFL Playoffs drafts.
Additionally, Gabriel Davis feels like the AFC "Lazard," with four TDs in his last five games (and fresh off a whopping 14!! targets). He's my WR13, especially with Emmanuel Sanders dinged up and Cole Beasley disappearing into an abyss.
Lastly, no RB scored more fantasy points over the final four weeks than Devin Singletary. Yes, it's crazy. I can't believe it myself. Still, he played 80%+ snaps in all but one contest as he took a stranglehold on the role, scoring 17, 19, 23, and 25 FPs. Trusting a Bills RB always feels risky, but I have no problem ranking Singletary as my RB4 for fantasy leagues. I've been landing him in Round 3/4 of nearly every draft I do.
5) Cincinnati Bengals (10-7)
Record v. Playoffs: 4-2 (66%)
Playoff Opp. Wins: Chiefs, Steelers x2, Raiders
Playoff Opp Losses: Packers (OT), 49ers (OT)
Points per game: 27.1 (7th)
Cincinnati Bengals Playoffs & Fantasy Outlook:
The No.1 QB from the fantasy playoffs, Joe Burrow finished hotter than anyone (28.7 FPPG), chucking 971 yards and 8 TDs in his final two games. That's certainly an NFL Playoffs anchor worth exploring. Especially with sexy stacking options like rookie phenom Ja'Marr Chase and the monstrous Tee Higgins, who both topped 40+ FPs in back-to-back weeks.
As a whole, the Bengals are surprisingly tied for 4th in win percentage versus playoff opponents, with both of their losses coming in overtime. They can hang in with anyone.
Still, while I love Burrow, do we trust Zac Taylor to get the Bengals their first playoff win since 1991? Maybe. The Raiders aren't a tough draw — the Bengals smashed them 32-13 in the regular season. Should the Bills win, the Bengals would also draw the Titans — a team ripe for an upset. Yet, I wouldn't completely rule out a Round 1 exit, either.
Of course, Joe Mixon could be the sneaky straw to stir this potent offensive potion these playoffs. He finished as the RB3, behind only Jonathan Taylor and Austin Ekeler. Mixon handled the third most carries and total opportunities in the league and would be a potential monster for playoff managers if he squeaks out 3+ games.
6) Dallas Cowboys (12-5)
Record v. Playoffs: 3-4 (42%)
Playoff Opp. Wins: Pats (OT), Eagles x2
Playoff Opp Losses: Bucs, Chiefs, Cardinals, Raiders (OT)
Points per game: 31.2 (1st)
Dallas Cowboys Playoffs and Fantasy Outlook:
With five wins in their last six and 43.0 points per game in their last three, the Cowboys' offense comes in scorching. This squad reminds me of the NFC-version of the Chiefs, albeit with (far) lesser coaching: a defense that can win games on their own, and an offense capable of putting points up with anybody — hence the NFL Crown in points per game.
Plus, some history is on their side:
They could make a Super Bowl run. 3-4 games of this offense would likely be enough to win NFL Playoffs Fantasy leagues.
Working against them? HC Mike McCarthy is a moron. And they drew a brutal Wild Card matchup with a 49ers team capable of punching them in the jaw.
Still, Dak Prescott enters red-hot, finishing with 30, 27.3, and 35 FPs — most recently hucking 5 TDs on the Eagles. He trails only Mahomes, Brady, Allen, and Rodgers among my QBs, and honestly might be my favorite of the bunch at his third-round price. He seems fully over the midseason calf injury that had been sapping his accuracy.
Stacking Prescott gets trickier, with a plethora of weapons at his disposal. Amari Cooper has outshined CeeDee Lamb lately, with the latter failing to crack the Top-24 WRs for five straight weeks. Still, both are capable of blowing up any given Sunday, and I am higher on both ECR. Ezekiel Elliott has been similarly up-and-down, but logged his fastest run of the season two weeks ago and finished as the RB6 despite his inconsistency.
Perhaps the most underrated weapon of all? Dalton Schultz. He finished as the TE4 in fantasy, behind only Mark Andrews, Travis Kelce, and George Kittle. He comes in hot, too, with three Top-4 TE finishes in his last four, and none outside the Top-8.
First-round exit risk aside, these Cowboys have all the firepower to be NFL Playoffs fantasy league-swingers, and the defense to allow a deep run. Of course, they'd have to knock off the Bucs in Round 2 — a tall feat even if they end up winning in Wild Card Weekend. I'll be loading up regardless due to my gut feeling, especially at their discounted rates.
7) San Francisco 49ers (10-7)
Record v. Playoffs: 4-4 (50%)
Playoff Opp. Wins: Rams x 2, Bengals (OT), Eagles
Playoff Opp Losses: Packers, Cardinals x 2, Titans
Points per game: 25.1 (13th)
San Francisco Playoffs & Fantasy Outlook:
I HATE that the 49ers square off with the Cowboys in Round 1, as I see both teams capable of huge runs. Should the 49ers win and gain a date with the Packers, I'd honestly pick the 49ers in an upset. This team can throw uppercuts, and Kyle Shanahan has proven capable of leading deep runs before.
Should you get multiple games, just look at the fantasy talent: Deebo Samuel was the WR3, posting Top-12 numbers in half of his weeks and Top-24 in 75% of matchups while never dipping below 10 FPs. George Kittle may be up-and-down, but no one will argue his 30+ FP weekly ceiling. Eli Mitchell finished 8th in rushing yards despite missing 6 games, finishing the year with 21+ carries in five straight contests.
Similar to Dallas, the range of outcomes could be one-and-done, or Super Bowl, for this 49ers squad. With so much potency, I never am upset if they're the NFC team I'm left stacking.
8) Los Angeles Rams (12-5)
Record v. Playoffs: 2-5
Playoff Opp. Wins: Bucs, Cardinals
Playoff Opp Losses: Cardinals, Titans, 49ers x2, Packers
Points per game: 27.1 (7th)
LA Rams Playoff & Fantasy Outlook:
Everyone crowned the LA Rams as a "super team" after acquiring Von Miller and Odell Beckham Jr. during the season. But, just like every other "super team," they've faltered and failed to live up to expectations. Over the team's last nine games, they've been a very average 5-4 squad, and both the offense and defense have let the team down in spots.
Led by the dynamic duo of Matthew Stafford and Cooper Kupp, anything can happen. Not to mention, they get Kliff Kingsbury, who is 1-5 against his friend Sean McVay, to cap Wild Card Weekend. Kupp, my No. 1 player overall, recorded a modest 18 receptions for 187 yards against the Cardinals this season and looks to build on his historic regular season by making noise in the playoffs. Kupp is a lock for 20-plus fantasy points whenever he is on the field and finished with an absurd 367 half PPR fantasy points this season. Stafford cooled off a bit at the end of the season as the games became more competitive but still finished QB5 overall.
With Robert Woods suffering a torn ACL, the Beckham acquisition came at the perfect time. OBJ has found the end zone five times during his eight games with the Rams and is a solid WR2. But, Van Jefferson has not scored since Week 14 and has cooled off significantly after scoring touchdowns in three straight games from Weeks 11 to 14.
Sony Michel's emergence occurred at the right time and he drips in fantasy upside with Darrell Henderson on injured reserve (MCL sprain). Cam Akers miraculously played Week 18 after an Achilles tear kept him out the first 17 weeks, but one would expect Michel to be the workhorse as long as the Rams are in the playoffs. Michel has played over 90 percent of the team's snaps in four of the team's last six games and could be a mid-round bargain if you believe in the Rams' chances of making a run.
It all comes down to whether or not Stafford can sack up in the playoffs. Which side are you on?
9) Arizona Cardinals (11-6)
Record v. Playoffs: 5-2 (71%)
Playoff Opp. Wins: Titans, Rams, 49ers x2, Cowboys
Playoff Opp Losses: Packers, Rams
Points per game: 26.4 (11th)
Arizona Cardinals Playoff & Fantasy Outlook:
After a scorching hot 7-0 start, the Cardinals limp into the playoffs with 4 losses in their last 5 games, including an embarrassing performance against the lowly Lions. Granted, the win came against fellow playoffs hopeful Dallas Cowboys, but Kliff Kingsbury and Kyler Murray must prove these late-season collapses aren't routine.
Interestingly, the Cardinals enter with the third-highest winning percentage against playoff opponents (71%). They also are 8-1 on the road, compared to 3-5 at home, meaning their "Road Dog" status might actually be a blessing. Not in their favor? Kingsbury's 1-5 record versus Wild Card opponent Rams. In my gut, I think they pull the upset.
Still, I don't see this Cardinals team lasting more than two games, if that. Kyler Murray may be the most dynamic young QB in the game, but without Hopkins, the offense has been sputtering, scoring 23, 12, 16, 22, and 30 points across their last five. Murray, as well as James Conner and Christian Kirk, have been falling far in fantasy drafts as a result. Should they regain the early season magic when they scored 31+ in 7 of 9 weeks, they'll be league-winners at their prices. I have pretty decent exposure due to price and the upside on that off-chance, but I'd be banking on many other teams first.
Tier 3: Unlikely for Runs / Not Appetizing Anyways
10) Tennessee Titans (12-5)
Record v. Playoffs: 4-3
Playoff Opp. Wins: Chiefs, Bills, Rams, 49ers
Playoff Opp Losses: Cardinals, Steelers, Patriots
Points per game: 24.6 (15th)
Tennessee Titans Playoffs & Fantasy Outlook:
The Titans are an interesting team. They earned the AFC's No. 1 seed by beating the Chiefs, Bills, Rams, and 49ers. They also get a healthy Derrick Henry back after missing in action since Week 8 with a foot injury. Henry, who is still ninth in the league in rushing (937 yards), will provide an obvious and significant boost to an offense that looks like a roller coaster at times. In six playoff games, Henry has 670 yards and three touchdowns to his name.
While Henry's foot could be considered a question mark, the real question is whether or not the team can rely on Ryan Tannehill to move the ball if Henry cannot handle a Henryesque workload. AJ Brown and Julio Jones look healthy for the moment and could transform the passing game from decent to very good. But, it all comes down to whether or not Tannehill can make plays through the air to turn this offense into a fantasy juggernaut.
I am not sold on the Titans and I believe they could be taken down in their first game off the bye week. Vegas agrees, giving Mike Vrabel's team the third-best odds in the AFC behind the Chiefs and Bills.
The talent is apparent on paper, but something is missing for me.
11) Las Vegas Raiders (10-7)
Record v. Playoffs: 3-3
Playoff Opp. Wins: Cowboys (OT), Steelers, Eagles
Playoff Opp Losses: Chiefs x 2, Bengals
Points per game: 22.0 (18th)
Las Vegas Raiders Playoffs & Fantasy Outlook:
The Raiders have had quite the season and somehow made it to the playoffs after a wild Week 18 victory against their division rival, Los Angeles Chargers. Truly, Derek Carr and interim coach Rich Bisaccia deserve all the credit in the world to keep the team together after dismissing Jon Gruden and losing Henry Ruggs to the Las Vegas prison system. But, the storybook season should come to an end when they square off against a red-hot Joe Burrow and the Cincinnati Bengals.
Even without his speedster to stretch the field, the Raiders offense runs through Carr and the passing offense. Hunter Renfrow has always been a lethal, dependable route-runner, but now he's transformed into a valuable red-zone threat. Renfrow has caught nine touchdowns this season to go along with his 103 receptions and 1,038 yards. Zay Jones also picked up the slack with Ruggs gone and has caught at least five balls in five straight games — highlighted by an 8-120 Week 17 performance.
Then, there is Darren Waller. The stud tight end has battled injuries and has been allergic to the end zone all season, but he saw nine targets during his Week 18 return. A monster Waller game could go a long way for the Raiders if they have any chance of keeping up with Burrow & co. His talent alone makes him a cheap, intriguing flier in Best Ball or fantasy leagues.
One could argue that Josh Jacobs has been the catalyst during the team's recent hot streak. The former Crimson Tide back has rushed for 324 yards and two touchdowns over his last three games. He quietly had a solid season, rushing for 872 yards and scoring nine touchdowns, while catching a career-high 54 balls for 348 yards. He finished just outside RB1 territory as fantasy's RB14 — one spot ahead of Dalvin Cook.
Is it possible that the Raiders could upset the notorious losers from Cincinnati? Yes. But, I wouldn't bet on it.
12) New England Patriots (10-7)
Record v. Playoffs: 2-3
Playoff Opp. Wins: Bills, Titans
Playoff Opp Losses: Cowboys (OT), Bucs, Bills
Points per game: 27.2 (6th)
New England Patriots Playoffs & Fantasy Outlook:
Just a few weeks ago, NFL media and #NFLTwitter crowned Bill Belichick and Mac Jones. But after squandering three of their last four games, the Patriots backed into the playoffs and get the Bills for the third time this season. The Patriots bullied the Bills in a hurricane, got dismantled in Foxboro by Josh Allen, and now head back to Buffalo for the rubber match.
From a fantasy standpoint, Damien Harris (50 overall) is the only player in our top 50. Jakobi Meyers (62), Mac Jones (63), and Rhamondre Stevenson (69) also have a tiny bit of fantasy relevancy for those who wear Patriots' colored glasses. Speaking of Harris, he's been a menace on the football field. He's scored in five straight and has obliterated the Bills to the tune of 214 yards and four touchdowns on the ground this season.
With sub-zero wind chills expected in Orchard Park on Saturday, the Patriots could ride Harris and Stevenson to the next round. But, it is a significant risk given what we've seen from this offense as a whole over the last month.
13) Philadelphia Eagles (9-8)
Record v. Playoffs: 0-6
Playoff Opp. Wins: LOL
Playoff Opp Losses: Cowboys x 2, 49ers, Chiefs, Raiders, Bucs
Points per game: 26.1 (12th)
Philadelphia Eagles Playoffs & Fantasy Outlook:
Outside of last week's fake game against the Cowboys, the Eagles have been one of the hottest teams in the league — winning six of their last seven games. Jalen Hurts was the Konami Code we all thought he would be this season, finishing as the QB6 overall with an average of 21.4 FPPG. Unfortunately, it looks like we may have to wait another season for Hurts to make a playoff run, as the Birds get an awful matchup against Tom Brady and the Bucs.
I, for one, would be shocked if the Eagles advanced, making their offense outside of Hurts pretty irrelevant from a fantasy perspective. On the bright side, Dallas Goedert has been on fire recently, racking up 339 yards and two scores on 21 receptions over his last four years. But, rookie DeVonta Smith has seemingly hit the rookie wall. No other Eagles' pass-catcher should even be on fantasy owners' radars.
I'd also avoid the Philly running back mess of Miles Sanders (returned to practice Tuesday), Jordan Howard, Boston Scott, and Kenneth Gainwell. The Bucs' savage run defense and multi-headed committee are not a good mix.
Nick Sirianni deserves all the credit in the world for getting this team to the playoffs, but he might be a year or two away from the team making a legitimate run.
14) Pittsburgh Steelers (9-7-1)
Record v. Playoffs: 2-4
Playoff Opp. Wins: Bills, Titans
Playoff Opp Losses: Bengals x 2, Packers, Chiefs
Points per game: 20.2 (21st)
Pittsburgh Steelers Playoffs & Fantasy Outlook:
We can all blame Carson Wentz when we are forced to sit through an utter dismantling of Ben Roethlisberger on Sunday Night Football in Arrowhead. We were ROBBED of seeing the great Jonathan Taylor in the playoffs. Robbed, I tell ya.
Anyways, we get a rematch of the 36-10 "game" that we just saw a few weeks ago. The Chiefs actually led 30-0 before calling off the dogs — so we are in for a snoozer on Sunday night.
Log off if you plan to hitch your wagon to anyone on this squad, but a few names could be helpful as a one-week plugin in Best Ball if you plan on going all-in on the Titans or Packers. Najee Harris, our runner-up for Fantasy Rookie of the Year, is an absolute workhorse who finished RB4 overall this season. Diontae Johnson is the definition of a target-hog and should see double-digit targets on Sunday. Three weeks ago, Johnson corralled six of nine targets for 51 yards and a score against the Chiefs. Pat Freiermuth and Chase Claypool also drip in touchdown upside.
Farewell, Big Ben. You will be missed.