Still want to squeeze out every last drop of fantasy football juice this season? Of course, you do.  There's no better way than a 2021 NFL Playoffs Fantasy Football League.
In most NFL Playoffs Fantasy Football leagues, you gain points for however long your player lasts. This makes getting the most games played out of your players absolutely paramount.
As such, The Wolf brings you his 2021 NFL Playoff Team Rankings for fantasy football.
Note: For player rankings, click here. Plus, check out my picks for 2021 Playoff "Blow Up" Candidates. 
2021 Playoff Overview & Super Bowl Prediction
Before you draft, I highly recommend you map out your 2021 Postseason predictions. This way, you get a sense of how many games you see each team playing – a crucial step before you actually rank your players.
Here is how I see the playoffs going: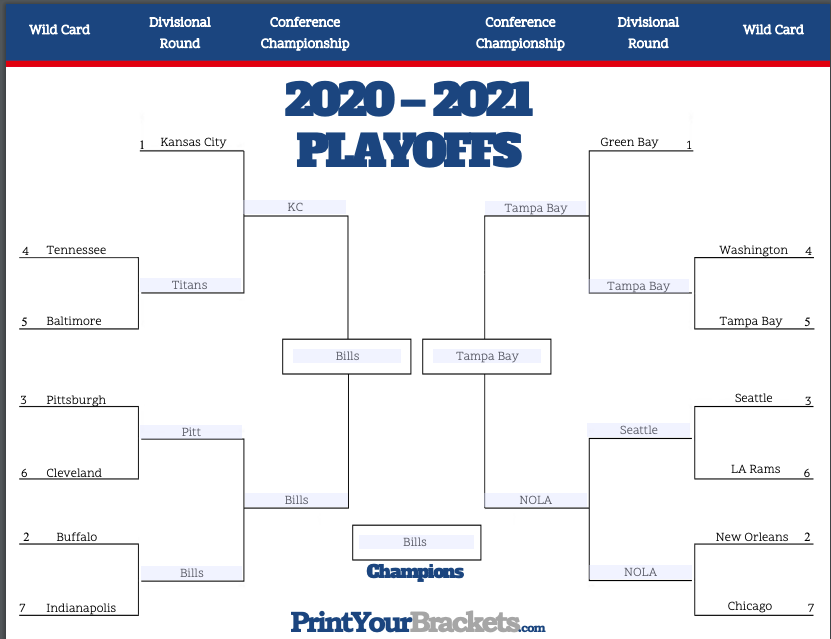 I will preface this by saying: I don't have supreme confidence in any single team for 2021. Whereas there's usually at least one clear-cut favorite from one of the conferences (last year's Chiefs, for example), I don't sense a "lock." This should be one of the most competitive playoff races in recent memory.
As you can see, I believe both 1 seeds will get knocked off in 2021. Consequently, my rankings will have the Chiefs and Packers players lower than the typical Expert Consensus. Conversely, I will be significantly higher on the Bills and Bucs players given their four-game upside.
Another key benefit of a "playoff map" is avoiding immediate or soon-to-be opponents. This may seem obvious, but you don't want to load up on players on two teams slated to meet early in the playoffs. Try to stay on opposite sides of the bracket as much as possible to boost your chances of a long-lasting roster.
2021 NFL Playoff Team Rankings (for Fantasy)
Tier 1 – Genuine Super Bowl Threats
1) Buffalo Bills (13-3) / 4 Projected Games Played / 25% Super Bowl Confidence
No team's hotter than the Bills, who ride a six-game win-streak into the playoffs, largely on the backs of Josh Allen and some monstrous offensive outputs. Buffalo has scored 27, 34, 26, 48, 38, and 56 points across this span, while Allen posted 30+ FPs in 3 of his last 4 full games played.
Should this prediction of a Super Bowl run hold true, Allen and co. would undoubtedly be the backbone of all fantasy playoff championship winners. Stacking Allen with Stefon Diggs would be illegal, considering Diggs has gone for 29, 26, and 42 across his last three full games.
The Bills went 3-2 against current playoff teams, with wins against the Seahawks (44-34), Rams (35-32), and Steelers (26-15). They lost a blowout to the Titans (42-16) and a narrow defeat to the Chiefs (26-17).
2) Tampa Bay Buccaneers (11-5) / 4 GP/ 25% SB Confidence
The Bucs similarly enter the playoffs hot, scoring 44, 47, 31, and 26 across a four-game win streak. Tom Brady seems to have finally found his groove within Bruce Arians' offense, chucking 4 TDs in back-to-back games. Granted, this came against the swiss-cheese Lions and Falcons, but the confidence boost can't hurt.
A glaring concern? The Bucs have gone an ominous 1-5 versus playoff teams, including two losses to the Saints (23-34 & 3-38), plus the Bears (19-20), Chiefs (24-27), and Rams (24-27).
Room for optimism? Their one win came against No.1 Seed Green Bay, who they blew out 38-10. If the Bucs handle business against Washington as they should, they'll likely match-up with these same Packers. Plus, there's no way Brady loses three to Drew Brees and the Saints should they meet in the championship… right?
All the other losses came down to three points or fewer, on a team that was still finding its footing. Give me the coldest man when it matters most, and that's TB12. Meanwhile, Chris Godwin, Mike Evans (if active), Antonio Brown, and Rob Gronkowski, plus Ronald Jones, should feast for fantasy if afforded four games. That's a dice roll worth casting.
3) New Orleans Saints (12-4) / 3 GP / 20% Super Bowl Confidence
If it's not Tom Brady's Bucs coming out of the NFC, I expect it to be the team who beat them twice (including a dominant 38-3 SNF performance).
The Saints have blasted the scoreboard for 85 points in their last two contests. This came after two straight losses, though one was only by three points against the Chiefs (29-32) in a game Brees was shaking off the rust.
Four games played by this juggernaut offense would undoubtedly swing fantasy championships. Alvin Kamara, the reigning RB1 in 2020 fantasy, should return from his asymptomatic COVID-19 stint, while Michael Thomas is also expected back. Both should be among the highest priority positional players, while of course Drew Brees should be a Top-5 QB selection if you believe this outcome.
The Saints went 3-1 versus playoff competition, with two aforementioned wins over the Bucs and an OT W (26-23) over the Bears they'll meet in Round 1. They aren't quite "battle-tested" in this sense, and played some close games against inferior competition. They also have shit themselves in recent playoff years, not having advanced past the Divisional Round since their 2009 Super Bowl Win.
Still, the experience and added "last season motivation" for Brees should go a long way to making the Saints a serious threat for a four-game run.
4) Kansas City Chiefs (14-2, 14-1 with starters) / 2 GP / 24% Super Bowl Confidence
Do you really need me to spell out the greatness of Patrick Mahomes and the defending Super Bowl champions?
The top bet for most, the Chiefs and Mahomes are by far the safest floor play in NFL Playoff Fantasy leagues. The All-World QB, Travis Kelce, and Tyreek Hill should all go completely berserk.
A 4-0 record against playoff competition only strengthens the Chiefs' case, with wins over the Ravens (34-20), Bills (26-17), Bucs (27-24), and Saints (32-29).
So why are the Chiefs only ranked four here, Wolf? First, I hate that they are one of only two teams with a bye. This caps their max games played at three, as well as their ultimate ceiling – unless your league rewards multipliers for the Super Bowl.
Second, I sneaky LOVE the Titans. I wouldn't be shocked to see them pull a divisional round upset over, creating real one-and-done risk.
Given these rankings are for fantasy, this sneaky low-floor, combined with a slightly capped ceiling, has me investing in the top-three teams first.
5) Green Bay Packers (13-3) / 1-2 GP / 20% Super Bowl Confidence
Similar to the Chiefs, I feel the Packers could bring serious one-and-done risk, while also carrying a three-game max. That's because they're likely to meet Tom Brady and a Bucs team that smashed them 38-10 in Round 2.
Granted, that contest was in Tampa Bay, and this will be in the friendly confines of Lambeau, which can't be overstated. Otherwise, the Packers went 4-2 against playoff competition, beating the Bears twice, Saints, and most recently dismantling the Titans 40-14 on SNF.
Aaron Rodgers, the likely NFL MVP, has been on a mission all year. Betting against him with homefield throughout is extremely risky. Meanwhile, Davante Adams should be the top WR selected in all NFL Playoffs formats, while Aaron Jones has to rank alongside Kamra and Derrick Henry as a Top-3 NFL Playoff RB selection.
Tier 2 – Could Go on Huge Runs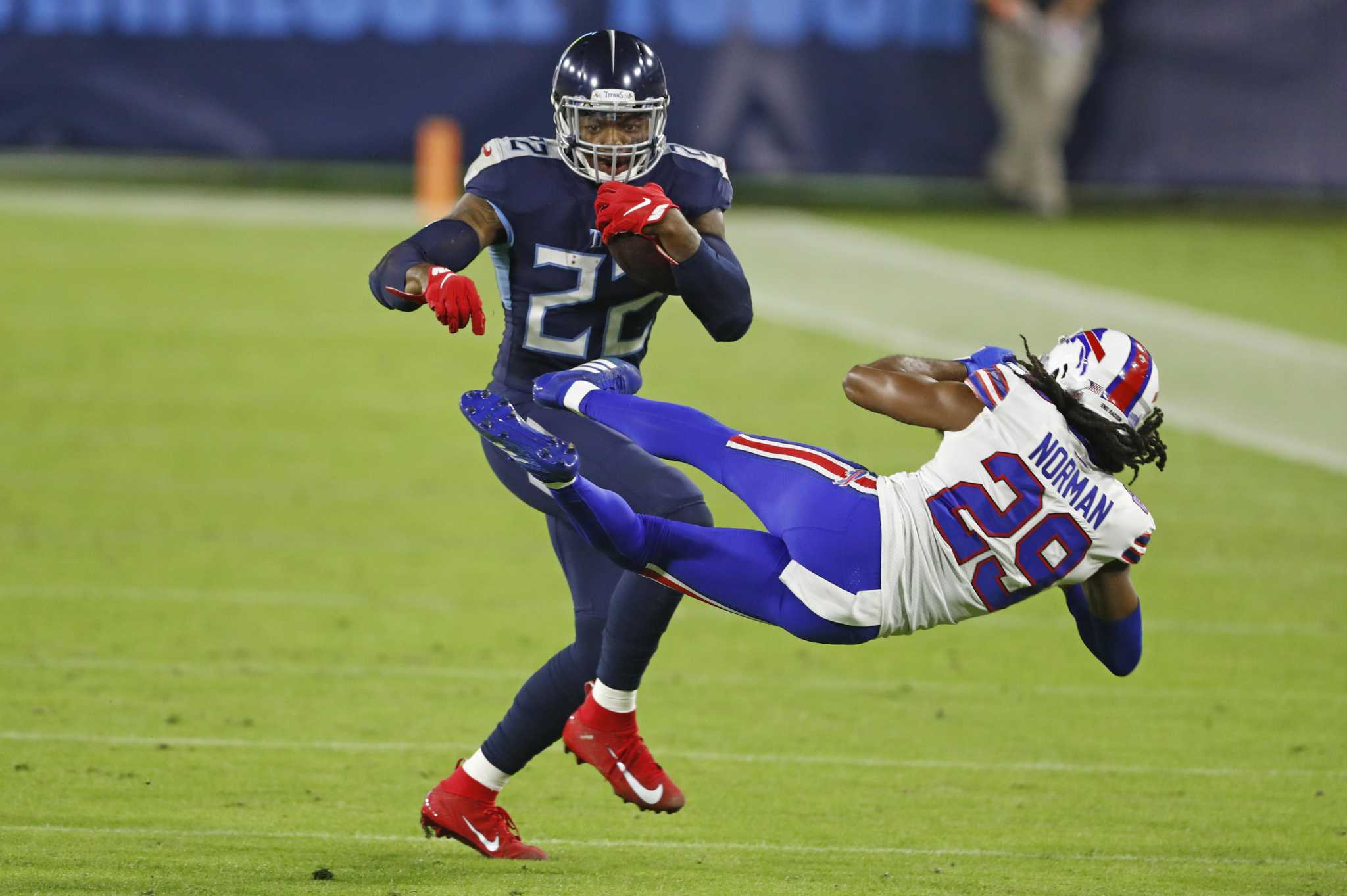 6) Seattle Seahawks / 2 GP / 10% Super Bowl Confidence
Russell Wilson was finally allowed to cook to begin 2020, and the results were glorious. As of October 21st, Wilson was on pace for 61 TDs, while the Seahawks were 5-0 after scoring 38, 35, 38, 31, and 27 points.
In the next three contests, the offense continued to churn for 34, 37, and 34 points, but the team went 1-2.
Dramatically, Pete Carroll then returned to his run-heavy, clock-control style of game, and the entire offense took a huge hit. Ultimately, the Seahawks closed the year 6-2, largely on the back of the defense and ground game.
In the playoffs, this will likely lead to the same slow-paced, low-scoring attack we suffered through for the back-half of 2020.
Still, on the off-chance the Seahawks unleash Russ, DK Metcalf, and Tyler Lockett again, the 'Hawks could make some fantasy magic. Wilson might be the second-best QB in the NFL, and both he and Carroll are plenty battle-tested. They went 2-2 versus playoff teams in 2020, splitting the season series with the Rams while also beating the Football Team – two of the more unimpressive playoff squads.
7) Tennessee Titans (11-5) / 2 GP / 10% Super Bowl Confidence
The Titans are my sneaky favorite team to go on a crazy – potential Super Bowl – run this season.
I hate they're matched up with Lamar Jackson's Ravens, as I could see whichever squad wins this probable shootout go on to catch fire and roll in Kansas City. In fact, the Titans would rank Tier 1 if I had more confidence in their first round matchup.
Still, the Titans have many ingredients to go deep. Chiefly, a dominant run-game behind Derrick 2k Henry that can churn clock with the best of them. OC Arthur Smith uses this masterfully to set up play-action and attack deep, creating the fourth highest-scoring offense (30.7 PPG).
Working against the Titans is an abysmal defense that allowed the 9th most points (27.4) – most among playoff contenders – including a whopping 34.3 across their last three.
The Titans went 4-4 versus playoff competition, including big wins over the Bills (42-16), Ravens (30-24), Colts (45-26), and Bears (24-17). They got smoked by the Packers (14-40) and Colts once (17-34), while narrowly losing to the Steelers (24-27) and Browns (35-41). They may be more "battle ready" than any other team.
Still, even if they only squeak out two games and succumb to Kansas City next round, the Titans would likely be a points bonanza for fantasy purposes. This makes Henry, Ryan Tannehill, AJ Brown, and perhaps Corey Davis appealing fantasy prospects.
8) Pittsburgh Steelers (12-4) / 2 GP / 10% Super Bowl Confidence
The once 11-0 Steelers ultimately limp into the playoffs, dropping four of their last five contests, including abysmal losses to the Bengals (17-27) and Washington (17-23).
Fantasy-wise, there's not a whole ton of "sex appeal" to this Steelers squad. The running game has been untouchable, while the passing game distribution is tricky to project each week. Diontae Johnson remains the steadiest source of volume, pacing the team in receiving yardage (923) and targets (144) despite playing only 13 full contests. In fact, he saw 10+ targets in all but 1 full game played.  Meanwhile, JuJu Smith Schuster and Chase Claypool tied for a team-high 9 TDs, with JuJu also leading in receptions (97). Given their high likelihood of 2+ games, all Steelers WRs are in play for NFL Playoff Fantasy.
Meanwhile, Ben Roethlisberger was a Top-12 QB in just 4 contests, finishing as a QB2 or worse in 73% of games. His ceiling is pretty capped, as he finished only 16th in passing yards and 14th in FPs despite throwing the 3rd most passes in the league.
Still, after going 5-3 against playoff teams, the Steelers could be poised for a sneaky long-run. With big wins against the Titans (27-24), Browns (38-7), Colts (28-24), and two on the Ravens (28-24; 19-14), the Steelers have a solid resume. They should smack around the COVID-ridden Browns, but I wouldn't expect much after that.
9) Baltimore Ravens (11-5) / 1 GP / 10% Super Bowl Confidence
I wish the Ravens were matched up against the Steelers instead of the Titans, as I would love to see 2+ games played from both Tennessee and Baltimore. Alas, one fantasy juggernaut must die. My bet is on a Titans win, but no one should be surprised if the five-seeded Ravens pull the upset.
Last year when these two teams met, Lamar Jackson accounted for 508 total yards of offense (365 passing, 143 rushing). Of course, he also turned the ball over three times, bringing his total to 7 turnovers in two playoff appearances. Still, this Titans defense is even worse than last year. Another 400-500 total yard performance is very plausible for the reigning MVP.
Should they win, the Ravens would provide fantasy fireworks with multiple games. In NFL Playoff Fantasy leagues that require TEs, only Travis Kelce should rank above Mark Andrews.
The Ravens do roll in hot, with 5 straight wins in which they've scored 34, 47, 40, 27, and 38 points. They are 4-4 against playoff teams, with wins versus the Browns x2 (38-6; 47-42),  Colts (24-10), and WASH (31-17). The Ravens lost to the Steelers x2, Titans, and Chiefs.
Tier 3 – No Shot 
10) Indianapolis Colts (11-5) / 1 GP / 0% Super Bowl Confidence
Of all the bottom tier teams, the Colts feel the "likeliest" to play more than one game. This would require a massive upset against my current No.1 Bills squad, of course. Still, Josh Allen could crap his pants, and the Colts have enough firepower to hang tight in a shootout too.
Indy's well-coached under Frank Reich, and they did rack up impressive wins against the Packers (34-31, OT), Titans (34-17), and Bears (19-11). However, Philip Rivers isn't clutch, and the Bills are just too hot. It'd take a miracle. Jonathan Taylor should put a solid bow on a fantastic 2020 finish, but he's looking like a one-and-done investment for fantasy.
11) Chicago Bears (8-8) / 1 GP / 0% Super Bowl Confidence
The Bears are just lucky to be here at only .500. They play formidable defense, but any squad led by Mitch Trubisky has a 0% chance at a true run. They'll need the Saints to crap themselves completely for any shot, and I don't think New Orleans does so. Allen Robinson and David Montgomery could provide 20+ in their lone game of action, but expecting more than a single game would be foolhardy.
12) Cleveland Browns (11-5) / 1 GP/ 0% Super Bowl Confidence
I originally had the Browns at the top of this tier. Yet, with COVID-19 running rampant in Cleveland, the Browns will now be without HC Kevin Stefanski, as well as key LG Joel Bitonio.
Internally, the surging Browns must be in shambles. Stefanski has been a rock, and his absence cannot be overstated. The Steelers nearly beat Cleveland with Mason Rudolph at the helm, and shouldn't have much trouble polishing off the Browns. No matter how good Nick Chubb is, this makes him an unattractive buy for fantasy playoff leagues.
13) Los Angeles Rams (10-6) / 1 GP / 0% Super Bowl Confidence
I don't like the Rams' chances on the road here even if Jared Goff plays. They have 0 chance if the creature John Wolford plays.
On Monday, Ian Rapoport labeled it "challenging" for Goff to return for the game. Contrastingly, ESPN noted Goff "has thrown passes in practice" while Sean McVay said Goff "is preparing himself to play."
The lack of Goff would make the already-unappealing Robert Woods, Cooper Kupp, and quagmire run-game an easy avoid in NFL Fantasy Playoff drafts.
14) Washington Football Team (7-9) / 1 GP / 0% Super Bowl Confidence
C'mon. Nobody from this division belongs in the playoffs. Washington is below .500 for a reason. The only obvious positive here is their defense, and they should be able to get to Tom Brady plenty.  Ultimately, though, with a hobbled Alex Smith leading the troops, don't expect the WFT to have enough offensive firepower to move on from Wildcard Weekend, or provide any meaningful fantasy stats for the playoffs.
Summary
Reminder: these rankings are for fantasy football. Are the Packers and Chiefs the favorites to meet in the Super Bowl? Of course. The lone Bye Week and homefield throughout are enormous edges.
Still, this is an ultra-competitive playoff picture. Both one-seeds could be bounced in 1-2 contests, so selecting from them means you are supremely confident in their Super Bowl odds.
Personally, I'd rather take a stab at a four-game player. To me, that makes the surging Buffalo Bills and Tampa Bay Buccaneers my top two teams to target for NFL Playoffs Fantasy Football.
Interested in keeping your fantasy football season rolling? Fantastic! Learn The Wolf's tips on how and where to play NFL Playoff Fantasy Football now! Plus check out his 2021 NFL Playoff Fantasy Football Player Rankings.