The trophies have been handed out and the book on the 2021 fantasy football season is now closed. So, it's fitting we put on a bow on it by handing out the 2021 Roto Awards for MVP (Cooper Kupp runner-up), Bust of the Year, Value of the Year, Waiver Wire Hero, Rookie of the Year, and Playoff Hero.
The great Roto Street Journal staff put together their respective ballots, while our loyal followers (People's Choice), voiced their respective opinions. Whose ballot sucks? Whose is perfect? Leave a comment below or sound off on Twitter.
2021 MVP Runner-Up
Cooper Kupp (68.2% of Yahoo Top 500) so second place nominees:
Jonathan Taylor
Austin Ekeler
Davante Adams
Deebo Samuel
Mark Andrews
RSJ Staff Choice: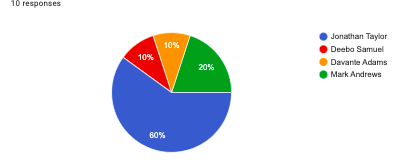 People's Choice:

Wolf – Jonathan Taylor: RB was near impossible to get right, as nearly every first-rounder (CMac, Cook, Henry, Zeke, AK41, Barkley, Chubb) dealt with injury or underperformed. Enter JT, who trailed only Cooper Kupp among non-QBs with 360 PPR FPs & 22.5 PPG (Weeks 1-17); Ekeler, the next closest RB, finished nearly 50 points behind. Despite some scoring woes to begin 2021, JT ultimately scored 20 TDs while running away with the leagues rushing crown. He finished as a Top-10 RB for 11 straight weeks from Week 4-15, with seven Top-5 finishes and five inside the Top-3. That consistency carried countless owners to titles, with JT on 53.6% of Yahoo's Top-500 teams. He's the clear choice for MVP Runner-Up, even if others were "better values."
Ian Snowdeal – Mark Andrews: For the last few years, Kelce has dominated the TE landscape but this year Andrews is TE1 on the year and has had one of the best stretches over the last four weeks. Andrews didn't miss a game all year and his average ADP was 49 (PPR) this preseason. I think he helped many people win titles and he's my non-Kupp MVP.
Kendall Brown – Mark Andrews: A widely accepted draft strategy was to take one of the "Big 3" tight ends inside the first three rounds — with Travis Kelce climbing as high as the first round in many leagues, followed by Darren Waller, and George Kittle. Many people prioritized these "Big 3" tight ends as a draft strategy of sorts and used the immense positional advantage you have over your league mates as justification.
Well, Mark Andrews gave you everything you wanted from Travis Kelce, except four rounds later. Ranked as the TE6 on Wolf's Preseason Rankings and Big Board yet, finished as the TE1, scoring 50 more points than the TE2. Andrews was as consistent as they come and he did it in all three facets of the receiving game. He was targeted a ton, converted those into 100 catches, for almost 1,300 yards and nine touchdowns. This wasn't just a Travis Kelce "like" season from Andrews, it ranks up there with some of Kelce's best seasons ever. Not to mention with two different QBs. Andrews is my 2021 Fantasy Football MVP.
Anthony DeLorenzo – Deebo Samuel: The biggest factor here for me is Deebo's lower ADP against Taylor's.
Chase Marquette-Gaines – Davante Adams: Weigh the anchor!!!!! No week below double-digit PPR points and an elite showing in the fantasy playoffs.
Jackson Barrett – Jonathan Taylor: Jonathan Taylor is the pretty clear choice here in my opinion. He was one of the few running backs to play all 17 games this year, and his 21.9 PPR points per game finished second only to Derrick Henry (24.2). Other than Austin Ekeler (21.5 with one game missed), who would probably be my next choice, no running back came close to matching Taylor's durability and production. Having a running back like Taylor was particularly valuable this season because nearly every other top drafted back suffered at least one injury.
The Truth – Jonathan Taylor: When you combine the relative scarcity of elite fantasy RBs with the differential between Taylor and the next guy, he seems like the obvious choice. If Henry doesn't get injured, its totally possible we're having a different conversation, though.
JimboSlice – Jonathan Taylor: Aside from Cooper Kupp, Taylor was the top fantasy player in 2021 and you likely drafted him in the 2nd round. Taylor was an absolute workhorse who changed leagues.
CJay – Jonathan Taylor: I like the Mark Andrews debates above, but it's hard to go against the overall RB1 who broke the slate on nearly a weekly basis.
2021 Bust of the Year
Christian McCaffrey
Saquon Barkley
Allen Robinson
DK Metcalf
Calvin Ridley
Darren Waller
RSJ Staff Choice :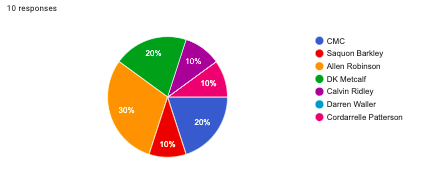 People's Choice:

Wolf – Christian McCaffrey: I understand the "injuries can't be busts" narrative… but I don't fully subscribe to it myself. And certainly not for the "unanimous" No.1 pick, who went +$15-20 more than any player in auctions, as well. Sure, McCaffrey likely helped managers win four contests with his four games of 25-plus FPs. Yet, beyond the missed time, McCaffrey also had six and four FP duds that likely lost weeks, and a nondescript RB15 performance mixed in. Four great games, one mediocre, and two week-losers alongside another 10-plus games missed (and teases upon teases of when he may come back) make McCaffrey my bust of the year and an avoid candidate for me in 2021. I've been burned too many times.
Ian – Allen Robinson: The guy was drafted in the first four rounds in damn near every draft and failed incredibly. He never had a 100-yard performance and caught only one TD all season. The man we thought was QB-proof flopped on everyone this year.
Kendall – DK Metcalf: Don't let the end-of-season ranking fool you. His final ranking, as the WR13, does not match the production and level of trust you felt like you had in this player all season. If you exclude a 30 PPR performance in Week 17, this Bust of Year would have finished the season as the WR21! There was a SEVEN game stretch (from Week 10 to 16) where this player finished as a WR3 or worse and over this time and he didn't eclipse 13 PPR one single time. My 2021 Fantasy Bust of the Year: D.K Metcalf.
DeLorenzo – Saquon Barkley: Outside of Christian McCaffrey, Saquon was the highest cost out of the bunch.
Chase M-G – Cordarrelle Patterson: Would you rather a draft pick let you know early on that they're a flop, or let a shiny, and likely pricey, waiver pickup fill your heart with hope, only to disappear right when the games matter most? (editor note: this screams of owner bias, lol)
Jackson – Allen Robinson: I'm going with Allen Robinson here simply because all other logical options like CMC, Barkley, Metcalf, Ridley, and Waller busted at least partially due to injury. Only Barkley had significant injury concerns coming into the draft, but he looked good in Weeks 3 and 4 coming back from his ACL tear before suffering a fluky ankle injury. Injuries can happen to anyone, so it seems unfair to penalize most of these guys for getting hurt.
After back to back 150-target seasons averaging nearly 1,200 yards, Robinson fell off a cliff, posting 410 yards on 66 targets. He did miss four games, but all four came late in the season when he was already unusable for fantasy. Teammate Darnell Mooney wasn't exactly a fantasy superstar, but his 140 targets for for 1,055 yards surpassed Robinson as the team's WR1. Robinson was the highest-drafted player to simply lose his role for non-injury reasons.
The Truth – DK Metcalf: If you're talking about who probably screwed the most people, it's CMC. But when you take injury out of it and balance it with expectations, I don't think anyone was more disappointing than DK.
Jimbo – Calvin Ridley: Only because I thought he had WR1 overall ceiling that could be reached with Julio gone. He didn't even come close. Also, what are his mentals looking like moving forward?
CJay – Allen Robinson: As the No. 1 Justin Fields guy around, it hurts me to say I was wrong about Fields' positive year-one impact — especially when it came to Allen Robinson. I thought A-Rob would finally hit his ceiling with a legitimate quarterback, but things did not work out with Fields in-and-out of the lineup and with Matt Nagy calling the shots. Drafting Robinson over CeeDee Lamb, Mike Evans, and Cooper Kupp… hurts.
2021 Value of the Year
Leonard Fournette = (80 ADP (RB33), RB5 Finish)
James Conner = (92 ADP (R36), RB8 Finish)
Deebo Samuel = (87 ADP (WR35), WR3 Finish)
Ja'Marr Chase = (71 ADP (WR26), WR5 Finish)
Tom Brady = (70 ADP / QB9 – QB3 Finish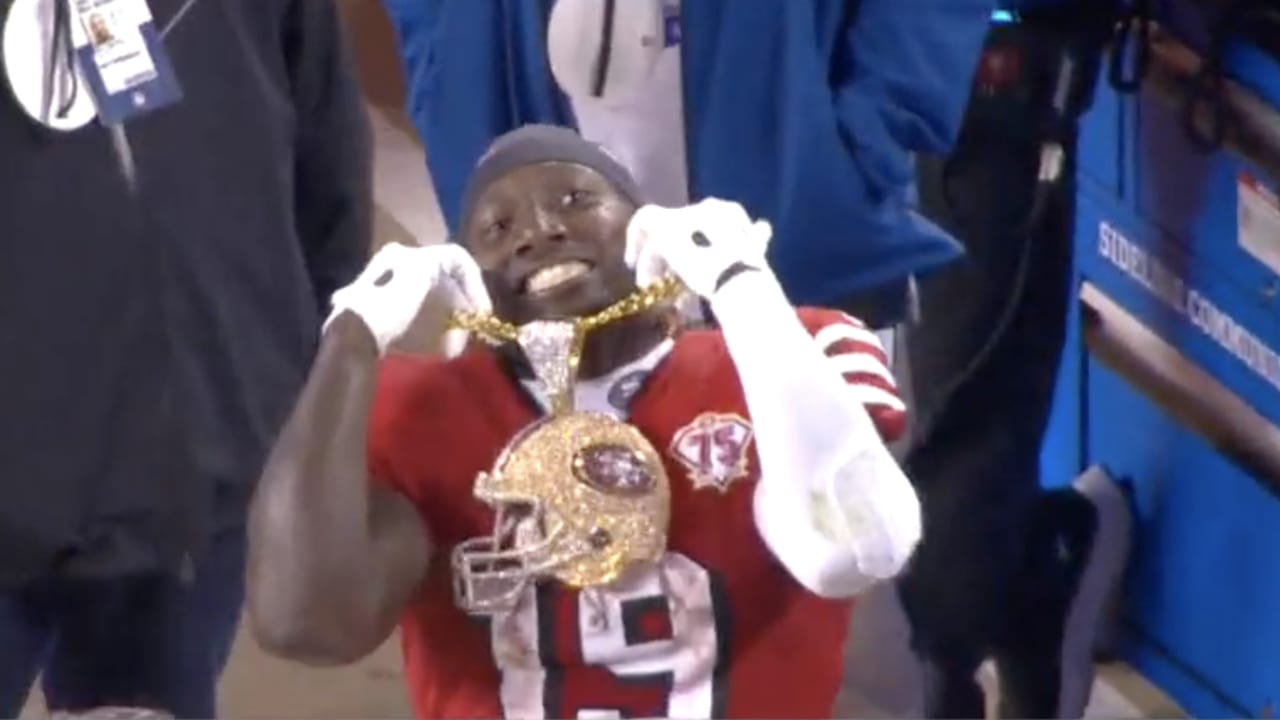 RSJ Staff Choice: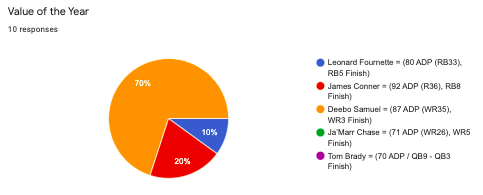 People's Choice

Wolf – Deebo Samuel: I almost always side with running backs in close calls… but this one isn't a close call for me. Deebo Samuel finishing as the WR3 despite being selected in Round 8-9 as the WR35 — well behind teammate and huge bust Brandon Aiyuk (WR23, 61 OVR) — was by far the biggest gap in price and achievement among drafted players. Beyond being the most entertaining player to watch, Deebo didn't finish with a single game below 10 FPs, was Top-12 in 50% of games and a WR2 or better in 75%. Insane floor. He warrants Round 1 consideration in 2022 — insane for an eighth round receiver just this last year.
Ian – Deebo Samuel: Deebo is easily the best value of the year. Pushed behind Aiyuk in rankings all preseason he showed his dual threat value all season long posting multiple week winning performances. Excluding his groin injury that made him miss one week, he has been durable and reliable all season long. With an ADP of 87 (WR35) and a top-five finish in PPR formats he's the best value of all.
Kendall – Deebo Samuel: Easily his best season, posting 1,600 yards from scrimmage and 13 touchdowns was not within what many thought the range of outcomes were for my 2021 Fantasy Football Value of the Year. Drafted in many leagues as your third or maybe fourth receiver and quickly became a staple in your lineups each week. He only scored less than 16 PPR 4 times all season and also managed to break 30 three teams. He was extremely consistent, almost never busted and had the ability to give you week winning performances on top of that. Deebo Samuel is my 2021 Fantasy Football Value of Year.
DeLorenzo – James Conner: A touchdown machine who also puts up consistent yardage is a tough find. Coin flip between Lenny and Jimbo, for me.
Chase M-G – James Conner: Did anyone out there draft him to be more than their RB3?
Jackson – Leonard Fournette: Leonard Fournette finished as the RB4 on a points per game basis this season and rewarded managers for selecting him in the "running back dead zone." While my preferred strategy is usually taking a top back early to avoid the dead zone, so many top backs got hurt that Fournette outperformed all first-round options at the position besides Taylor and Ekeler.
Especially late in the season, Fournette was one of the few true workhorse backs, averaging over 80% of snaps between Week 12 and Week 15, where he suffered an injury. While volume can be difficult to predict during draft season, Fournette is a classic case of why elite volume is the most important factor for fantasy production.
Jimbo – Deebo Samuel: Deebo was a bonafide WR1. Everyone knew Deebo was good, but he still slipped far in drafts thanks to the Brandon Aiyuk hype. He simply showed how dominant he is with the ball in his hands as either a runner or a receiver.
CJay – Deebo Samuel: James Conner was an unbelievable fantasy story, but I'm rolling with Samuel here. To go off the board at WR35 and finish as the WR3 overall is nuts. Not to mention in the games he wasn't being targeted, he just scooted over to running back and looked like a legitimate NFL running back. Normal.
2021 Waiver Wire Hero 2021
Cordarrelle Patterson
Eli Mitchell
Hunter Renfrow
Dalton Schultz
RSJ Staff Choice: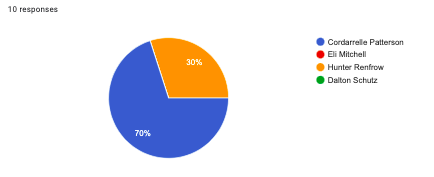 People's Choice:

Wolf – Cordarelle Patterson: After the disparaging replies. I got to this tweet, there was no other choice:
Yes, Patterson fizzled down the stretch when we need him most. I still don't understand Arthur Smith switching Patterson's role from an explosive "Joker" to an early-down grinder (459 reYDs in Weeks 1-9 vs. 89 ReYds in Weeks 10-18). But alas: through Week 12, Patterson was the RB6 in PPG (18.6), performing as an RB1 in 6-of-12 games, and a Top-24 option in all but two. He was a fixture on playoff squads, especially with WR/RB eligibility in certain sites, and will be among the most fascinating players to follow in 2022 free agency.
Ian – Hunter Renfrow: Renfrow was so reliable down the stretch and gave you such a solid floor in comparison to C-Patt and Mitchell. Both other players had dealt with injury or low floor in many performances while Renfrow performed week to week for fantasy managers.
Kendall – Cordarrelle Patterson: Despite letting many down in the fantasy playoffs, this player was the RB7 in weeks 1 through 14. It's rare you find such a gem at arguably the most important position in fantasy football. Particularly a RB who can get it done both in the running game and receiving game. This player really came out of nowhere and pulled off one of the greatest "zero to hero" seasons we've ever season in fantasy football. My 2021 Waiver Wire Hero is Cordarrelle Patterson.
DeLorenzo – Cordarrelle Patterson: Patterson is the ultimate Swiss Army knife with dual position eligibility.
Chase M-G – Hunter Renfrow: Marlon Humphrey tried to warn us, did you heed it?
Jackson – Cordarrelle Patterson: Patterson, Mitchell, and Renfrow are all solid candidates for this award, but Patterson takes the cake for a few reasons. First, he was usable starting in Week 2. You probably didn't start him in Week 2, but it's possible that desperate teams started him in Week 3 after five catches on seven targets for 58 yards and a score.
Mitchell wasn't really usable until Week 7, and Renfrow was technically usable all season, but wasn't a clear starting option until roughly the middle of the year. In fact, someone in one of my leagues dropped Renfrow after his 3-36 dud in Week 6, which wasn't considered crazy at the time.
Patterson averaged 14.7 PPR points per game, but that number goes up to 15.6 if you remove Week 1 when nobody started him, and Week 18 in a meaningless game.
Jimbo – Cordarrelle Patterson: CP was unreal, and the ultimate weapon having RB/WR status so he could fit nearly any lineup hole and produce high numbers on a weekly basis. Shoutout Ian Hartitz.
CJay – Cordarrelle Patterson: Eli Mitchell would have been the guy for me if he stayed healthy. But, I gotta give it to C-Pat who thoroughly dominated (until it mattered most). It's wild for a player to have a career-year in his early-30s, but it somehow happened for the legendary kick returner.
Rookie of the Year (Fantasy)
Ja'Marr Chase
Najee Harris
RSJ Staff Choice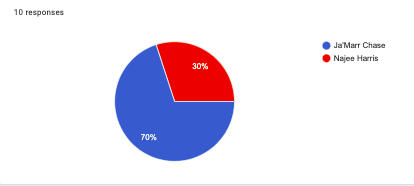 People's Choice:

Wolf – Najee Harris: Going against the grain here, but give me the PPR RB3 (17.7 PPG) over the PPR WR5 (18 PPG) any day, given:
A) How much harder solid RBs were to find in 2021
B) Consistency: Yes, when Chase blew up, he BLEW up. Yet, he was outside the Top-36 WRs in 60% of contests. Najee, meanwhile, finished as an RB1 in 60% of contests, topping 20 FPs more times (seven) than Chase (five).
In Dynasty, of course, I prefer Chase as a cornerstone. But the gap on their 2021 seasons is far closer than most seem aware.
Ian – Ja'Marr Chase: Chase had too many week winning performances in comparison to Najee. Just his week 17 stat line in comparison to Harris' (which was great) puts Chase over the top.
Kendall – Ja'Marr Chase: This is easy. We saw Justin Jefferson explode onto the scene in 2020 and his former college teammate said, "hold my beer." Although his season was a bit inconsistent, all receivers are inconsistent and Chase was easily the best as far as rookies go.
DeLorenzo – Ja'Marr Chase: Chase had his biggest performance when it mattered most — the fantasy playoffs.
Chase M-G – Ja'Marr Chase: Those preseason drops tho…
Jackson – Najee Harris: If you include draft capital in this analysis, Chase is clearly the winner, but I would still take Najee's season in a vacuum. He averaged 17.7 PPR points per game compared to 17.9 for Chase, but given the scarcity of top-end running back production this season, I'd prefer the almost identical production of the running back. In addition, Chase had several massive games this year, but was far less consistent than Harris this season. Consistency does matter for the reasons listed here and here.
Jimbo – Najee Harris: Real life, Chase in a landslide. Fantasy though, Harris. At such a thin position, he put up RB1 numbers consistently all year without missing any time — which is almost unheard of.
CJay – Ja'Marr Chase: As a Ja'Marr Chase manager, his up-and-down performances really hurt me. However, what he did at the end of the season not only sealed his Offensive Rookie of the Year in real life, but also Rookie of the Year in fantasy. Let's all pray the Steelers bolster that joke of an offensive line this offseason to keep Harris alive.
2021 Single Game Performance
Jonathan Taylor v BUF – 204 YFS, 5 TDs (53.4 PPR FPS)
Ja'Marr Chase v KC – 266 yards, 3 TDs (55.6 FPs)
Derrick Henry v SEA – 237 yards, 3 TDs (47.7 FPs, almost all second half)
Tyreek Hill v PHI – 186 yards 3 TDs (47.6 FPs)
RSJ Staff Choice
We'll never know because The Wolf selfishly did not send this question out to the staff.
People's Choice:

Wolf – Ja'Marr Chase v. KC: As masterful as JT's 5 touchdown day was, give me Chase scoring even more FPs IN YOUR FANTASY CHAMPIONSHIP! Granted, Chase's effort likely helped fewer managers. But anyone in the title week with Ja'Marr was essentially hand-delivered a title. The timing of the game pushes Chase over the edge, just slightly.
2021 Playoff Hero / Clutch Award
Rashaad Penny
Devin Singletary
Amon-Ra St. Brown
Joe Burrow
RSJ Staff Choice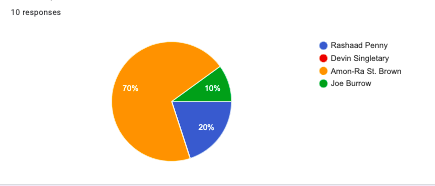 People's Choice:

Wolf– Amon-Ra St. Brown: Brutal choice considering Penny & Singletary were the respective RB1 & RB2 in Fantasy Playoffs scoring (lol, like we all planned). Yet, I have to side with ASB. He too topped his position, as his 28.3 FPPG beat even Davante Adams (26.8) and Cooper Kupp (25.8). These were +8 FPs more than either RB, and ASB finished as a Top-6 WR in all three playoff weeks, never dipping below 24 FPs. Given the other players fluctuated a bit, I go St. Brown.
Ian – Rashaad Penny: For a guy you could get for a Penny and hold early on in the season (almost like last year) he bursted onto the scene with his amazing game against the Texans and didn't really slow down. I love how Burrow performed but you gotta give it to a guy who was written off by many to win you your leagues down the stretch. Penny stock is my hero.
DeLorenzo – Amon-Ra St. Brown: Likely sitting on the waiver wire in almost every league, the lowly Lion got it done.
Chase M-G – Amon-Ra St. Brown: That breakout week, I mean month and a half, he had was pretty cool.
Jackson – Amon-Ra St. Brown: Amon-Ra St. Brown was a bonafide fantasy stud when it mattered most. In Weeks 15-18, he averaged a staggering 27.8 PPR points. In those four weeks he had a minimum of 10 targets, 8 receptions, 90 yards, and a touchdown. A 23.5-point floor for the fantasy playoffs from a player who you likely could get off waivers is the definition of a league-winner.
Jimbo – Joe Burrow: 30-plus point weeks in the semis and finals? Penny is the more valuable position but Burrow scored as many points in those two rounds as Penny did the entire playoffs. Burrow's explosion created a huge edge at the quarterback position.
CJay – Rashaad Penny: This is more about the storyline and career revival more than anything. Penny was the overall RB1 during the fantasy playoffs and likely won some leagues in place of COVID-stricken running backs. The offseason debates will be legendary for the former No. 1 pick — who's also a free agent.