Player Stock Ticker
2021 Fantasy Football Week 14 Buy-Low, Sell-High Featuring Expected Fantasy Points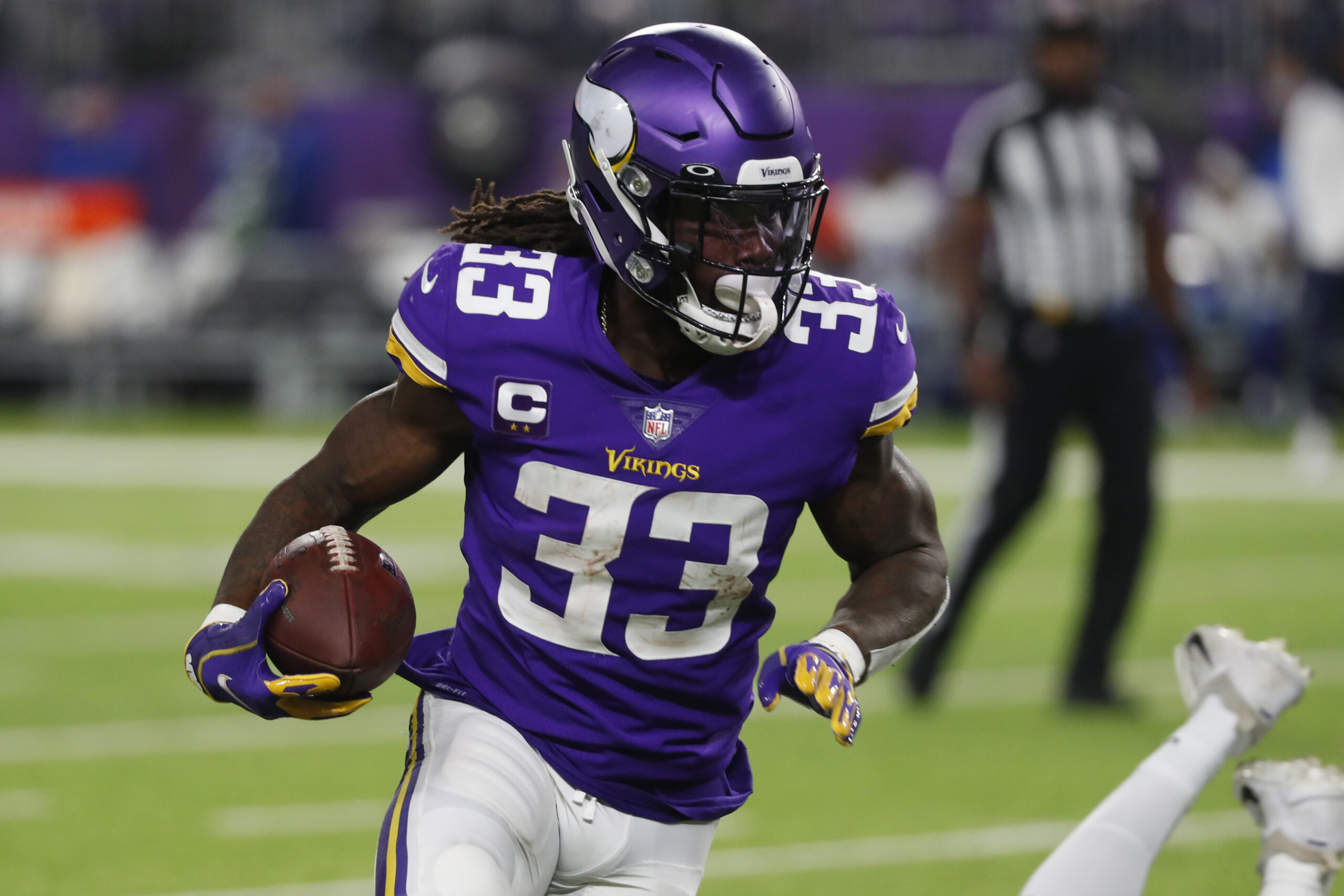 The following buy-low, sell-high recommendations are primarily based on a metric called Expected Fantasy Points (XFP). XFP calculates the value of each target and rushing attempt based on the distance to the end zone and air yards. These historical data attributes correlate highly with actual fantasy points scored (PPR scoring).
For more information on Expected Fantasy Points and to utilize our XFP data tool, click the link below:
RSJ'S XFP TOOL: CARRIES, TARGETS, AND AIR YARDS FOR EVERY PLAYER
WEEK 14 BUY-LOW
DALVIN COOK

Before evaluating Cook's fantasy prospects to end the season, we need to know when he will be healthy enough to play. According to Dr. David Chao, he should be ready for the fantasy playoffs in Week 15.
Dalvin Cook will likely return Week 15 for a matchup against the Chicago Bears, according to ProFootballDoc. Cook, the Vikings star running back, reportedly has a torn labrum in the left shoulder he dislocated against the 49ers Week 12, but should only miss two games.

Cook faced a similar injury two years ago and returned after a two-game absence. He suffered an SC joint sprain in his right shoulder in 2019 and missed the final two games of the season before returning in the Wild Card round. He ran for 130 yards and 2 touchdowns in that victory over the Saints.
You can probably get an injury discount on Cook, but even ignoring the injury, Cook is a major candidate for positive regression. He is the RB3 in XFP per game with 21.3 behind only Alvin Kamara and Derrick Henry. His 20.2 carries and 4.3 targets per game form an elite workload that very few others can match. And with teammate Adam Thielen likely sidelined for the rest of the fantasy season, Cook might be able to increase his target share.
Cook has been serviceable this season, averaging 16.3 PPR points per game, but poor touchdown luck is holding him back from reaching his gaudy XFP numbers. He has seen a staggering 40 combined carries and targets in the red zone, including 14 inside the 5-yard line, but has only converted four of them for touchdowns. Based on his usage profile, we expect Cook to have scored about 8.1 touchdowns, over twice as many as he has scored.
Given Cook's talent and workload along with a potential injury discount, he is the perfect trade target for teams who are locked into a playoff spot with nothing to play for in Week 14. We want to buy players who are significantly underperforming their expected touchdown numbers, and Cook is the perfect fit for this strategy.
RHAMONDRE STEVENSON

Rhamondre Stevenson is much more of a longshot than Cook. There is a pretty good chance he won't meaningfully contribute in the fantasy playoffs. However, the cost to acquire him is likely minimal, and he is a solid high-upside bench stash for the playoffs.
The graphic above shows Stevenson's numbers from his Week 10 explosion against Cleveland. Starter Damien Harris missed the game with a concussion, leaving Stevenson to put up 27.4 PPR points on 21 carries and five targets. When it comes to bench stashes at this time of year, upside is the only thing that matters, and Stevenson clearly has upside if he can get the touches.
Damien Harris exited New England's Week 13 matchup early with a hamstring injury. Initially, the injury did not seem too severe, and Harris returned to the game. However, Harris permanently exited the game shortly after returning and may have aggravated the initial injury.
Due to the injury, I would rather have Stevenson over Harris straight up. Harris is likely the better start when both are healthy, but if both play, neither sees enough volume to warrant a start on most playoff teams. However, if Harris misses time, Stevenson has a good chance to be a difference-maker in the fantasy playoffs.
It's very possible that Harris is fine and plays his normal role in Week 15, but if he doesn't, Stevenson has the potential to be a league-winner who can likely be acquired for pennies today.
WEEK 14 SELL-HIGH
DALLAS GOEDERT
Eagles tight end Dallas Goedert put up a massive fantasy performance in Week 13, going 6-105-2 and putting up 28.5 PPR points. However, his usage stats still leave a lot to be desired.
Goedert's usage numbers do look slightly better if we make some reasonable adjustments, but they still aren't special. If we look at only games after former teammate Zach Ertz was traded and removed Week 10 for injury, Goedert averages 10.7 XFP on 5.8 targets per game. Those numbers are slightly better than his overall numbers, but he would still only be the TE11 in XFP. And if we made similar adjustments for Ertz and Pat Freiermuth, they would push Goedert down to TE13 in XFP.
Even in his Week 13 explosion, Goedert only saw a measly 10.3 XFP on six targets and mainly benefitted from positive touchdown luck rather than an increased role. He is also on bye in Week 14. If you need help at TE, I would be fine trading him for another fringe TE1 like Freiermuth or Mike Gesicki or packaging him to a team that doesn't need to win in Week 14 for a better player.
FINAL THOUGHTS
Injuries have partially derailed my previous recommendations, but I still support buying Darren Waller, Marquise Brown, and selling CeeDee Lamb for the reasons outlined here. Check out this link for players to buy and sell based on playoff schedules.
Saquon Barkley and A.J. Brown still look like solid buys, and the Javonte Williams commentary was written before any Melvin Gordon injury news came out. I still expect Gordon to resume his typical role down the stretch and would be happy to sell Williams for an increased price.
If you're locked into a first-round bye or even a regular playoff spot, try to buy some of the players mentioned in these articles for injury discounts. It's never too late to improve your team!
Now that you're an Expected Fantasy Points Expert, you can use the tool to dominate your league. Check out my trade value chart, which also incorporates expected fantasy points data, and check back next week for more players to buy low and sell high. Please send any questions or feedback to @RSJ_Jackson on Twitter!