The following buy-low, sell-high recommendations are primarily based on a metric called Expected Fantasy Points (XFP). XFP calculates the value of each target and rushing attempt based on the distance to the end zone and air yards. These historical data attributes correlate highly with actual fantasy points scored (PPR scoring).
For more information on Expected Fantasy Points and to utilize our XFP data tool, click the link below:
RSJ'S XFP TOOL: CARRIES, TARGETS, AND AIR YARDS FOR EVERY PLAYER
WEEK 13 BUY-LOW
SAQUON BARKLEY

Saquon Barkley got off to a slow start in 2021 as he recovered from ACL surgery but appeared to be back in peak form around Week 3. Barkley put up two elite fantasy performances in back-to-back weeks before injuring his ankle on a fluky play in Week 5. See his results in the graphic below.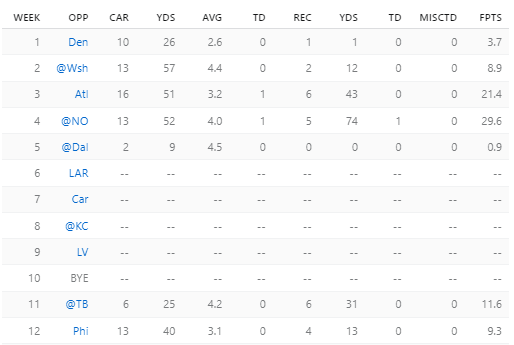 The Giants eased Barkley in against the Bucs in Week 11 as he only played 62% of the snaps, but as of Week 12, he was back to his true bellcow role.
Barkley played 86% of the snaps, which led all running backs in Week 12. He ran a route on 73% of pass plays, which was the fourth-most at the position. Despite the disappointing 9.3 PPR point finish, Barkley is now locked into an extremely attractive role and should see plenty of volume to finish the season.
He is still an extremely talented player capable of breaking off big runs and should be valued as an RB1, especially given the injuries this week. Many owners are growing frustrated with his lack of production, but take advantage of their short-sightedness and send out an offer.
His XFP, carry, and target averages are all depressed by limited snaps in Weeks 1, 5, and 11. With those weeks removed, he is averaging a respectable 16.9 XFP on 14 carries and four targets per game. And given the recent snap share, route involvement, and improved health I would bet on his volume increasing to finish the season.
A.J. BROWN

I would recommend that everyone try to buy Saquon now, but A.J. Brown is a much better fit for managers who will have a first-round bye in the playoffs. The Titans placed him on injured reserve in Week 11, and with the Week 12 bye, he will be eligible to return in Week 15.
Ian Rapoport reports that the injury is not season-ending, so a Week 15 return seems like a reasonable target.
Like Barkley, Brown has dealt with his share of injuries this season that artificially bring down his XFP averages. In games where Brown played at least 50% of the snaps, he is averaging 15.9 XFP on 8.4 targets and 94.4 air yards per game. Brown has historically been efficient with his targets. He only averaged 14.3 XFP last season when he scored 17.3 PPR points per game, so his volume has actually improved this year.
Brown has shown incredible ability to play through injury during his short NFL career. Most importantly, you can likely acquire him extremely cheap given the injury situation. While there's no guarantee that Brown will pan out this year, the combination of volume, historical efficiency, ability to play through injuries, and low cost to acquire make him an attractive trade target for top fantasy teams.
WEEK 13 SELL-HIGH
JAVONTE WILLIAMS

To be clear, all of my recommendations, including this one, are for redraft only. Javonte Williams consistently generates hype in the fantasy community. He has generated numerous highlight plays and is breaking tackles at a historically great rate.
However, fantasy football is primarily a game of volume, and Williams is not seeing enough volume to be a difference-making fantasy asset. He split snaps exactly 50-50 with teammate Melvin Gordon in Week 1, and their roles have stayed exactly the same the entire season. Almost everything is dead even. They each play about 50% of the snaps and see about three targets per game. Gordon has taken 7 of the 13 carries inside the 5. They are truly interchangeable.
Since the backfield has been a 50-50 split all season with no movement in either direction, a major change seems unlikely at this point, barring injury. Both players have been roughly equally effective. PFF grades Javonte as the RB24 and Gordon as the RB26 among all backs on the season.
If you have a Javonte Williams truther in your league willing to give you significant value back, try to take advantage of his 20 point game last week. He happened to score a touchdown but still saw the same split in workload as he has all season.
FINAL THOUGHTS
Injuries have partially derailed my previous recommendations, but I still support buying Darren Waller, Marquise Brown, and selling CeeDee Lamb for the reasons outlined here. Check out this link for players to buy and sell based on playoff schedules. If you're locked into a first-round bye or even a regular playoff spot, try to buy some of the players mentioned in these articles for injury discounts. It's never too late to improve your team!
Now that you're an Expected Fantasy Points Expert, you can use the tool to dominate your league. Check out my trade value chart, which also incorporates expected fantasy points data, and check back next week for more players to buy low and sell high. Please send any questions or feedback to @RSJ_Jackson on Twitter!