Player Stock Ticker
NFL DFS: DraftKings Week 6 Picks Featuring a Ravens Stack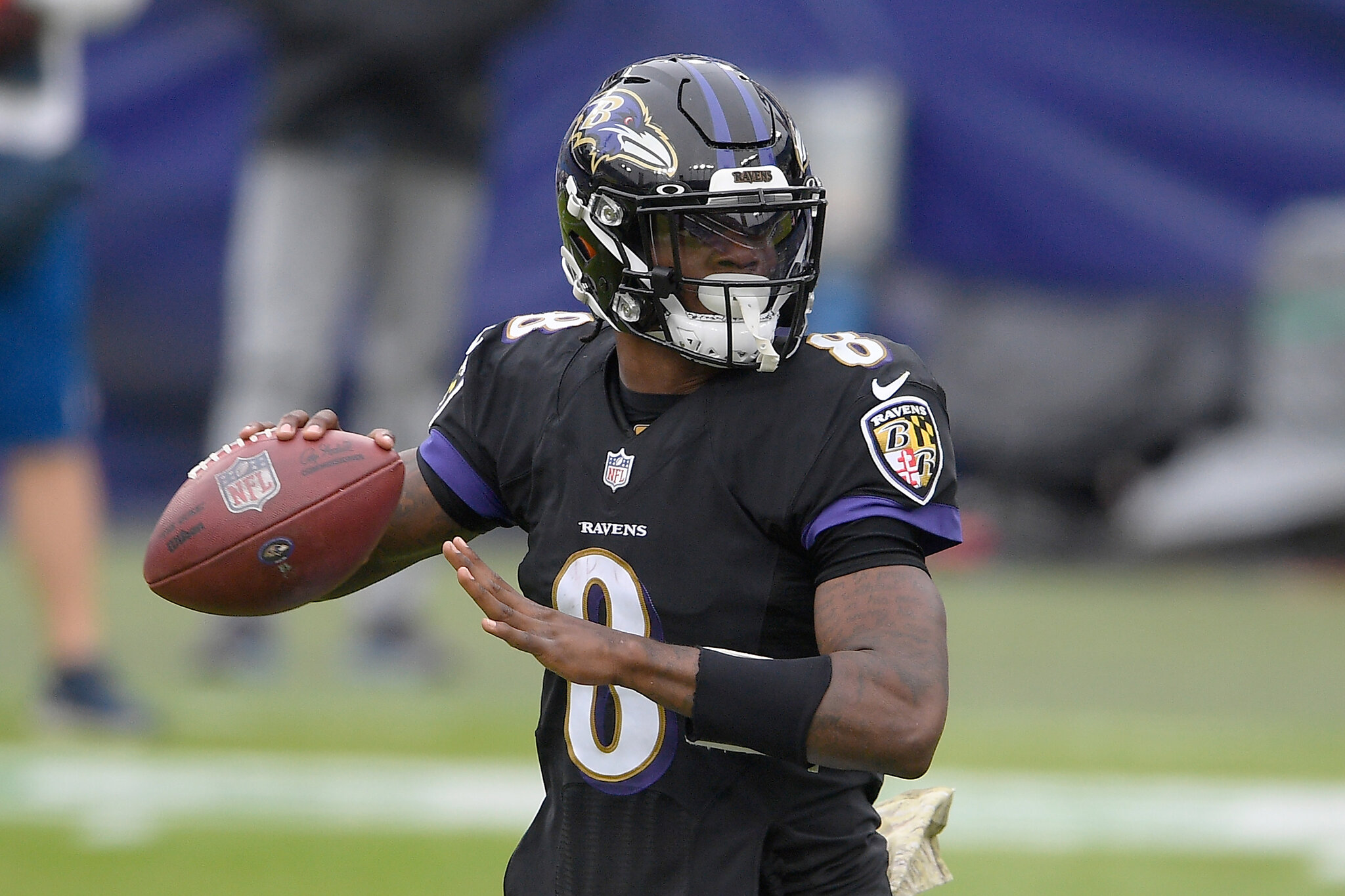 Welcome back to another week of DraftKings NFL Picks. Last week was a successful week I'd say really nailing the RBs of Derrick Henry, Najee Harris, and Leonard Fournette sans any of the running backs from the Chargers/Browns game last week. This week we have limited options to choose from because we have another London game and a number of bye weeks. It's rough, but luckily we still have potent offenses like the Chiefs, Ravens, and Cowboys while getting a disgusting Dolphins/Jaguars game off the slate.
So, let's get started and continue to print out that money.
QUARTERBACKS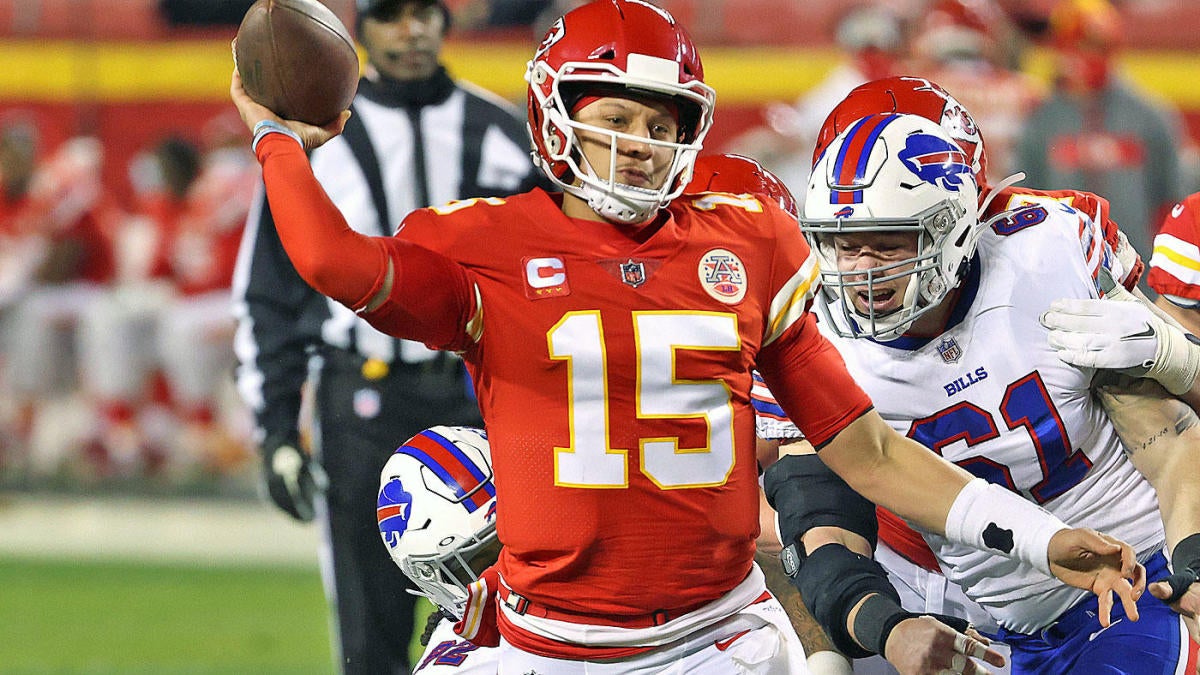 Patrick Mahomes $8,300
The Chiefs are currently sitting at 2-3 after just getting embarrassed in their home stadium on SNF against the Bills. If you don't think Mahomes is going to come out with his hair on fire and ready to light up this struggling Washington defense then I don't know what to tell you. Assuming Tyreek Hill and Travis Kelce both play this week, Mahomes should be just fine in the ultimate get-right game.
Lamar Jackson $7,400
The original Konami Code, Lamar went absolutely off in MNF's amazing come from behind victory. Jackson shredded the Colts' defense to the tune of 442 passing yards and four touchdowns. Now, he faces a tough Chargers team and will be in a duel with Justin Herbert. I can see another high-scoring affair where Lamar has to put the team on his back and do whatever it takes to win. His upside this week is sky high once again.
Carson Wentz $5,400
Wentz is super cheap for a guy coming off a 400-yard game. The Colts finally looked like a much better team than they'd shown for much of the game before Lamar's comeback. Now with the Texans at home, it should be easy pickings for Wentz at a super discounted price.
Other intriguing QB salaries: Justin Herbert $7,300 (vs Ravens), Taylor Heinicke $5,800 (vs Chiefs)
RUNNING BACKS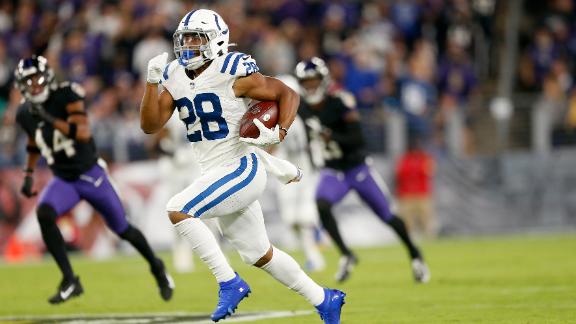 Austin Ekeler $7,900
Is it risky to play a guy off back-to-back 30-plus point games thinking he'll come back down to Earth? Sure. But with Ekeler he's been a true workhorse in a high scoring offense. Now he gets another big test against a Ravens defense that just let Jonathan Taylor run wild. Ekeler's passing game usage has thrust him into a top RB tier, and if this game goes the way I think it will, he'll be utilized pretty heavily in Week 6.
Ezekiel Elliott $7,100
For all the talk about Tony Pollard recently, Zeke has been balling out behind an outstanding offensive line while capitalizing on his goal-line carries. With 20-plus carries in back-to-back games, Zeke's usage is a very positive sign of his role in this offense. The Patriots' run defense hasn't looked very sharp as of late, and they haven't really faced any elite competition outside of Alvin Kamara who dropped 20.8 points on them.
Jonathan Taylor $6,600
The game script heavily favors Taylor here as a big home favorite over the Texans. Taylor also appears to be coming into his own after back-to-back games with over 20 fantasy points. With Nyheim Hines being featured less and less, Taylor is finally being given the touches he deserves. Water always finds its level, and Taylor's running hot right now.
D'Andre Swift $6,300
While D'Andre Swift's rushing numbers leave room for improvement, his passing game usage has made him into a very good RB with high upside. He's been a smidge touchdown-dependent, scoring 20-plus in games with a score and a high of 11.8 without one, but when a guy touches the ball over 15 times a game and a good number of those are receptions, you're gonna get results. The Lions continue to play in negative game scripts (good for Swift), but this week against the Bengals there's a chance for them to finally carve out a win. They'd be wise to give more work to their stud running back.
Other intriguing RB salaries: Darrell Henderson $6,000 (vs Giants), Devontae Booker $5,400 (vs Rams), Javonte Williams $5,000 (vs Raiders), Darrel Williams $4,900 (vs Washington), Khalil Herbert $4,600 (vs Packers)
WIDE RECEIVERS
Terry McLaurin $7,100
For a guy getting this much volume, you'd think he'd be putting up much better numbers this far into the season. Unfortunately, the looks McLaurin is getting aren't translating to points just yet. What better spot though for a correction game than against a leaky Chiefs secondary that has been ripe for the picking. McLaurin should get a bump in targets with the oft-injured Curtis Samuel reeling once again and Logan Thomas now on IR.
Ja'Marr Chase $6,700
Week in and week out, all Chase does is produce and he's been a touchdown machine for the Bengals, scoring five times in five games. Chase currently has the second-best WR/CB matchup rating and should remain hot against the Lions. Chase and Burrow clearly have intense chemistry and he is shaking off the rust more and more every week.
Keenan Allen $6,400
While Mike Williams has been getting all the attention and spotlight among the Chargers offense, don't forget about Keenan Allen and what he can do. Allen is still third in the league in total targets and fifth overall in receptions. His volume is crazy good, but his yardage numbers and lack of touchdowns have really hurt his value. Those last two categories are very overdue for a correction, especially in an upcoming shootout with the Ravens. Gimme the old 10-120-1 Keenan Allen stat line we're used to as the alpha WR1 for the Chargers.
Marquise Brown $5,900
Talk about a guy getting no respect whatsoever, Hollywood Brown has a touchdown scored in every week minus one (where he dropped three scores in the same game). While Mark Andrews definitely gets his share of love in the offense, Brown is the best pass-catching option Lamar has and he will very much be needed against the Chargers this week. If he's going to keep catching touchdowns and being priced under $6k, I'll gladly take it.
Michael Pittman $5,500
If you look at Pittman's numbers, he should actually be doing much better than his stats would indicate. The target numbers for Pittman are very good with 39 over his last four games. The problem is, he's not catching a very high percentage of those, resulting in low yardage numbers and touchdowns. However, his catch percentage numbers have increased over the past few weeks and it should continue to trend upward. He makes a nice stack with Wentz if you're looking to go cheap at the QB position against the Texans.
Other intriguing WR salaries: Tyreek Hill $8,500 (vs Washington), DJ Moore $7,300 (vs Vikings), Kadarius Toney $5,600 (vs Rams), Allen Robinson $5,300 (vs Packers), Rondale Moore $4,600 (vs Browns), Darnell Mooney $4,300 (vs Packers)
TIGHT ENDS
Mark Andrews $5,200
Lordy, what an explosion from Andrews last week with 44.7 DK points. Andrews was a BEAST in the receiving game and his involvement unlocked the Ravens' passing game. Similar to Brown, he will be relied upon big-time against the Chargers and should put up very solid numbers barring he isn't blanketed by Derwin James all game.
Hunter Henry $3,900
Henry's target share in the Patriots offense has been growing over the past few weeks as he assimilates himself into the offense. What makes Henry even more valuable is his red zone prowess and basically being the lone receiving option down in that area. With Dallas' secondary playing as well as it is on the outside, that should put more emphasis on Henry and the tight ends working the middle. It's not like Mac Jones is throwing the ball deep, anyways.
Other intriguing TE salaries: Dalton Schultz $4,900 (vs Patriots), Ricky Seals-Jones $3,000 (vs Chiefs)
DST
Dallas Cowboys $3,200
The Cowboys have been playing very good defense this year and turning teams over at a high clip. Now they travel to New England facing a rookie QB that still has his training wheels on and won't throw the ball downfield. The Patriots running backs also have a case of fumblitis at the moment. The New England offense isn't striking fear into anybody and Dallas currently has the hottest CB in the league causing turnovers left and right.
Carolina Panthers $2,900
Despite blowing a lead and suffering a loss, the Panthers D still racked up 8 DK points, and have now scored at least 8 points in four of five games. They've been much improved, and now face a Vikings offense that just struggled mightily to move the ball and score against Dallas. It's been two weeks in a row for Minnesota with low-scoring outputs and Cousins has been known to take sacks and turn the ball over on occasion.
Other intriguing DST salaries: Denver Broncos $3,900 (vs Raiders), Indianapolis Colts $3,500 (vs Texans)
Do you have any early leans? Questions about which guy you should go with this week? Want to yell at me for missing an obvious play? Sound off below or hit me up on Twitter where you can follow for daily news or advice on players.