Player Stock Ticker
The Anatomy of a $1M DFS Lineup: Dissecting the NFL Week 1 DraftKings Millionaire Maker Winning Lineup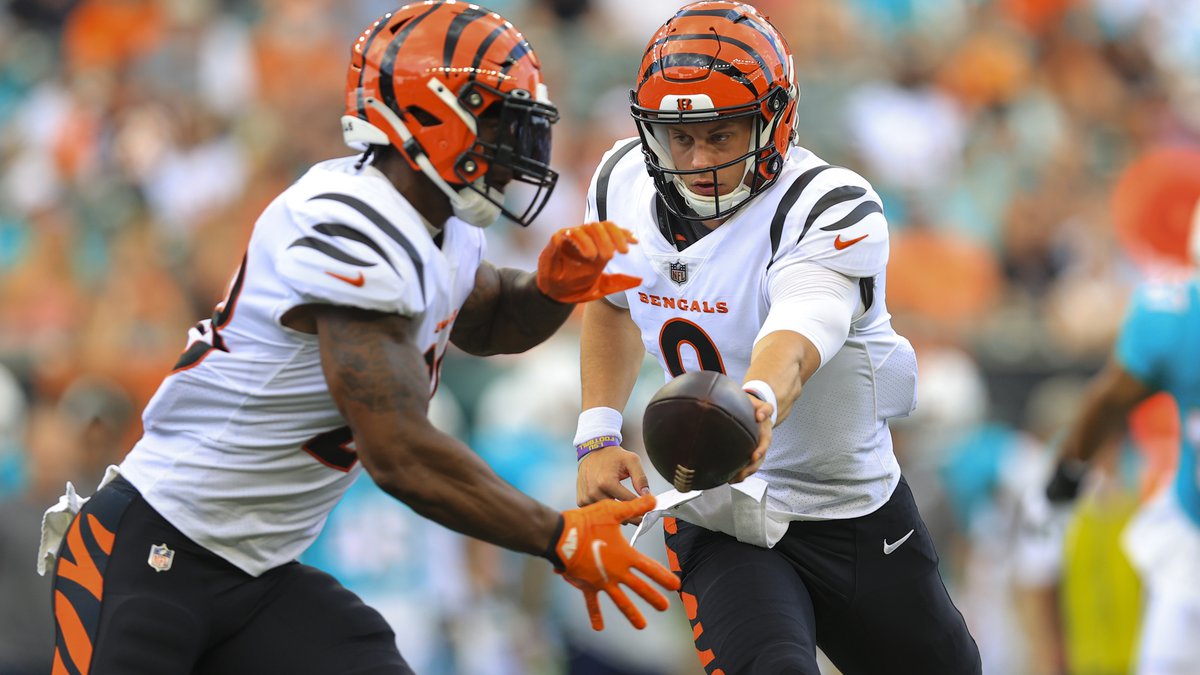 Each week, I'll be expanding on the DraftKings Millionaire Maker analysis provided by Adam Levitan here and The Wolf here. I encourage you to look at those articles first, if you haven't already.
In this series, I'll be looking at trends that DFS players track, diving into the skill/luck dichotomy, and more.
WINNING STRATEGY
When looking at what made this past week's lineup work (focusing on the photo on the left), first things first:
Two millionaires made 🤑

Check out the lineups that helped 'blbrown1994' and 'mikemc' take down Sunday's Week 1 NFL millionaire contests.

NFL $5M Millionaire Standings: https://t.co/mAxIU3VHjz
NFL $2.5M Millionaire Standings: https://t.co/4sr1yzZe8O pic.twitter.com/9FSwbuYYYz

— DraftKings (@DraftKings) September 13, 2021
What was the stack?
double stack, no run-it-back
stacked using Vegas' sixth highest over/under of Sunday out of 12 games (MIN at CIN, O/U 47.5)
THE SKILL
Punting on QB wasn't a successful strategy in 2020, but it's made an argument for a revival in week 1. The Cincy team stack of Joe Burrow–Joe Mixon–Tee Higgins only used $16,600 of the salary (33.2%), leaving room to fit perennially expensive Tyreek Hill and Travis Kelce. It's no secret that this Bengals double-stack was a bargain that won't last.
While the most common form of double-stack has been QB-WR-WR, this lineup got it done with QB-RB-WR. Interestingly, there was no run-it-back, despite Justin Jefferson and Adam Thielen being great, albeit pricier, options.
While the stack wasn't from Vegas' highest O/U'd game, Hill and Kelce were (CLE at KC, O/U 54.5). Stacking Browns at Chiefs was inherently going to be a tricky play. Patrick Mahomes-Tyreek-Kelce was going to cost $24,600 (49.2% of the cap), and even if the Browns offense had Odell Beckham Jr., running it back with OBJ could be risky, as they could realistically involve two RBs, three TEs, and were even able to get rookie receiver Anthony Schwartz three catches for 69 yards in a nice NFL debut.
I'm not surprised that Melvin Gordon made it in this lineup. I am surprised at his 3.9% ownership considering his price. It was never a sure thing that Javonte Williams would steal the show out of the gate, and Gordon isn't going away yet, as evidenced by his 70-yard TD run that ghosted the Giants defense.
THE LUCK
Rather than spending $7k+ for Thielen or JJ, room was left for receivers that included Deebo Samuel and Marvin Jones Jr. While Jones was a solid choice at his price considering the connection he and Trevor Lawrence had formed, Samuel's production was not so obvious.
Brandon Aiyuk put up a goose egg and played less than half the snaps for the 49ers as it was later revealed that his hamstring issue contributed to his dip in playing time. And while Kyle Shanahan felt Trent Sherfield had earned the right to play, this information wasn't reported prior to the game. So if this week's winner had a hunch about Aiyuk's limitations when starting Deebo, that kind of gamble is still one that I would place under the category of luck.
This lineup punted on defense, a recommended strategy, but there wasn't much confidence in the Cardinals secondary, which was ranked 22nd by Pro Football Focus even before cornerback Malcolm Butler's surprise retirement. Nevertheless, Arizona held the Titans to only 212 passing yards and only 13 points. Because defenses and DraftKings' points have such little correlation, defense may fall into the "luck" category as a norm.
OTHER TRENDS
Salary cap used – $50K out of $50K, 100%
This is in line with recent trends
Cumulative player ownership – 78.1%
This is barely in line with the trend of staying within the 75-125% cumulative. It is contrary to one aspect of the Adam Levitan piece linked to this series:
"It's better to roster two 30% owned players and two 2% owned players vs. four 16% owned players. In other words, a 'barbell' construction."
The winning lineup has no player above 14.4% owned, and five players between 11.3-14.4% percent owned. The rest are 5% or below. It won't be surprising if this shows to be more of an outlier as the season goes on.
NOTABLE HIGHER-SCORING ALTERNATIVE
Going TJ Hockenson ($4900) over Kelce would have scored 0.10 more points, and opened up another $3400. A realistic scenario, in that case, would have been to run it back with Adam Thielen ($7,000, 30.2 points) instead of rolling with Marvin Jones. It would have used the entire salary cap and scored 231.14 DK points.
I hope this inaugural article, as well as future ones, offer valuable insight as I continue to share my observations this season.