Player Stock Ticker
2020 Fantasy Football Strategy: Week 13 Buy Low, Sell High Using Expected Fantasy Points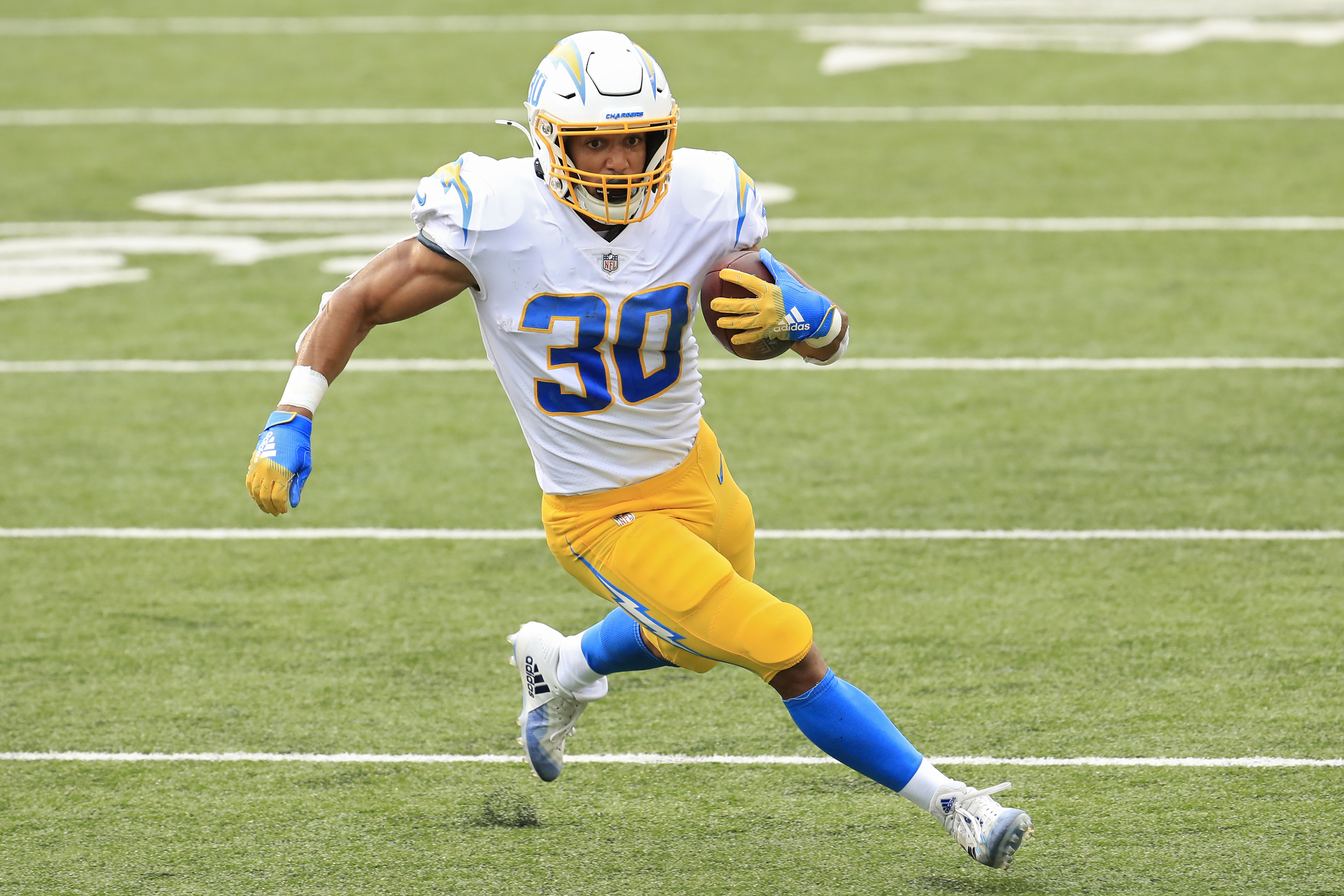 Welcome to the Week 13 Expected Fantasy Points Report! If your trade deadline has not passed, you can use this article to identify trade targets for a late-season push. Even if you can't make a trade, the data is still super useful for start-sit decisions and DFS plays to finish your season strong.
For a more general overview of my trading strategy, click here.
The Wolf's Rest of the Season Rankings are a great source to gauge a specific player's trade value.
If you have any questions or feedback, let me know @RSJ_Jackson on Twitter!
All data in this article uses full PPR scoring. A sample of the data through Week 12 is pictured. The PDF hides the weekly data for Weeks 1-7 to save space, but all data is still factored into the season averages. For the full data, click the links below.
Note: Data from the Ravens-Steelers game scheduled in Week 12 is not included.
**DOWNLOAD THE EXCEL VERSION!**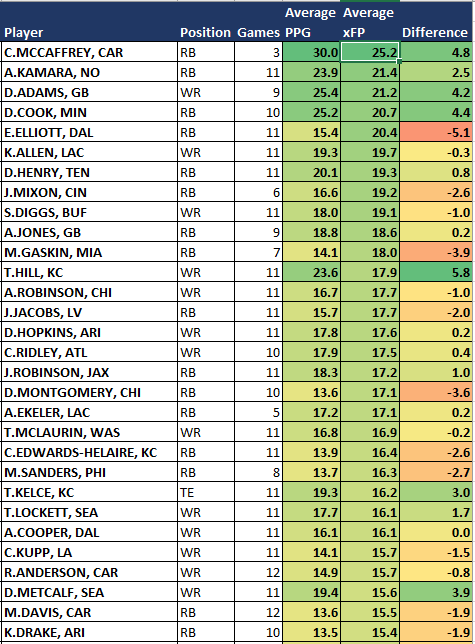 Expected Fantasy Points
I built the model based on a metric called Expected Fantasy Points (xFP). A player's xFP is calculated based on the value of each target or carry, using historical data attributes that correlate highly with actual fantasy points scored. You can find a more detailed breakdown of how this works here.
Expected Fantasy Points essentially show what an average player would have done with the opportunities seen by any given player. We can then subtract the player's actual fantasy points scored to arrive at the difference, a key metric.
How to Interpret Expected Fantasy Points
The difference between expected and actual fantasy points comes from two sources:
Talent/Situation
We would expect the most talented players in the NFL to score more fantasy points than their expected fantasy points. That's pretty obvious since xFP is based on the averages of all players. Also, a given coach or scheme might lead to a sustainable difference in actual over expected points. A carry in Kyle Shanahan's offense will typically produce more points than a carry in Adam Gase's offense. A carry behind an elite offensive line would be more valuable than a poor one.
These are all sustainable ways for a player to consistently outperform or underperform their expected points. Because of these differences between players, we should not assume that the difference between expected and actual points will always regress to zero. In other words, don't blindly buy any player with a negative difference. Don't sell every player with a positive difference.
Luck
The main reason to use expected fantasy points is to identify players who are experiencing very bad or very good luck. Unlike the previous differences, luck will even out over a long period. We want to buy players who are having bad luck and sell players who are having good luck.
Separating differences that are sustainable from differences due to luck can be tricky. It's not an exact science. However, most players will score within a few points per game of their expected fantasy points for the season. The players with the largest differences are the ones most likely to be benefitting or suffering from luck.
Player Analysis
Austin Ekeler
Season Averages (Week 4 Excluded for Injury): 20.9 PPR, 20.7 xFP, +0.2 Difference
Week 12: 23.9 PPR, 34.9 xFP, -11.0 Difference
Ekeler returned from a hamstring injury in Week 12, amassing 14 carries and 16 targets. He dominated the Chargers' backfield touches and played 72% of the snaps, a number that could even rise when he gets fully back into game shape. If you managed to survive Ekeler's absence or traded for him at a discount, you're in a great spot now. Ekeler's 20.7 average xFP ranks behind only McCaffrey and Kamara on the season. Given the question marks with those guys, you're looking at a guy who has a legitimate shot to be the RB1 over the rest of the season.
Kenyan Drake
Season Averages: 13.5 PPR, 15.4 xFP, -1.9 Difference
Week 12: 24.3 PPR, 30.0 xFP, -5.7 Difference
Over the past two weeks, Drake has finally seen a workload resembling what owners envisioned when drafting him in the first two rounds. His rushing production has been great all season, with 168 carries for 719 yards and 7 TDs. He is sixth in the NFL in both carries and rushing yards despite missing time with an ankle injury. However, Drake has finally seen nine targets over the past two weeks after only getting 11 total targets in his first eight games.
Drake is still splitting snaps with Chase Edmonds and has only seen a hair over 50% of the snaps since returning from injury, but you can feel confident starting him moving forward if he continues to get opportunities in the passing game. Kyler Murray's shoulder injury might be causing him to check the ball down to Drake more instead of scrambling. Kyler has tied his season-low with only five rushing attempts each of the past two weeks.
Tyreek Hill
Season Averages: 23.6 PPR, 17.9 xFP, +5.8 Difference
Week 12: 57.9 PPR (!), 27.8 xFP, +30.1 Difference
Hill's monster Week 12 performance tells you all you need to know about his sky-high value. He edged out Tyler Lockett's 53-point bomb in Week 7 to become the highest scorer in any week of 2020. But even beyond Week 12, Hill's opportunity is trending in the right direction. Hill's 47 targets over his past three games (15.7 average) easily rank first in the NFL over that span. Previously, I was a little concerned when Hill only had 54 targets through eight games (6.8 average), but he has put those concerns firmly to rest.
DeVante Parker
Averages Weeks 1-8 (Injured): 12.1 PPR, 11.1 xFP, +1.0 Difference
Averages Weeks 9-12 (Healthy): 13.9 PPR, 18.1 xFP, -4.2 Difference
Parker had a rough start and was on the injury report almost every week in the first half of the season with hamstring, ankle, and groin injuries. Since Week 9, he has gotten healthy, and his opportunities have increased significantly. Parker saw only 42 targets over the seven games he played from Weeks 1-8 but has already seen 37 targets in his four games since Week 9. He's also gotten a little unlucky, only scoring one touchdown over this stretch despite seeing four red-zone targets. He also had a touchdown overturned on review. If Parker can stay healthy and keep up this volume, look for him to make some noise in the fantasy playoffs.
Alvin Kamara
Season Averages with Drew Brees Starting: 27.4 PPR, 24.0 xFP, +3.4 Difference
Season Averages with Taysom Hill Starting: 8.4 PPR, 9.6 xFP, -1.2 Difference
Alvin Kamara's production has fallen off a cliff the past two weeks. Unfortunately, we can't attribute the drop-off to bad luck. Kamara's receiving value, the reason why he was drafted in the top-five, has completely evaporated with Taysom Hill at quarterback. Kamara has one catch on three targets for -2 yards in two weeks with Taysom. To make matters worse, his snap share has fallen under 50% each of the past two weeks, his only two sub-50% snap weeks of the season. Kamara is extremely talented and probably won't continue to be this awful, but until Brees returns, Kamara owners need to temper expectations.