After an exciting Week 6, you probably have a pretty good idea of where your team stands. Whether you're trading for that one stud to bolster a playoff run or blowing up your entire team, my Expected Fantasy Points model gives you the data you need to make smart trades.
For a more general overview of my trading strategy, click here.
If you have any questions or feedback, let me know @RSJ_Jackson on Twitter!
All data in this article uses full PPR scoring. A sample of the data through Week 6 is pictured. For the full data, click the links below!
*DOWNLOAD The Expected Fantasy Points Report – Week 6 2020 – PDF*
**DOWNLOAD THE EXCEL VERSION!**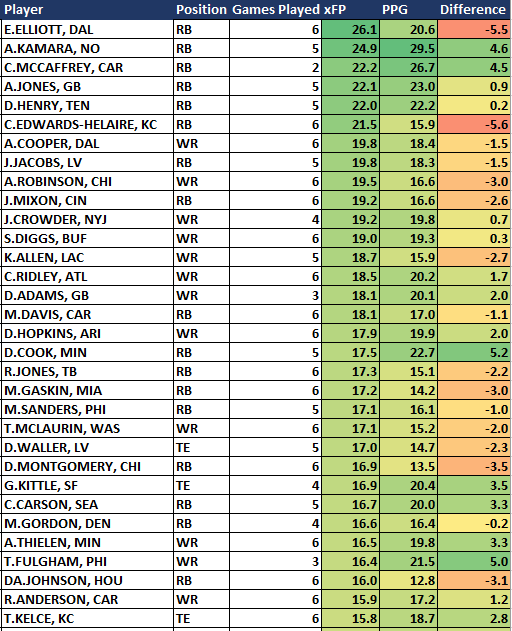 Expected Fantasy Points
I built the model based on a metric called Expected Fantasy Points (xFP). A player's xFP is calculated based on the value of each target or carry, using historical data attributes that correlate highly with actual fantasy points scored. You can find a more detailed breakdown of how this works here.
Expected Fantasy Points essentially show what an average player would have done with the opportunities seen by any given player. We can then subtract the player's actual fantasy points scored to arrive at the difference, a key metric.
How to Interpret Expected Fantasy Points
The difference between expected and actual fantasy points comes from two sources:
Talent/Situation
We would expect the most talented players in the NFL to score more fantasy points than their expected fantasy points. That's pretty obvious since xFP is based on the averages of all players. Also, a given coach or scheme might lead to a sustainable difference in actual over expected points. A carry in Kyle Shanahan's offense will typically produce more points than a carry in Adam Gase's offense. A carry behind an elite offensive line would be more valuable than a poor one.
These are all sustainable ways for a player to consistently outperform or underperform their expected points. Because of these differences between players, we should not assume that the difference between expected and actual points will always regress to zero. In other words, don't blindly buy any player with a negative difference. Don't sell every player with a positive difference.
Luck
The main reason to use expected fantasy points is to identify players who are experiencing very bad or very good luck. Unlike the previous differences, luck will even out over a long period. We want to buy players who are having bad luck and sell players who are having good luck.
Separating differences that are sustainable from differences due to luck can be tricky. It's not an exact science. However, most players will score within a few points per game of their expected fantasy points for the season. The players with the largest differences are the ones most likely to be benefitting or suffering from luck.
Trade Targets
During the season, the main purpose of using my Expected Fantasy Points model is to help you win trades. Remember, we want to buy players who are getting unlucky, and sell players who are getting lucky.
Week 7 Buy Low
Cooper Kupp
Despite seeing a very healthy 120 air yards on 9 targets in Week 6, Kupp only managed 3 catches for 15 yards. He also failed to convert on an end zone target from the 2-yard line. Kupp underperformed his xFP by a league-leading 13.6 points in Week 6, but the volume was still there. Don't panic over his Week 6 dud.
David Johnson
Any Johnson owner who watched the Week 6 game saw his bad luck first-hand. Johnson received five carries inside the 4-yard line spanning four separate possessions. Four of the five carries came from the 1-yard line. Unbelievably, Johnson only scored a single touchdown on the day.
After seeing a 78% snap share and averaging 18 carries and 3 targets over the previous two weeks, look for Johnson to cash in on his solid usage in the Texans offense.
Keenan Allen
He was on my buy list last week, despite suffering back spasms in Week 5. Since then, coach Anthony Lynn said Allen "will be fine". Edwin Porras, DPT, is also optimistic.
This causes the brain to freak out and in an effort to stabilize the body, causes muscles to spasm. Stretching was an attempt to relax the muscles.

Allen will be back. Minor issue.
2/2

— Edwin Porras, DPT (@FBInjuryDoc) October 16, 2020
If you remove Allen's Week 5 game due to the early injury exit, he is averaging 22.4 xFP per game, the most among wide receivers. You might be able to get him for WR2 prices, so take advantage!
Week 7 Sell High
Kenyan Drake
If you managed to survive this long with Drake on your roster, you now have a chance to sell high. In part due to a 69-yard touchdown run in garbage time against a helpless Cowboys team, Drake scored 28.4 points, beating his xFP by 11.4.
I recommended buying Drake in Week 3 on the expectation that he could return to his 2019 average of 4.4 targets per game with the Cardinals. Well, let's just say that hasn't happened. His total receiving line through six games is cringeworthy: six catches for 22 yards on eight targets. It's not getting better – Drake had 0 catches in Week 6. He isn't seeing enough passing work, especially in PPR leagues, so see what you can get for him after his breakout performance.
Hayden Hurst
On the surface, Hurst's 4-57-1 line from Week 6 looks solid. However, he only saw 21 total air yards on his 4 targets. Hurst salvaged the day with a 35-yard garbage-time score, which only happened because the Vikings left him completely uncovered. If you're in a deeper league and can get any sort of value for Hurst, take it. One lucky touchdown doesn't make up for his current TE20 standing in xFP per game.
Robert Tonyan
Despite only seeing 18 total targets in 5 games, Tonyan is currently TE5 in points per game. While four of his targets have come in the red zone, he hasn't seen the volume necessary to sustain his current pace of five touchdowns in five games. Based on his target profile, we would expect him to have scored about two touchdowns, which would tank his results to TE20 in points per game.
The best time to sell high on Tonyan would have been after he outscored his xFP by 22.8 points in Week 4, but you still might be able to take advantage of a TE-needy owner today.