Player Stock Ticker
Scott Turner Aims to Take Dwayne Haskins, Redskins Fantasy Offense to Next Level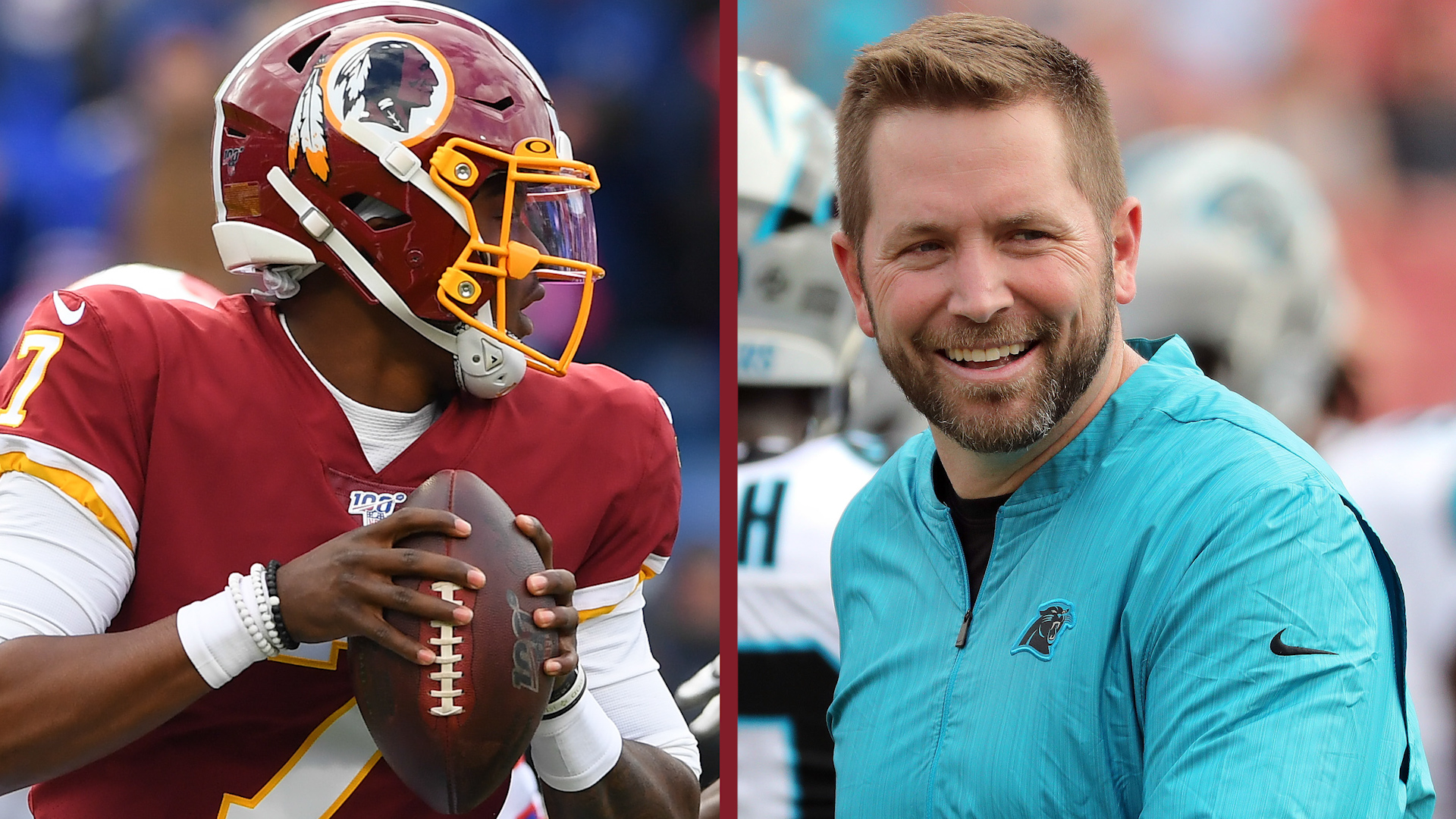 It was only for roughly a game and a half, but once old man Bill Callahan turned the keys over to Kevin O'Connell at the end of the 2019 season, the Redskins offense (and specifically Dwayne Haskins) came alive.
Unlike Callahan, who thought he was calling plays in 1984, O'Connell played to Haskins' strengths and got the ball out quickly, utilized more motion and shifts, and increased the use of play action. In less than two full games under O'Connell, Haskins completed over 70 percent of his throws for roughly 400 yards, 4 touchdowns, and most importantly, zero interceptions.
Good things typically happen when coaches scheme to the strengths of the players and not the other way around.
This is what Scott Turner will do as the Redskins' offensive coordinator.
"If you look at the offense and the system that we have been a part of, talking about my dad and going back to him — the different places that we've been our offense has looked a little different," Turner explained in his opening press conference. "It is still the same system, but we have versatility within our system where we're going to really fit and play to our players' strengths."
"But, just really trying to figure out the pieces that we have on offense and then fit our scheme to our personnel and what they do well and not ask them to do stuff they don't do well."
Although Turner will implement the Air Coryell system, he will ultimately design the offense around the talent on offense.
Scheme Overview: Air Coryell
The West Coast offense had been a Redskins staple from Mike Shanahan to Jay Gruden. However, Dwayne Haskins will be learning a new offense in his second year under Scott Turner.
The Air Coryell, which his father, Norv Turner, ran successfully for the past 30 years.
The Air Coryell was coined after the Don Coryell's relentless vertical attack. The offense is predicated upon stretching the defense to its limits in the passing game, while softening the front-seven and establishing the play action with a bruising power run game. In general, the offense isn't so much dependent on high percentage plays as it is gaining massive chunks at a time. Oftentimes, this requires wide receivers winning one-on-one jump ball type of deep routes.
A major difference from the West Coast offense to the Air Coryell is the terminology – or lack thereof. The Athletic's Mark Bullock wrote an in-depth dive on the offense, citing that the Air Coryell is a numbers-based system, unlike the wordy West Coast offense.
For instance, a double slants passing concept would be "22" in this system because every route on the route tree is assigned a number instead of a term. Simple, huh?
Overall, Haskins will be given shorter and more consistent play-calls in the huddle and this should make the young signal caller think less and focus on playing ball.
Simplifying things for Dwayne Haskins
Haskins was thrown into the fire as a rookie and from the get-go, it was clear he wasn't ready to lead a shitty team that was full of misfit toys.
As a one-year starter at Ohio State, Haskins lit the Big Ten on fire. He shattered the record books to the tune of 4,831 yards and 50 touchdowns, while also completing 70 percent of his passes.
Under Ryan Day's tutelage, Haskins made quick reads in an offense that uses pro-style route combinations and got the ball out quickly to his playmakers. The Buckeyes changed the offense from Urban Meyer's run-heavy script to suit Haskins' cannon arm and it worked like a charm.
"I looked at Dwayne coming out a year ago. I was a really big fan of his coming out of Ohio State, had him rated pretty high," said Turner.
As noted above, Dwayne Haskins played his best when he wasn't pigeon holed into Bill Callahan's archaic, run-heavy system and he quickly turned things around under O'Connell.
"Looking at him, I felt like he got better as the year went on," Turner continued. "He was a little bit more comfortable playing in the NFL. It is a big step. The big thing for Dwayne is he hasn't played a lot of football. He was a one-year starter at Ohio State and then just kind of played sparingly this past season, so all of the physical tools that you want are there, and I think he needs to keep getting experience and will be a really good player."
Just like Day and O'Connell, Turner will add lots of motion and shifts to the offense to tip off the coverage and create mismatches to favor his offense. As Bullock outlined in The Athletic, Turner used motion to get playmakers such as Curtis Samuel and Christian McCaffrey matched up on a linebacker or safety.
Turner aims to utilize Haskins' arm strength and quick decision making to tailor the offense to his quarterback's strengths. He'll also give Haskins only a handful of concepts to master, rather than overload him with a complicated playbook.
Add Turner to the list of young offensive coordinators who want to marry the run and pass games. He has a handful of play action passes, along with screens and RPOs in his arsenal. It doesn't hurt to have McCaffrey in the backfield, but Turner's ability to shift, motion, and scheme up the offense to make it a guessing game is what makes him a special play caller.
"So like Dwayne, you obviously see the big, strong guy who can stand in the pocket and really push the ball down the field," Turner explained. "We're going to want to use a lot of play-action pass and then something also he's done a good job of in his past and in college too is just being able to get the ball out quickly and kind of distribute the football to the playmakers and let them make the plays for him."
Overall, Turner wants Haskins to be the leader of the team and he knows how vital it is for the quarterback to grow up fast and gain the respect of his teammates.
"I think the No. 1 thing is the commitment level," Turner said. "As far as just the approach, you've got to be the most committed guy in the building, your teammates have to see that (and) the coaches have to see that, because that is how you develop trust and that is how you develop leadership.
"If you're the last guy in, the first guy to leave, you don't have a mastery of the offense as a quarterback, and (if) you try to tell somebody else what to do or try to step into a leadership-type role it is not going to work and no one is going to listen to you.
Expect a massive jump from Haskins in year two if he can master the Air Coryell terminology and the basic concepts of Turner's system.
Derrius Guice will be schemed-up… or maybe Bryce Love?
Scott Turner might be in for a rude awakening without Christian McCaffrey lining up in the backfield. However, the Redskins have two very talented, yet very injury prone running backs in Derrius Guice and Bryce Love.
While Scott insists his offense will be unique from his father, the historic "Turner System" requires a powerful run-game presence to establish play-action. It functions at it's best with a versatile workhorse who can punish the defense up the gut and rip off finesse screens in equal measure (think McCaffrey, LaDainian Tomlinson, Ricky Williams, Emmitt Smith); however, Turner most often incorporated a satellite back (i.e. Darren Sproles) regardless of his lead back. With the ultimate dual-threat in McCaffrey last year, he abandoned any signs of a committee, but even elite backs like Tomlinson were subject to a receiving satellite (Sproles).
The goal of the overall Air Coryell is simple: with the defense constantly stressed with the deep ball, the power run game and screens are opened up. Meanwhile, if they choose to shut down the run game and stack the box, they'll be peppered relentlessly down the field.
Both Guice and Love possess the ability to run the ball at a high level and create mismatches in the passing game. In particular, Guice is a complete battering ram in the rare moments he's healthy. He would be a picture-perfect back for this power-based run-game if he can absorb the contact that comes with it. Given he's only rushed the ball 42 times in his two seasons, that's a huge if. Still, Guice showed massive potential in Week 13 last year when he went off for 129 yards and two scores on only 10 carries. He is a menace between the tackles and even showed off his speed on a 60-yard run in that contest.
The receiving usage of RBs in Norv's offense has been historically steller, with RBs accounting for nearly 32% of the target share — Scott showed similar tendencies in his brief play-calling appearance. As noted 50 times already, Turner uses motion to put his star playmakers into mismatches and areas to succeed. Turner moved McCaffrey all around the formation and utilized his elite route running to destroy defenses.
We aren't saying Guice or Love are even near McCaffrey's level as a three-down Swiss-Army Knife, but both possess attributes for Turner to work with on all three-downs.
If the former LSU Tiger can stay healthy (big IF), he has a chance to perform and make a legit fantasy impact an offense that will utilize his strengths.
If the injury bug strikes again for Guice, Bryce Love could be the sneaky better fit for Turner's offense. Or, maybe the two could work together in a committee where the two could potentially co-exist in a positive fantasy situation.
Since neither Guice nor Love were created in the same lab that McCaffrey was created in, the two could be valuable and keep each other healthy at the same time. For example, McCaffrey caught 22 balls on an obscene 25 targets in Week 15 and 16 last year under Turner. The guy just finds ways to get the ball into his playmakers' hands.
Love was an uber-talented player at Stanford who was best known for his 2,118-yard, 19 touchdown junior season. Although he didn't put up the receiving numbers of an elite pass-catching back, NFL.com described him as a, "better pass-catching option than numbers would indicate."
Overall, Turner is going to find a way to scheme whoever lines up in the backfield into a positive situation and hopefully a handful of touches will go around… just not to Adrian Peterson.
Terry McLaurin continues to ascend and Steven Sims will become a household name
"Now, obviously we're going to push them and develop them to improve the things that they don't do quite as well, but we really want to develop our scheme around the strength of our players," said Turner.
Turner's impact on the passing game could be his greatest attribute as a coach. As a wide receiver coach for the Browns back in the day, he coached up Josh Gordon during his monster season where he led the league in receiving yardage with 1,646 yards.
In Carolina, DJ Moore flourished in the Air Coryell system, grabbing 87 balls for 1,175 yards and four touchdowns. Now in DC, Turner gets to utilize the silky-smooth Terry McLaurin as his X receiver, who blew the hell up for nearly 1,000 yards (919) and 7 TDs McLaurin, who finished as the WR27. McLaurin has the complete package with the hands, route running, and connection with Haskins, but most importantly the speed and ball-tracking to thrive in an Air Coryell offense.
Turner will move McLaurin around the perimeter to create mismatches. He'll throw him in the slot to utilize his speed and as Bullock noted, he actually used Moore on a handful of deep-in routes to gain separation on the defender and make plays after the catch. Moore is a bit quicker than McLaurin, but McLaurin has the better straight-line speed.
Steven Sims Jr is a player to watch under Turner. If you haven't heard already, Turner really likes his playmakers and he was the first Panthers' play-caller with a brain to use Curtis Samuel's unique skill-set out of the backfield – it's almost like he watched Samuel play in college.
Enter Sims, who would be a reject on "Player Profiler," but actually possess an equally unique skill-set that's similar to Samuel's. Turner will put him in the backfield, use him on jet sweeps, get him the ball quickly on screens and slants, and he could be the engine of this offense.
When we talked about Norv Turner's Air Coryell, we mentioned his love affair for big-bodied wideouts. His son didn't inherit any of those in Carolina, but the Redskins do have a physical young guy in Kelvin Harmon. Standing at 6-foot-2, 221 lbs with a 32.5 inch vertical, Harmon is able to go up and get jump balls. The Skins could upgrade at the Z position, but both Harmon and Paul Richardson carry decent potential as the team's third wideout.
"The tight end is very important to our offense"
With Jordan Reed's career in serious doubt after his millionth concussion and the corpse of Vernon Davis still somewhat there in spirit, the Redskins will likely be in the tight end market this offseason.
"We're evaluating everything. We're going to try and get as much talent as we can on offense. You look at that in different ways, obviously what is on the roster currently, but then we will look in free agency and we'll look in the draft. Those are the different avenues to acquiring talent and we're open to all of that."
With Turner deploying "12 personnel" (two tight ends) often, the coach described how the team can upgrade that position. He used both Greg Olsen and Ian Thomas on the field together much more once he took control of the Panthers' offense.
Neither of them necessarily blew up stats-wise, but as Bullock noted, Ron Rivera stems from the Andy Reid coaching tree, along with John Harbaugh and Doug Pederson – all who are obsessed with utilizing the tight end.
A capable pass-catching tight end (or two) is always a perfect security blanket for a young quarterback and adding an Austin Hooper or a Hunter Henry would be a dream scenario.