Player Stock Ticker
2019 Fantasy Football Waiver Wire: Week 14 Start, Stash & Stream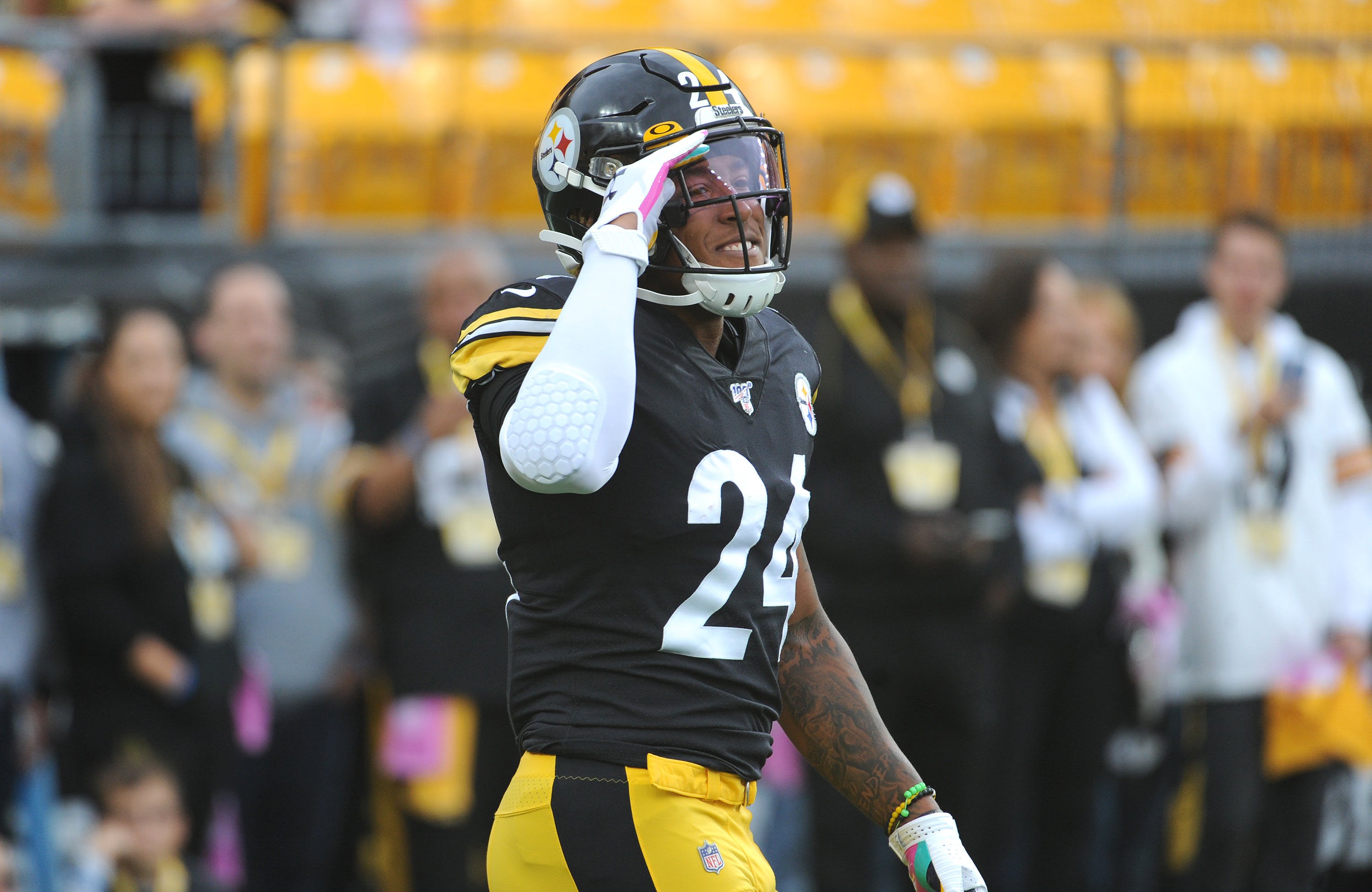 We're back for the 2019 Fantasy Waiver Wire Week 14 Start, Stash and Stream, where we break down the Free Agent landscape and give you the best picks for the short and long haul. We'll keep building on our Week 13 Waiver Wire momentum.
Per usual, think of this Waiver Wire set-up kind of like dating. In the first category, you've met "the one," the love of your life, and you want to keep him/her forever. Those are your "Starts."
Next, you have the person you've known for a while, but you find yourself asking: what are we? One week in, one week out, holding on for comfort and little else… they're the "Stashes." You just can't quit them.
And then you have that Tinder date that serves a one-time purpose, most often leaving you feeling dirty and hopeless, but occasionally a solo home run. These are your "Streams."
To get our Stock Watches, Weekly Rankings and Podcast episodes directly on your iPhone, download our brand-new app in the App Store.
With all that went down Week 13, here's what we can use going forward.
Note – Ownership % based on Yahoo; all players are less than 50% owned
Start
Benny Snell Jr, RB Pittsburgh Steelers (35% owned)
Bo Scarbrough, RB Detroit Lions (43%)
James Washington, WR Pittsburgh Steelers (23%)
Ryan Fitzpatrick, QB Miami Dolphins (10%)
With James Conner sidelined, Benny Snell took over lead back duties and rushed 16 times for 63 yards and a touchdown. Should Conner continue to sit, Snell will be Pittsburgh's lead back with games against the Cardinals, Bills and Jets up next.
Another lead back if you're hurting at the position, Bo Scarbrough rushed 21 times for 83 yards on Thanksgiving against the Bears. He's being fed like a workhorse which is nice and is pretty touchdown dependent. It would be an added luxury if he could catch some passes out of the backfield but we'll take the high volume of carries.
With all the injuries in Pittsburgh, James Washington has stepped up in the receiving core. This last game he caught 4 balls for 111 yards and a touchdown. He's got chemistry with Devlin "Duck" Hodges and two juicy fantasy playoff matches against the Cardinals and Jets.
This seems ridiculous at first but Ryan Fitzpatrick is ready to blaze the fantasy playoff trail between his high volume passing numbers and cake schedule to close out the year. 23 and 26 points in his last two games, and now he gets an unreal spots against the Jets, Giants, Bengals down the fantasy stretch. Fitzmagic is back and ready to roll.
Stash
Alexander Mattison, RB Minnesota Vikings (32% owned)
Raheem Mostert, RB San Francisco 49ers (14%)
Tyler Higbee, TE Los Angeles Rams (11%)
Russell Gage, WR Atlanta Falcons (11%)
Zach Pascal, WR Indianapolis Colts (17%)
Darwin Thompson, RB Kansas City Chiefs (5%)
Mike Gesicki, TE Miami Dolphins (14%)
Peyton Barber, RB Tampa Bay Buccaneers (21%)
Anthony Miller, WR Chicago Bears (14%)
Patrick Laird, RB Miami Dolphins (1%)
We all saw how valuable Alexander Mattison could be when Dalvin Cook left the game on Monday Night Football. Mattison handled the remainder of the game and saw immediate RB1 usage. Mattison handled it well by totaling 73 total yards and catching four balls in Cook's absence. We've had this guy on our 'Sneaky Stashes' list for the entirety of the season, and with Cook getting banged up, we could see a weekly increase in touches for the rookie. If Cook were to go down, Mattison would be a league winner.
The fantasy carousel of Kyle Shanahan's offense continues as Raheem Mostert got the ball 19 times against the Ravens and rushed for 146 yards and a score. It helped that Matt Breida was sidelined, but if Mostert keeps getting this volume and producing at this rate, he'll be a steal to end the year.
An increased role on the offense (Gerald Everett injury) and a dream matchup against the Cardinals led Tyler Higbee to TE1 numbers in Week 13. 8 targets going for a 7-107-1 stat line in an offense looking to rebound and build momentum.
Two straight games of double digit fantasy points, Russell Gage is heating up after the departure of Mohammed Sanu and stepped up with Julio sidelined on Thanksgiving. He's operating in the slot while getting targeted 10 and 9 times in his last two games.
Zach Pascal was a staple in here a few weeks ago, but he works his way back in after a 7-109-0 line with 10 targets against the Titans. The Colts are decimated with injuries and the team's upcoming schedule of Bucs, Saints, Panthers is very promising for one of Indy's leading pass catchers.
With all the injuries to Chiefs running backs, Darwin Thompson finally got his chance and rushed the ball 11 times for 44 yards and a score. Thompson was someone we loved all preseason (pre-McCoy signing) and now that the backfield could be open, he could be a waiver wire hero if given the reps in this high octane offense.
As the Dolphins offensive stock continues to rise, so does Mike Gesicki. 6+ targets in 5 straight games for the TE and he's fresh off a 5-79-1 game against the Eagles. Like Fitzmagic, dream schedule upcoming.
Ronald Jones missed a key block early in the game against the Jags, and paid for it the rest of the way. How did Peyton Barber respond? With 17 carries for 44 yards and 2 touchdowns, including a 2 point conversion. It's crazy how much this backfield flips back and forth so it's good to have that 50/50 shot in dire need.
The injury to Taylor Gabriel opened up the door for Anthony Miller to have an even bigger role in the offense. Fresh off a 13 target for 9-140-0 Thanksgiving game, Miller is contributing big time to a Bears offense that is starting to put things back together.
With Kalen Ballage going down, the door flung open for the creature known as Patrick Laird to put his mark on Miami's stellar offense in Week 13. He rushed in a goal line touchdown, while adding in 4 catches for 43 yards and a 2 point conversion. He's such a Hail Mary play if you need an emergency RB to fill in, but like other Dolphins the matchup will be ripe for someone to capitalize on.
Stream
Green Bay Packers D/ST (48% owned)
Ryan Tannehill, QB Tennessee Titans (39% owned)
Houston Texans D/ST (26% owned)
The Packers did a good job of limiting the Giants and turning Daniel Jones over three times through the air. Next up is a home game against Dwayne Haskins and the Redskins so more turnovers could be on the horizon here.
Another staple of this article, Ryan Tannehill continues to win football games and put up fantasy numbers. Last week was an off week, but now he gets the Raiders defense that was just demolished by the Chiefs.
The Texans defense played well in shutting down the Patriots offense for about three to three and a half quarters before going into prevent. Next up is a home game against the Broncos starting Drew Lock in his second NFL game.